Sapa location contains many wonders of the natural scenery, people and is also a place with many beautiful landscapes that attract a lot of tourists. Among those landmarks, Sapa stone church is considered as a symbol and extremely attractive tourist destination here. This church is also the main place of religious activities of the parishioners in Sapa. Now let's learn about Sapa stone church through the following article.
Introduction of Sapa stone church
Sapa Stone Church was built in 1935 (early 20th century), this work was designed and erected by French architects. This work is considered to be the only intact stamp of the French on the land of Sapa.
In addition, because it is a building that was built very early, along with the land and people here, Sa Pa Church also undergoes many historical events and is greatly restored but the church remain intact as before.
Architecture of Sapa stone church
Stone Church is located in a favorable position with Ham Rong Mountain behind on an area of 6000 square meters. Including the church area includes 7 compartments, each square is 500m wide, bell tower 20m high, inside is a 1.5m high bell, weighing half a ton. The entire church was built of hewn stone, linking the stone blocks are a mixture of sand, lime and molasses. The most attractive point of this church is the architecture of the church designed in the style of ancient Roman Gotic , most clearly shown in the roof, bell tower, arches, … are all pyramids created for the flying project. scholarship, serene.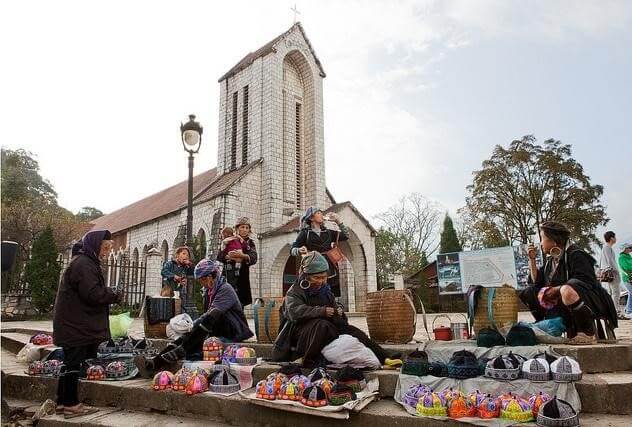 In front of the church is a large yard, everyday ethnic people often gather here to buy and sell. Inside the church is a church with 32 stained-glass windows, drawing pictures of the mysteries of the rosary, the Saints and the way of the Cross.
The beauty of Sapa stone church
From past to present, Sapa stone church is a place of traditional cultural activities of ethnic people here. If you come here on Saturday every week you can witness firsthand the unique cultural activities of ethnic minorities that visitors are familiar with the name "love market". Along with that, the prayer activity takes place on weekends with H'mong hymns sung by the children.
Moreover, you can visit the mossy and ancient villas with its own beauty, forming a very typical "old castle castle" landscape. Especially when those ancient figures loom in the fog that can't help but make people wobbly. Anyone who has come here once surely cannot forget the dense fog and the stone church hidden in the fog. Taking a commemorative photo with Sapa Stone Church is definitely the desire of any visitor to come to this beautiful land.