Sapa is the "meeting place between heaven and earth" with the most majestic natural scenery in the North. This is also the convergence of ethnic minorities living for many generations. Have you come to admire and experience this exciting land? If not, now let VietNampeace.vn immediately pocket the self-sufficient travel experiences from A to Z Sapa through the following article!
I. Introduction to Sapa
Sapa is a town in Lao Cai province, Vietnam, this is a famous tourist destination from the early 20th century to the present. Nature's Creator bestowed on Sapa a landscape picture that is both romantic and majestic, with ridiculous ranges of clouds waiting for the wind, the terraced fields to the eye, watching the standing pine trees silently witnessing stories from Indochina in the heart of the town, …
SaPa flooded in the sea of clouds (collectibles source)
The climate of Sapa is cool all year round with unique indigenous imprints – including the culture of the two ethnic minorities in Sapa, the Mong and the Dao – combined with the European architectural space. European classic. All of the above factors have created a special attraction for travelers who want to explore this land.
II. Travel Sapa beautiful season?
Coming to Sapa in each season has its own interesting experiences of this beautiful highland land.
– The appropriate time to travel to Sapa is from September to November or from March to May. At this time, Sapa weather is stable, sunny days, cold nights.
– April – May is the season of water, the terraced fields feel like running to the horizon.
– September to October is the season of ripe rice, then Sapa seems to be wearing a shiny, sparkling yellow shirt. You should go in the middle or the end of September because many fields have been harvested in October.
– December to February is very cold, may appear ice and occasionally snow. This is also the bloom season of peach blossom, azaleas …
Please see more:
Beautiful scenery of spring Sapa
Travel to Sapa the most beautiful season?
III. Transportation to Sapa
If you are not in Hanoi but in Central or South want to go to Sapa, you can find flight tickets to Hanoi and then move from Hanoi to Sapa. Sa Pa town is only 38km from Lao Cai city and 376km from Hanoi. You can choose to travel by passenger car or train.
Arrive Sapa by car
If you go to bed lying, the price ranges from 230k – 280k / person / way. Vehicles depart from My Dinh, Luong Yen or Gia Lam bus station (Hanoi) to Sapa only 8 – 9 hours. Traveling by passenger car has the advantage of saving time but in the rainy season can be hindered by many bumpy passes from Lao Cai to Sapa. You can contact some garage as Sapa Express, Queen Café, Hung Thanh, Sao Viet, …
Arrive Sapa by train
Trains have a variety of chairs such as soft chairs, hard chairs, air-conditioned beds … The train runs at 9am or 10pm in Hanoi until the next morning to Sapa tourist destination. For the type of seat, there are 2 types of hard seat (about 150k / person) and soft seat (about 280k / person). For bed type, bed of 6 people costs about 480k / person, bed of 4 people costs about 560k / person and 2 beds of senior people cost about 3,200k / person (all comes from Hanoi).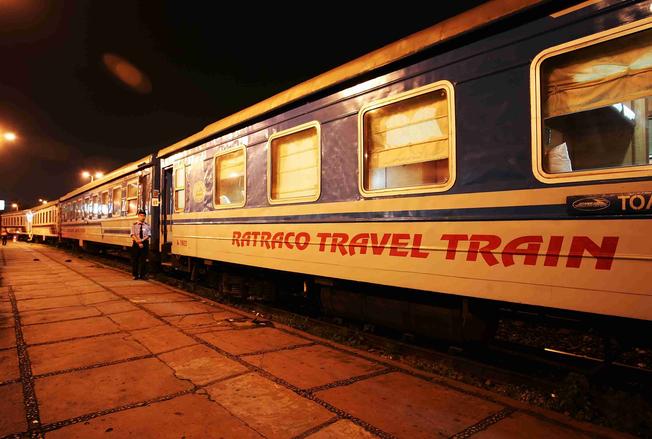 Travel Sapa by train
Sapa tourist destination is a place that attracts a lot of tourists both domestically and abroad so train agents and travel companies often "hug" all the beautiful seats, especially on weekends or high seasons. points, so to get a satisfactory seat on the train you need special intermediaries with a fee of usually 8 -10%.
And it is very important not to bring expensive computers or belongings when taking the train because the situation of pickpockets happens a lot when the cabin turns off the lights. You should keep the camera and phone carefully with you.
There are 4 ways to visit Sapa tourist destinations:
Option 1: Arrive in Sapa, rent a motorbike, about 120k / car / day (not including gas money), you can drive yourself around the tourist attractions in Sapa.
Option 2: Hire a motorbike taxi driver for transporting a few famous tourist destinations, only VND 100k for 4 – 5 Sapa tourist destinations close to each other.
Option 3: You can book a tour of Sapa service providers in Sapa. Or if you do not know, you can ask the hotel or local people to know more about this service.
Option 4: You can experience the feeling of discovering yourself by the form of trekking tourism (walking) the famous tourist destinations in Sapa.
IV. What to eat when traveling to Sapa?
Besides admiring the lyrical natural scenery of Sapa, do not forget to try the unique local dishes of this town. VietNampeace.vn would like to introduce you to some Sapa specialties that you should try once.
Salmon, fresh sturgeon
Salmon and sturgeon are Sapa specialties that both tourists and locals love
Different from imported salmon, sturgeon, cold-water fish raised in Sapa often have firm meat, hunting fiber and no fat. How to prepare salmon / sturgeon can be sliced to mix salad or grilled. There's nothing in the cold air of Sapa, you enjoy a hot pot of salmon / sturgeon hot pot to eat with fresh vegetables.
Fresh cold vegetables
Sapa is the land of typical temperate vegetables such as cauliflower, broccoli, red tubers, chayote, etc. Sapa vegetables have a special delicious, sweet and attractive taste. The most famous vegetable dishes at Sapa tourist destination are boiled chayote with sesame salt, stir-fried coriander, algae …
Sapa chayote (Photo: Collection)
Pigs steal armpits
Armpits are a special dish of Mong people. Pigs weighing only 4 – 5kg are cleaned, marinated and left to roast or roast. Meat "stealing armpits" sipping with 2-3 cups of apple cider cat Sapa, drinking overnight is not boring.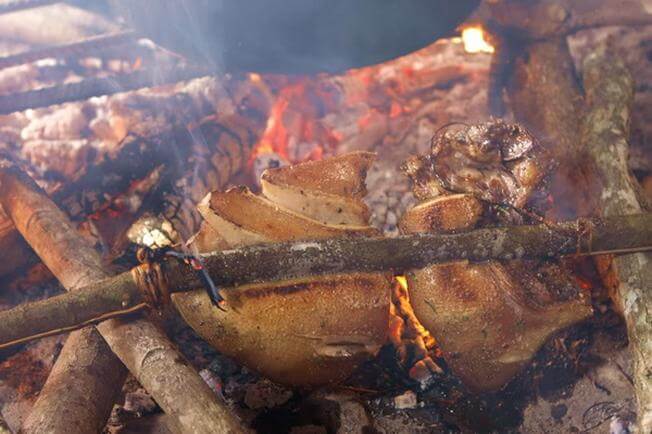 Pigs steal armpits unique traditional food only in Sapa (Photo collection)
The special barbecue dishes in Sapa
According to travel experiences, because of the cold climate in Sapa, any dish is brought to grill from chicken eggs, duck eggs, skewered meat, vegetables wrapped in meat, … all are human dishes. Sapa people devised.
Delicious skewers in Sapa (Photo: Collection)
In the evening, at the stone church area, barbecue restaurants are very attractive to tourists because the warm space and delicious dishes are suitable for the cool weather of the mountain town.
Winning – unique food
When listening to specialties, many visitors will be surprised and surprised with this unique name. With the ethnic people, winning trying to cook with buffalo meat, beef, pork, … Thang tries to require 27 different spices such as cinnamon, star anise, aromatic leaves, … and raw forest vegetables. The second most important item of the winning food.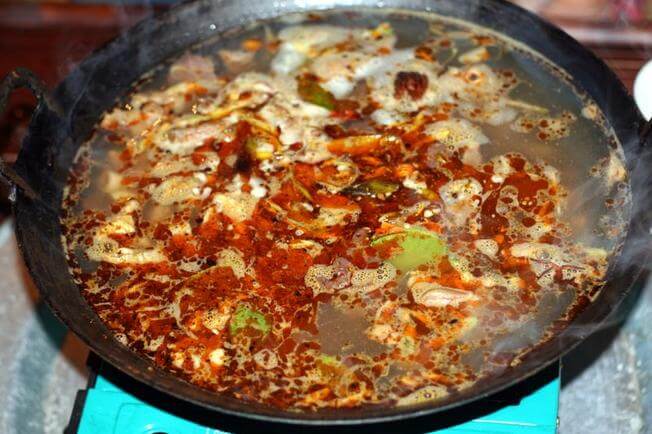 Winning strange and strange dishes at Sapa tourist attraction (Photo collection)
Grilled stream fish and distinctive shiitake Sapa
Stream fish has many types and it is worth mentioning that there is no fishy taste. Stream fish just grilled over charcoal and eat immediately. Along with that unique stream fish dish, the mushroom – Sapa specialty also attracts many visitors when coming here. Only at 50k / 0.5kg you can buy as gifts for family and relatives. Dried mushrooms soaked in water will expand but still retain the scent of mountain soil, the taste of forest trees.
Please see more: Delicacies in Sapa
V. Tourist attractions Sapa
Fansipan peak – Indochina roof
What could be better than standing at 3143m, stretching and breathing in the air above, enjoying the feeling of touching the clouds and looking down at the panorama of Sapa below.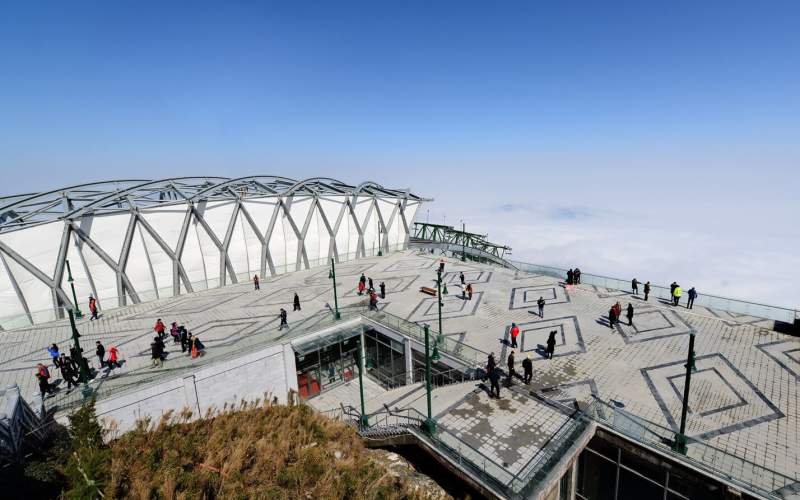 Looking from the station to an altitude of 3,000 m, the surrounding scenery is floating, magnificent (collection source)
You can get that high-altitude experience with the world's longest three-wire cable car system. Cable car ticket 600k / round trip. Fansipan cable car has realized the dream of conquering the "Roof of Indochina" for everyone with that desire.
Please see more: 7 things to keep in mind when conquering Mount Fansipan
Ham Rong mountain
Ham Rong Mountain is located right in the center of town, with a ticket price of 70,000 VND / person. You can stay at the hotel near Ham Rong tourist area to have a panoramic view of Sapa, Muong Hoa valley, Ta Phin hidden in the smoke …. On the way to the mountain, you will encounter many kinds of colorful flowers racing to bloom.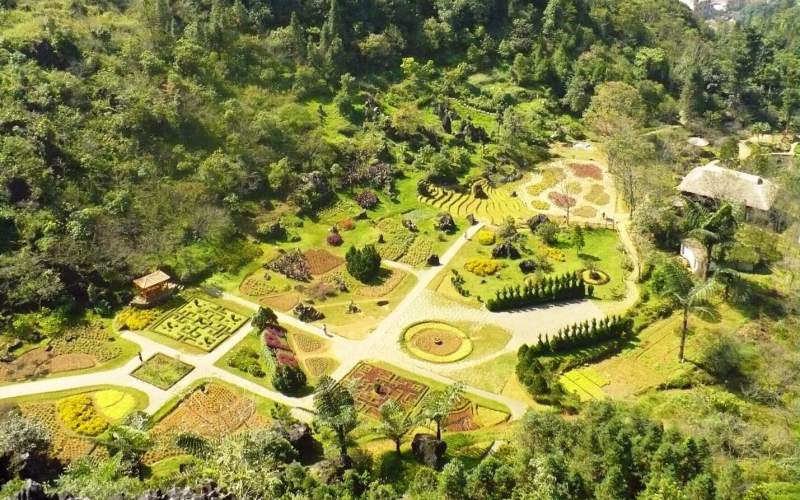 Looking down from Ham Rong mountain (source: collectibles)
The waterfall of love
Love Waterfall is about 12km from the center of the town, on the way to the top of O Quy Ho pass. Visiting one of the most beautiful waterfalls in Sapa, you will not only feel refreshed when taking advantage of the cool steam but also listen to the legend of the Love Waterfall. On the way through Love Waterfall, don't forget to visit the Silver Falls too!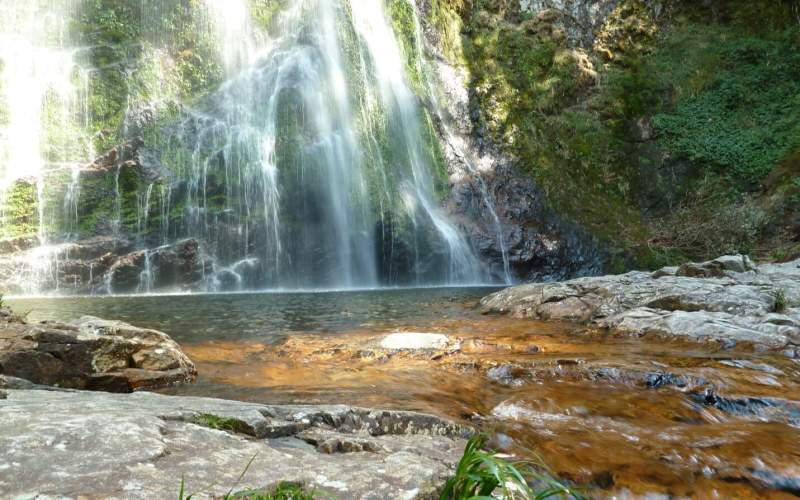 The waterfall of love
Stone Church – Sapa tourist destination attracts visitors
Sapa stone church was built stop in 1895, this is considered an ancient building imprinted with intact French architecture in Sapa. Experiencing so many ups and downs, the regime but the church still stands there as a symbol of Sapa.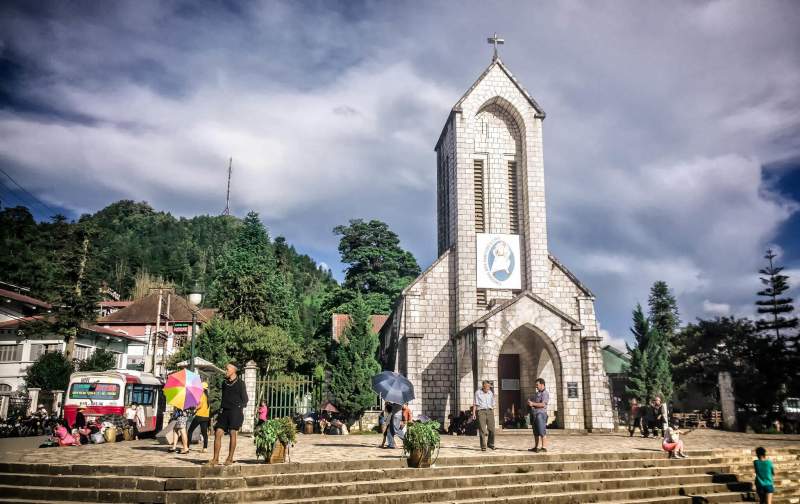 Sapa stone church is located right in the center of town (collectibles source)
In front of the church is the square, the place for the weekend performance, on the sidewalk where the Dao and H'Mong ethnic women sit and sell brocade. You can find yourself renting hotels near the ancient stone church for your convenience as:
O Quy Ho Pass
One of the things you should do when coming to Sapa is to immerse yourself in the majesty and magnificence on O Quy Ho at sunset. You should come here at 17:30 to watch the sun set behind the mountains. Right there are restaurants, you can sit there watching the sun set, enjoying blue rice, pork ham with grilled cabbage, and drinking hot and sweet tea at the restaurant.
O Quy Ho Pass – one of the four great pass peaks of the North (source of collectibles)
Invite you to see more: O Quy Ho Pass – a legendary road that challenges adventurers like adventure
Ta Phin – the village of the Red Dao
Ta Phin is an interesting place you should not miss when traveling to Sapa. This is where the Red Dao people live. The Red Dzao people in Ta Phin are famous for cigarette remedies for osteoarthritis pain. Only after a few days after giving birth, did the Red Dao women bathe in traditional tobacco leaves. Red Dao children are also bathed with tobacco after birth.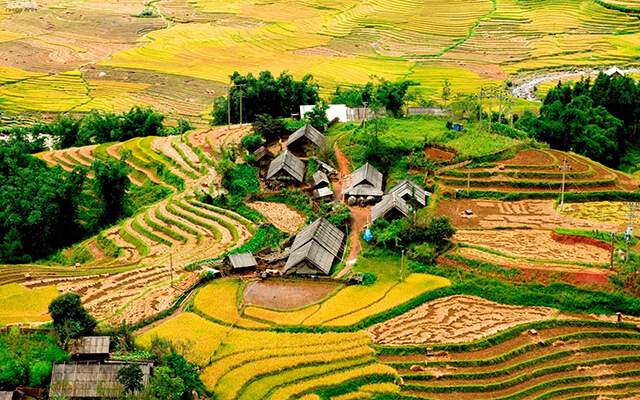 Ta Phin village viewed from above (sources collected)
Two experiences not to be missed when visiting Ta Phin are visiting the dilapidated hospital and bathing the Dao people at these service hotels or at the homestay in Ta Phin.
Ancient Sapa rock beach
Sapa ancient rock is located in the Ta Van area to the temple, with more than 150 large rocks carved with strange patterns and shapes. Scientists have yet to explain what the carved figures mean. Many people talk about the mystery of an ancient civilization, others talk about the future prophecy. Currently, the pattern on the stone has faded a lot, but this is still an interesting place you can combine when visiting Lao Chai – Ta Van.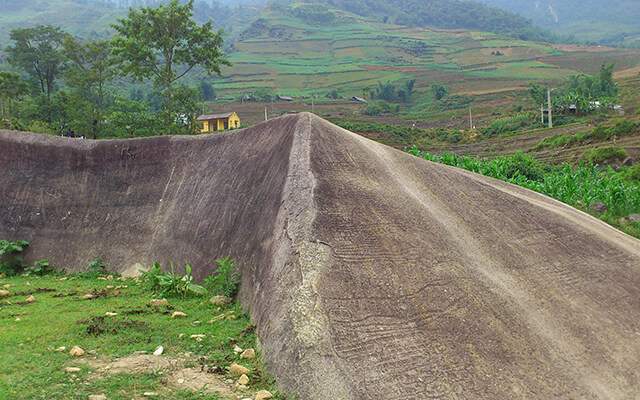 Ancient rock with strange shapes (source: collectibles)
Lao Chai – Ta Van
Lao Chai – Ta Van is inhabited by ethnic minorities, located about 7km from the center of Sapa town. From the center of Sapa town, you go along Cau May Street, then turn to Muong Hoa Street to reach a peaceful place – inhabited by the Mong, Dao, Giay, Tay … indigenous peoples.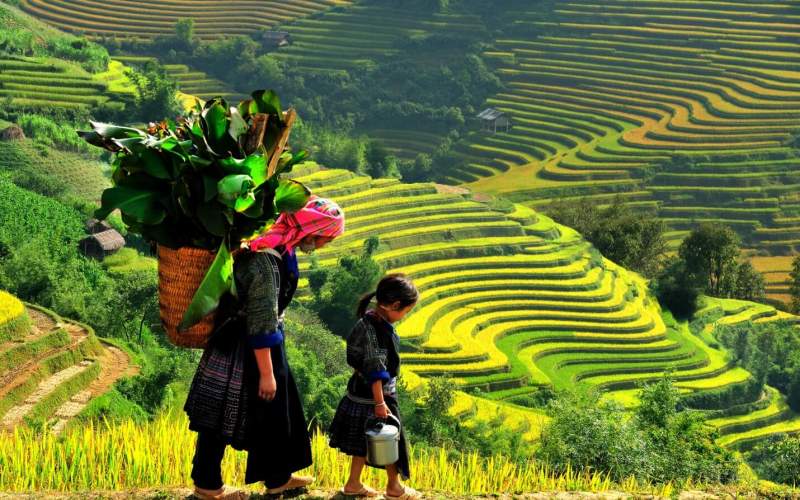 Lao Chai – Ta Van (source: sinhcafe)
The village is full of modern amenities but the indigenous people still retain the traditional culture and routine. It is also attractive to domestic and foreign tourists.
cat Cat village
From the center of Sapa town, follow the road towards Fanxipan mountain about 2km, visitors will come to Cat Cat village (San Sa Ho commune, Sa Pa district, Lao Cai province). Located at the foot of the Hoang Lien Son mountain range, amidst thousands of mountain clouds, Cat Cat is an ideal eco-tourist destination for travelers who want to learn and explore the cultural life of the Northwestern highland people.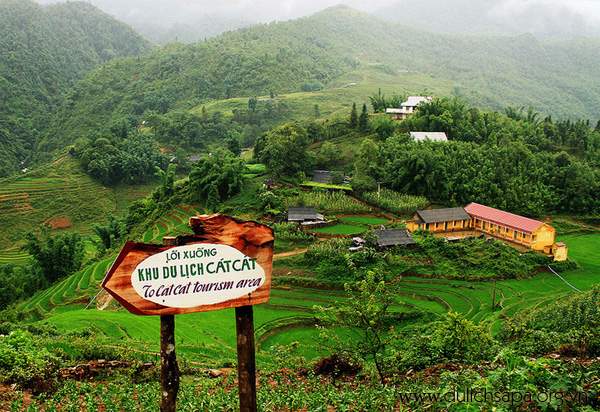 Cat Cat tourist area (source dulichsapa.org.vn)
BECAUSE. Buy special gifts when traveling Sapa?
According to Sapa travel experience of VietNampeace.vn, on Saturday evenings there is usually a love market of Dao people in the yard of ancient stone church. At that time here you can buy unique brocade items of ethnic minorities such as brocade towels, brocade handbags, brocade dresses, …
The famous specialties on Sapa (Photo: Collection)
Or go to Bac Ha, Khau Vai and Cao Son markets, you can also see thousands of typical Sa Pa items, from bundles of forest vegetables to silver and copper jewelry. You can also go to souvenir shops to buy, but should go to the love market to enjoy the festive atmosphere here.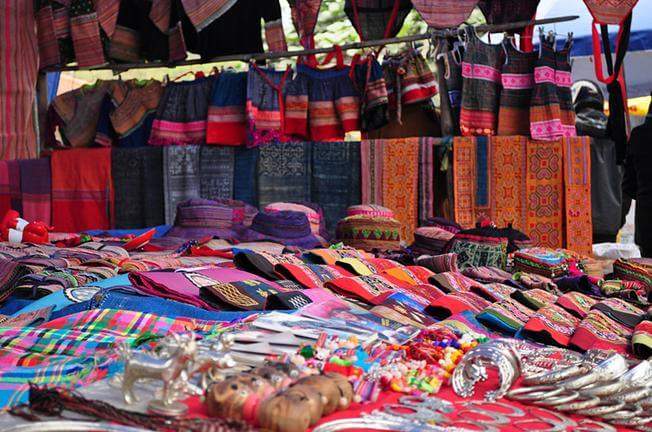 Beautiful brocade gifts of Sapa ethnic minorities (Photo collection)
You can buy Sapa gifts such as cider, corn wine as gifts for you, your father or your boyfriend. There are also brocade jewelry gifts and specialties like mushrooms, dried meat, vegetables, … for grandma, mother or girlfriend. Special note, do not buy silver here, because the silver here is all fake silver imported from China, even if you go to the gold shop to buy silver here and not assured of the quality.
Above are all the most complete and detailed Sapa travel experiences that VietNampeace.vn has summarized. Hope all of these experiences will help you have a trip to Sapa with lots of fun and great experiences.
The best time to travel to Sapa is from September to November or from March to May. At this time, Sapa weather is stable, sunny days, cold nights.
How much does it cost to go to Sapa?
The cost of traveling to Sapa for 2 people: 2,300,000 VND – 2,800,000 VND / person – including all basic expenses, with the most interesting experiences. (Excluding air tickets)
What to wear to Sapa?
If traveling to Sapa in the cold season, you are indispensable to keep warm costumes for the body such as: thick sweaters, big coats, thermal clothing, … Besides, you need to prepare wool scarf, hat wool, ear muffs, gloves, socks … to keep the body warm