If you've ever walked on the misty land of Da Lat, no one will forget the charm, shy as the twenties of this beautiful city. Dalat dreamed, peaceful, clear with chilly breeze, but still full of fragrant flowers. What if one day to explore Dalat? Rest assured, feel free to go right now because there are already suggestions of Vntrip already
Valleys love
Address: 05 – 07 Mai Anh Đào. P8. TP Da Lat

Ticket price: 250,000 VND / adult; VND 100,000 / child

Opening hours: 7am -17pm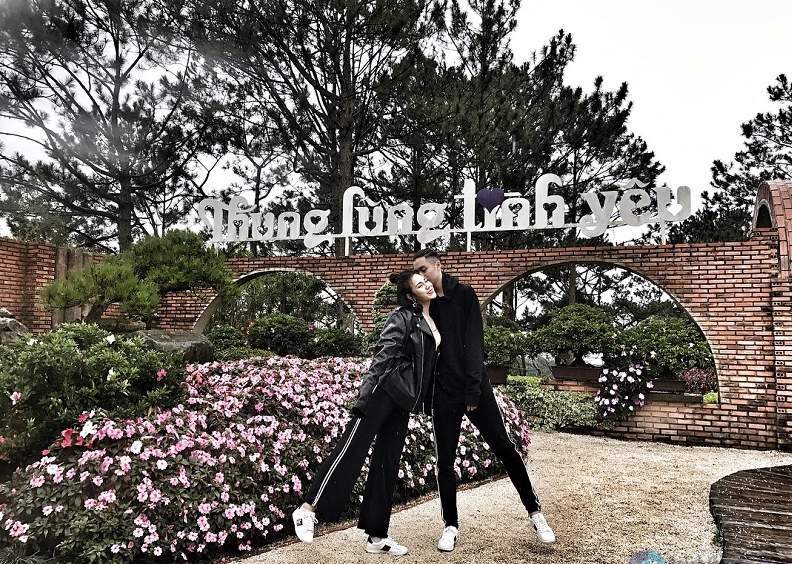 Valley of love is full of love. Photo: ST
It is often said that Dalat is the city of love. Having happiness, having fun even Dalat also witnessed the tears of falling of the couple. If you have the opportunity to come here with your lover, do not miss the chance to travel in Love Valley – a sweet paradise for couples with extremely interesting activities.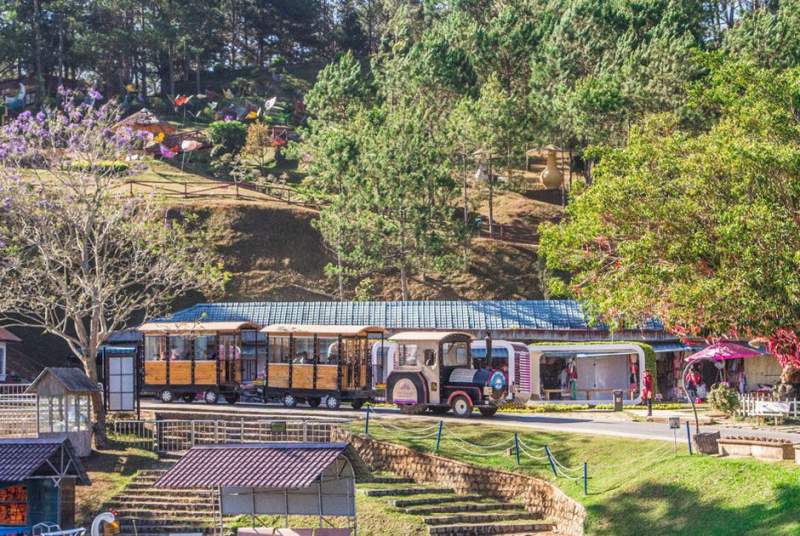 You can travel by train to visit the valley
Valley was originally built for nobility excursions and hunting, built during the French colonial period. This place has an extremely large area, cool space, so if there is only 1 day to explore Dalat, this place is also not a bad place. You can also rent a jeep, horse-cart or duck around the lake to make it less tired.
Covering the whole valley is peaceful, sweet and romantic with thousands of colorful flowers racing along the road. Discovering dreaming Dalat is no more ideal place than here.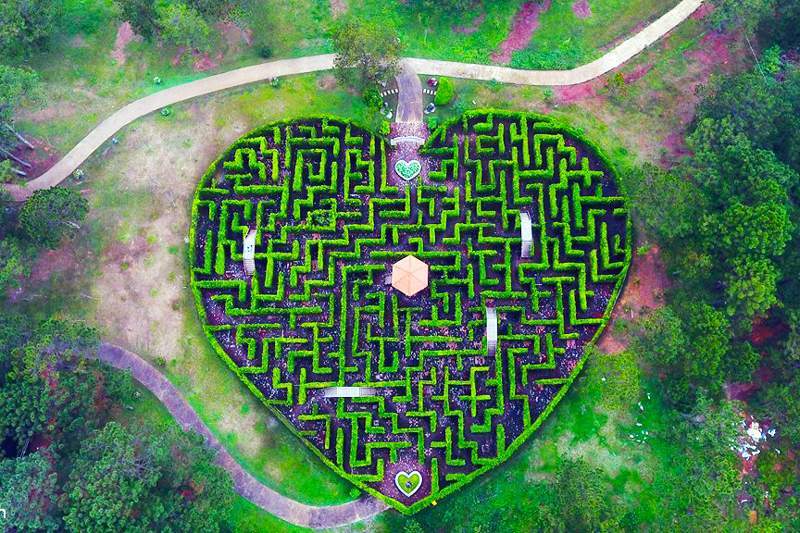 Maze of love  
This place is full of charming young elements with unique heart-shaped works such as love mazes, love locks, love trees, etc. Standing on the top of Vong Canh hill you can watch. full of sweet dreamlike beauty of Valley d'Amour.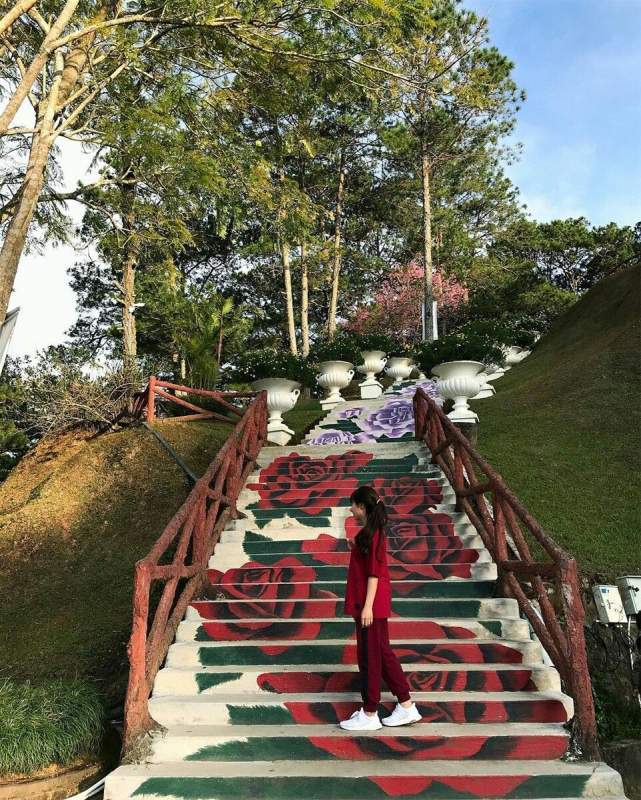 Stairs leading up to the valley
In addition, there are many interesting activities such as paintball shooting, sports games, canoe on the lake etc … that you should participate. A small note is the Valley road is very wide, many steps, grass so you should wear soft sole shoes, low heels to facilitate moving and avoid slipping!
Visiting Da Lat Japanese strawberry garden
Address: 263 Mai Anh Đào street, ward 8, Đà Lạt city.
Just one day exploring Dalat, why not visit the strawberry garden – the specialty of this fog country? Mr. Hung's strawberry garden is located close to the valley of love, planted on Japanese hydroponic technology on a rig made from wood. The strawberries are well-cared for, naturally ripe with an eye-catching red. The berries are large, sweet and evenly colored, surrounded by green foliage, but small beams of light illuminate the garden.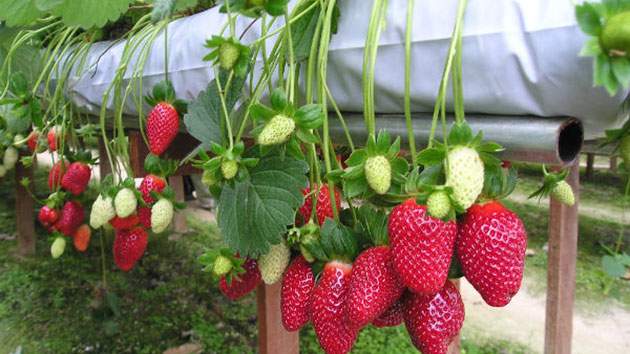 The fresh, ripe berries like the eyes.
Caregivers will guide you to pick strawberries carefully, making sure that the standards do not hurt the tree much. The rows of strawberries are lined up in an easy-to-pick line. You can eat in the garden (in a certain amount) and buy on demand. Depending on the time, the price of strawberries and ticket prices may increase, but range from 20K – 50K / 1 sightseeing ticket and 300K – 500K / 1kg of strawberries. Don't miss the chance to enjoy and hand-pick these clean strawberries as a gift!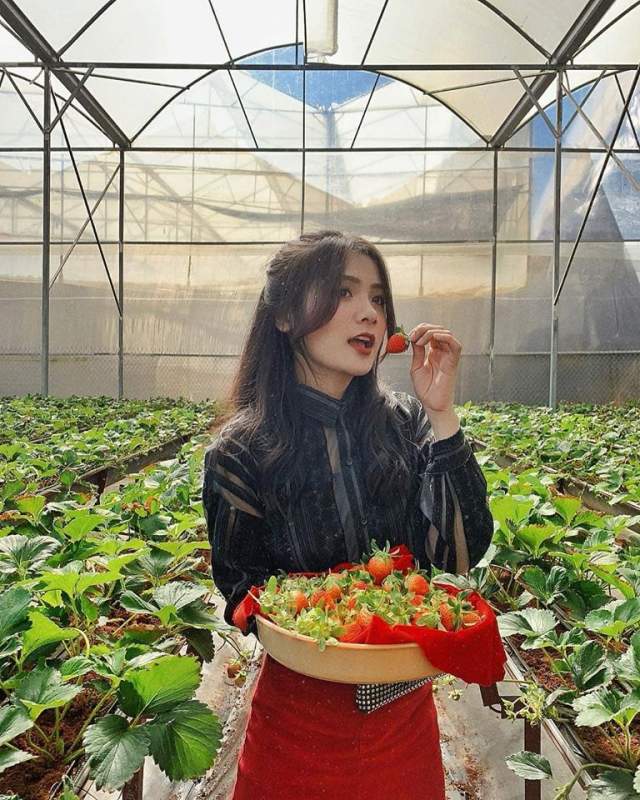 Do not forget to check -in the beautiful photos here.
Dalat Pedagogy College
Address: 29 Yersin, ward 10, Da Lat city
Opening hours: From Monday to Saturday are open from 11h30 to 13h and after 16h30. Particularly Sunday: open all day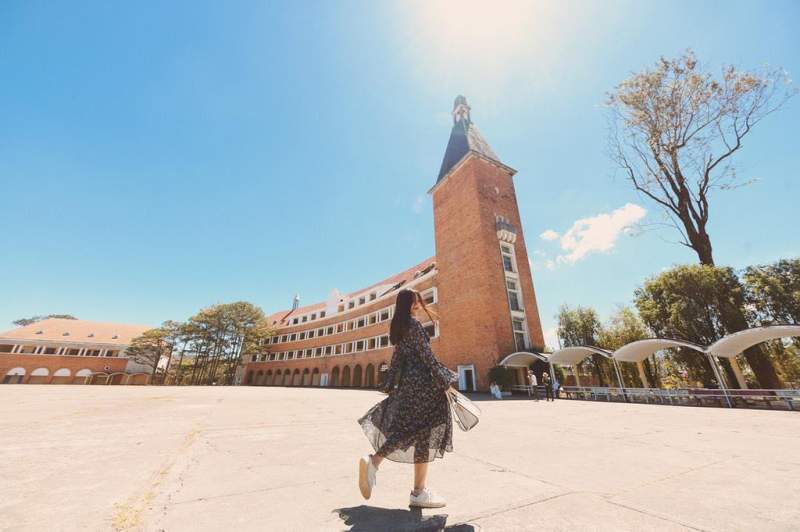 Beautiful architecture is like in Europe far away sky.  
With ancient architecture bearing bold European, Dalat Pedagogy College looks extremely outstanding among the city of thousands of flowers. It is also recognized as a national monument. The school is built into separate classrooms and lecture halls, arranged in a unique arc to form a large school yard in the middle.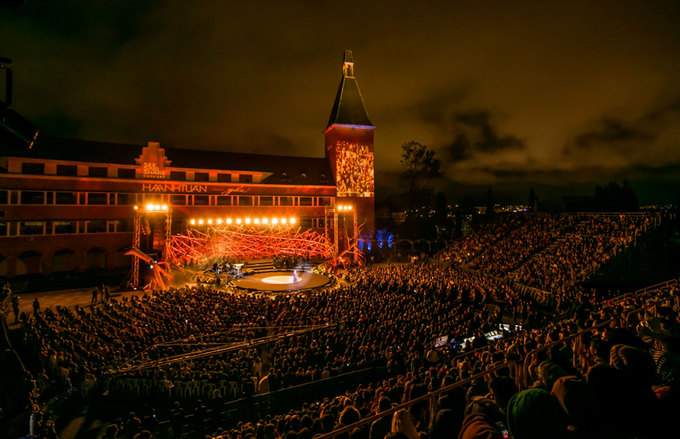 Organizing the evening music stage by singer Ha Anh Tuan
The type of bricks used to build the school is red ceiling tiles transported from Europe, the roof is covered with tiles taken from France. Therefore, the quality of the school is still quite good, except that some of the rotten roofs have been quickly repaired and replaced by the school.
High striking bell tower right in the lecture hall is a bright spot that attracts a lot of tourists to visit. On campus, there are typical flowers of Da Lat to bring a fresh and fresh space for the school.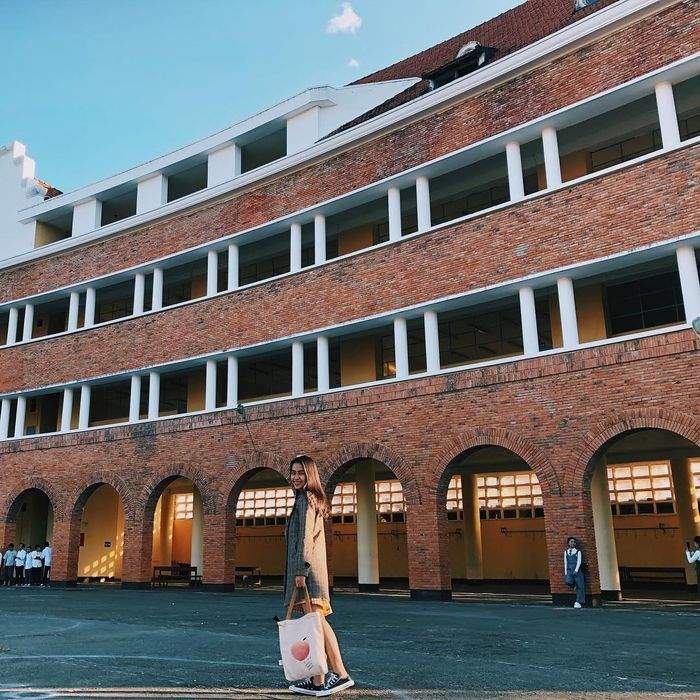 Space bold nostalgia
1 day exploring Dalat will be more wonderful if you come to Dalat Pedagogy College! However, please pay attention to the opening hours of the school for visitors so as not to miss your trip!
What to eat in Dalat?
Not only are there many beautiful scenes, there is also an extremely rich and diverse cuisine waiting for you to explore. The dishes here converge enough flavors of North, Central and South to be modified a bit to better suit the atmosphere of Dalat. Just one day exploring Dalat, you should not miss the unique dishes here
Wet chicken pie
Address: 28 Tang Bat Ho, City. Da Lat
Price range: 20K-100K
The wet cake is white and soft, mixed with topping including shredded chicken, chicken heart, young egg, herbs, fried onion and sprinkle some pepper on top. Comes with a small bowl of fish sauce to eat by itself according to each taste. This is a quite strange dish that is worth you to enjoy.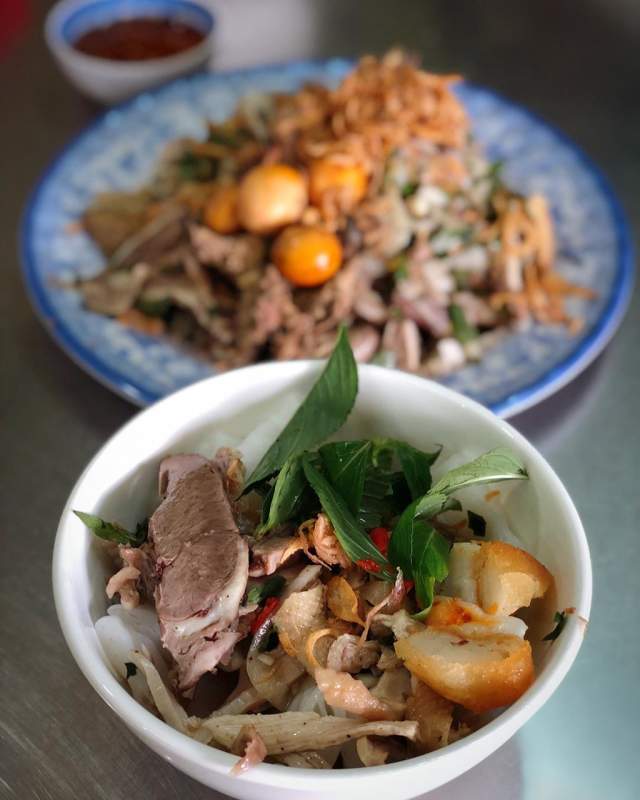 Wet chicken pie.
Tao En Ngo chicken hotpot
Address: 5 Đường 3/4, Tp. Da Lat
In the chilly coldness of Da Lat city, sitting next to a hot pot with smoke and a little spicy is nothing but right. Chicken leaf hot pot here converges all flavors: the spicy of chili, the sweet of mushrooms, the broth with a bit more sour and sour of bamboo shoots. The chicken in the hotpot is a lot, accompanied by two crispy round crackers that smell like coconut. If you're feeling uncomfortable flu in your body, then eat this dish is the number of dzach there.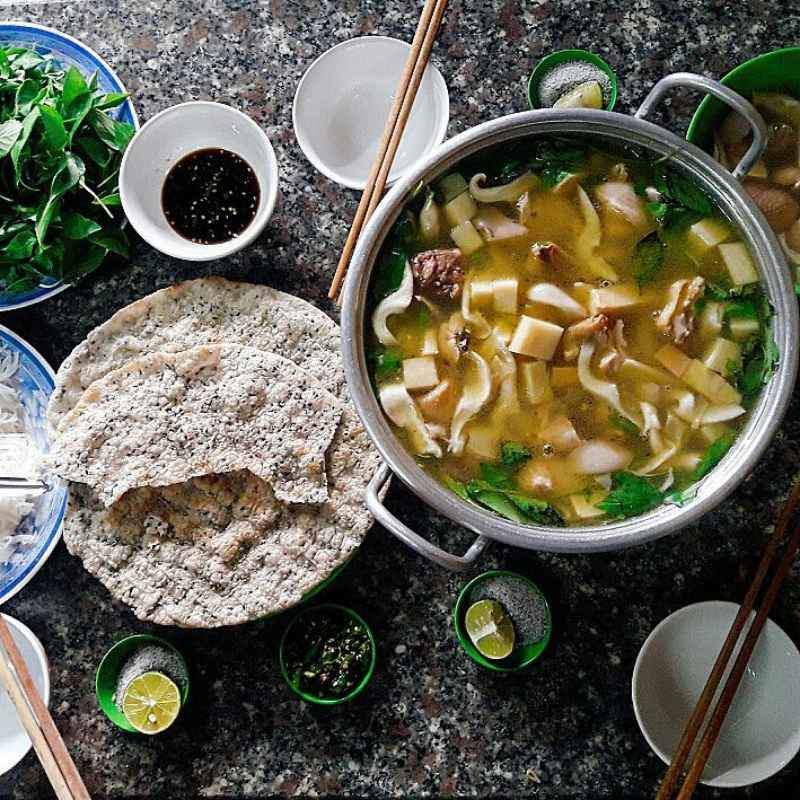 Chicken leaf hotpot é
Roasted soy milk combo with milk
Address: Lam Vien Square, Da Lat Market
Price: 10K – 20k
Going to Dalat without eating rice paper and drinking soy milk is considered as having not come to this country. Rice paper is baked crispy but still ensures toughness and not cracked. Topping is required by the customer but will usually have eggs, dried shrimp, onions, cheese, sprinkled with a layer of spicy chili sauce or fat leopard mayonnaise. When eating, remember to drink with a glass of hot soy milk to dispel the cold of this mist.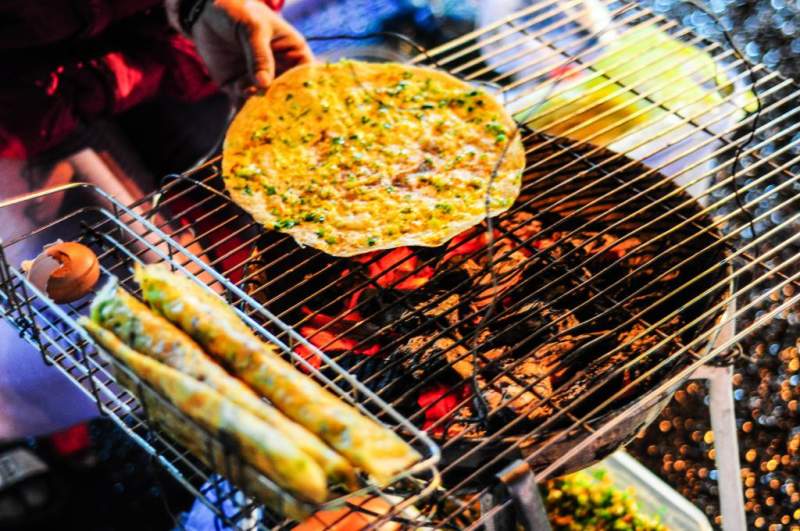 Grilled rice paper.
Your trip will be more perfect if you find a suitable resort. Dalat hotel is infinite but suitable for your pocket or the places you want to visit is not important.
If you are interested in the above suggestions of Vntrip, do not hesitate to book immediately LaDalat hotel to relax and explore Dalat in the most convenient way. The hotel is located right next to the beautiful love Valley and Hung garden, so it is more convenient for travel, especially when you do not have transportation available. Refer to the link here for more details about the hotel as well as exclusive promotions exclusive to Vntrip!