Nha Trang's surprisingly rich culinary culture has captivated many tourists with Nha Trang dining places not to be missed in the whole city. Each location is a delicious dish, impressive from colors to flavors typical of Nha Trang waters. immediately discover the delicious restaurants in Nha Trang and do not forget to book a hotel here for the most clear experience!
Places to eat in Nha Trang & good food
Bo Ke Seafood Restaurant – interesting experience when coming to Nha Trang
Bo Ke Seafood Restaurant owns an extremely favorable position on the Thap Ba embankment road. Enjoying seafood here, you will admire the two famous bridges of Nha Trang: Xom Bong Bridge and Tran Phu Bridge. Moreover, with your eyes a little further away, you will see the beautiful Ponagar Tower.
Especially, when coming to this restaurant, the visitors can both enjoy the food and immerse themselves in the beautiful Nha Trang beach and enjoy the cool sea breeze carrying the salty taste of the sea.
Bo Ke Seafood is one of the great eating places in Nha Trang for those who come here because you will relax, enjoy food and have a look at the beautiful coastal city at the time of lighting.
With a rich source of seafood, Bo Ke seafood restaurant promises to bring you a rich menu with steamed grouper La-gim, fried tamarind crab, fried lobster with garlic butter sauce … This will be one of the restaurants Nha Trang must definitely try when coming to this beautiful coastal city.
Thap Ba street seafood – gentle and peaceful as Nha Trang people
If you have the opportunity to come to Nha Trang, visitors should stop by Thap Ba Street to enjoy the delicious specialties here. Stretching all the way Thap Ba is dozens of sidewalk seafood shops. Here are some shops that you should try when coming to this beautiful Thap Ba street.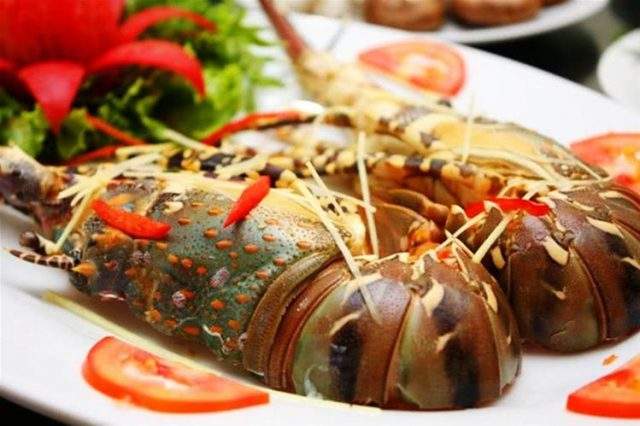 Thap Ba street seafood restaurants are famous for their extensive menu (Photo collection)
Xuan Anh snail shop – one of the delicious restaurants in Nha Trang attracts visitors with delicious snail dishes. Although this restaurant is a bit small, it attracts visitors with steamed seafood dishes, grilled dishes and warm space, friendly and attentive service of staff.
Coconut Tree Snail Shop is also a tourist destination in Nha Trang that you can visit. When stopping at the bar, you will enjoy the fresh seafood dishes with a special blend of dipping sauce that creates a delicious flavor.
Pham Van Dong street seafood – attractive and cheap delicacies
Pham Van Dong is a beautiful, curvy road that curves around the beautiful coastal city of Nha Trang. This road has many delicious seafood restaurants where you can enjoy seafood dishes and admire the sea. Here are some delicious restaurants in Nha Trang on Pham Van Dong that you should visit: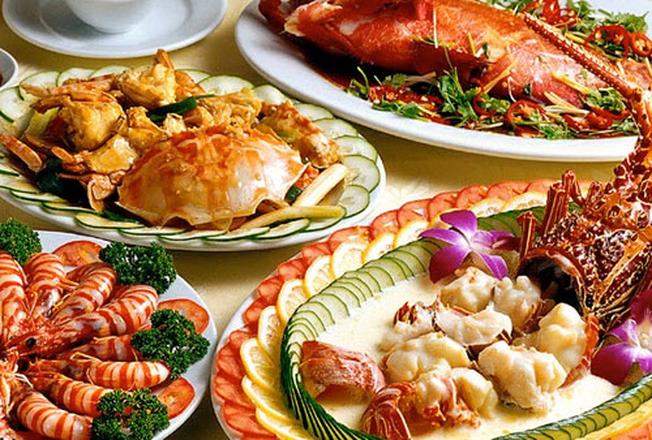 Delicious seafood dishes on Pham Van Dong Street (Photo collection)
Village Beach Restaurant is popular with many visitors not only for its good food but also for its reasonable price. Only from 30,000 to 200,000 VND, you can enjoy delicious dishes such as grilled shrimp, steamed crabs, seafood salad …
Thuy Duong Restaurant is located about 500m from Tran Phu Bridge. When coming here, diners can enjoy delicious seafood dishes with elaborate, sophisticated and skillful processing. In addition, from the restaurant, you can enjoy the whole beautiful Nha Trang Bay.
With a beautiful location by the sea, delicious and cheap food, Pham Van Dong street food restaurants will bring you a great experience in Nha Trang.
Ngo Si Lien seafood restaurant with a rich menu
Ngo Si Lien Seafood Restaurant is a famous restaurant in Nha Trang, which has existed for nearly 20 years. Coming here, the tourists will enjoy seafood dishes with bold flavor, fresh and quality assurance.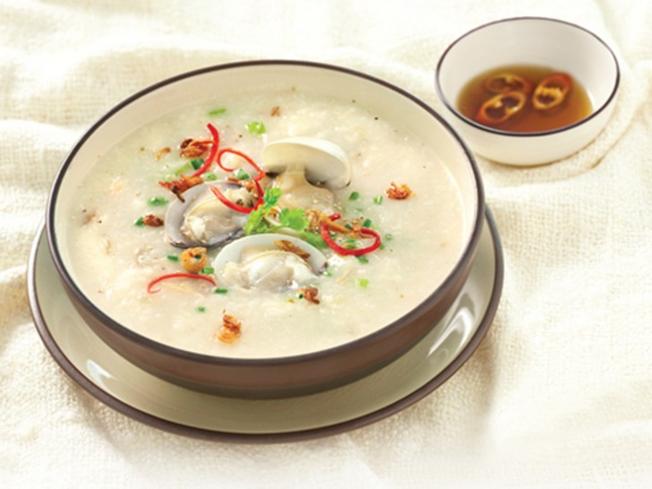 Porridge porridge one of Nha Trang specialties of Ngo Si Lien seafood (Photo collection)
The rich menu of Ngo Si Lien Seafood and professional staff will satisfy the visitors. This place produces some delicious dishes such as seafood porridge, shellfish salad, jellyfish salad, grilled shellfish, jumping snail, snail, grouper hotpot, seafood hotpot, crab.
Seafood village is fresh and attractive
To enjoy the fresh, quality seafood, visitors can rent canoes or take a boat of fishermen at Bao Dai port to take advantage of the "seafood farm" at the fishing village.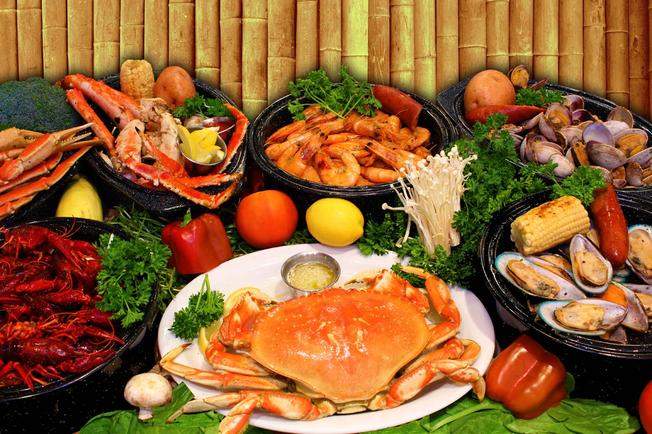 Fishing village attracts tourists with fresh seafood (Photo Collections)
A special feature of this fishing village is that you can choose seafood in fresh, delicious, high quality cages to bring to restaurants in the sea for processing. In addition, when visiting the fishing village with fishermen, visitors can also experience extremely interesting night squid fishing.
Fish ball noodle and vermicelli noodles made by Mrs. Nam Beo are delicious
Nha Trang delicacies that visitors cannot help but enjoy when coming here are fish noodles and jellyfish noodles featuring Nha Trang flavor. In Nha Trang, there are also many delicious restaurants serving these two famous dishes, however, the best known is the address of Mrs. Nam Beo restaurant near Phan Boi Chau apartment building with tasty delicacies but the price is not. be more reasonable.
The gossip is far away, and the delicious food is just like that, the restaurant every day is crowded with customers to enjoy this special dish. In addition to the above 2 dishes, the restaurant also has many other delicious dishes such as Nha Can cake and banh xeo.
Delicious baked rolls Ninh Hoa Vu Thanh An
The specialty of Ninh Hoa baked spring rolls is famous throughout the region, so it is not surprising that this delicacy is available in the coastal city of Nha Trang. Nem Ninh Hoa has two types of spring rolls and sour spring rolls, but usually spring rolls will be more suitable to visitors when enjoying the place and spring rolls will be bought as gifts.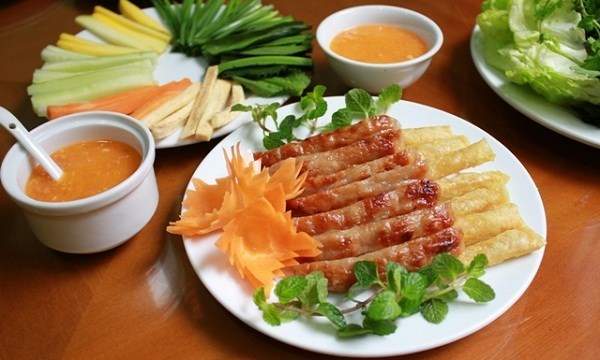 Coming to Nha Trang, to enjoy the best quality of baked rolls, visitors can refer to the delicious restaurant Vu Thanh An, at No. 5, on Le Loi Street, which is one of the delicious restaurants in Nha Trang . Nha Trang grilled pork roll will often come with more than 10 kinds of vegetables that are spicy, sour, bitter, acrid and dipping sauce with the taste of the shop's own secret.
Delicious Lac Canh beef forgot the way back
Amidst the bustling streets of Nha Trang street, Lac Canh grilled beef restaurant 44 Nguyen Binh Khiem street has been modestly existed for over 40 years as a traditional dining place in Nha Trang . Nha Trang has many restaurants that also sell grilled beef, but it is not as strange and famous as this delicious restaurant.
Coming here, diners will enjoy soft, sweet beef steaks, flavored with sweet honey, mingled with the aroma of cooked meat next to the charcoal stove. Grilled beef served with hot rice, crispy toast or noodles are very delicious.
Mrs. Thua's traditional soup cake tastes like Nha Trang
In the middle of the early autumn cold weather, there is nothing better than sitting on the familiar street corner and enjoying the delicious dish of banh canh typical of Nha Trang. Along with many other delicious restaurants in Nha Trang that sell this dish, Mrs. Thua's banh canh shop on Yersin street in Nha Trang city is still the most special one.
Many domestic and foreign tourists who have been here are very impressed with the delicacies at the restaurant. The restaurant specializes in serving various types of banh canh with diverse flavors such as bun canh, filter powder, pho noodle, but the most unique is still fish intestine soup.
Impressive Nha Trang cake on Ly Thanh Ton street
Nha Trang base cake is already deliciously famous but will be more special when enjoyed right in Nha Trang, by the chefs of Nha Trang processing and serving. The cake will be processed into two types of hot crispy base cake or cold bowel cake.
This Nha Trang dining spot is usually only sold in the evening, so it is quite crowded, and when eating, diners will choose for themselves the type of sauce and bread that they want to eat to suit the taste. Rich flavors such as shrimp bread, meat, onion fat, squid, or vegetarian.
Traveling to Nha Trang not only attracts visitors by the beautiful scenery but also by the rich and diverse cuisine, which converges the essence of the three regions and still has the essence of Nha Trang. Coming to this beautiful coastal city, do not forget to walk around the streets and discover attractive places to eat and drink in Nha Trang . The above are just a few suggestions for good restaurants in Nha Trang , but there are many other addresses that have not been fully explored. Therefore, tourists come to Nha Trang and feel the same, ensure an unforgettable impression with the "delicious dishes long remember" when traveling in Nha Trang .