Tuy Hoa Beach is beautiful, sunny and peaceful, but there is also a Tuy Hoa that makes visitors passionate about forgetting about the way to get lost in the land of Tuy Hoa specialties that just feeling from the first moments can make you Remember forever. Let VietNampeace "record" you these great specialties!
Chives soup
Chives soup is also a famous dish of the sunny city of Tuy Hoa, Phu Yen Only when the wireless will feel the unique flavor of each region from raw materials to processing.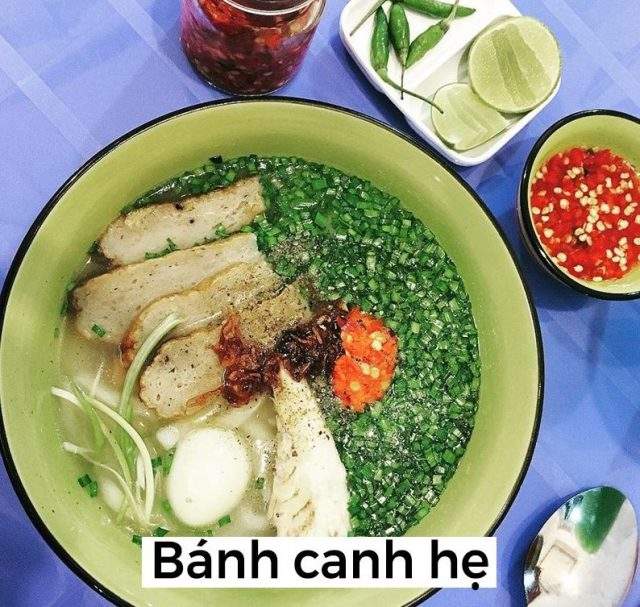 Chives noodle soup (Photo collection)
This idyllic dish attracts a lot of visitors to enjoy. The ingredients for making this cake are also very simple including: fish cakes, meat, quail eggs, soup bread can have a bowl of soup cake right away. The noodles are similar to the noodles in the north but are slightly larger, made from rice flour, soft and flexible but when eaten will not be tough or friable. Grilled chopped fish, fried well, soft with fish meat is molded into small pieces which are steamed and fried until golden, not too burnt, just inhaling the fragrance is enough to make visitors ecstatic .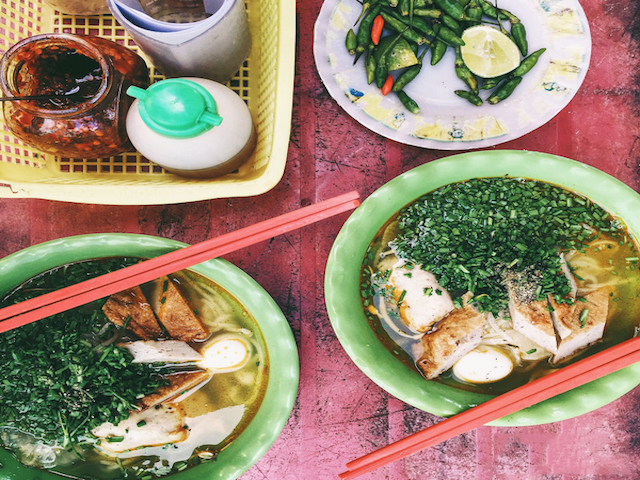 Only from 20,000 VND – 25,000 VND / bowl, visitors will not forget this dish (Photo collection)
The bowl of soup is more charming when the broth of the chives is not made from bone broth but made from small fish so the broth is very sweet and does not feel sick when eaten. In particular, the bowl of soup cake will be more wonderful when the point of entering the bowl of aromatic green cake of chives leaves creates a unique point that only when enjoying visitors will remember this dish only in Tuy Hoa.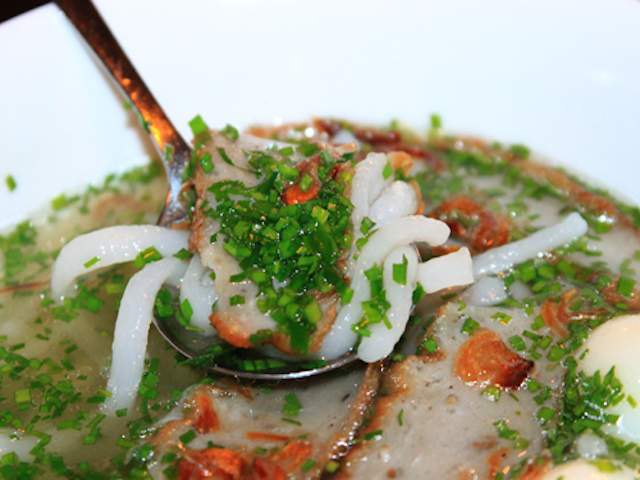 Soup bowl is more flavorful when made from small fish so the broth is very sweet (Photo collection)
Just looking at a bowl of chives with chives is enough to charm you, from 20,000 VND – 25,000 VND / bowl, visitors can visit the corner cake soup shop at Tran Hung Dao post office or Phan Dinh Phung street to enjoy. Delicious chives bowl of chives.
Central style pancakes
Referring to the pancakes, it must be too familiar with visitors when this is the brainchild that goes everywhere to see the smell of delicious pancakes. Depending on each region, pancakes have their own unique flavor that cannot be mixed with any other cakes.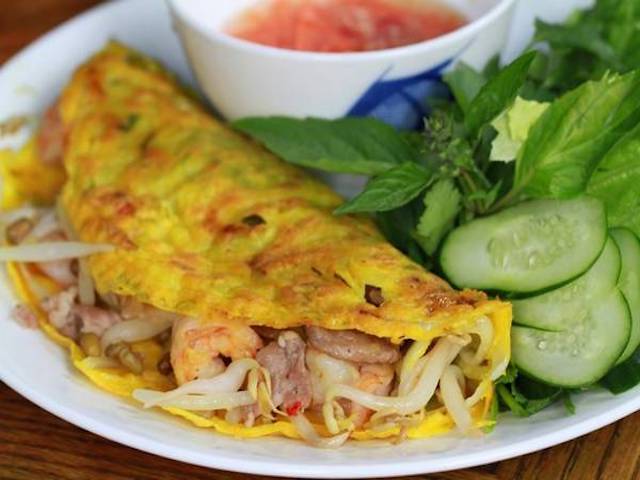 Pancake (Photo Collection)
The pancake crust is made of rice flour rolled with many filling inside: shrimp, meat, bean sprouts, squid. Coated with a layer of cooking oil, the pancakes are fried and folded into a semicircle. The aroma of smoky cake blends with the sweet fragrance of shrimp and squid to stimulate the taste of visitors when coming here.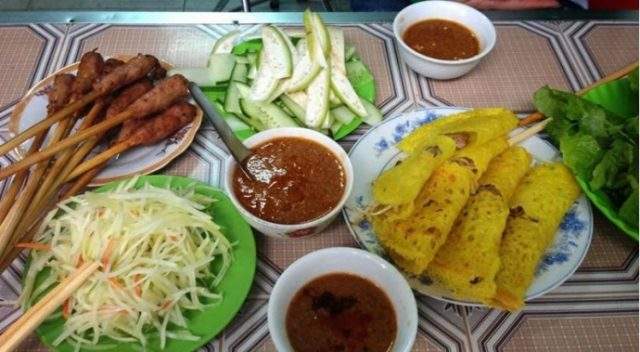 The salty, sweet, sour, spicy taste blends together, served with raw vegetables, you will want to eat more (Collectibles)
Pancakes with full of filling alone is not enough, the attraction so you can not forget this dish is the dexterity and sophistication of the dart maker. The salty, sweet, sour, spicy taste blends together, served with raw vegetables, you will want to eat more than that. Because unlike other places, the pancakes in Tuy Hoa are very thick and filled with many people, so they will quickly fill their stomach.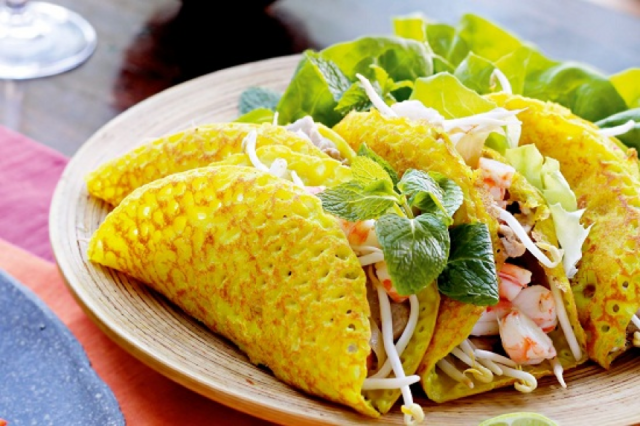 Enjoy it now (Photo collection)
Only from 10,000 VND / cake, suitable for travelers' pocket. If you have time, you can visit to enjoy Banh Xeo cake while eating at 20 Le Thanh Ton or Tran Quy Cap Street or right in Nguyen Cong Tru alley, this peaceful city of Tuy Hoa. Definitely not to disappoint you.
Duckweed
Going along the Central region, visitors can easily see that banh beo is a popular folk dish everywhere, but Tuy Hoa duck cake has its own flavor that if you come to remember.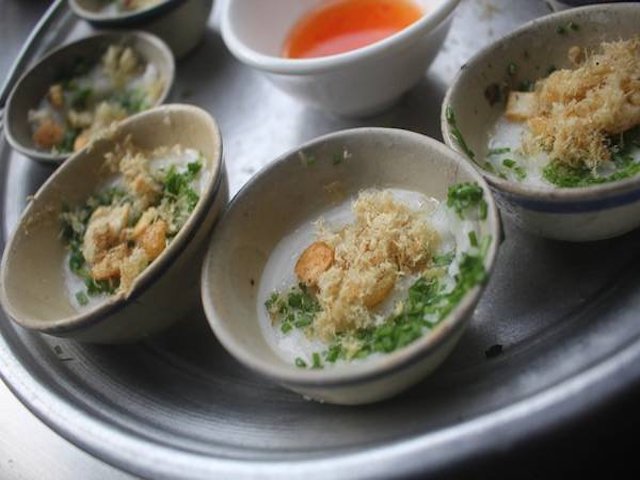 Tuy Hoa duck cake (Photo collection)
If Hue Banh aromatic rice cake smells of hot shrimp served with sweet and spicy sauce, Tuy Hoa Beo cake has the sweet scent of cotton sprinkle sprinkled with onion fat dipped with sour, sweet and sour taste. Mixed with the dipping sauce. With dexterity, dirt cake is put in a pretty small bowl. Holding neatly on the palm of the hand, feeling the smell makes visitors swallow "saliva", crave immediately and always.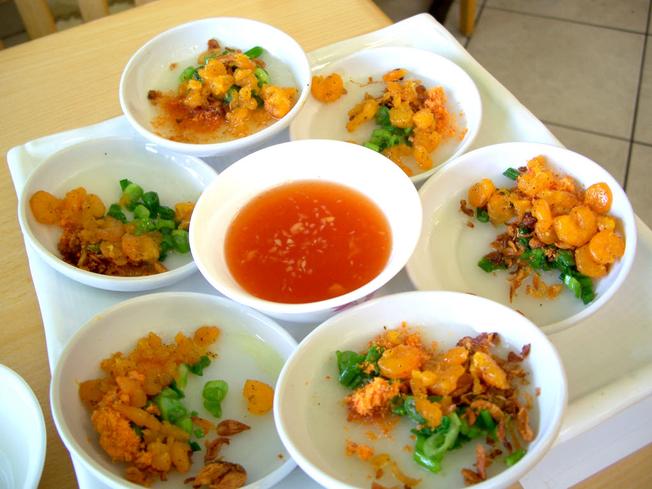 Visitors will taste the first cup of fragrant water hyacinth cake (Photo collection)
For only VND 10,000 – VND 15,000, a tray of about 10 cups of dirt cake, lost in some paradise such as No. 3 Le Trung Kien or a sidewalk restaurant near Tran Hung Dao Street, visitors will taste instant fragrant duckweed cake Firstly.
Pork pie asked
Traveling to Phu Yen, if you have set foot in Tuy Hoa, do not forget to enjoy this Pork Asked Pancake. This is the brainchild of Tuy Hoa.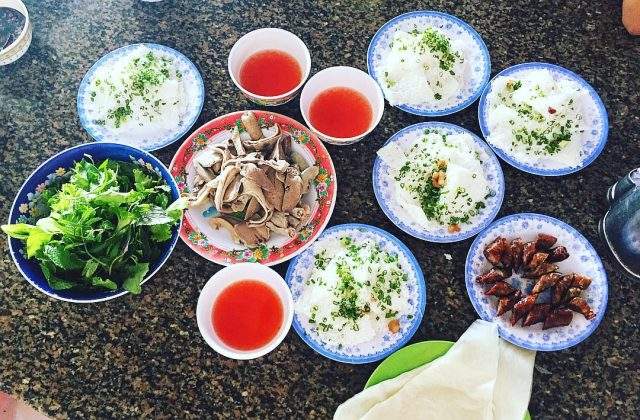 Pig heart cake (Photo collection)
It's strange to hear the name of Banh Mi, made from rice flour itself, with elaborate and skillful way of eating with pork or barbecue, dipping with fish sauce is hard to resist the taste of friend. When eating, you will feel the smell of rice rather than dry cake.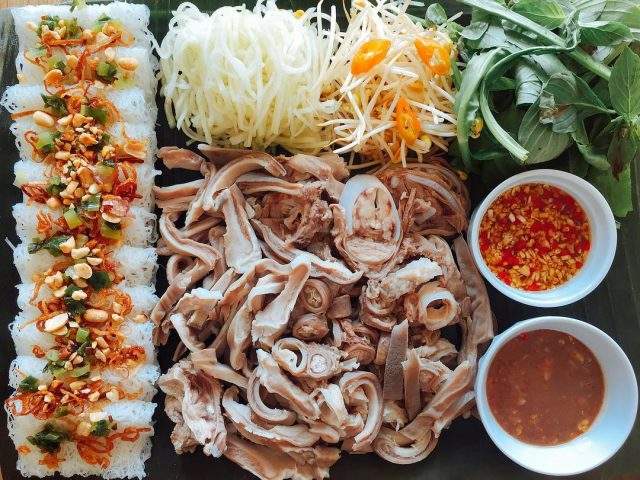 (Collected photos)
Drop by Quan Hoa Da right next to National Highway 1A in An My commune or Nam Phu Tho's restaurant on Nguyen Van Linh street, only from 20,000 VND – 30,000 VND, you can check-in and try this dish right away.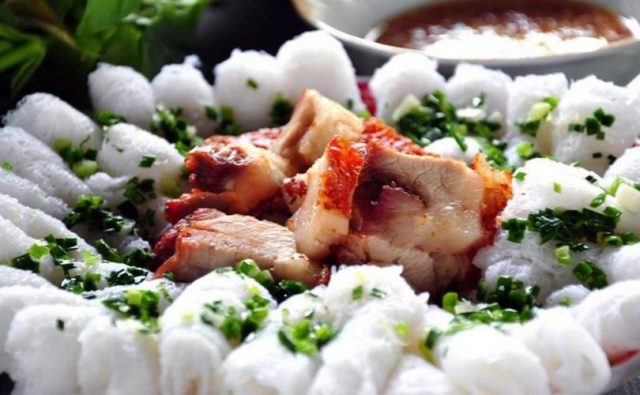 Only from 20,000 VND – 30,000 VND, you can check-in and try this dish right away (Photo collection)
Noodles jellyfish
Jellyfish noodle dish is also one of Tuy Hoa's specialties that visitors coming here also spend time to enjoy. Not only Tuy Hoa has this dish, but the Southern provinces in general have Bun jelly dish but depending on the region that brings different flavors.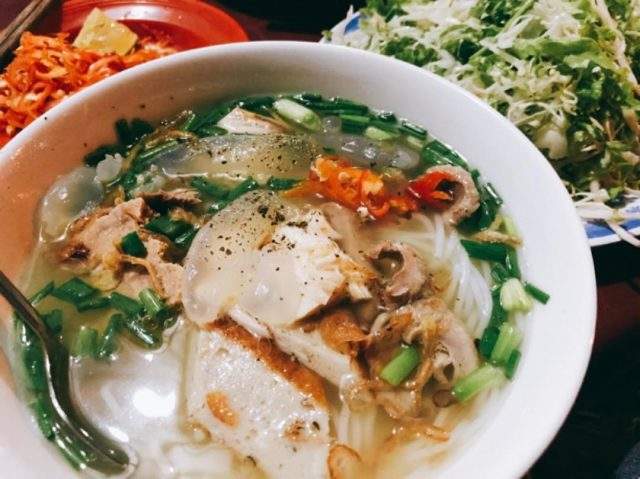 Delicious Jellyfish Noodles (Photo Collections)
Jellyfish noodle soup looks fussy but very simple. With meticulous, ingenious, coastal fishermen cook jellyfish noodles very rustic. With ingredients including: jellyfish, rolls, grilled mackerel fish roll small members and then steamed cooked with raw vegetables. Sufficient fat ingredients in jellyfish bowl really appeal to the eyes of tourists coming here.
Price 30,000 VND / bowl, you can eat immediately a bowl of hot and delicious Jellyfish Noodles (Photo Collections)
Especially when the broth is made from the ingredients of the sea such as: fish, shrimp, squid, .. bring a rich sweet taste, the bar blends with a little shrimp and tomatoes that have been chopped. Vermicelli, small white jellyfish are chopped and the ingredients are mixed with hot, fragrant broth. Definitely not to disappoint you.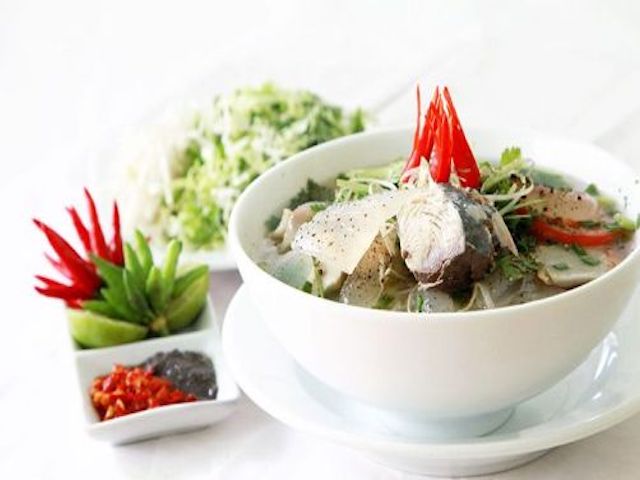 (Collected photos)
Drop by at 169 Le Thanh Ton, just from 30,000 VND / bowl, you can immediately eat a bowl of hot, delicious Jellyfish Noodles!
Tuna eyes
Just hearing the name of this dish alone, visitors also feel very curious about this dish already. And only when coming to Tuy Hoa, visitors can enjoy the specialties of Tuna Eyes that no other place has this dish.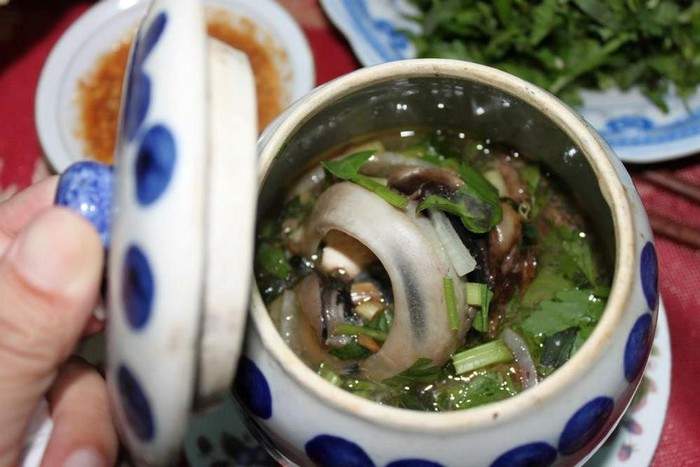 Tuna eyes with a sweet, pleasant taste (Photo collection)
The thing that surprises visitors is that tuna eyes are processed clean, seasoned and put into a small bowl of bowl to cook. Strange is that it is stewed with a Chinese medicine such as jujube, goji berries, .. in addition to some vegetables to create a very nice dish. When you feel the aroma of this fragrance, you will not feel the Chinese aroma overpowering the aroma of the fish but the sweet and pleasant taste of the tuna eye. Serve with some perilla or Bui Bui vegetables, you will feel all the deliciousness of the dish.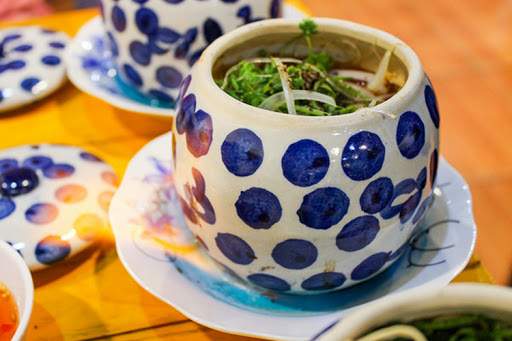 (Collected photos)
Only from 20,000 VND – 30,000 VND / jar, really fits your pocket. Coming to Ba Tam right at 289 Le Duan or Quan Son Cau Go at Bach Dang embankment to enjoy this dish right away, certainly will not disappoint visitors.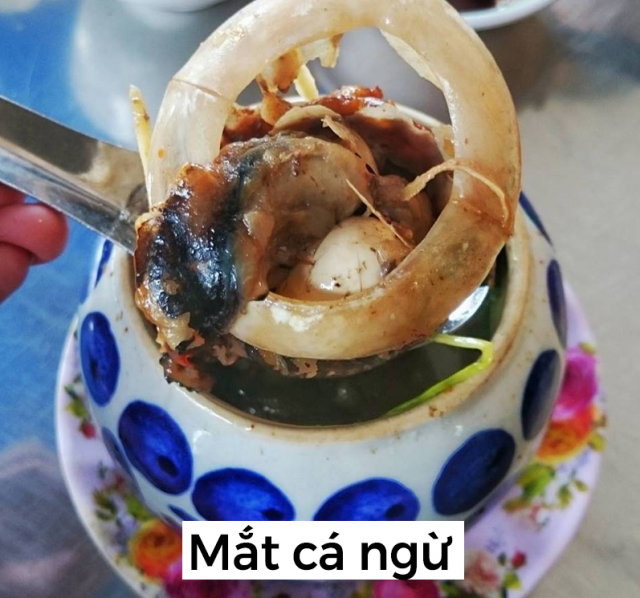 Only from 20,000 VND – 30,000 VND / jar, really fits your pocket
Steamed Round Scad
If visitors come to Tuy Hoa without enjoying the steamed puffer fish dish, it is a waste. This is a rustic dish of fishermen in the sea.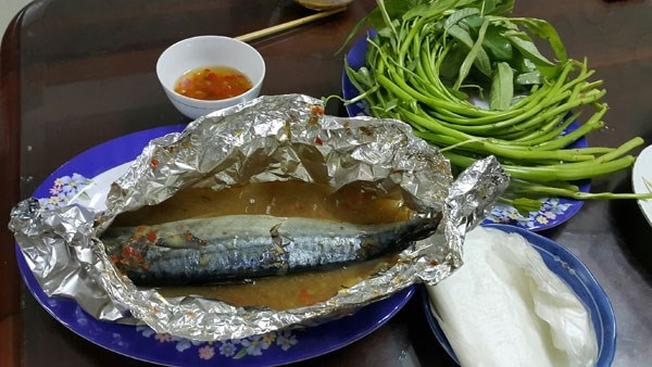 Delicious steamed scad (photo collage)
The fish is selected toned, fresh and fresh after being cleaned, marinated with a little spicy spice of purple onion, scallions, and finely chopped peppers to infuse gradually and steam the water for about 30 minutes – 45 minutes will make the tender puffer fish dish not too soft and rich with the sweet and unique fragrance of Tuy Hoa city.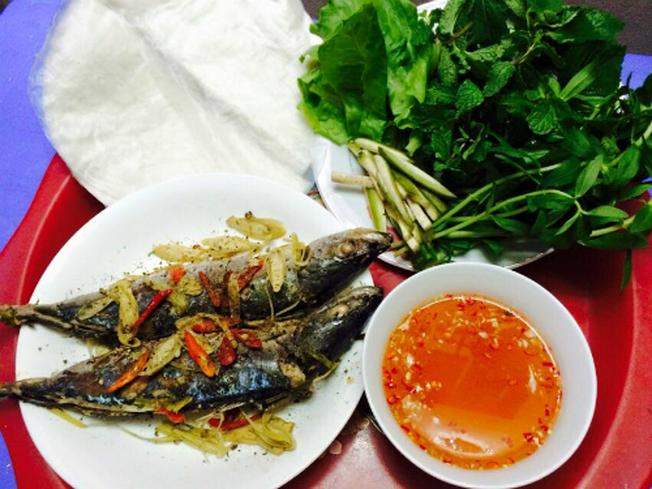 (Collected photos)
It will be more delicious and wonderful when you eat hot steamed scad with dipping sauce. With the sauce is not only pure fish sauce, but also made from the sweetness of the steaming hot scad fish sauce to bring the sour, aromatic flavor. Steamed scad mackerel is served with rice paper, a little fish and some spinach and other vegetables curled with this delicious fish sauce just adds to your taste buds.
Salad with shellfish
Mai fish is a fish that has a strange name because it is mainly found in the Central region, especially O Loan Lagoon. Mai fish is the most delicious when making Mai Mai salad, even the most fastidious people also have to fall in love with this dish.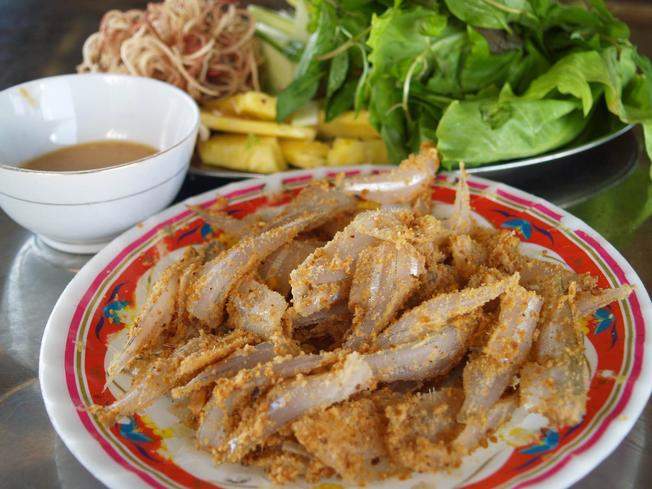 Fresh and delicious shellfish salad (Photo collection)
The most important thing is to choose fresh and delicious Mai fish, processing Mai fish is not difficult, this dish always needs a spice with lots of raw vegetables and salad dressing to fit your mouth and attractiveness. traveler.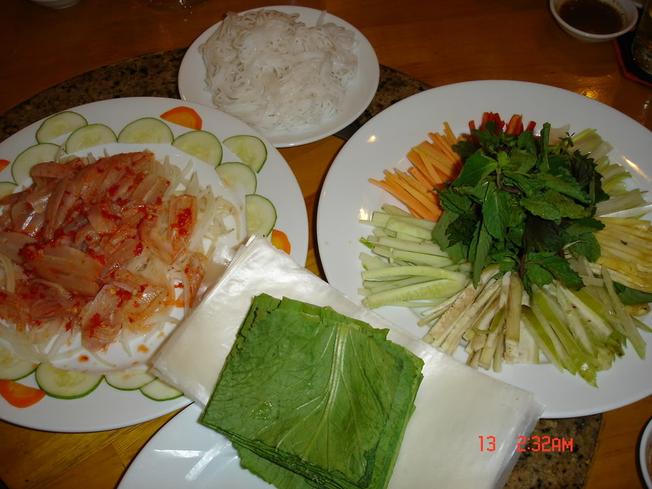 (Collected photos)
Take a little salad of shellfish rolled with rice paper and dipped with delicious fish sauce that captivates visitors' taste. Tourists who come here can visit Nguyen Hue Street to enjoy this dish.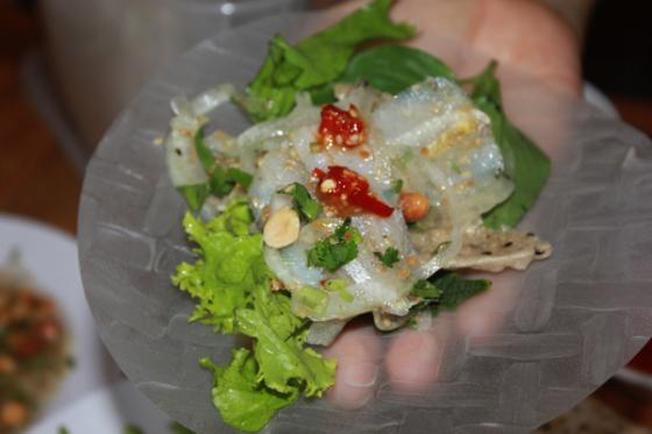 Visitors who come here can visit Nguyen Hue Street to enjoy this dish (Photo collection)
O Loan blood cockle
Coming to Tuy Hoa, this is a fresh seafood paradise, so no matter what you eat, you can feel the taste of the sea. Blood cockle is abundant in O Loan lagoon because it is very rich in production.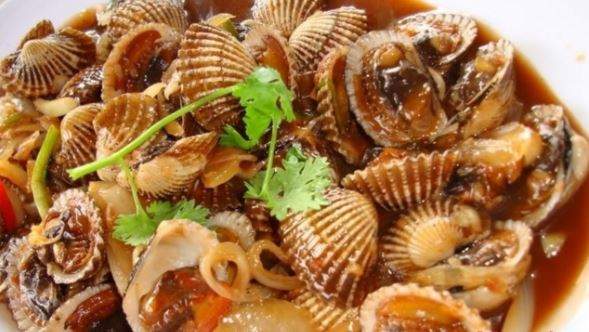 O Loan blood cockle (Photo collection)
With the skillful and excellent processing, we believe that there is no place that has the taste like O Loan Dam cockle. With a rich, sweet, aromatic, salty taste from the outside of the shell to the inside of shellfish. The red roses, ripe, fragrant and aromatic when marinated to be able to do so many dishes are hard to resist.
Only from 20,000 VND – 30,000 VND / disc, visitors can visit this restaurant also has this dish. Or even the restaurants located near O Loan lagoon can enjoy this dish right away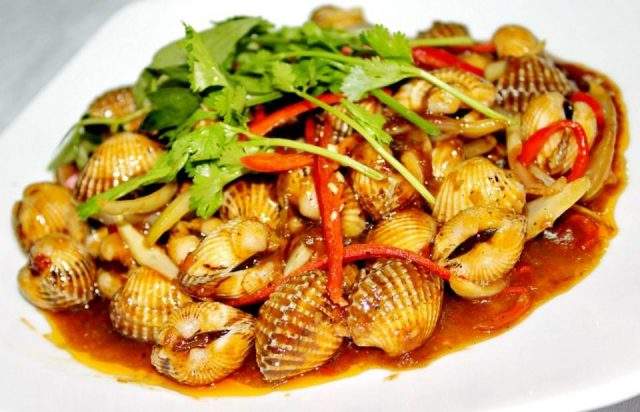 Only from 20,000 VND – 30,000 VND / disc, visitors can visit this restaurant also has this dish (Photo collection)
Spring rolls
Chaot heard the name visitors will be curious when they do not know "Why is it called Cha Dong?" Cha Dong is processed from the Thunderstorm, abundant in sandy areas along the central coast. It looks like a big toe. With ingenuity, sophistication of the people in the new waters can catch this fish and turn them into dishes that attract visitors to enjoy.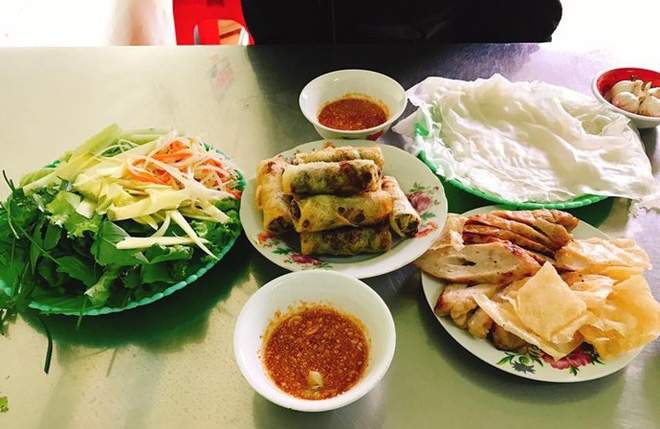 Spring rolls (Collected photos)
Cha Dong dish is made similar to Da Nang's baked spring rolls, marinated with spices and mixed well. Curled by the outer layer of rice paper, evenly heated in a small pan of fried fat, the Pung Cha is not too burnt but still yellow and crispy.
Spring rolls served with raw vegetaos)bles dipped in a spicy, sweet and sweet sauce. It is affordable for visitors only from 20,000 VND – 40,000 VND, visit 92 Nguyen Cong Tru, Tuy Hoa City to feel the delicious taste of Cha Dong.
Chicken rice
Referring to Tuy Hoa Chicken Rice is different from Saigon chicken rice or even the famous Hoi An chicken rice. Each region always has its own flavors and processing, and no matter where you go, you cannot mix Tuy Hoa chicken rice flavor.
Tuy Hoa chicken rice is special when it is cooked with chicken broth so the rice is a bit yellow. But the people here also put a little bit of turmeric to mix into cooking rice. The rice is soft and flexible. Ingredients include chicken, shavings, cucumber, which makes it easy to eat without being bored with visitors.
Chicken meat is shredded or left whole chicken thighs, when eating, you will feel soft and fragrant meat, chicken skin yellow, not dry. Tuy Hoa chicken rice will taste better when served with soup and dipping with super delicious fish sauce. The ingenuity in the way the chef's fish sauce is made, the sour, spicy, sweet taste of the fish sauce numb the tongue of visitors, it is difficult to refuse this dish.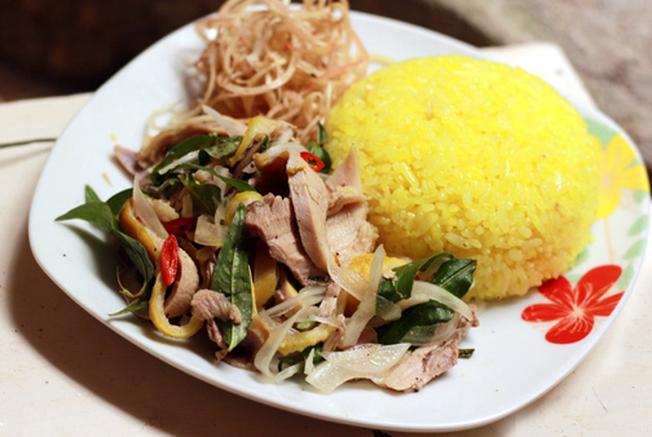 Guests feel tender and fragrant meat, yellow chicken skin, not dry (Photo collection)
Stop by Tuyet Nhung chicken rice at 189 Le Thanh Ton, Bao Chau chicken rice next to Tuy Hoa market, only from 25,000 VND – 30,000 VND / plate, visitors can enjoy this dish as delicious as possible.
Cow a sunny
The sunny cow is one of the first specialties of Tuy Hoa that attracts domestic and international visitors. So that visitors here do not forget once to enjoy this dish.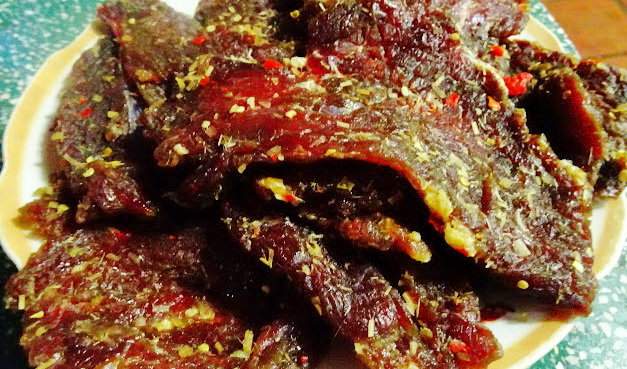 A sunny cow (Photo collection)
Coming to Tuy Hoa, tourists are often flooded with seafood food or enjoying lobster dishes, but rarely come here to know the dish of sunshine. When hearing the name, everyone will mistakenly think that the ink is sunny but not in Tuy Hoa has this special dish.
Beef is cleaned and sliced into thin slices, marinated with spices and then exposed to the sun for the rest of the morning. The beef after drying is not too hard or dry, grilled on a hot charcoal grill. The aroma of yellow cooked beef captivates visitors when enjoying this dish. With the dexterity of this dish, the beef is not burnt or smells bad.
What visitors will remember forever when eating this dish is combined with salt Ants Ants. This is a specialty of the Central Region that when you feel the first pieces, you will see a little salty taste combined with the spicy taste of Central Vietnam chili that you do not want to stop. Only about 200,000 VND – 500,000 VND depending on the purchase volume, visitors can bring as gifts for their family or friends.
Phong Hau sticky rice
If in Hanoi is famous for Com Vong village, Tuy Hoa is famous for Phong Hau sticky rice cake. The cake has been in Phong Hau village for a long time and so quickly became a famous craft village in Phu Yen. With simple ingredients: sticky rice, sugar, corn with the skillful processing of the cereal worker, visitors just see it and want to enjoy it right away.
Glutinous rice is used to make rice nuggets, after being roasted, grinds into small pieces. Cook sugar, add a small amount of crushed lemon and ginger, while sugar is boiling. Then mix the mixture well in a big pot. The craftsman uses his hands to mold and decorate the attached mold, which is a very impressive shape like a star, a cute little pattern that looks like the eyes.
Just "bite" to try the first piece, visitors will feel the sweet aroma of the sticky smell, the sweetness of the sugar in the palm of the hand wrapped in paper that can not be mixed with any other cakes. Sip bit by bit with hot tea, chatting with family or friends really makes visitors feel more warm, closer to people.
Ice cream mix
The name Ice Cream Mix was strange to first-time visitors to Tuy Hoa. Often you will hear the name coconut milk cream, seven-color ice cream, ice cream cone, .. But with this specialty dish will make visitors surprised by this special taste.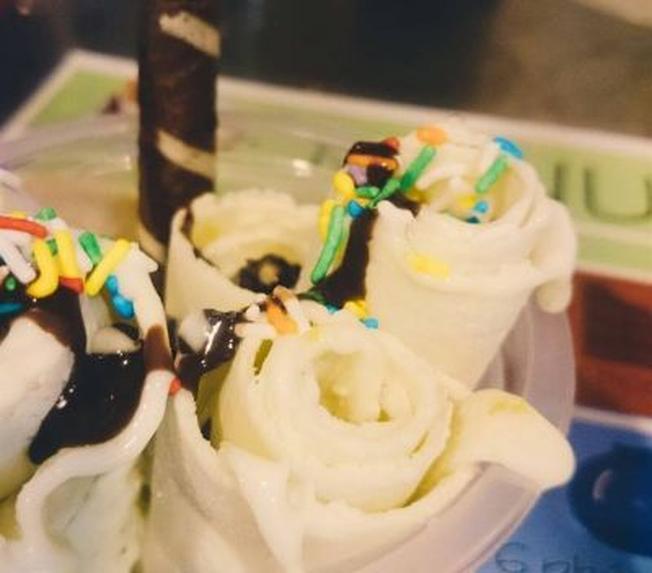 Ice cream mix (Photo Collected)
This is classified as a snack that everyone wants to enjoy. This unique name because it is actually fresh longan ice cream mixed with flan cake, with ice and peanuts to accompany, so it is called Ice Cream Mix. The ice cream here is not too sweet, not too flexible, and the flan is a bit greasy, but when you eat you do not feel sick, fit the taste of most people. Or in addition to enjoying this ice cream dish, you can also eat delicious coconut cream ice cream or try a variety of ice cream mixed with different flavors.
Just walking along Duy Tan street sidewalk, only for 15,000 VND / cup, you can freely enjoy the strange and special ice cream flavor that only you can come to Tuy Hoa.