Traveling with a lover is always an interesting experience that couples in love should not miss. In a strange land, discovering new things together will make both of you more empathetic and understand each other. Wouldn't it be great to be with someone you love in a romantic space? So let Vntrip immediately explore the love hotels in Nha Trang with the romantic space loved by many couples below.
1. Romely Hotel
ROMELY HOTEL, Huynh Van Nghe, New Urban Area, Vinh Hoa, Nha Trang City, Khanh Hoa, Vietnam
Price from 600,000 VND / night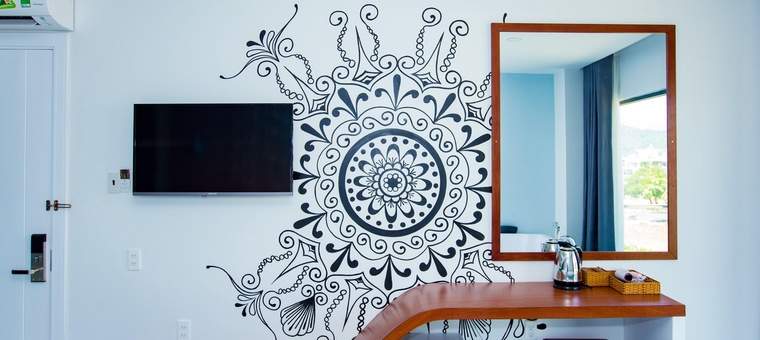 Book nowCare
Address: 164 Huynh Van Nghe, New Urban Area, Vinh Hoa, Nha Trang City, Khanh Hoa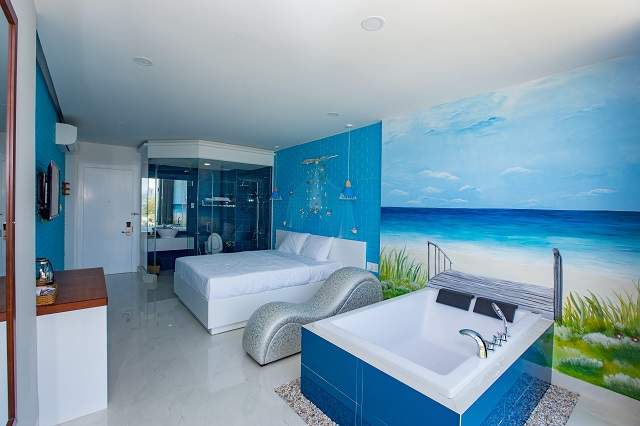 Romely Hotel is a hotel in Nha Trang with Tantra love chairs that many couples choose
Romely Hotel is the first love hotel in Nha Trang equipped with Tantra chairs – a love chair with special design, bringing a new and uplifting feeling to couples. Thanks to the appearance of this unique chair, Romely Hotel has become one of the most beloved love hotels in Nha Trang.
The center of Nha Trang city about 8km to the North, about 30km from Cam Ranh International Airport is very convenient for travel. Visitors who rest here will feel the quiet space, separate from the bustle and noise of the city center. This is very suitable for couples who want to find an open, peaceful place to rest.
The space at Romely Hotel is spacious, with a total of 16 bedrooms decorated with many different styles, giving you an interesting feeling every time you come here. The first floor consists of 4 rooms designed based on the architecture of 4 different countries including: France, China, Egypt and Japan. Each room is also decorated with a small garden that brings a real feeling of relaxation. In addition to 4 rooms decorated by each country, Romely Hotel also offers you many other options such as Dream catcher room, wedding room, forest bedroom or rooms filled with sunflowers, ….
The interior of the room is extremely complete with bathtub, shower, television, air conditioner, water heater, … and many other personal items for you. Interior quality of 5-star standard gives you a completely different experience.
In a romantic space with a unique love chair, this is definitely a great choice that couples cannot miss during their holiday. Quickly book rooms at Romely Hotel on Vntrip to get the best price.
2. Queen Ann Hotel
100 Tran Phu Street, Loc Tho Ward, Nha Trang City, Khanh Hoa.
Price from 1,094,400 VND / night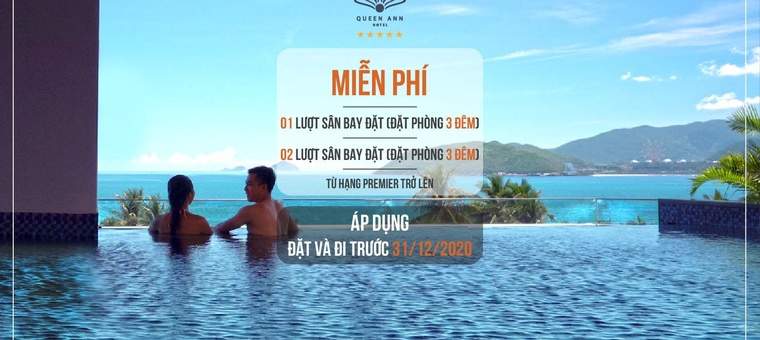 100 Tran Phu Street, Loc Tho Ward, Nha Trang City, Khanh Hoa.
Price from Contact / night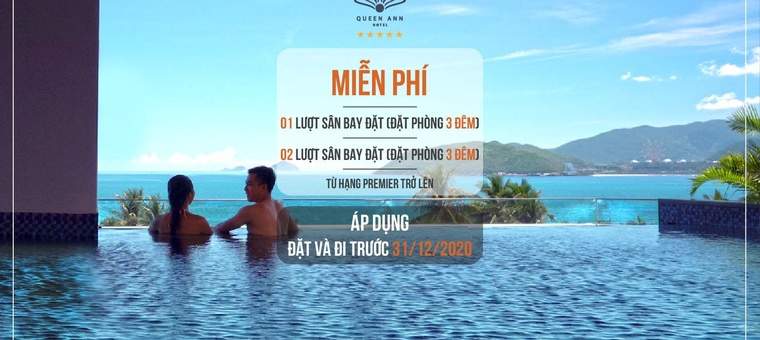 Book nowCare
Address: 100 Tran Phu, Loc Tho Ward, Nha Trang City, Khanh Hoa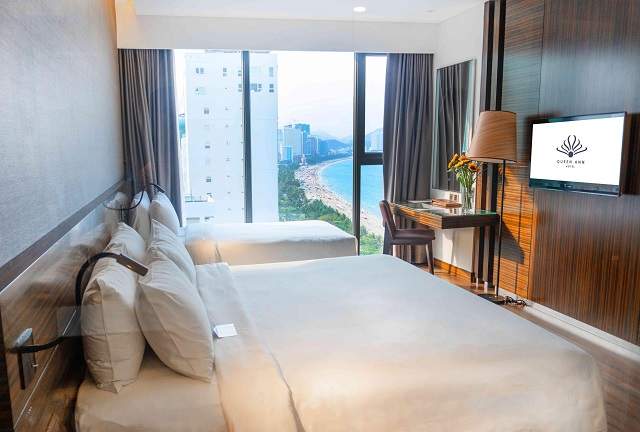 Romantic beach view hotel for couples in Nha Trang
Is one of the hotels for couples 5-star standard extremely ideal in Nha Trang. Queen Ann Hotel Nha Trang is located in the heart of Nha Trang city center on Tran Phu street. From here you can easily move to famous tourist destinations in Nha Trang such as Ponagar Tower, Long Son Pagoda or the travel to tourist routes on the bay and island of Nha Trang is also extremely convenient.
The biggest plus point when choosing Queen Ann hotel is the bedroom with unique sea view. Couples who often come here often choose these rooms so they can enjoy the feeling of watching the sea at sunrise or the sunset on the sea right in their own room.
The overall architecture of the Queen Ann Hotel is built in a luxurious and classy Western style. The interior design of each bedroom is fully equipped with a bathtub, a standing bath, a television, a telephone, a minibar, a relaxing sofa, a safe, etc. All are imported from Europe to bring you the experience. class and modern. There is also a fire protection system, a gas mask to help ensure your safety when an incident occurs.
At Queen Ann you also experience many other great services such as an indoor pool, bar, cafe, luxurious buffet restaurant, relaxing sapa, … very ideal for you to warm up your love with the other half. his back. The price of a double-class sea view room at the Queen Ann Hotel in Nha Trang is over 1 million VND / night. To book a room at the Queen Ann Hotel, a beautiful location and cheap, book a room at Vntrip today. There are a lot of discount codes up to 55% waiting for you.
3. AAron Nha Trang Hotel
Số 6 Trần Quang Khải, Lộc Thọ, Tp. Nha Trang, Khanh Hoa
Price from 910,000 VND / night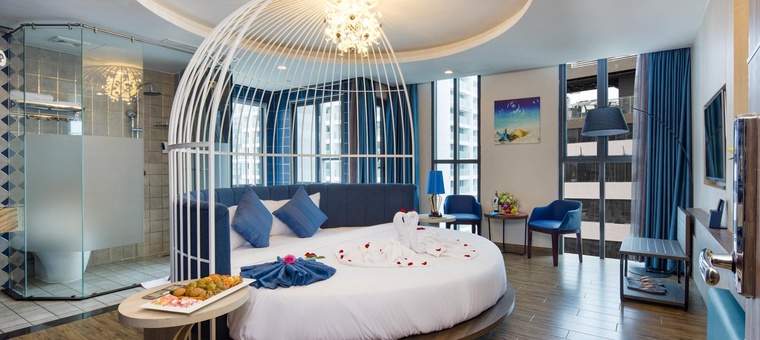 Book nowCare
Address: 6/6 Trần Quang Khải, Lộc Thọ, Nha Trang, Khánh Hòa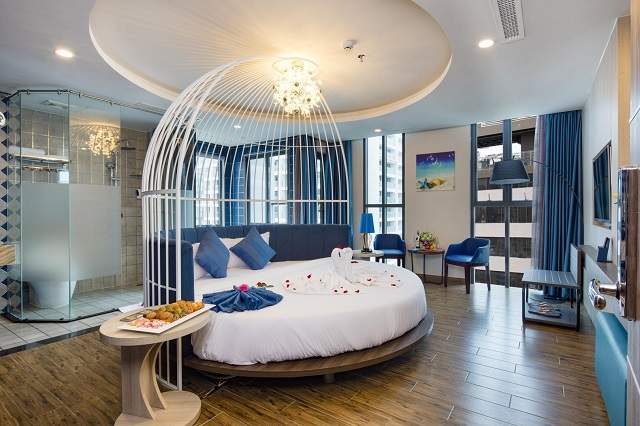 AAron hotel with unique bedroom design
Create location in a prime location of the city of Nha Trang. If traveling from Nha Trang beach to AAron Nha Trang hotel only takes a few minutes walk. It is also very close to the tourist destinations in Nha Trang as well as being convenient to move to the station (about 10 minutes) and to Cam Ranh airport only about 45 minutes.
AAron is one of the 4-star hotels designed with a romantic atmosphere, very suitable for traveling with your lover. Especially this love hotel also has a separate kitchen to help you and that person can cook for each other the dishes that both of you love.
At AAron, there are more than 70 bedrooms designed with the main blue-gray color inspired by the sea. Rooms are equipped with full amenities, bathroom with glass walls. The room also has a balcony, a window that makes it easy to see the beautiful coastal city of Nha Trang. In addition, AAron hotel also has many other convenient services such as spa, outdoor pool to help you relax and watch the beautiful sea view.
The room rate at AAron Hotel is usually about 1,000 VND / night. Book now on Vntrip for the best price.
4. Cicilia Hotel & Spa Nha Trang
Address: 07 Le Loi, P. Xuong Huan, Nha Trang, Khanh Hoa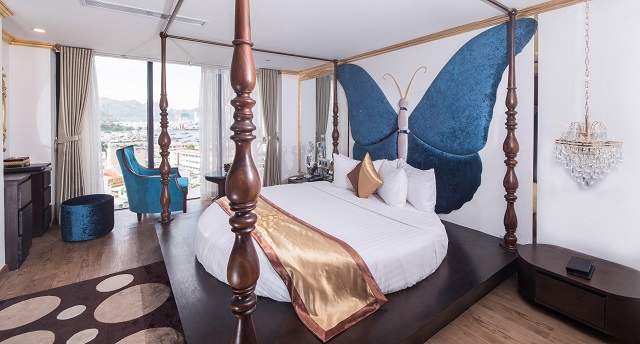 Cicilia Hotels & Spa is beautiful and extremely convenient when traveling
If you are looking for a beautiful love hotel in Nha Trang , convenient location, Cicilia Hotels & Spa is the perfect suggestion for you. This is a 4-star hotel combined with a spa with many unique and unique services that will surely bring you and your partner an enjoyable experience when you are together.
Located in the city center, just 3 minutes walk from Nha Trang beach, about 45 minutes drive from Cam Ranh airport. At Cicilia Hotels & Spa you can easily travel to tourist destinations as well as other parts of the city.
Cicilia was born based on the inspiration of the land of Cecilia – a land of the holy meaning of Italy. That has influenced the Western royal style design combined with the elegance and courtesy of East Asian style, creating the current class of Cicilia Hotels & Spa.
Cicilia Hotels & Spa has a total of 143 bedrooms, equipped with modern 4-star facilities. In addition, other services are also very focused by Cicilia Hotels & Spa such as outdoor pool, luxury restaurant, gym, bar, Balroom. Especially the system of spa service room, sauna helps couples can relax after passionate love.
View details and book a room right here
Warming up your love for the one you love is always a necessary job to keep your feelings full. A trip with your lover in a remote place or enjoying a weekend together at hotels with love toys, love chairs or hotels in Nha Trang with romantic space are all reasonable options. idea for you. With the suggestions about the favorite love hotel in Nha Trang, Vntrip hopes to help you easily choose a satisfactory resting place. To book a hotel with Nha Trang love seats fastest with many attractive incentives, please visit and book right on Vntrip. Wish you have a great holiday with your lover.