Coming to Da Nang many times, and you were a little "bored" with the scenery of the whole people who are check-ins in Ba Na, Love Bridge, Linh Ung Pagoda …?
Hmmm !!! So, "Vodrip", this pocket of "true feet" with 5 empty places for you to enjoy virtual life, without having to wait in line. Although these locations are not completely new and have been known by many "people", they still retain the wild beauty, promising you super-gorgeous check-in photos.
1. Ho Hoa Trung
If you come to Danang amidst the heat of the early summer days, immersing yourself in the fresh natural scenery of Hoa Trung Lake will be an ideal choice for you, especially if you belong to the love team. nature and enjoy exploring.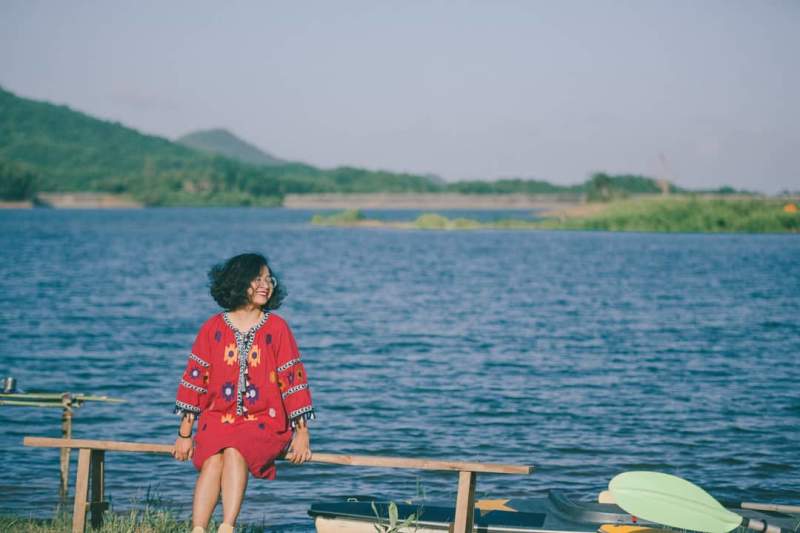 Ho Hoa Trung. Image: Instagram @_the_phan
Ho Hoa Trung is about 20 km from the center of Danang city, located in Hoa Ninh and Hoa Lien communes, Hoa Vang district. This is an artificial lake providing domestic water for people and irrigating fields and crops. A special attraction of Hoa Trung lake is the lake surrounded by artificial floating islands, beautiful as a steppe with green grass stretching.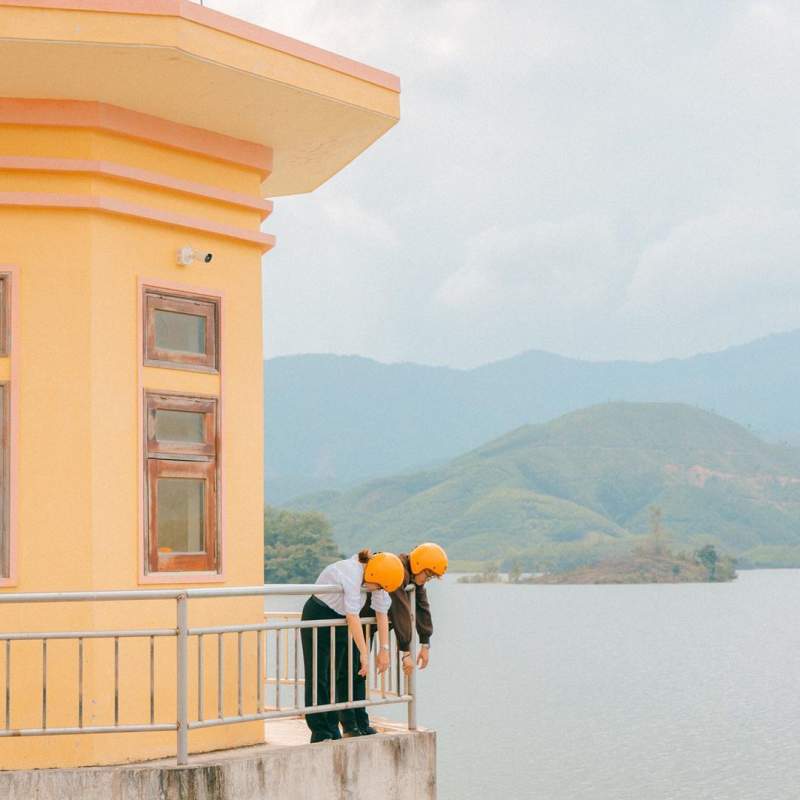 The beautiful check-in corners of Hoa Trung lake. Photo: Instagram @mvcthinh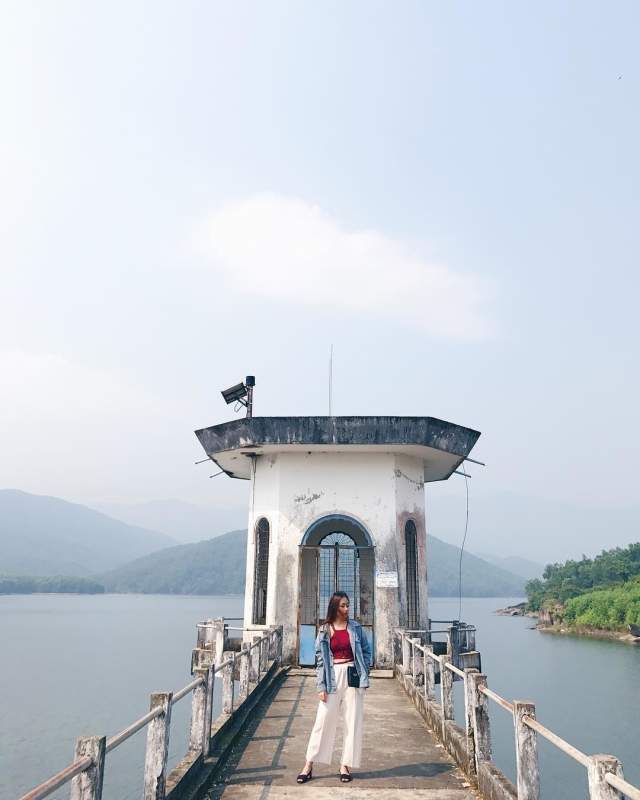 Fresh air, peace. Image: Instagram @ coconut2895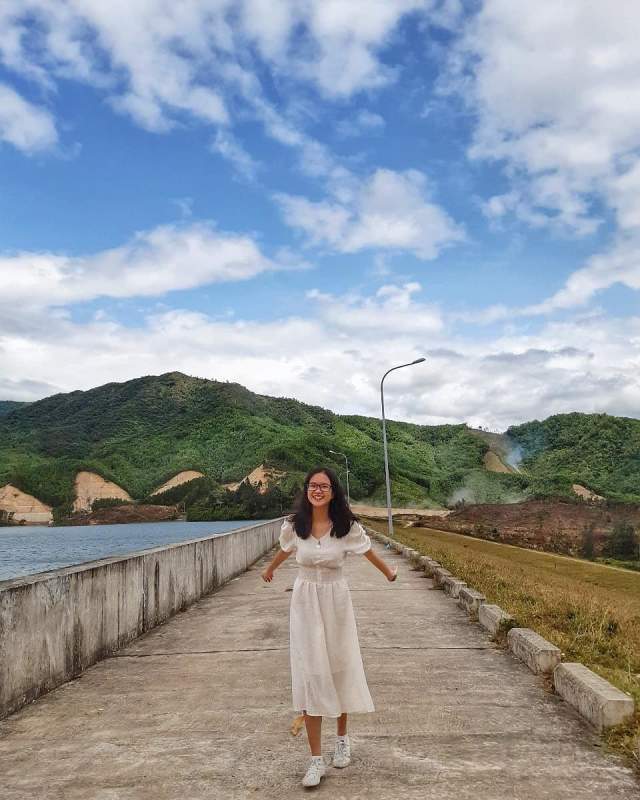 Ho Hoa Trung also has a super beautiful virtual street. Photo: Instagram @ thtrang_259
Coming here on summer days, you can join the canoeing experience on the green river. The lake has not been exploited by tourism companies, the wooden boats are made by people raising fish and rafts. They use boats to visit fish farming, moving across the lake. Therefore, the lake retains its pristine beauty and has not been touristized.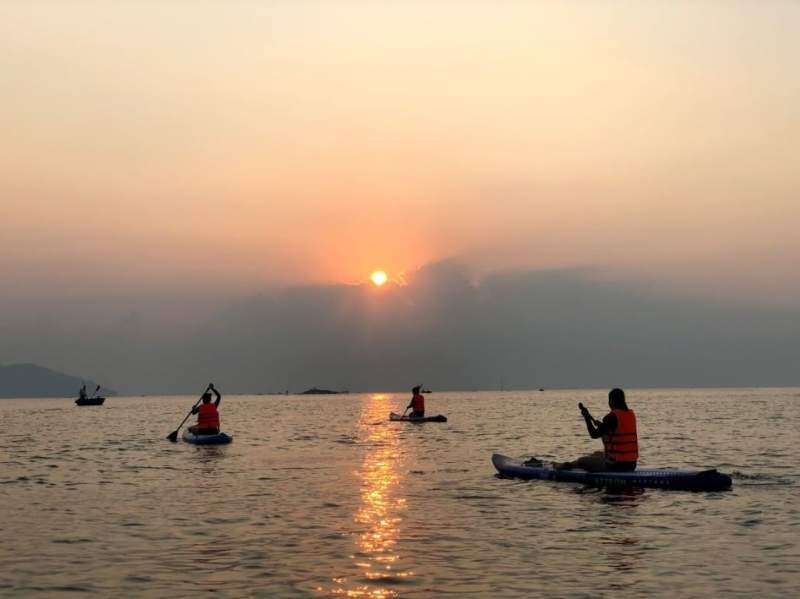 Interesting activities at Hoa Trung lake. Image: Instagram @supdanang
Ho Hoa Trung is also a popular picnic and camping place for young people. If you have time, prepare food and drink, you will have an interesting journey to nature. At night, you will feel that Hoa Trung Lake is more still, overlooking the city is a giant bright spot. Because it is far from the city, Hoa Trung lake on clear nights can see the sky above.
Sunset at Hoa Trung lake. Image: Instagram @ lu.filmm
2. Ho Dong Xanh – Dong Nghe
Besides Ho Hoa Trung Lake, Ho Dong Xanh – Dong Nghe is also a perfect destination for summer. The lake, located in Hoa Khuong commune, Hoa Vang district, is an irrigation project built in 1995, providing irrigation water and limiting flooding in surrounding areas.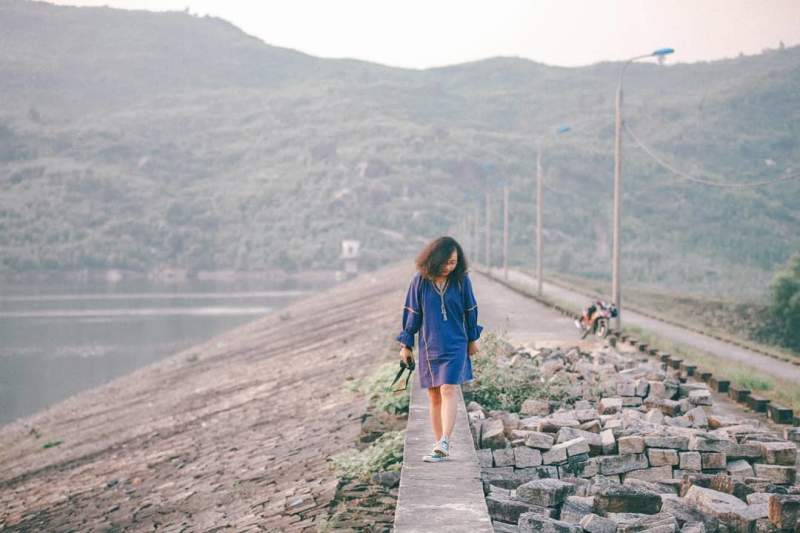 Green Clock – Dong Nghe. Image: Instagram @_the_phan_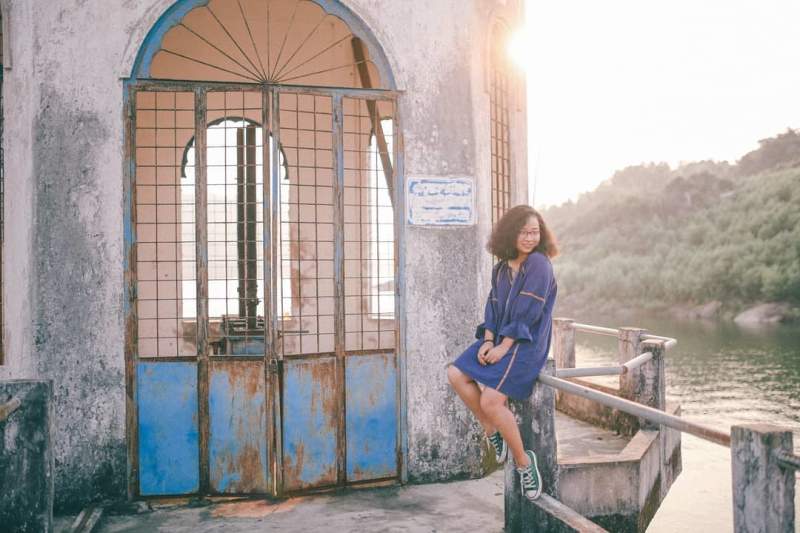 Great background for your pictures. Image: Instagram @_the_phan_
The first impression upon coming to Dong Xanh Lake Dong Nghe is a layer of green grass and a vast lake with a water surface of 2.4km2. Owning a poetic and romantic setting thanks to the blend of nature, water, clouds, Dong Xanh Dong Nghe Lake becomes a super "virtual" place.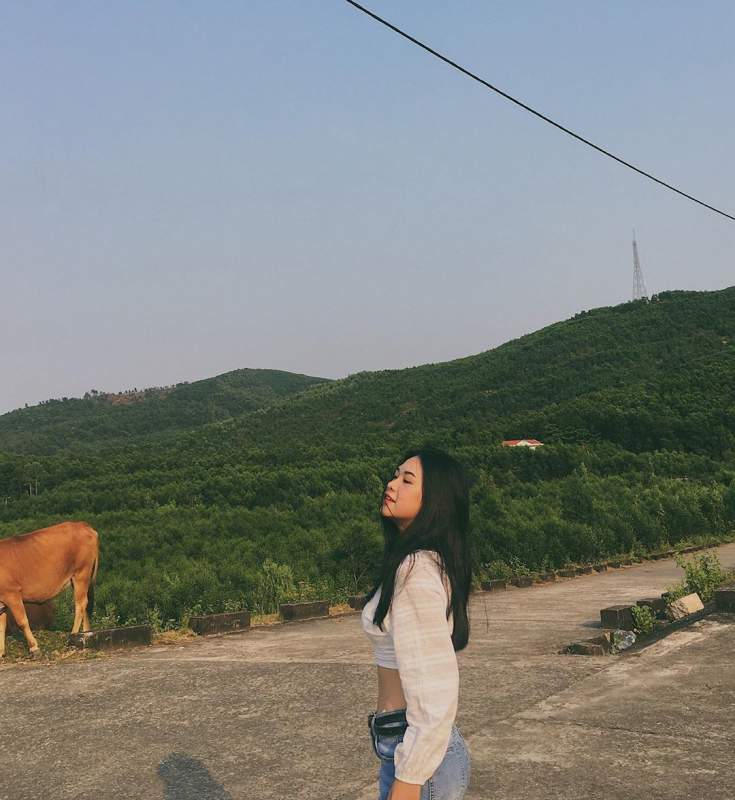 The scenery is green at Dong Xanh Dong Nghe Lake. Image: Instagram @klinh_renee
Go to Dong Xanh Dong Nghe Lake, you can take a boat trip around the lake, admire and feel the charming scenery for only 30,000 VND / person. Especially, if you are a lover of discovery, please move upstream of the lake! The landscape here is still very wild with striking white rocks among the green mountains that will surely make you fall in love. The cost of moving upstream is about VND 50,000. Dare to make up to here, you will have a dozen pictures "virtual pan". Moreover, in the upstream area, there are many interesting and interesting activities such as visiting cattle ranching, afforestation, organizing camping with friends, etc.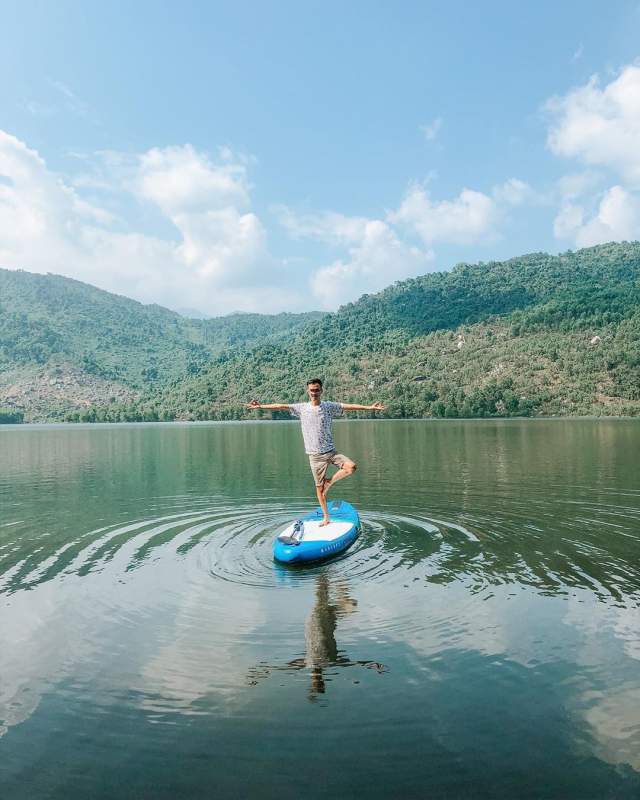 Sup paddle challenge in the middle of the lake. Photo: Instagram @ hung_tran26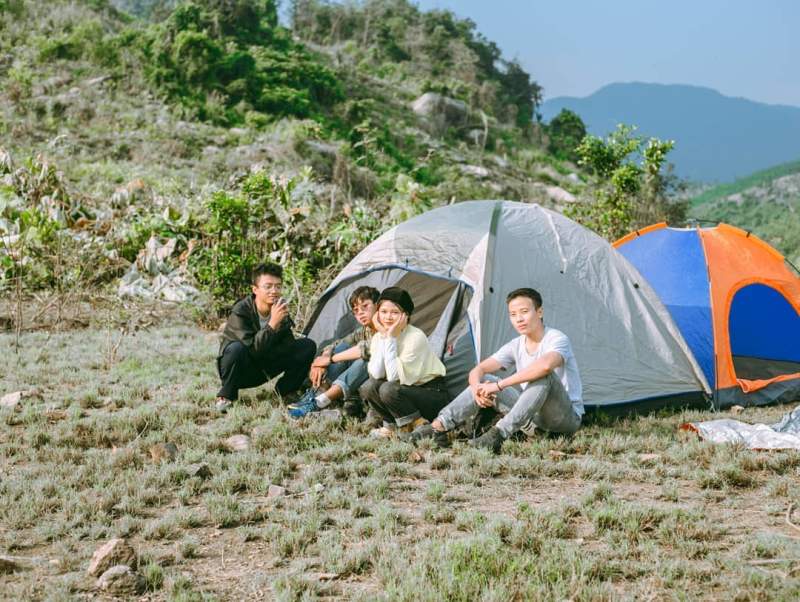 Camp at Dong Nghe Dong Xanh Lake. Photo: Instagram @ tieuhoa19
In addition, Dong Nghe Xanh Dong Nghe is surrounded by a long road up to several dozen kilometers. The road is poured entirely of concrete to store water in the lake, this is also the way to take you to the small village where the households are living. Take time to rent a bicycle and walk around this road, just relax sightseeing, just work out. Every road will surely make you fall in love.
3. Obama Rock Beach
If you are looking for a beautiful place to check-in to live "micro magic", you definitely cannot miss Obama Beach, just take a walk on Instagram, you will find countless gorgeous pictures. of young people check-in here.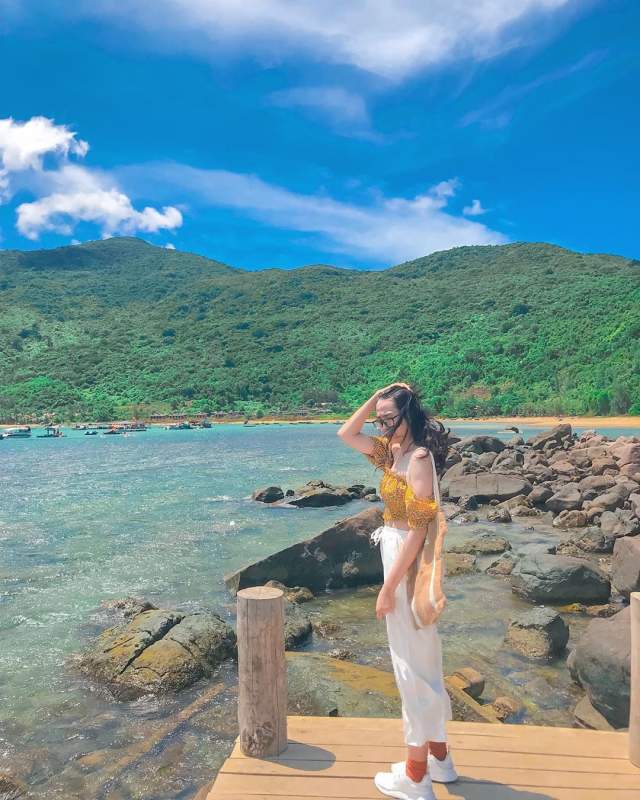 Obama Rocks. Image: Instagram @hakiraaa_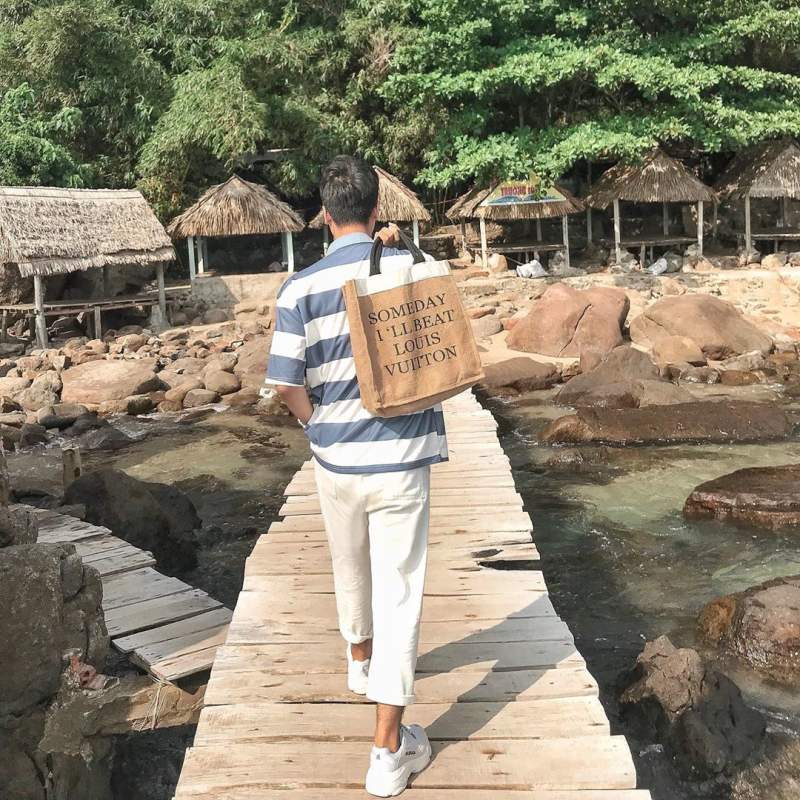 Countless rocks with different shapes. Image: Instagram @quocviet__
Obama Rock, also known as Da Rock, is a pristine rock beach in Son Tra Peninsula, Da Nang City. Because of its location near the famous giant banyan tree in Son Tra, this rock is also named Da beach. Obama Beach has inherited a charming wild beauty, a bit of peace and relaxation. The attraction of these "virtual fans" is that there are many black stones lying together like a matrix, which looks like a breakwater. The sea water is so clear that in some places you can easily see the coral reefs at the bottom or the silhouette of you floating through the water. Not only rocks and seas, but Obama Rock Beach also has many beautiful wooden bridges and windmills for you to enjoy sightseeing and taking pictures.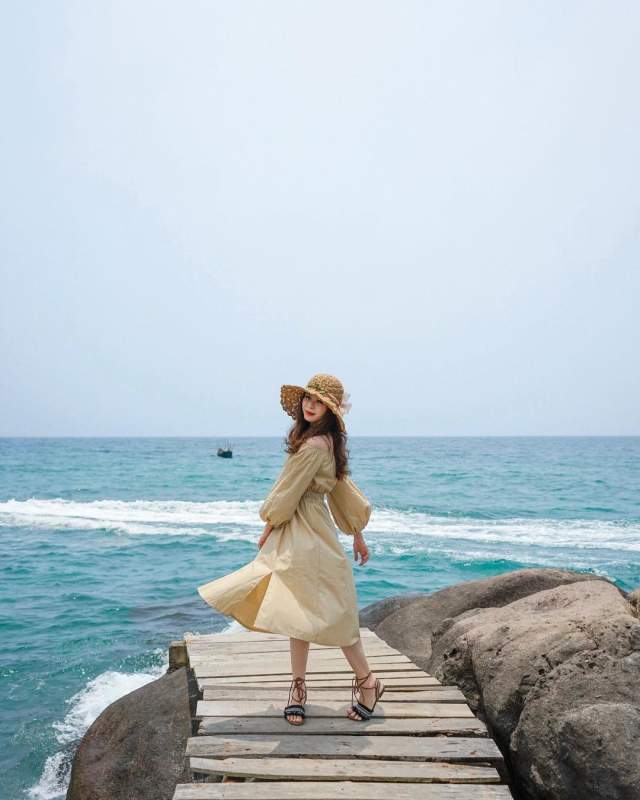 Clear blue sea. Image: Instagram @ _thuy98_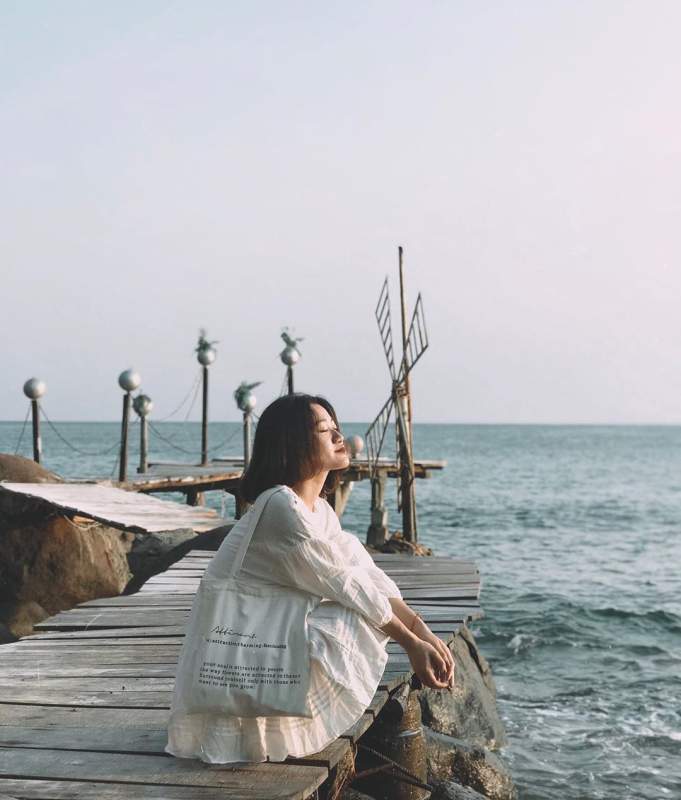 Wooden bridges make your photos more beautiful. Photo: Instagram @ nininana225
Coming to Obama Rock, you can also participate in many exciting and thrilling sports activities such as high speed canoe, water motorbike, canoe or diving boat to watch coral … There are also many houses here. the hut was built to serve the fun and relaxation activities of the guests. The price of a hut varies from 300,000 VND – 1,200,000 VND depending on the number of people living.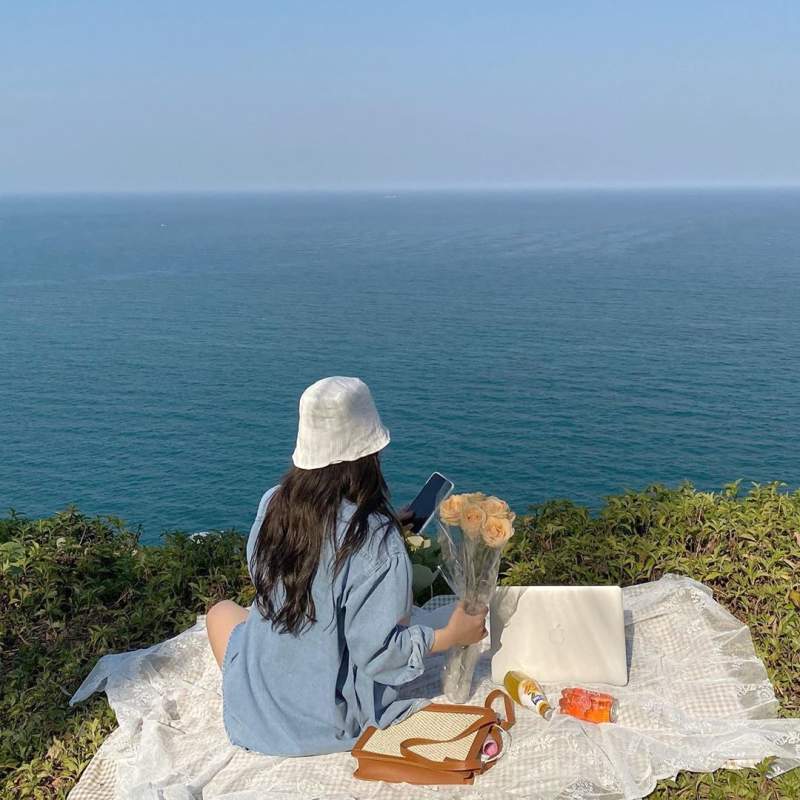 A super "Korea" photo corner of Obama rock beach Image: Instagram @montihonhihi
4. Nam O reef beach
Only 17km from Da Nang city, located in parallel with Ca and Con Nho reefs, Nam Nam Reef is about 2ha wide, in the middle of a clear blue sea. Coming to Nam Nam Reef on summer days, you will admire the beautiful scenery and breathe the fresh air. The main feature of Nam O coral reef is the convex reefs and large rocks stacked on top of each other, higher than the water of the arm span. Rocks of various shapes, all shapes, especially, in the early months of the year, these rocks will be covered with beautiful green moss, creating an incredibly magical scenery.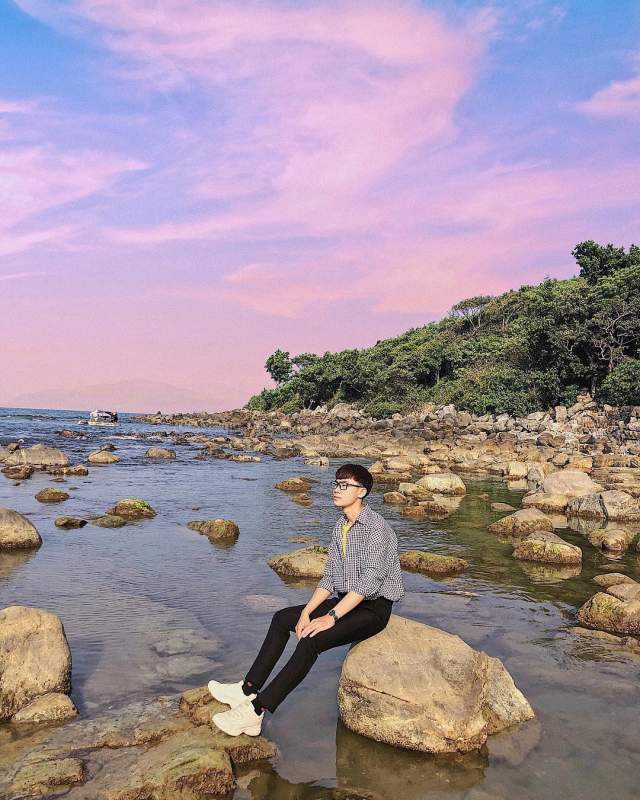 Nam O Reef. Image: Instagram @__ vs.22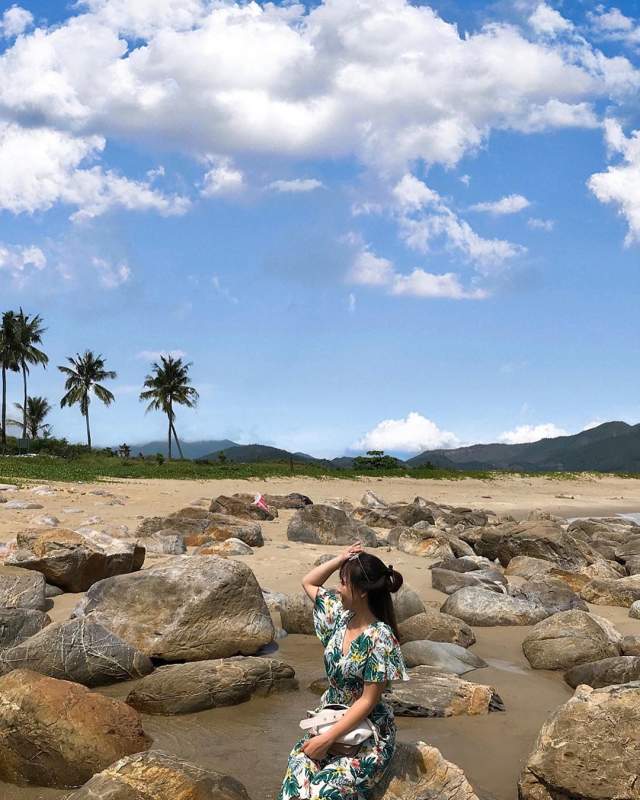 Delight in the shape of a unique scene. Image: Instagram @ lee.so.0212
Not far from Nam O coral reef, there are many rocks large enough for people to rest and admire. Standing on these large rocks, looking to the East, you will find Son Tra Peninsula and Hai Van Pass on the West Coast nestled in clouds and mountain forests. If you want to admire Nam O Reef at the best moment, get up early here at the dawn of the day, you will admire the beautiful sparkling scenery, when everything The surroundings are very quiet and peaceful, you can only hear the sound of the waves crashing on the rocks with the gentle melodious wind, all of which will give you a great experience.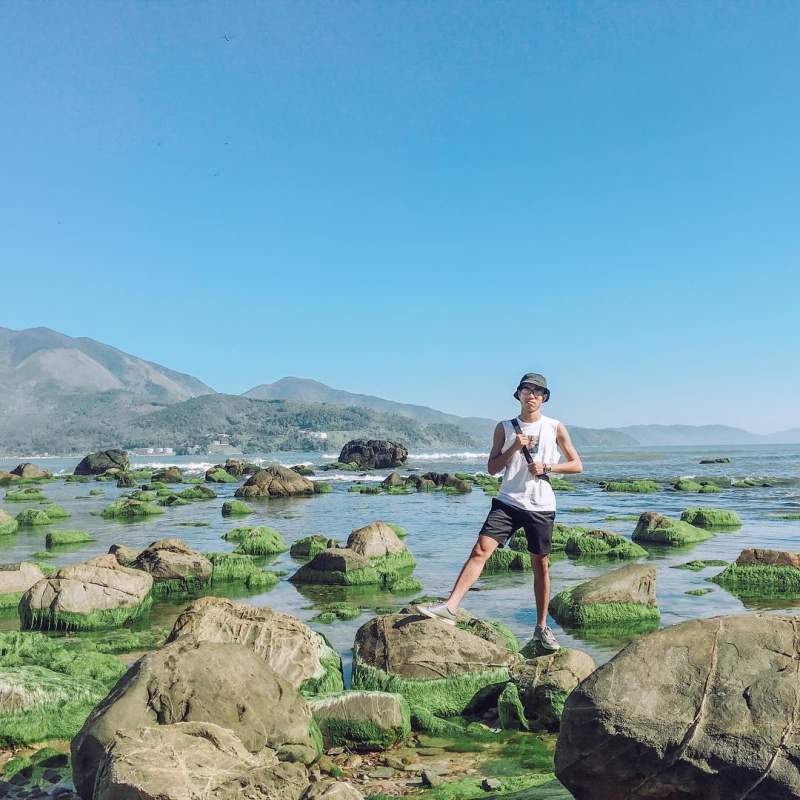 Nam O reef in the green moss season. Photo: Instagram @ nguyenn.anhtuan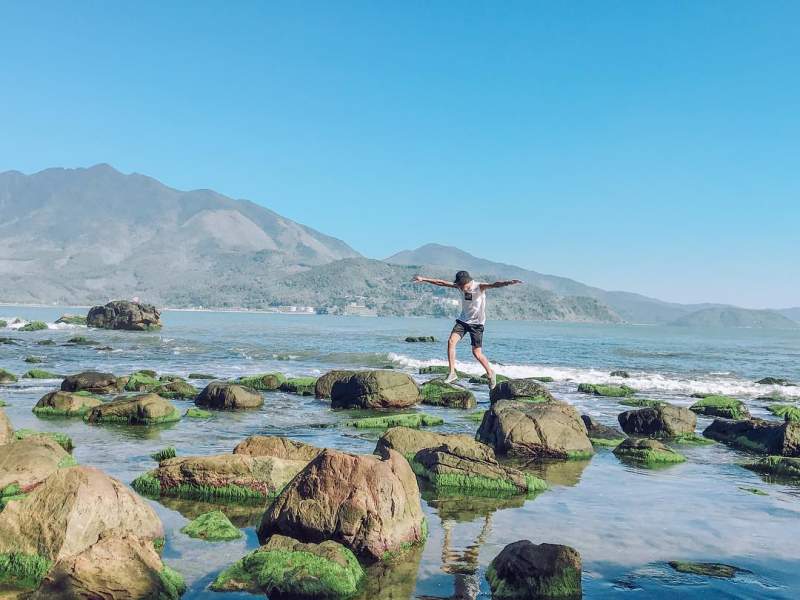 Perfect check-in time. Photo: Instagram @ nguyen.anhtuan
Not only owning the charming scenery, Nam O Reef also becomes an ideal destination for your summer because of many interesting recreational activities such as swimming, fishing and especially diving to admire the coral. with all kinds of colorful fish in the ocean. Moreover, you can also visit the traditional Nam O fish sauce village, made from anchovies – very rich fish in Da Nang waters. Definitely very interesting!
5. Ghenh Bang
Ghenh Bang is located on Son Tra Peninsula, about 20 km from the center of Da Nang. This is considered an ideal destination for you to like to explore and like to "go on a trip".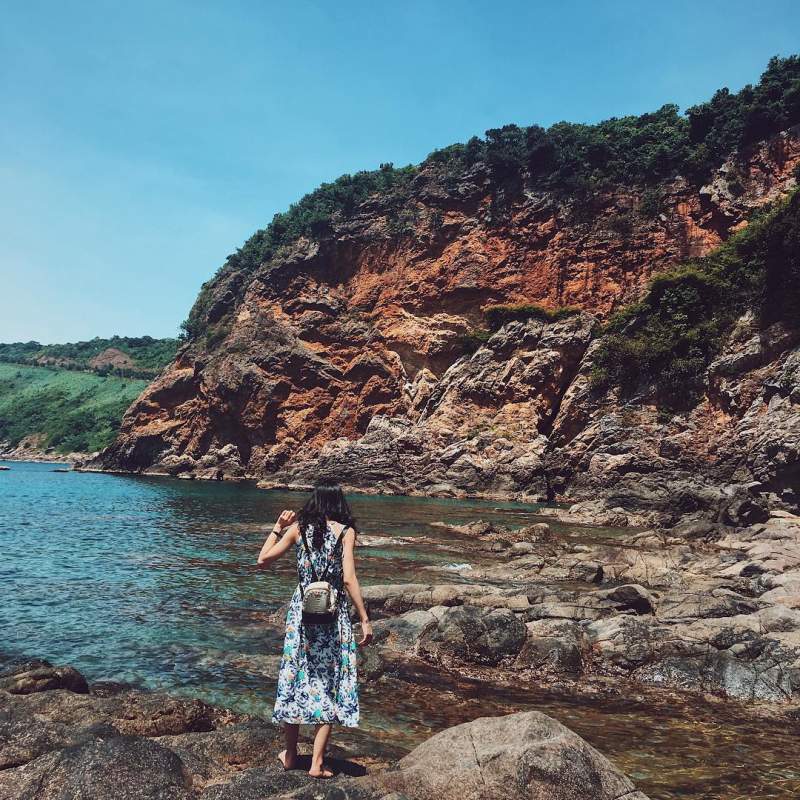 Ghenh Bang. Image: Instagram @_thhh___
The feature of Ghenh Bang is the large scattered rocks hugging the coastline about 2km long. Along with that is the image of two 3-4m high cliffs forming a natural gate to welcome the waves. In addition, behind the rugged large rocks, a long beach with blue sea, white sand, golden sunshine and coconut palms. The trees here are always lush year round, especially if you're lucky in the season of changing leaves, the scenery here will make you be surprised.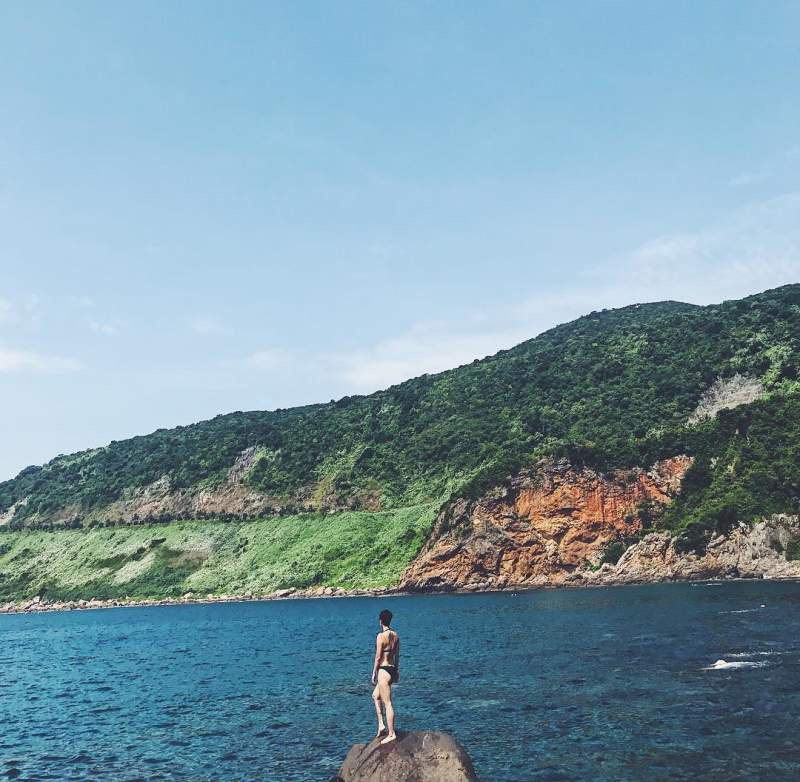 The wild beauty of Ghenh Bang. Image: Instagram @catty_hang
Moreover, hidden under the clear blue sea in Ghenh Bang is a kingdom of corals and seaweeds with colorful colors. Diving in Ghenh Bang, you do not need to be a professional diver, just know some basic steps that you can dive to admire the beauty of the underwater scenery here. Another hobby to reduce stress is fishing in Ghenh Bang. Just a fishing rod, a little bait and a bucket of fish are able to "get ready" to the game. This activity is not only for the purpose of relaxation, but also for the "booty" to bring back a full meal.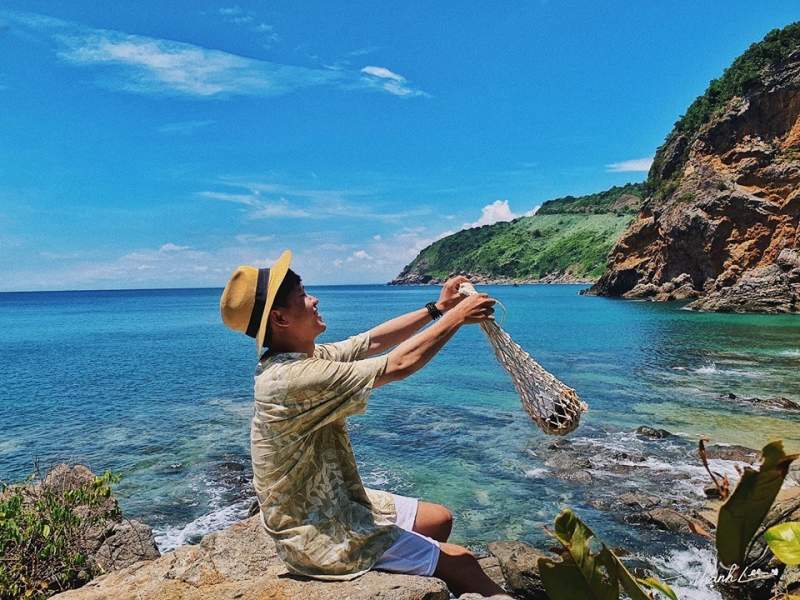 Clear blue water of Ghenh Bang. Photo: Collectibles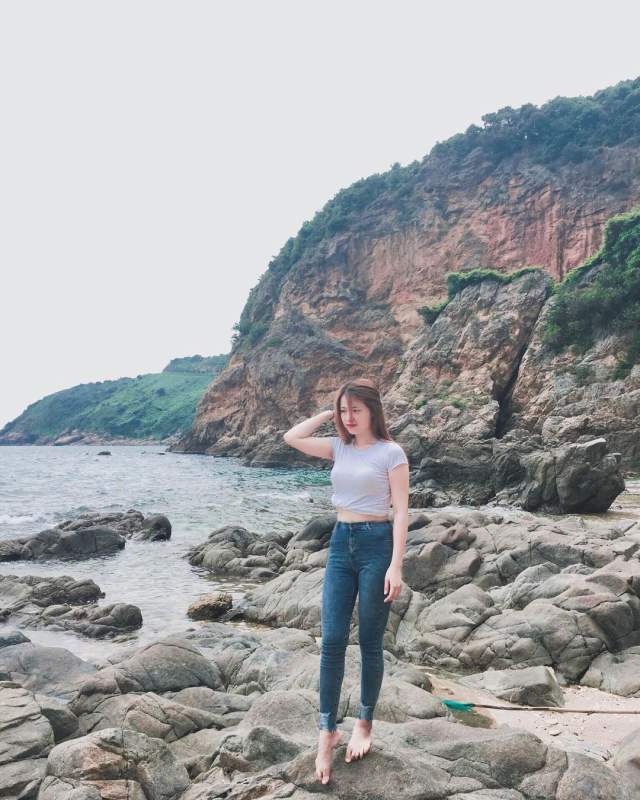 Super big rocks of Ghenh Bang. Image: Instagram @ vtnquynh.98
Da Nang is not only a great city to live in, but also a place to explore, experience and enjoy peaceful moments, in pristine places right in the city. Summer is here, do you have a plan to Da Nang yet?