Hoi An bread is considered as "the best bread in the world", it is a street food that most tourists want to enjoy when traveling to Vietnam. Bread shows both the simplicity and simplicity, while showing the subtle sophistication of Vietnamese cuisine. Coming to Hoi An, you cannot miss the following 5 famous bakeries.
Top the best Hoi An bread shops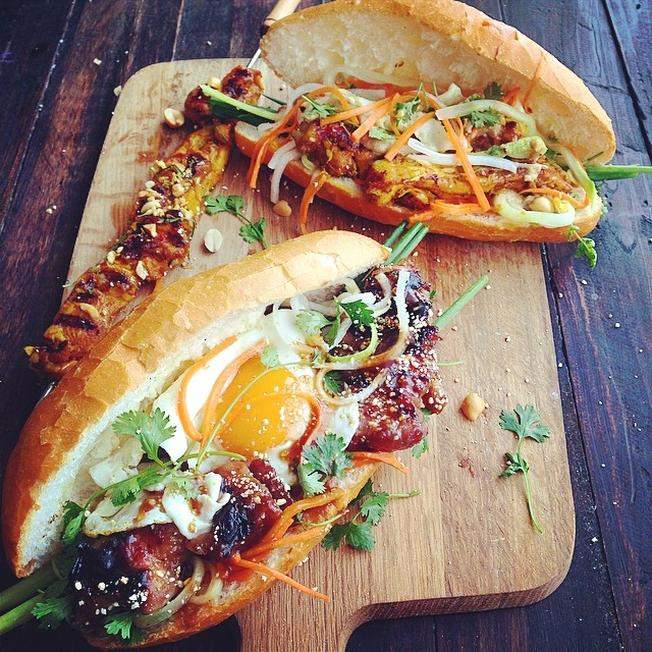 Hoi An bread is something diners can not miss when coming here (Photo ST)
Phuong Bread
If you try once a search on the world's number one search engine site – Google keyword "best banh mi in Vietnam" then the name you come across first on the first page is "Bread of Phoenix" – ban. It is not an exaggeration to say that Vietnam's Phuong Bread is famous both at home and abroad. On social networks or travel websites like Tripadvisor or Foursquare, a lot of people, including foreigners, do not regret the compliment for this small restaurant.
Although the area is not large, the small restaurant is located at 2B, Phan Chau Trinh Street, Hoi An, he was never empty. The shop usually serves from 6am – 10pm every day of the week. The menu is also very diverse with more than 20 different types of bread for customers to choose: burgers, sausages, pates, chicken with butter and salad, cheese and onions, beef rolled cheese, meat smoked, mixed …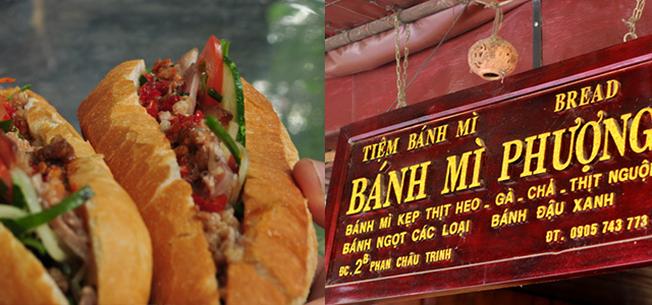 Do not miss the opportunity to enjoy "the best bread in the world" in Hoi An (Photo ST)
However, the attractive thing for those small Hoi An bread rolls is the sauce. Phuong bread is coated with a homemade sauce according to a very special secret recipe. It keeps people attached to the taste of that delicious dish, not even leaving a drop of sauce to stick to their hands. Besides, the intestine also plays an important role in creating a delicious, chewy, crunchy, fragrant, delicious bread loaf. Bread in Phuong restaurant is usually produced by family members.
Banh Mi Phuong – a delicious place to eat when traveling to Hoi An , not only captivates Vietnamese people but also foreign tourists, also loves this charming but charming dish of Vietnam. They were intoxicated, fascinated with burgers, pâté, sausages, vegetables and sauces.
The taste of those cakes is hard to put into words. It gives each person a different feeling, a different emotion. A travel journalist from the famous Travelfish commented: "Want to know how delicious Phuong bread is, just imagine a delicious food you've ever tasted, then multiply it by 100 times." Or American chef Anthony Bourdain, who is famous for the culinary television series, must say, "That's a symphony in a sandwich!" (This is really a symphony of sandwiches!).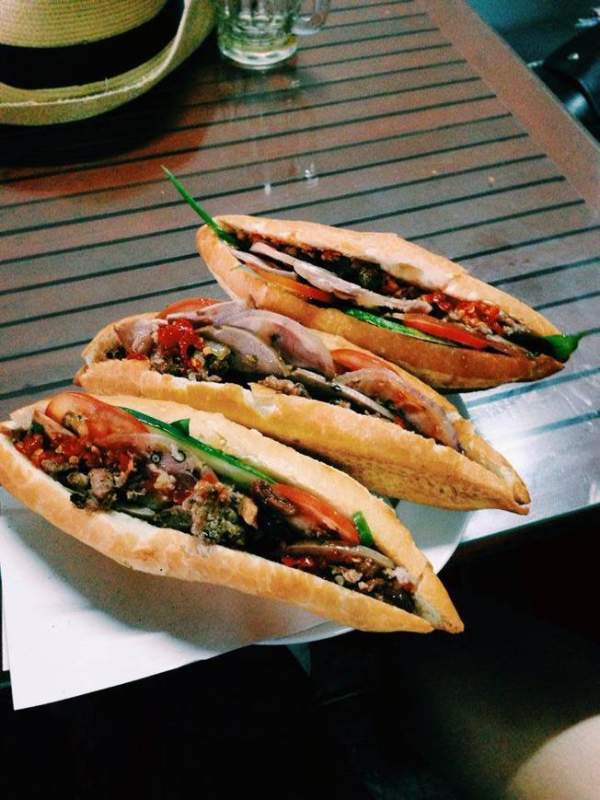 The full, delicious Hoi An bread will make anyone unable to hold back (Image ST)
Besides, with a price of only 10,000 – 30,000 VND, you can enjoy a delicious loaf of bread, hot thanks to being heated on the charcoal stove. Phuong Bread will really awaken all your senses, creating an explosion of taste. Biting a piece of bread, you can feel the essence of Vietnamese cuisine in general and of Hoi An in particular.
Banh Mi – unique pate filling to eat
This is also a bakery popular with many people because of its unique way of making pate, unlike other restaurants, and it doesn't get confused with the taste of going anywhere, it doesn't feel like eating at all! A lot of young people review is holding a loaf of bread without watering, the inside of the clip has a strange taste that is delicious, no matter how much you eat bread, trying the Bich bread will give you a different feeling. That special. Bich Banh Restaurant is now moved in front of Hoi An Cinema, at 57 Phan Chu Trinh, the number of visitors to the shop is quite stable, you do not need to worry about long queues, the price here is also Very affordable so you do not need to hesitate when buying, especially the owners are very friendly and close! Oh and one more point is the shop is not open for sale on the full moon day, except for the full moon day, and other days, the shop is always ready to serve you!
Madame Khanh Bread – "Queen's Bread" is famous in five continents
Also in the top of the delicious bread besides Phuong bread in Hoi An , there is another bakery that also received the appreciation that is Madame Khanh bread. At first, the delicious restaurant in Hoi An was just called Khanh bread – the name of Mrs. Loc's husband owned the restaurant. After that, foreign guests came here to enjoy with respect and respect, which gave the restaurant a "western" name – Madame Khanh Bread, also known as "The Banhmi Queen" (Queen's Bread).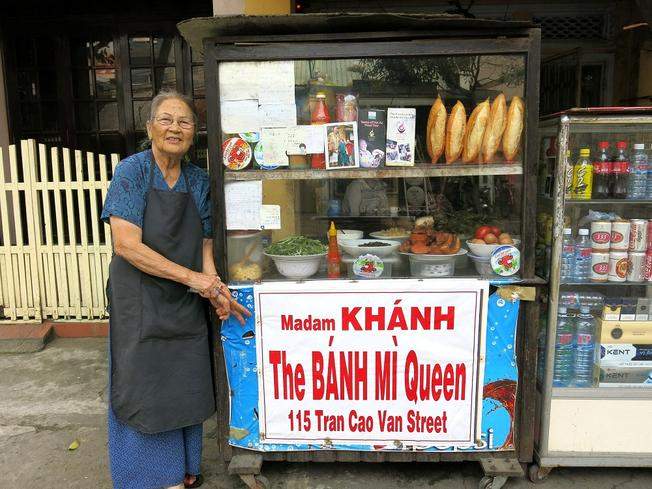 Only with a small bread cabinet, Madame Khanh bread is still extremely famous both at home and abroad (Photo ST)
Mrs. Loc's bread cabinet is nestled under the eaves of 135 Tran Cao Van. Small scale of quality, services and utilities are not small. Madame Khanh has up to 10 kinds of bread with recipes, marinated in the owner's own over 80 years old. Mrs. Loc is famous throughout Hoi An as well as known by many foreigners not only for her delicious dishes but also for being the best owner of Hoi An Street.
Customers will never forget the thoughtful, caring and cute of the owner, who always added a little "thoughtfulness and joy" into each loaf of bread. For Mrs. Loc (Madame Khanh), getting up early to prepare ingredients, standing at the counter to prepare each loaf of bread for guests during the past 30 years is not only a job, but also a joy and a love for her. .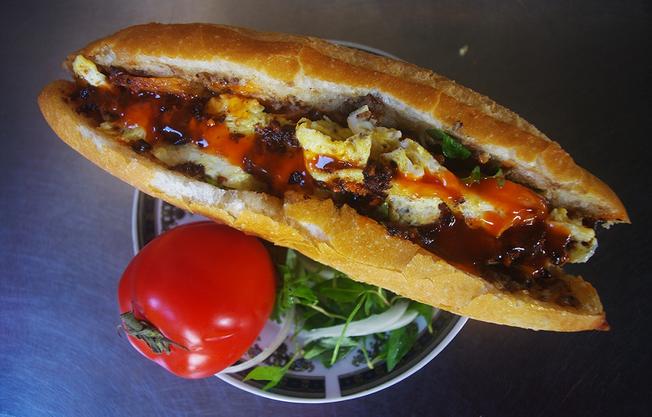 Mrs. Loc's Hoi An bread is always prepared by herself from ingredients to finished products (Photo ST)
Bread Madame Khanh Hoi An – places to eat and drink Hoi An only cost from 10 – 20,000 VND, a price too cheap for you to enjoy "whole Hoi An". Queen's bread always carries the appearance of Mrs. Loc, of Hoi An: both close, familiar, traditional, indigenous but mixed with a bit of Western Europe, making both domestic and foreign customers seem to seeing the image of my homeland.
Although it is a light food, many people still consider it a fast food but bread requires an elaborate processing process, with many different stages. Holding a loaf of bread with all kinds of people, you will feel its own unique flavor.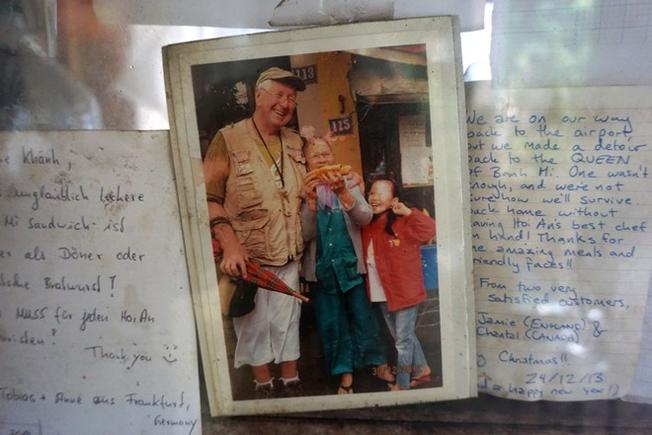 Many diners, especially foreign diners, after leaving Hoi An, still do not forget to send their lovely host of encouragement, heartfelt letters of love (Photo ST)
Mrs. Bua's bread – Hoi An famous sticky bread shop
In Hoi An, they love to eat bread with sticky rice or sticky rice, maybe in some other places they like to eat bread with filter cake but here, there is a very unique side dish. If you want to experience this combination, come here to enjoy the hot, fragrant, sticky sticky rice with delicious crispy bread or hot dumplings, fat panther and bread, to say it is a harmony. Perfect for breakfast, not only full but also delicious. The famous address for enjoying sticky rice bread is 117 Nguyen Truong To!
Ms. Lanh's bread – gentle, rustic as the name of the mistress
Not famous all over the world, such as Phuong bread and Madame Khanh bread, but no Hoi An resident is aware of Ms. Lanh bread – one of Hoi An delicious bread shops . The bakery is located to the east of Hoi An, on Cua Dai Street (near Nam Quang Pagoda). In the surrounding radius, Ms. Lanh's bakery is definitely the best, no shop can match. She usually sells games around dusk until the next morning, the shop is always crowded with customers coming in.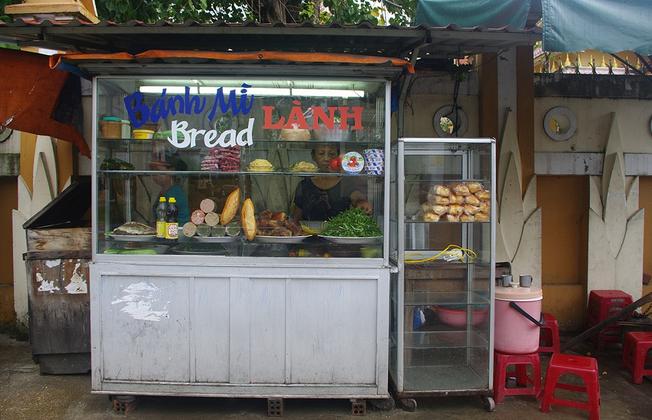 Ms. Lanh bread – rustic, simple but salty, warm (Image ST)
No elaborate restaurant, spacious, her bakery Lanh just a mere set of tables and chairs set next to the small bread counter. Therefore, tourists hardly know the existence of this small restaurant, however, Ms. Lanh's bread has been in the hearts of Hoi An people since the 1990s. The price has long been the same, you It will only cost from 10-20,000 VND to enjoy this plump dish.
The attraction and secret of keeping Ms. Lanh's guests must be in the typical wet pate only here. Having survived for the past 20 years, Mrs. Lanh's bread has come into the hearts of Hoi An people in a simple and simple way thanks to the simple but special cakes and the hospitable hospitality of the owner. All are enough to create the attachment, not able and feel the feeling of holding back when you ever "miss" to enjoy her sandwich.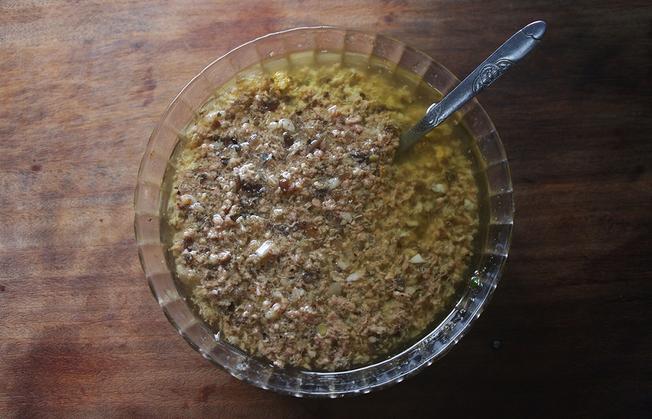 Only with a non-sophisticated wet pate, Lanh bread still retains hundreds, thousands of diners (Photo ST)
Go to Hoi An ancient town to eat "Old Quarter Bread"
Pho Pho Bread is located in the middle of Nguyen Cong Tru – Le Loi – Tran Hung Dao crossroads (Specific eating place: No. 2 Le Loi). According to connoisseurs in Hoi An, Old Quarter bread meets the requirements of a loaf of bread that is both simple and easy to eat without being bored, and the price is reasonable. The shop is open all day and is the address many people choose to snack, recharge for every morning or after school, tired working hours.
Like other Hoi An bread shops, the bread of the Old Quarter shop is always kept hot on charcoal to ensure the crunchiness without being too hard of the crust, toughness, softness of the intestine. The filling here is also very diverse and the processing is also special in the way of the people of Hoi An, instead of using cold meat, the highlight of the Hoi An specialty dish is the soft cooked meat, flavored with spices . Besides the delicious pate, soft sweet, greasy, creating a unique flavor.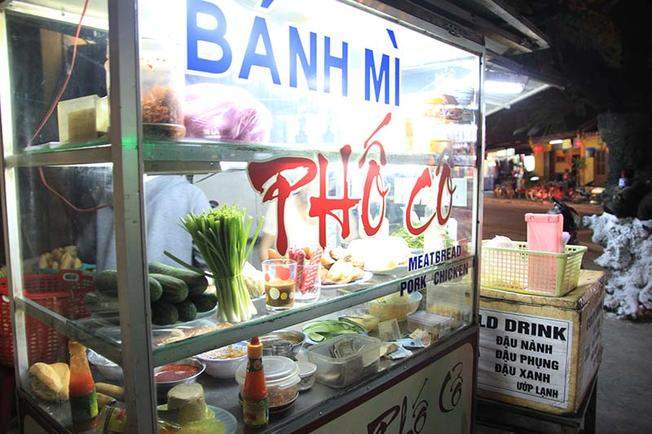 It's just a small cupboard, but the Old Quarter bread – one of the delicious restaurants in Hoi An still built up a big buzz (Photo ST)
An important part of making a delicious loaf of Hoi An is the hand-made butter from fresh chicken eggs and melted gold cooking oil on the tip of the tongue; fresh raw vegetables of Tra Que, papaya, sour melon, served with cucumber reduce the taste, add a little elegance to the dish; dotted with a few drops of a shiny, thick sauce made according to its own recipe (a portion of the sauce is made from tiny gravy, tomatoes are then mixed with light to taste)
All create a delicious dish just beautiful, attracting eyes by rich colors, fresh; just fragrant smell of meat, butter, sauce …; just created the "waves" of taste stimulating salivary glands in each piece of bread. Truly the taste of the world!
Banh Lo – a "friendly" bakery with locals
Located at 227 Ly Thuong Kiet, right in front of the Mobile World shop, Aunt Than's bakery is rarely visited by tourists, but there are still many locals who come to eat recently. The price of bread is very cheap, only 8-10k for a full loaf of rolls with silk and char siu, the water in the bread has a special sweetness, so you will want to come back to enjoy the bread. of Aunt Than. In addition to the char siu meat, there are omelettes, ham, pies, vegetarian bread, you can order more soy milk or corn milk. A breakfast full of bean milk bread full of nutrition, full stomach without less than 20k, meet 3 delicious-toned-cheap criteria!
Minh Thu roasted pork bread is crispy, greasy, charming
The shop, located at 248 Ly Thuong Kiet, is a roast pork oven, so it is not surprising that it only sells one type of bread – roast pork bread – a delicious restaurant in Hoi An. Roasted pork bread here is nothing that diners can blame. The meat is tender, the skin is crispy, the fat is fat, not too lean or too fat, not tough. When eating, you can enjoy the greasy, crunchy, chewy and freshness of the meat, while adding the characteristic sweetness combined with heirloom aromas.
The delicacies here always keep the crunchy skin turning well, the meat is never ready to keep the crispness and deliciousness of each fiber. Usually a hot, crispy, yellow bread, with golden pork skin, slices of pink and white flesh, combined with the strong aroma of basil, some sweet and sour papaya fibers crunchy … I will feel like enjoying a feast of the king's delicacies.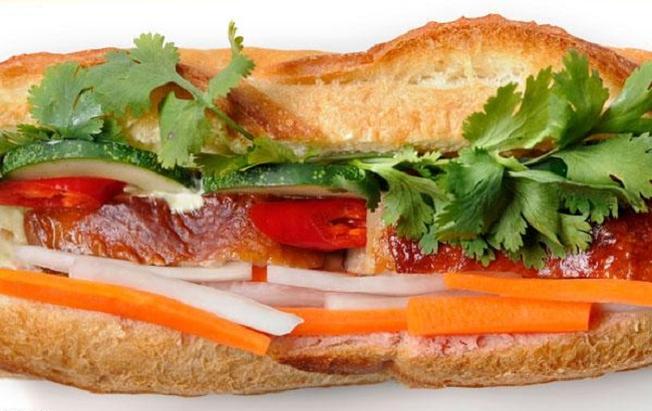 Diners will be fascinated by the roasted pork bread with all colors, smells and flavors in Hoi An bread (Photo ST)
Hoi An bread is not only famous throughout the country, but also famous all over the world. With the always hot, crispy bread, chewy guts, many kinds of breads combined with vegetables and homemade sauces, bread in Hoi An has entered the hearts of travelers in a simple but perfect way. Best. This is a delicious Hoi An dish you should not miss when visiting this city.