Vung Tau is located only about 120km from Saigon, is a very attractive destination on weekends or holidays. Especially with the distance not too far, motorbike rides are also popular with many young people. Therefore, information about Saigon Vung Tau backpacking routes is highly sought after. Many people want to follow the traditional route to make it easy to find their way. However, there are also many who prefer to go the new way for a more enjoyable experience. This article, VietNampeace will introduce you 4 routes offline. Based on your interests and schedule, choose the one that suits you best!
But the road from Saigon to Vung Tau
From Hanoi Highway – Highway 1A – Highway 51 – Vung Tau
With this route, from Saigon you follow Dien Bien Phu Street and run through the Saigon Bridge to Hanoi Highway. Going straight to the end of Dong Nai Bridge will meet a traffic roundabout. From there, you turn right to go to Highway 51. Going 100km to Vung Tau.
This is a traditional route that many people choose. There are many cars on the road, so the police station is very safe so don't worry about thieves and robbers. In addition, the path is also wide and beautiful, easy to go. Every day there will be a big guide clearly so you are not afraid to get lost. On this route, those who just follow the traffic rules will not be afraid anymore.
However, there is a drawback of this Saigon Vung Tau backpacking road is the roundabout route. It usually takes about 3.5 to 4.5 hours to reach Vung Tau. Note that visitors should also pay attention to the signs, especially on the highway to avoid this road. Accidentally going into the highway will be extremely dangerous and will also be severely punished.
What is attractive about this road?
On this route there is LoThamilk (Long Thanh Milk Cow) – a stop for many tourists. Here, you can stop for a rest and drink yogurt or fresh milk, eat ice cream made from fresh milk.
And don't miss the delicious alum scones. Remember to choose new ones. Freshly baked bread will be softer, fluffy and have a stronger aroma of butter, milk, and eggs. Just one bite, the soft, sweet aroma swelled again. Drinking more sip of fresh milk and watching the streets is too great.
On this street there are also many other stops for you to rest. Each station sells Long Thanh fresh cow's milk and alum cake. However, you should choose a cell station with a large number of people who will help it to be cut down. In addition, the price of cow milk in this area is not cheaper than Saigon. So buy it on the spot. In addition, you need to take care of the motorbike yourself, not the valet.
Sai Gon Vung Tau road to Cat Lai ferry
With this route, from Saigon, you go to Vo Van Kiet Boulevard, through Thu Thiem Tunnel and straight to Mai Chi Tho. After that, you turn right to go to Dong Van Cong and go to Nguyen Thi Dinh. You follow Nguyen Thi Dinh to Cat Pha Lai. On the way, you will notice there will be a sign completely. And just run straight to the end of the road will meet the ferry only.
Tickets via ferry are 3k for motorbikes and 1k for pedestrians. About 10 minutes you are in Dong Nai. After that, you run to Ly Thai To Street for about 5km and you will reach Tran Van Tra. If you go all the way there will be a crossroads, left at the right section of gas stations to Quach Thi Trang street. Then you run about 4km and turn left into Ton Duc Thang street. In this section, there is a vast rubber forest.
From this place, you keep going for about 14km and you will see Nhon Trach junction (gate of Nhon Trach IZ), turn right to Highway 51. You go on this road about 60km more through TP. Ba Ria then went straight to Vung Tau.
Interesting things on the way to Saigon Vung Tau via Cat Lai ferry
The first feature is that you can shorten 20km of the way. On this road, there are also many beautiful scenes such as immense rubber forest, My Thuy swinging area. In addition, on both sides of the road there are many hammock coffee for you to relax or you can visit Phuoc Hai Pagoda to enjoy vegetarian vermicelli noodles for free.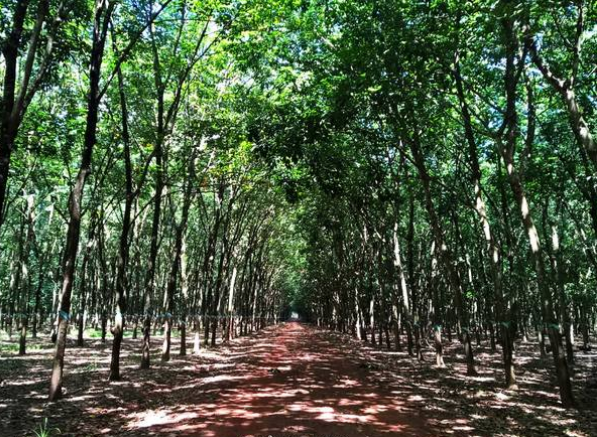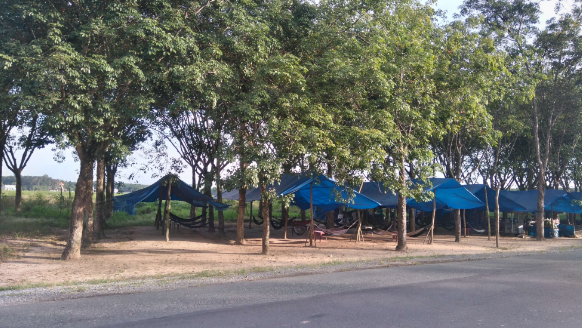 Besides, when going to NH 51, visitors can stop to buy salted duck egg dumplings and fresh milk at the Long Thanh stop. Or to Ba Ria welcome gate also has Long Huong Banh Canh. Stop here to enjoy a delicious bowl of soup. The bread is full of meat and broth is also super delicious, each bowl is 45k dentist you.
However, there is a common feature on this route that there are many small narrow sections and dusty. In many sections it is not very good. However, you also rest assured that it is not too difficult to go.
Long Son – Vung Tau Street
On the Saigon Vung Tau road, you take a motorbike along the Hanoi Highway or Cat Lai ferry to Highway 51. In this section there will be a sign to turn into Long Son.
You follow Highway 1A, cross Dong Nai Bridge, follow Highway 51 and you will see signposts to enter Long Son. You turn right and follow the signpost to the Changsha road. So go through Ba Nanh bridge to the fork then turn left to stay on the road 28-4. Continue you run at this road through the Long Son Big House – Ong Tran Temple, then see the fork, you turn left into Truong Sa. On this road, you will have to go through two major bridges, Cha Va and Go Giong. After that, go straight until you see National Road 51 9 (Vo Nguyen Giap Street) then turn right to Highway QL to Vung Tau!
What way is there on the road?
Telling the road is the roundabout, but this is a short road to Saigon Vung Tau. In addition, the roads are nice and less traffic is available. The view of the road with a floating fishing village is also beautiful. Especially when passing the Cha Va bridge, you will see an impressive floating village. Or salt fields, rows of trees along the way, … go have a lot. It is said that, if you go on this road in the summer, you will see the huge red phoenix on Hoang Sa Street.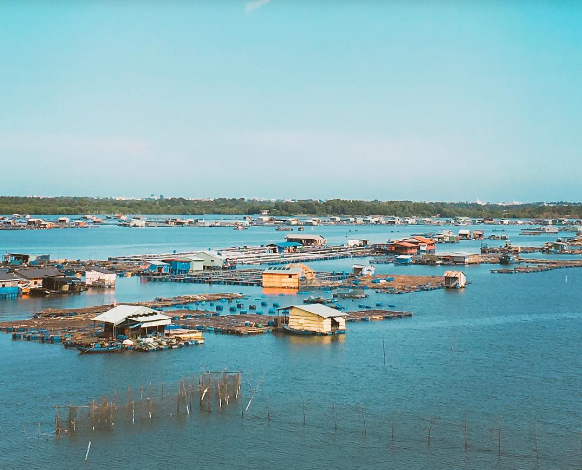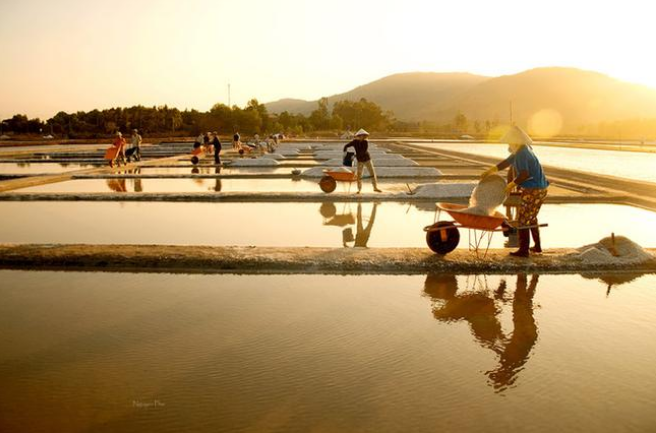 In addition, on this street there is also a large house Long Son. If you have plenty of time, you can drop by here. Long Son Big House is the place to show the characteristics of people and the land of Long Son.
And yet, there are many seafood spots on the street. Remember to buy lots of oysters – a famous specialty of Long Son. However, before buying, please ask carefully and also learn in advance about how to choose fresh seafood again.
3 way intersection My Xuan – Dong Suoi Nghe – Vung Tau sheep
Like the Saigon Vung Tau road to go through Long Son. This route you follow the Hanoi Highway to Vung Tau intersection (formerly the intersection), turn right to stay on Highway 51. Or you can also follow the direction of Thu Thiem Tunnel to cross the Cat Lai ferry and then into Nhon IP Trach, next turn right to stay on Highway 51.
After passing NH 51, you go straight to My Xuan intersection, turn left to My Xuan – My Giao. Continue straight until you meet a roundabout, follow the 3rd error. Run to the end of the road to see the Black Translation – Toc Tien, turn right. Keep going until you meet the intersection of Hoi Bai – Chau Pha street and street 1, turn left to stay on Road No. 1.
So you go until you meet QL 56 then turn right to enter. Keep going until you meet the roundabout, take the 2nd exit, go to Nguyen Van Cu. After all, Nguyen Van Cu, go to Cach Mang Thang 8 Street. Keep going until you see the turn, turn left to stay on DT44A / Cach Mang Thang 8. You continue to run this way to Park Ba Lo Voi Park and then turn off. right onto HL 5. Then you continue on Coastal Roads then TP. Vung Tau.
This road has nothing attractive?
According to the description, we also see that the Saigon Vung Tau road is quite winding and has many turns. However, the scenery along the road is simple and green. There is also a passage through Dong Suoi Nghe. Come here, remember to stop to visit and take photos with the white sheep. In addition, along the coastal road is also beautiful with poetic country life.
One note is that at the junction of Giao My to Dong Suoi Nghe Street on the coastal road is quite empty, there is not much room for you to stop for breakfast. That's why, before you enter this road, you should find a place to fill the stomach and then go ahead!