Not far from the bustling and bustling ancient town of Hoi An, Phuoc Lam Pagoda is over 200 years old, draped in an ancient and contemplative beauty of the temple scene. The temple is like a pure place for Hoi An residents, not only that it has become an attractive tourist destination for tourists.
Xu gourd, Thanh Ha commune was chosen to build Phuoc Lam pagoda. Now in Cam Ha ward, Hoi An city. The temple is located only about 3 km from the center of Hoi An city. From Hoi An visitors can visit this temple very easily by means such as motorcycles, cars …
According to recorded historical records, the temple was built in the years of the eighteenth century, bearing the impression of Asian feudal architecture, painted by Venerable Minh Giac. After that were the constructive contributions of the other abbots in the restoration and embellishment of the pagoda.
Designed and built in the shape of "Mon". The temple is divided into three main parts, the first is the three-gate temple gate, the next is the temple yard, the last is the main hall of worship. The three-gate gate is made of bricks, with two sides of the East and West, the main door is marked with three words "Phuoc Lam Tu" above. Next is Phuoc Lam pagoda yard, planted with many trees, with fresh air. Going inside will go to the main hall, the main hall is built in the style of three compartments, two wings, with two big bell-bellows on both ends, the roofs are covered with yin-yang tiles, the apical roof is shaped with two curved ends. decorated with a flanking dragon.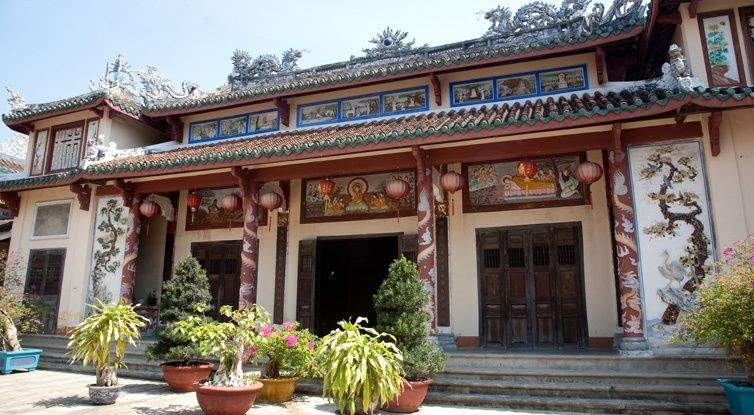 In the temple is keeping a lot of valuable artifacts, especially can mention the ancient porcelain bowl set, or the ancient woodblocks are carved exquisite … Not only that, in the temple yard is also the place where a lot of The large statue was carved from the generations of previous abbot of the temple.
So far, after more than 200 years of existence, undergoing historical events, as well as renovations, Phuoc Lam pagoda no longer retains its old architectural style. But the value of religion, beliefs as well as the historical value that it brings are extremely large. Not only that, this place is also known as a famous tourist destination of the land of Hoi An, attracting a lot of tourists to come here to visit.