Ben Tre, the land that always sees the green coconut balls, everywhere is the gentle smile, is a rustic land that makes you live differently between the daily chaos of the city. Let's "escape" with VietNampeace for a while in Ben Tre with the most complete Ben Tre travel guide.
The ideal time to Ben Tre
Being a southwestern province, Ben Tre also owns the weather here when it is sunny all year round but not too harsh. Therefore, you can visit the land of coconut at any time of the year but to have the opportunity to enjoy delicious fruits like mangosteen, durian, rambutan … in the season, you should visit the region This land is during the summer months but June, July and August.
How to move to Ben Tre
From Saigon, you can go to Ben Tre in 2 ways:
Passenger cars : At all bus stations in Saigon, there are coaches running the Saigon – Ben Tre route so you can easily get here by coach. The ticket price ranges from 80,000 to 120,000 VND with the travel time is about 2 hours.
Motorbike: You can choose motorbike as a means of transportation to enjoy sightseeing, if you ride a motorbike, you follow Highway 1A to My Tho city, then ask for directions to reach Rach Mieu Bridge, across the bridge turn right and you are in downtown Ben Tre. However, if you choose a motorbike to move, you should avoid the rush hour during traffic and fully equipped with helmets, masks, coats.
Featured places in Ben Tre
Con Quy
Con Quy is located in Tu Con, Chau Thanh district. Referring to Con Quy, people immediately think of the "fruit kingdom" with gardens in a lot of delicious fruits, in addition, there are many shrimp and fish. Coming to Con Quy, you will be interested in discovering a famous music genre of the southwestern land, which is the amateur music.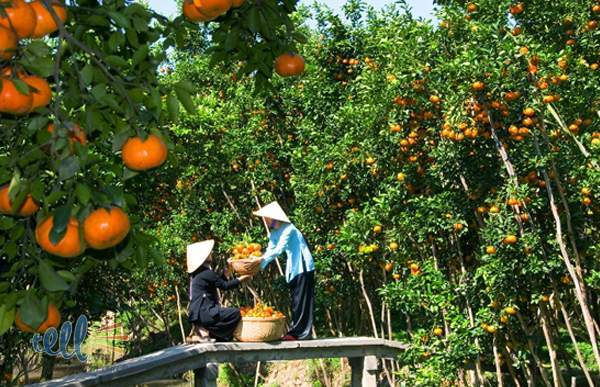 Fruit garden in Con Quy (Photo: Collection)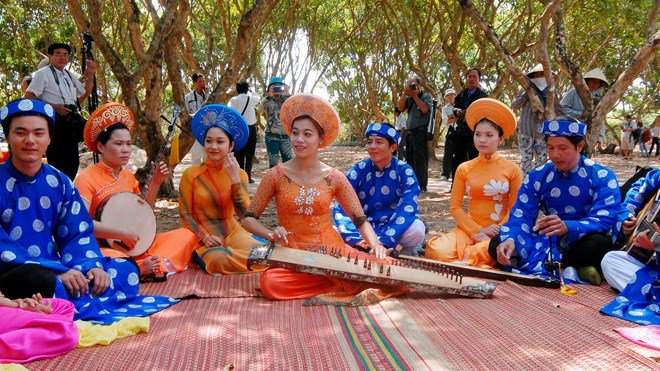 Enjoy the traditional folk music (Image: Collection)
Con Phung Tan Thanh
Con Phung is located in Tan Thanh commune, Chau Thanh district. It brings the charm of both traditional and modern features of traditional villages and entertainment areas, hotel and restaurant systems. Some interesting activities you cannot miss when visiting Con Phung are canoeing in the canals, riding horses to visit fruit gardens, traditional craft villages, enjoying tea and honey mixed with scents. labels, listen to amateur music …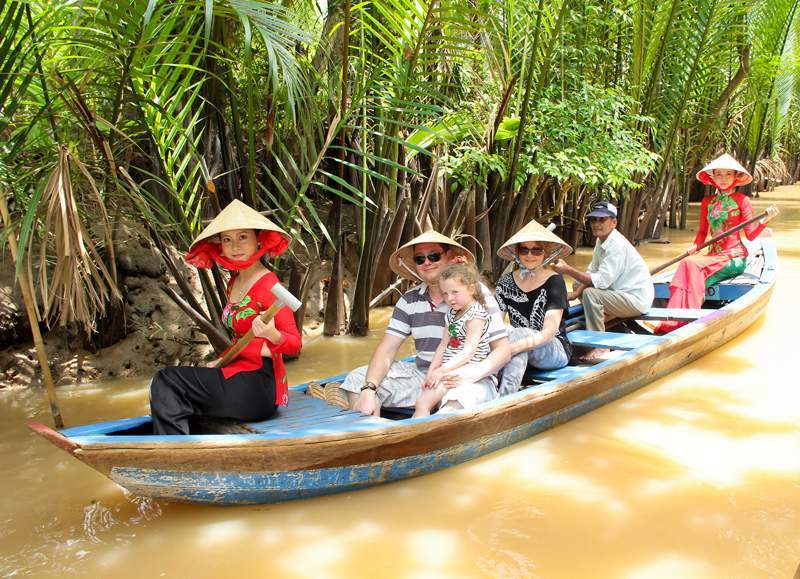 Canoeing in the canals (Image: Collection)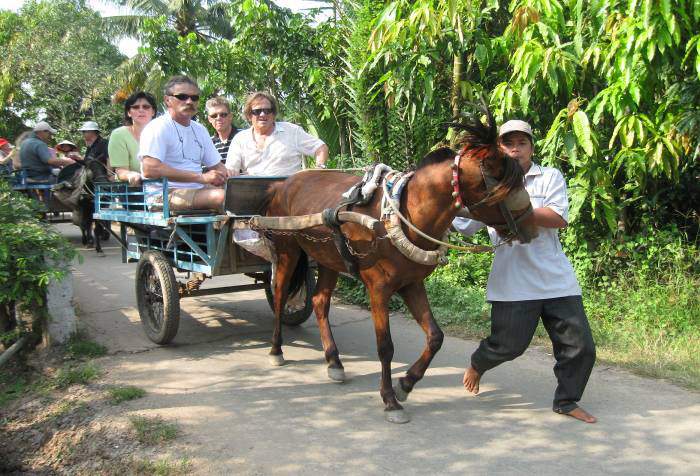 Ride a horse to explore the craft villages (Image: Collection)
In addition, it also develops many forms of entertainment for tourists such as jet skiing, crocodile fishing, sightseeing and shopping at famous handicraft stalls.
The tomb area of Nguyen Dinh Chieu
Nguyen Dinh Chieu's tomb is located in An Duc commune, Ba Tri district. This is the resting place of Mr. Nguyen Dinh Chieu, a great poet, a patriot and a physician of our people. On July 1 every year, Ben Tre people always organize a traditional festival here to remember Nguyen Dinh Chieu, a proud Southern son.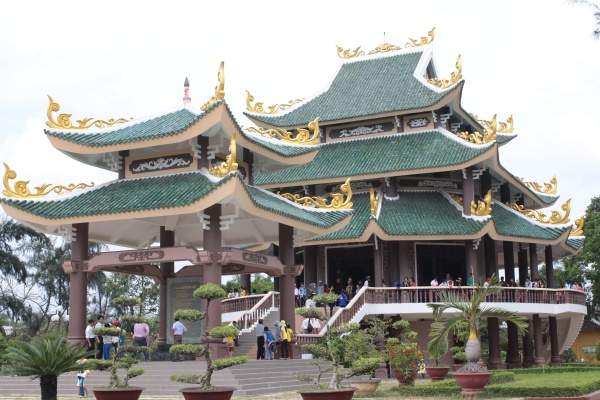 Nguyen Dinh Chieu's tomb (Photo: Collection)
Dong Khoi guerrilla village
Dong Khoi guerrilla village is located in Dinh Thuy commune, Mo Cay district. It also preserves a lot of war memorabilia, visitors can visit the exhibition area, which displays the rudimentary weapons that the people of Ben Tre used to fight the invaders. To better understand how the land and people of Ben Tre have contributed to the national revolution, the Dong Khoi guerrilla village is the place to help you gain the most insight.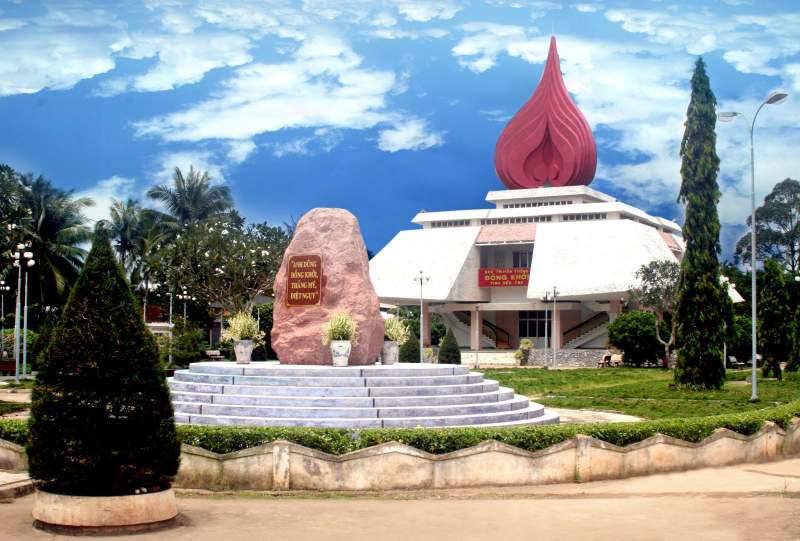 Dong Khoi guerrilla village (Photo: Collection)
Flower market landscape Lach market
When Tet comes in spring, this flower village is extremely crowded and bustling with a large number of visitors from all over the world and merchants come to choose the most beautiful bonsai and bonsai pots for Tet or for business. The bonsai at Lach market has a variety of sizes, you can choose for yourself a small ornamental flower pot placed in the house or on the patio, on the rooftop to add indoor green space in the house or even larger bonsai pots to place. in the yard, in the garden …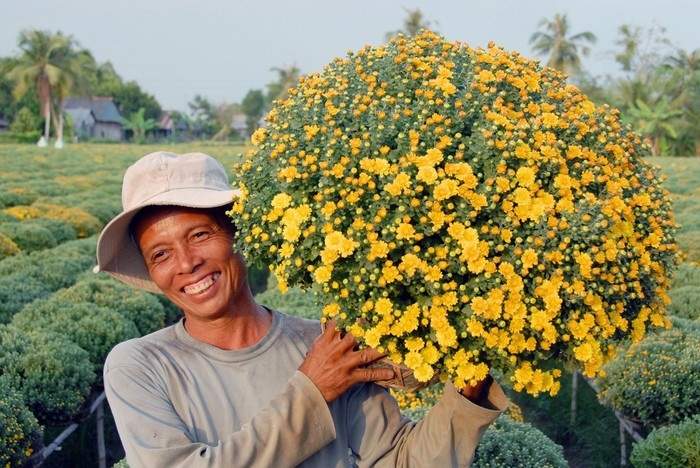 Flower pots are carefully planted and trimmed (Image: Collection)
Cai Mon Fruit Garden
Coming to Ben Tre, one of the places known as the "fruit kingdom" cannot miss Cai Mon garden. Coming here, you will enjoy the green space of the fruit orchards to enjoy the best fruit left on the tree, which you pick and eat on your own.
Famous fruit garden in Ben Tre (Photo: Collection)
Tuyen Linh Pagoda
Tuyen Linh Pagoda in Minh Duc Commune, Mo Cay District, Ben Tre Province. This is also the place where the Vice President Nguyen Sinh Sac and Uncle Ho's father had come to visit many times. In the two resistance wars, Tuyen Linh pagoda was a place to hide and nurture revolutionary cadres, so it was twice used by bombers and burned the pagoda to destroy the bases of our revolutionary soldiers. Coming here, you will both discover about knowledge and Buddhist architecture, and learn about the remnants of war.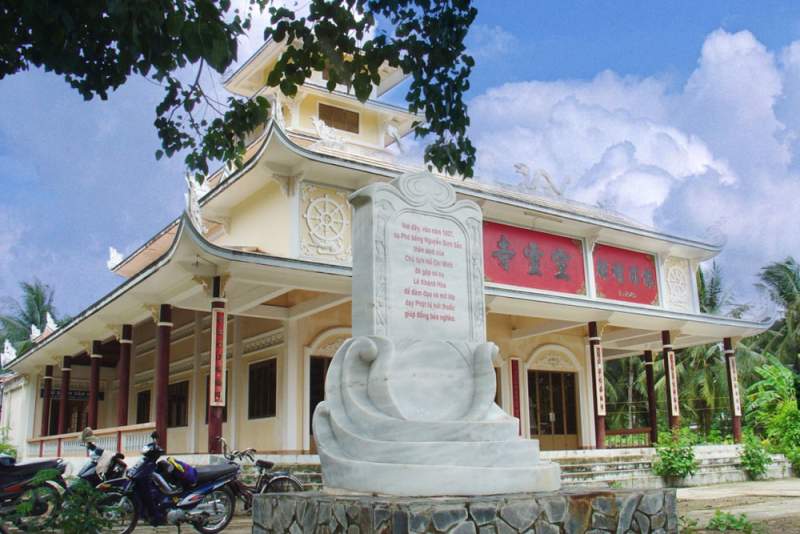 Visiting Tuyen Linh Pagoda (Image: Collection)
Which Ben Tre specialties will make you "melt"
Ben Tre coconut tubers salad
No doubt, coconut is the most famous specialty of Ben Tre, mentioning coconut people think of this land immediately. Known as the coconut country, coconut here is also processed into many different dishes. In particular, here comes the famous coconut tofu salad. Tofu salad with sweet and sour coconut is made from peeled black tiger shrimp, bacon, sliced pork, laksa leaves, onions and roasted peanuts.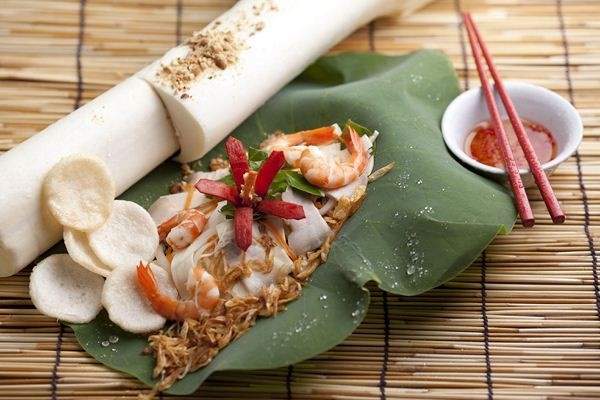 A dish of coconut tofu salad (Image: Collection)
Packaging Roll
Western rolls are different from other rolls in that it still has vegetables, vermicelli but no vegetables or meat, but the brass in it is wrapped in tare, a blend of shredded pork skin with some bacon. Wrapped dishes that eat with vegetables, carrots, chopped melons create a special delicious taste and do not cause bored at all. Leaving the hustle and bustle of the Western garden, this entwine may be one of those you'll remember forever and want to try again.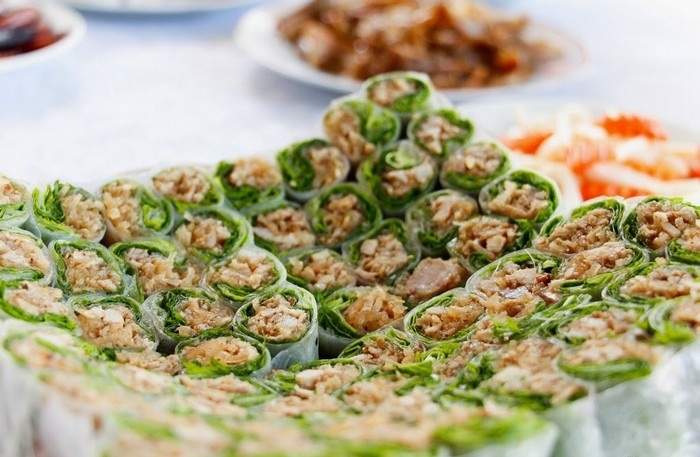 Wrapped dishes (Photo: Collection)
Dua dumpling soup
Although the soup is available in many parts of the country, this soup dish has a special feature in that the person makes iron powder by hand manually. Duck meat is chopped into small pieces of bread that is both sticky and delicious, and the texture is very attractive. Moreover, the point that visitors will remember this dish forever is the story while slurping cake soup with the owner of the restaurant, honestly because this dish will only eat best when you go to the sidewalk shop. .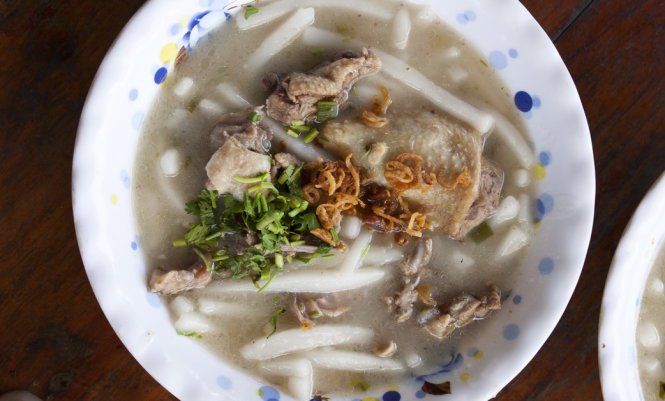 Duck's picture of dumplings (Image: Collection)
Termite Pancakes
Termite pancakes are also a famous specialty in Ben Tre because termite mushrooms are found in many places, but termites in Ben Tre are said to be the best. The crust is made from rice flour with turmeric and chicken egg yolk. Fillings must be made from green beans, minced duck meat, low price and cassava tubers.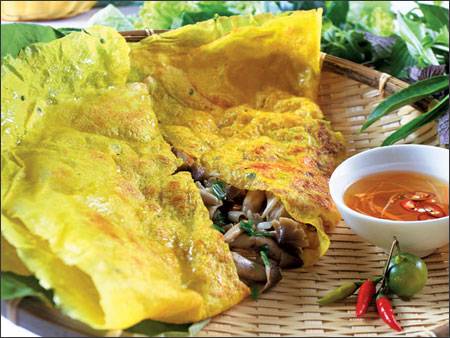 Specialties pancake mushroom termite (Image: Collection)
Enjoying a piece of bread just fried crispy in the palate, the sweetness of the termite mushrooms, the salty taste of duck meat and the sweet and sour sauce from garlic chili is truly a "great combo".
Bananas Beating
Another "favorite" dish of Ben Tre also made from coconut is a pounding banana. Because the Western people think that coconut and bananas are a harmonious duo in Vietnamese cuisine. Any dish with bananas, if there is extra coconut, will be very delicious and round so people here have added coconut milk to the dish.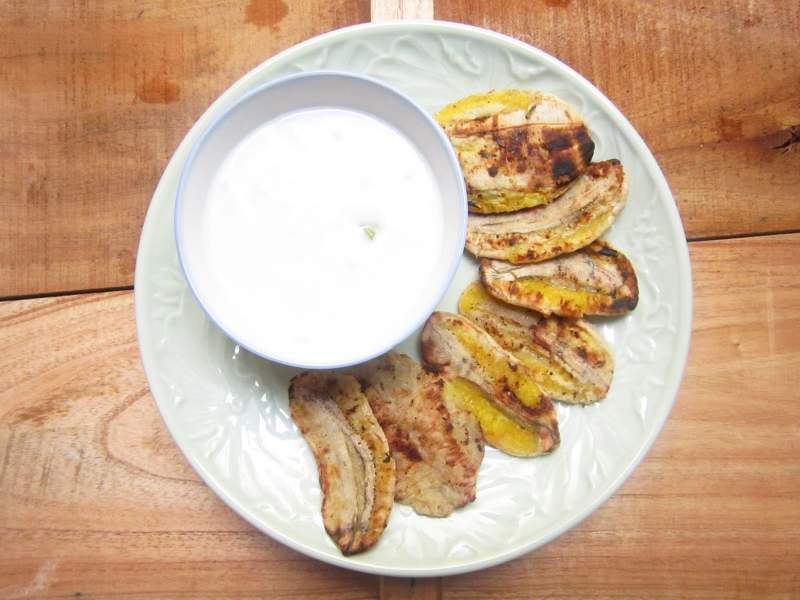 Wild banana dish (Image: Collection)
The bananas here are also very carefully selected, must be freshly cooked Siamese bananas so that when cooked will not be too hard or too mushy, the banana flavor will just come and satisfy everyone's taste.
Rice Snail Pancakes
For the South Vietnamese, banh xeo is a very popular familiar dish, but the name of the rice snail cake is still quite strange to cross travelers. In fact, this is a specialty of Phu Da alcohol, Cho Lach district.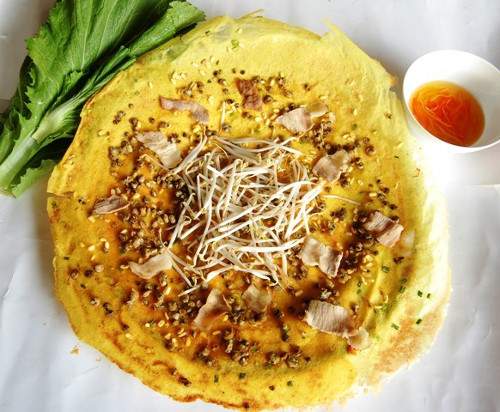 Photos of rice snail pancakes (Photo: Collection)
Rice snail is a type of snail with opaque white meat, this type of snail is usually processed by stir-fried lemongrass or chili as ingredients for pancakes. Unlike shrimp or meat, the rice snail will make you not bored, even, you will enjoy the rough taste of the snail.
Coconut weevil Ben Tre
The Ben Tre people know how to make use of their coconut specialties to cleverly create many delicious dishes. Coconut weevil, the name of this rather strange dish will make you curious about the food, the answer is that the coconut jars are a nutritious source of food for the development of coconut weevils. The coconut weevil when raised and fat, it will be the ingredient processing many dishes such as fried, grilled and even eaten raw. This is a rather strange dish and is praised by many gourmets. So, if you come to Ben Tre do not miss the coconut weevils!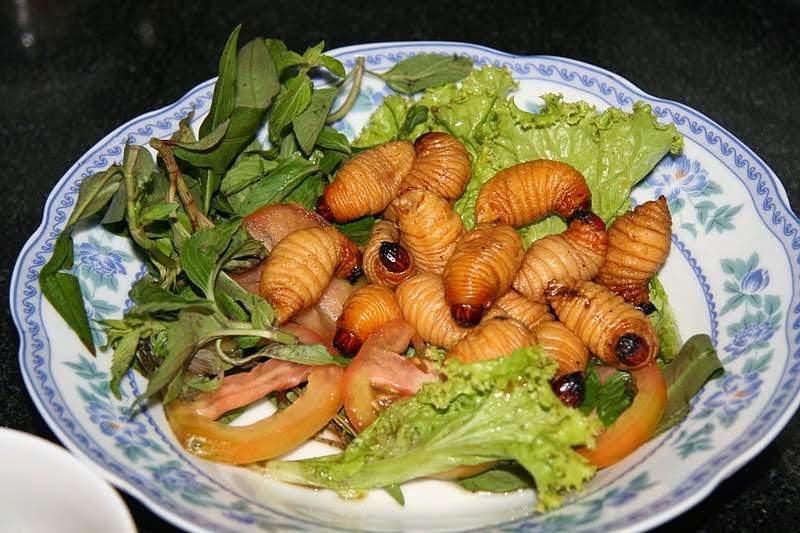 Ben Tre Coconut weevil specialties (Photo: Collection)
Where when to Ben Tre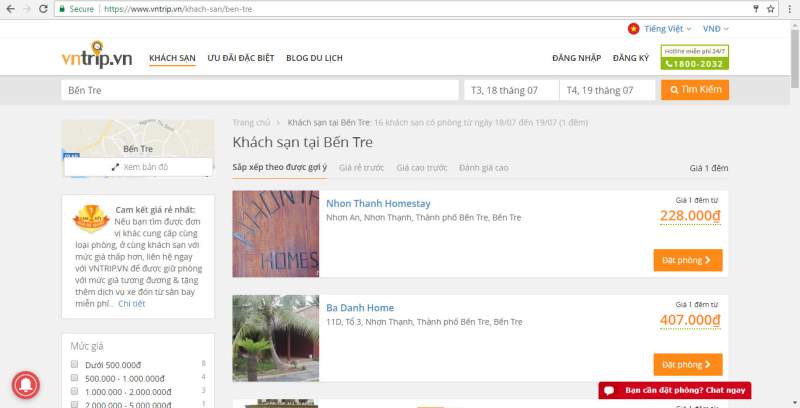 Book now at VietNampeace to get attractive price offers!
Ben Tre Riverside Resort
Location: Nguyễn Văn Tư, ward 7, TP. Ben tre
Standard: 4 stars
As a 4-star hotel, this is definitely a resort that will bring you the most complete travel experience with the space near the romantic waterfront, modern and well-equipped facilities. New decor, attractive. In addition, this resort also owns a tennis court and strong wifi network throughout the resort. Ben Tre Riverside Resort is also a place that tourists consider to be quite satisfied after each holiday of the country of coconut.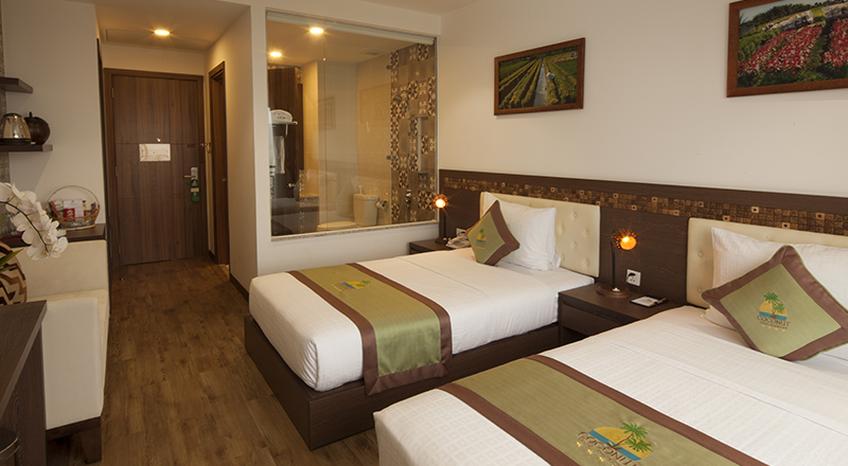 The bedroom is spacious, courteous and modern (Image: Collection)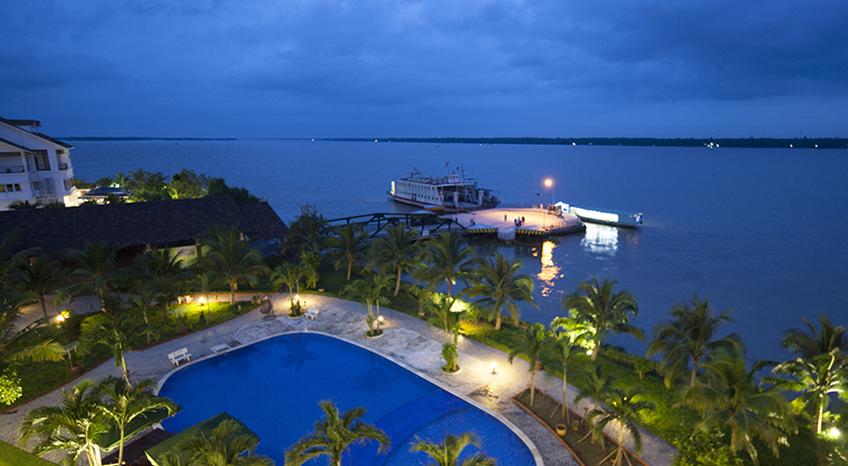 View of the resort from above (Image: Collection)
Forever Green Resort
Location: Phu Khuong Hamlet, Phu Tuc, Chau Thanh District, Ben Tre
Standard: 4 stars
This resort owns an impressive resort architecture with a system of 60 airy and well-equipped rooms. The point that will make you enjoy is probably a separate bathroom fitted with furniture including a tub soaking to help you relax after moments of sightseeing are tired.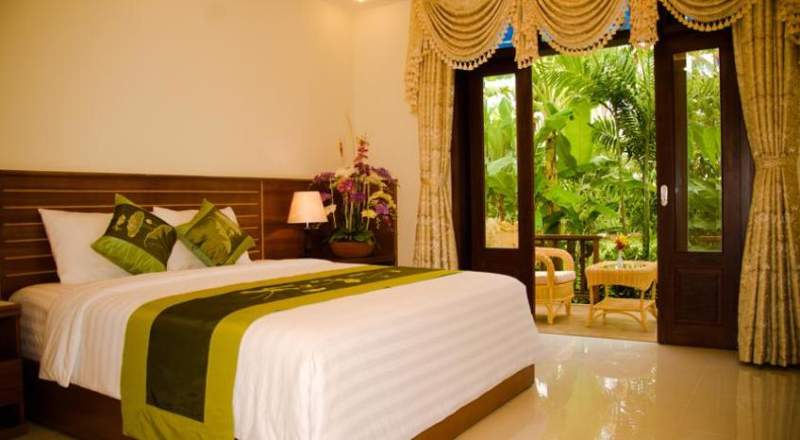 Accommodations at Forever Green Resort (Image: Collection)
Letting natural light into areas such as lobbies and corridors is also a plus for visitors. In addition, Forever Green also provides services such as beauty spa, massage, bar, restaurant, shuttle service, fishing, beer … promising to make you most satisfied.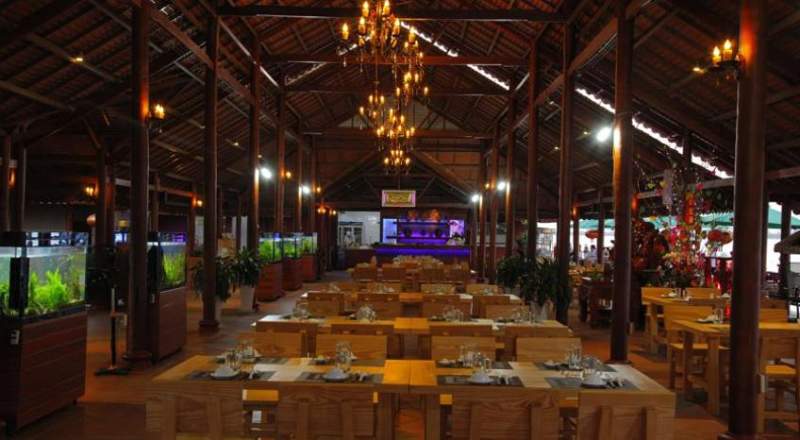 Luxury restaurant (Image: Collection)
Mango Home Riverside
Address: Ấp Mỹ Huân, Giồng Trôm, Bến Tre
Standard: 3 stars
Not far from Con Phung, Mango Home Riverside is an ideal resort location for all travelers. Travelers who have stayed here rate the hotel with friendly staff, helpful customers, drinks at the bar are quite delicious, attractive, large parking lots and suitable green gardens. let visitors walk and breathe fresh air.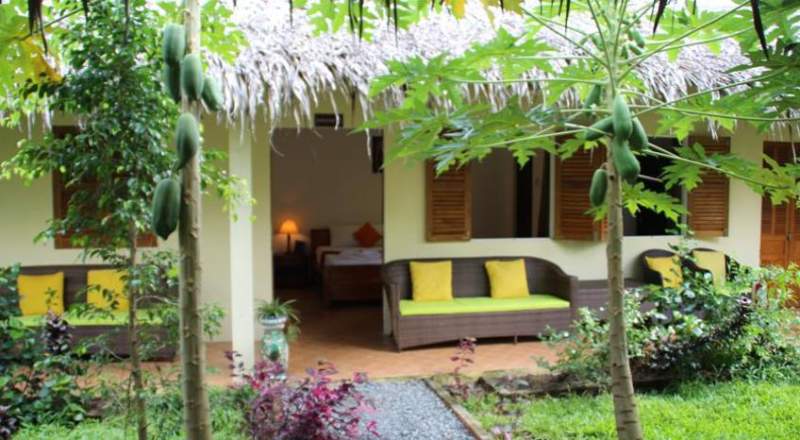 Bedroom close to nature (Image: Collection)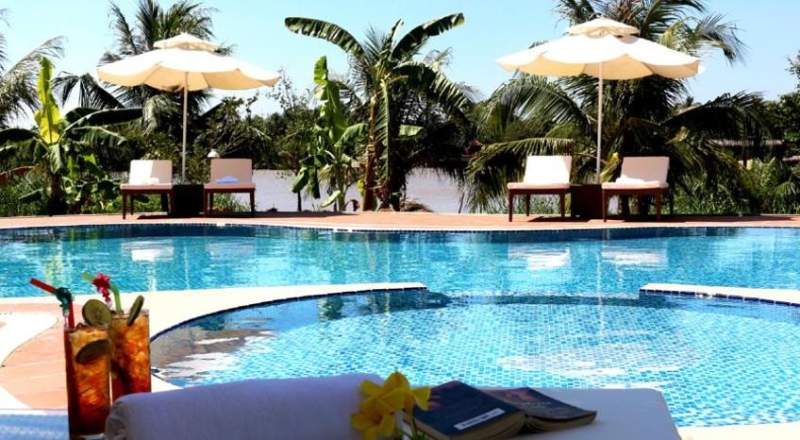 Mango Home Riverside's pool (Image: Collection)
Jardin Du Cuu Long Homestay
Address: Song Doc, Hoa Nghia, Cho Lach district
Standard: 2 stars
For those who want to learn and experience the life and culture of the local people here, Jardin Du Mekong Homestay will be a good resting place. With a fairly simple decoration, the houses in the true Western gardens, this place still ensures full amenities for visitors at a very reasonable price. From here, you can also go to the flower garden, fruit garden, traditional craft villages really easily.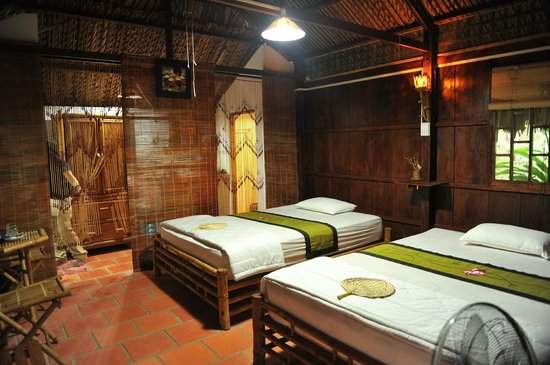 The bedroom is as simple as a Southwestern lifestyle (Image: Collection)
If you are too familiar with coastal cities or pristine mountains, you should come to experience the West. VietNampeace wish you a memorable journey!