Can Tho is the land of Tay Do with its sincere people and idyllic scenery of the river. Come to Can Tho, let VietNampeace explore these 12 tourist destinations not to be missed!
1. Cai Rang floating market
Located about 6 km from Can Tho city, Cai Rang floating market is a wholesale market specializing in the exchange and sale of agricultural products, fruits, food, dining, and is also a visiting place imbued with the river's identity. water of Cần Thơ city. The special thing about the market is that every boat on the river has a rowboat, on which hangs the items they sell for the purpose of "advertising". Boat, down as "mobile apartments" on the river with full amenities, bonsai pots, pets, motorcycles. If you want to learn about the life of the lake lovers here, you can immerse yourself in the bustling atmosphere of Cai Rang floating market.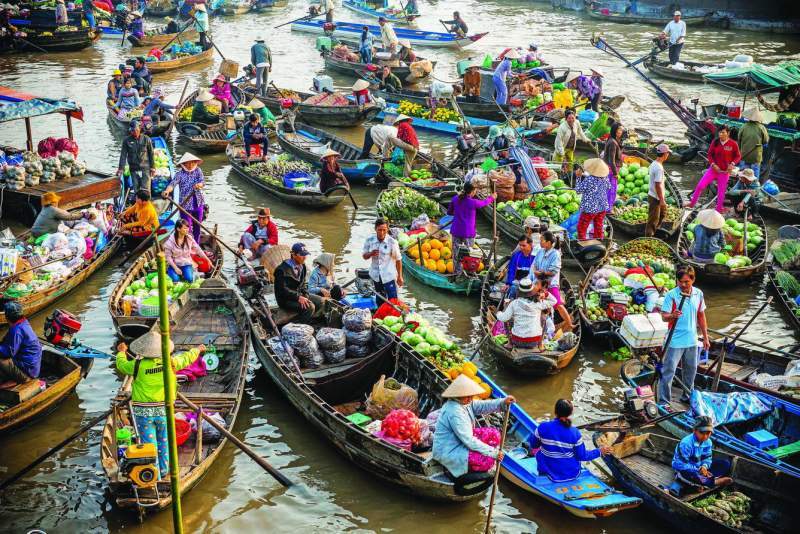 Busy atmosphere in floating market (Source: Collectibles)
2. The ancient house of Binh Thuy
Located on Bui Huu Nghia street, Binh Thuy ward, Binh Thuy district, Can Tho city, the ancient house of Binh Thuy was designed with 5 compartments with 2 roofs, with French architecture built in 1870. The old house has been and will retain the cultural and historical values preserved through the timeline. Outside the ancient house planted many trees and flowers to make the space both ancient and fresh.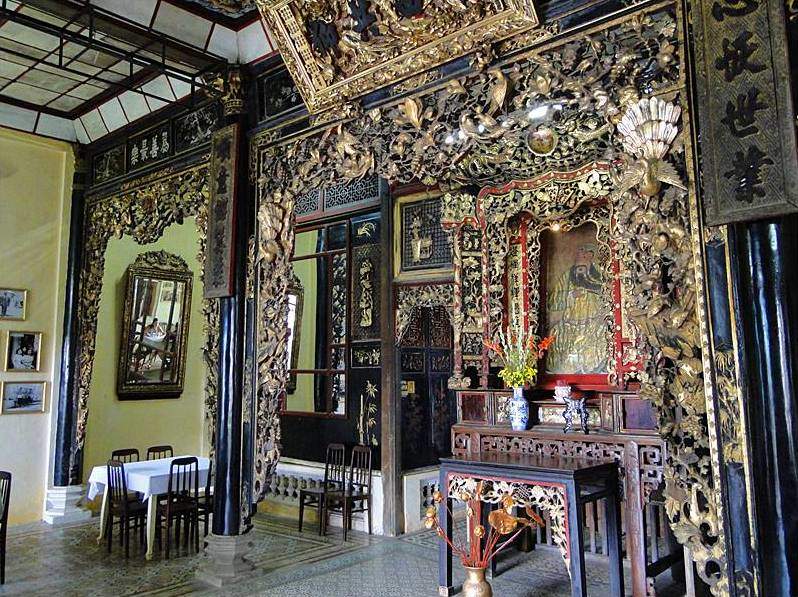 Images in the location of the Old House (Collectibles)
Outside the Old Quarter (Collection sources)
3. Ninh Kieu wharf
To Can Tho, do not forget to visit Ninh Kieu wharf – A famous tourist and cultural landmark of the city. Located on the right bank of Hau river, between the confluence of Hau and Can Tho rivers and adjacent to Hai Ba Trung street, Ninh Kieu district, Ninh Kieu wharf has become the symbol of Can Tho city. With poetic and lyrical beauty, Ninh Kieu wharf not only enters the life of people in the river area but also goes into poetry and people's hearts. From Ninh Kieu wharf, visitors can easily visit other tourist destinations.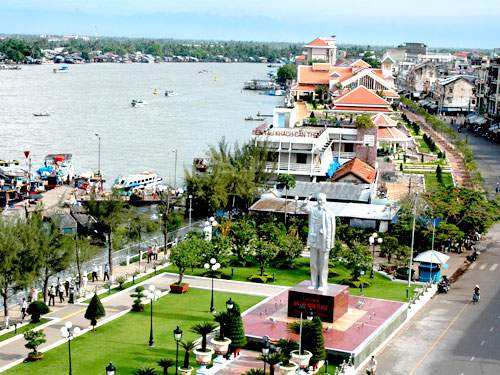 Ninh Kieu berth tourist area by day (Collectibles)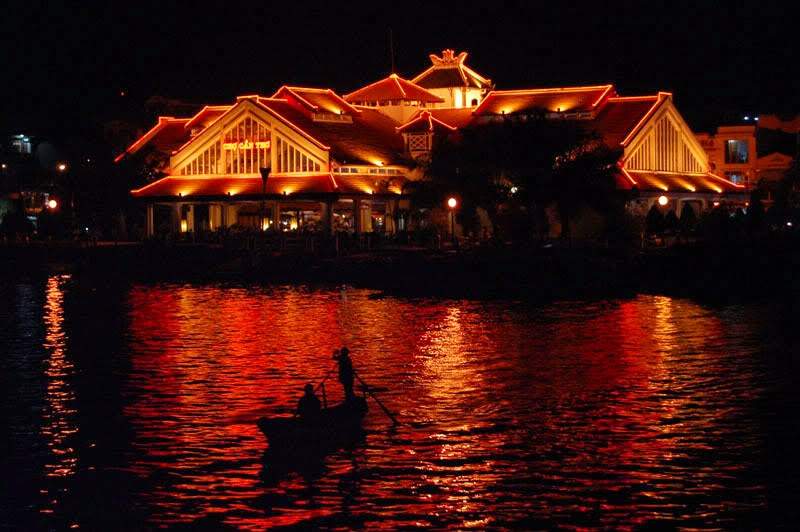 Ninh Kieu's party at night (Source of collectibles)
4. My Khanh tourist village
My Khanh tourist village is considered as a miniature Mekong Delta – this is a famous ecotourism destination in Can Tho. Come here, you enjoy the fruits of all kinds in the garden and specialty dishes, visit traditional villages and listen to the folk songs of the South. At the same time, do not ignore folk games such as climbing trees, jumping hessianism, pig racing, …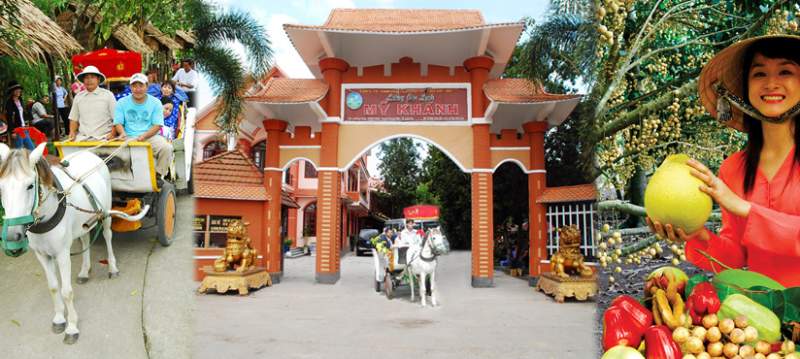 Gate of My Khanh tourist village (Source of collectibles)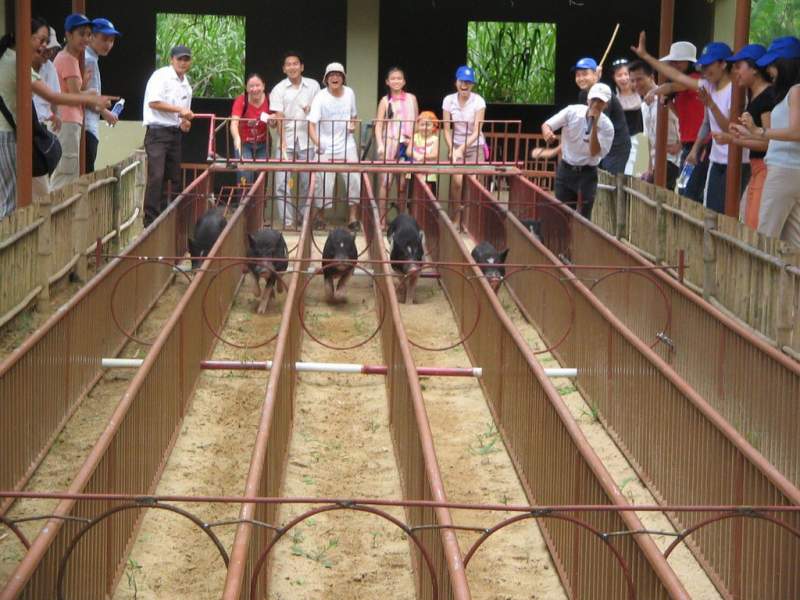 Pig racing in Can Tho tourist village (Collected source)
5. Can Tho Bridge
Can Tho Bridge is a bridge across the Hau River, connecting Can Tho City and Vinh Long Province, and at the time of completion in 2010, this is the longest cable-stayed cable-stayed bridge in Southeast Asia. built on September 25, 2004. Seen from above, the Can Tho Bridge is like the long hair of a young girl, flowing down the Hau River. The distance on both sides of Hau river is bigger than Tien river, making the bridge "stretching" out, both higher and more amazing.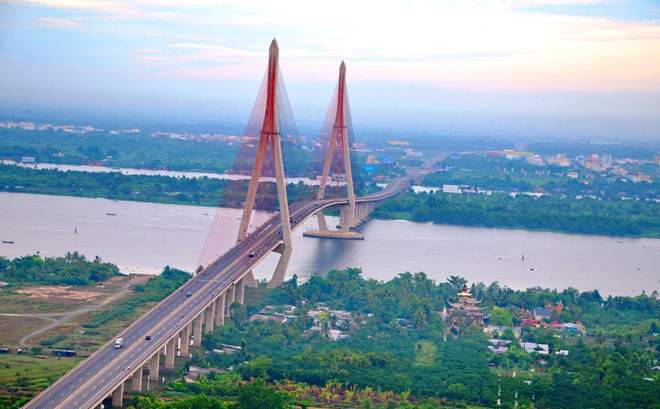 Overview of the location of Can Tho Bridge (Source of collection)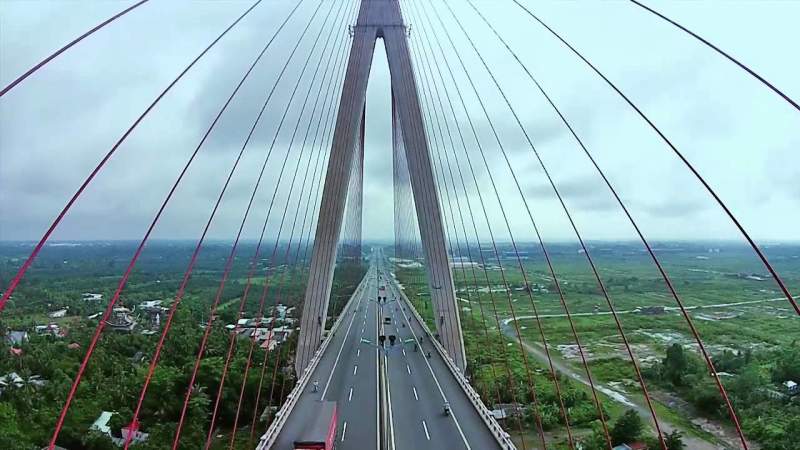 The longest cable-stayed bridge in Southeast Asia (Source: Collectibles)
6. Can Tho Beach
Can Tho Beach is a 400m-long artificial beach. From the sea, visitors can admire the Can Tho Bridge with a fairly close distance. You can try playing fascinating water games such as: Motor water, kayaking, banana float … or renting a high speed ride along the beach.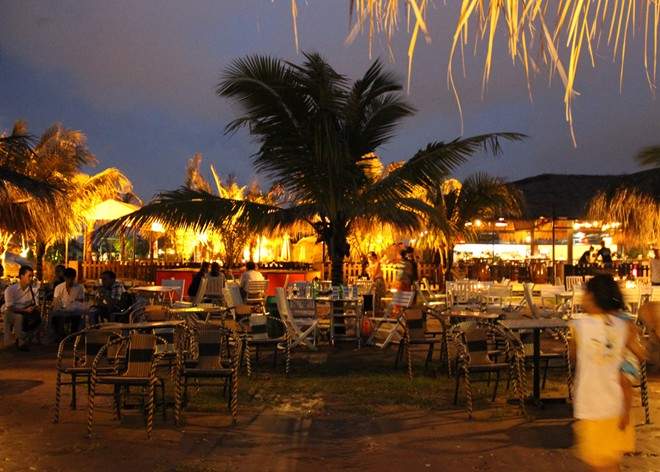 Evening on the coastal resort of Can Tho (Source of collectibles)
7. Bang Lang stork garden
Located about 60km from Can Tho City, follow Highway 91, pass O Mon district, go to Thot Not district to Bang Lang bridge, cross the left turn bridge, you will reach Bang Lang stork garden. Entrance fee for Vietnamese visitors is 10,000 VND / person, Foreign visitors is 20,000 VND / person. There are many kinds of storks, such as: stork flies, storks, ivory storks, ghost storks, green storks, stork storks, storks, lotus storks, storks, etc. river.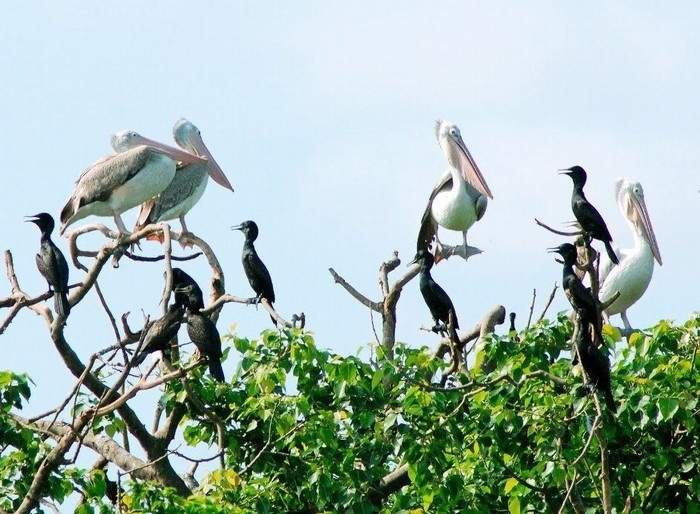 Stork garden attracts tourists (Source: Collectors)
8. Fruit orchard
Fruit orchard is a feature of Can Tho river, the time when traveling in the garden in late May to early June when the fruit is ripe.
Address the reference garden for you such as My Khanh, Mr. Sau Duong's garden, Binh Thuy orchid garden, arc garden on Phong Dien, Phung Hiep rivers and many other family tourist gardens in O Mon, Thot Not .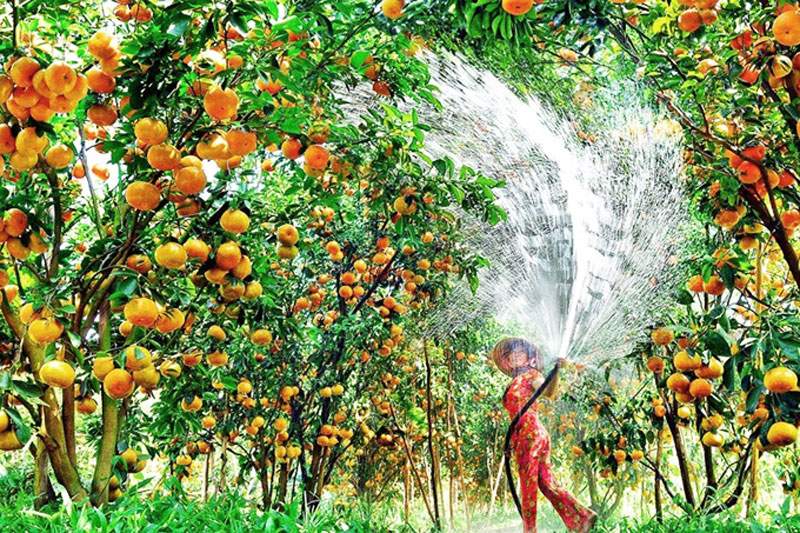 Owners of fruit gardens (Source of collectibles)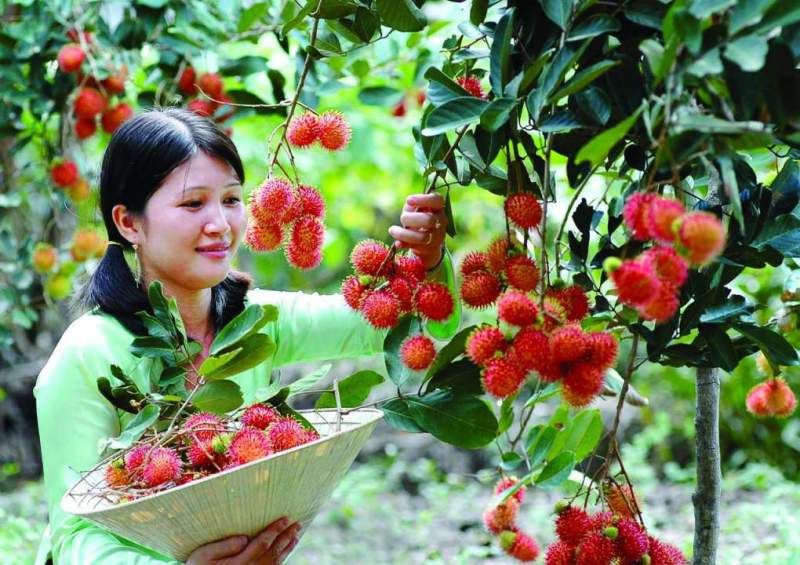 Travelers picking fruits (Source of collectibles)
9. Ba Bo flower village
Ba Bo flower village with an area of 20ha in Binh Thuy district. There are many different types of flowers here, but mostly marigolds, sunflowers, white flowers, yellow apricot, and roses. Visitors to the flower village can take pictures freely.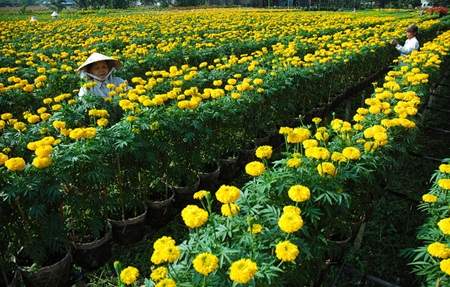 Marigold Garden Resort (Collectibles)
10. Tay Do night market
Located about 1km from the center of Can Tho city to the west of Hau river, Tay Do market is a major trading center of the southern provinces, and also an attractive entertainment destination not to be missed for tourists when Can Tho tourism. The market has bustling dining, dining, and entertainment services at night. At the same time, this is also a focal point of trading many different items.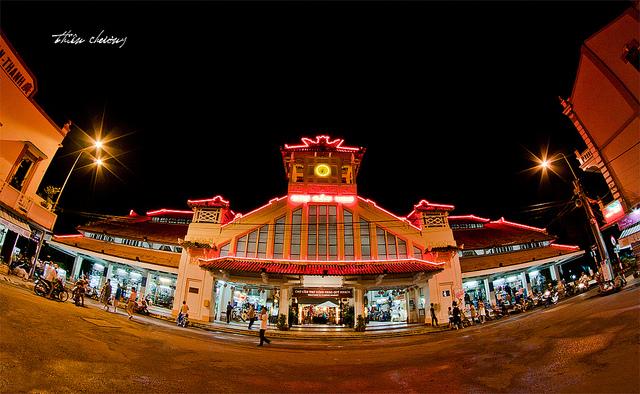 Gate of Tay Do Can Tho market (Source of collectibles)
11. Truc Lam Phuong Nam Zen Monastery
Truc Lam Phuong Nam Monastery is located about 15km from the city center, located in My Khanh commune, Phong Dien district. The landscape and cultural and architectural identity of the Ly – Tran dynasties at the largest western temple will make you feel peaceful when you arrive.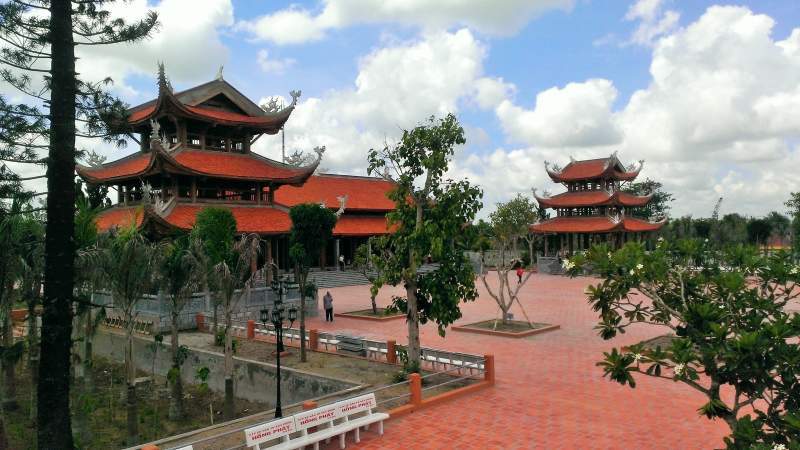 Outside Can Tho Zen Monastery (Collected Source)
12. Can Tho Museum
Can Tho Museum is located at No. 1 Hoa Binh Boulevard, Tan An Ward, Ninh Kieu District. With a large scale, the Museum displays many ancient artifacts about the country, the people of Can Tho as well as the Mekong Delta through many different periods.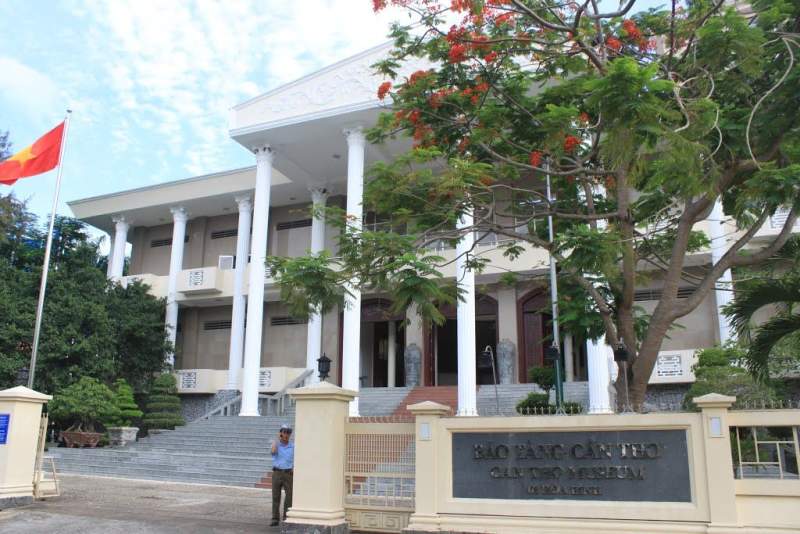 Can Tho Museum Area tourist attraction with large scale (Source of collectibles)
Above are the most beautiful and famous tourist destinations to visit in Can Tho, please experience for yourself.