Que Garden Dalat is no longer a strange place for tourist followers, especially for those who want to find a place to rest, listen to the birds singing, and breathe fresh air, or Those who want to visit cherry blossom country but do not have enough conditions, this place will always be a destination to satisfy your wishes.
If you are confident of knowing every corner of Que Garden, do you know that the "floating house in the water" here is making people "drunk like a cigarette"? Discover Vntrip try it out!
1. Where is Dalat's "floating house" located?
"Floating house in the middle of the water" is located in the campus of Que Garden – an ecotourism complex combined with a cafe with a total area of up to 20,000m2, located far from the center of Dalat city towards Mimosa Pass.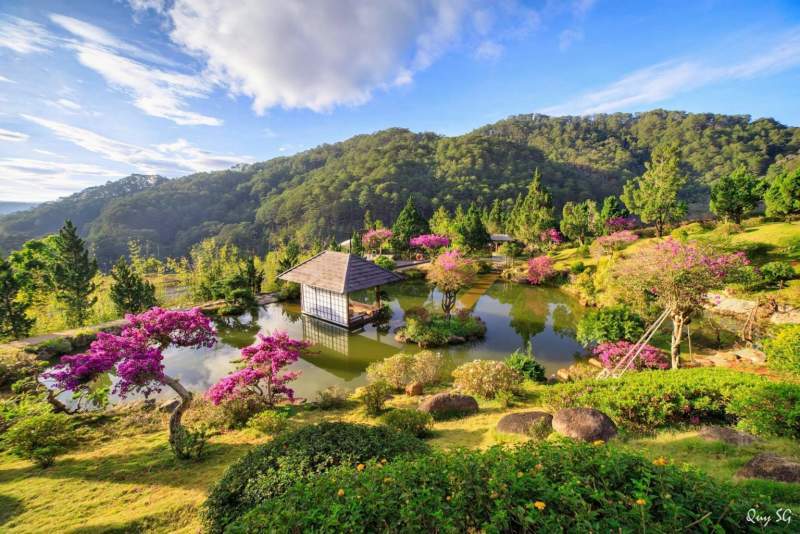 The house floats on the water. Photo: Que Garden
From the city center, you go to Tran Hung Dao Street, then turn to Khe Sanh Street, continue down Mimosa Pass to get to Que Garden Dalat.
Address: Ward 10, Đà Lạt city (6km from the beginning of Mimosa pass)
Ticket price: 50,000 VND
Opening time: 07:00 – 17:00
2. What is special about "floating house in the middle of the water" in Dalat?
Surrounded by a green pine forest, with countless pink confetti, a simple wooden house appears with a reflection on the lake to create a beautiful picture of water wear, Gives you a super beautiful background, super smooth and super peaceful.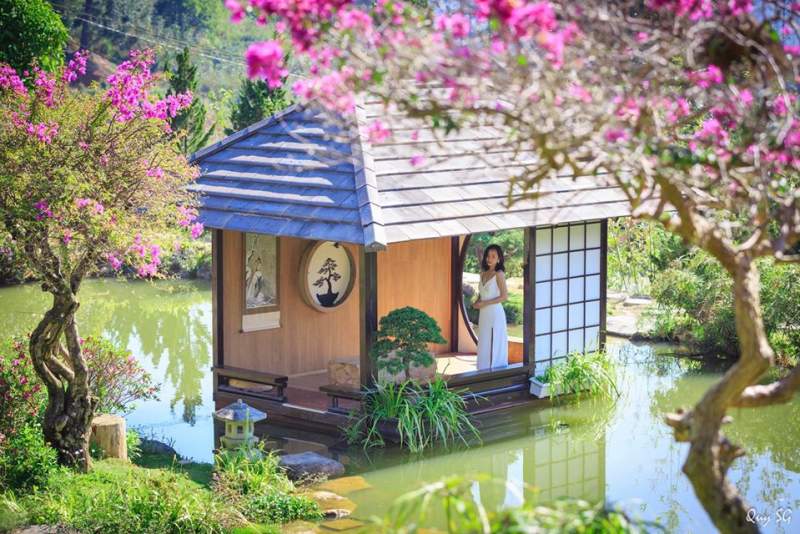 Peaceful scenery. Photo: Que Garden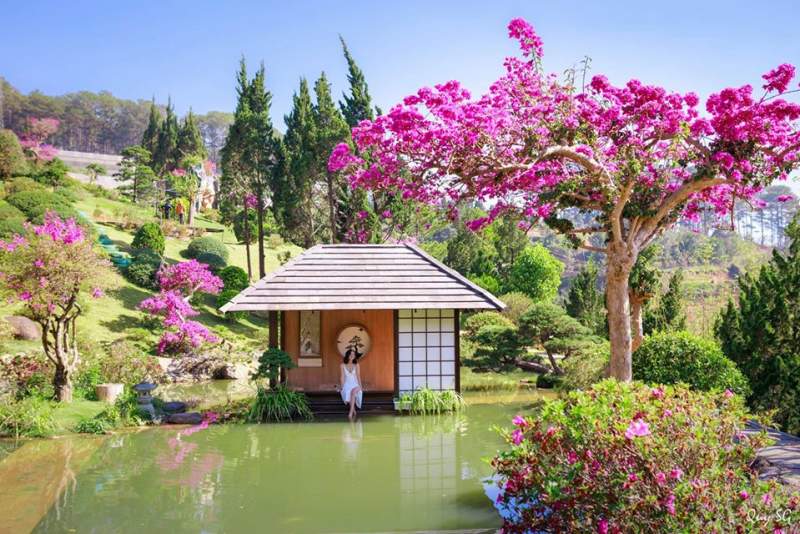 The house is surrounded by green patches. Photo: Que Garden
The house is designed with a sense of traditional Japanese style, using natural wood, not glass, but sliding doors made of translucent paper pasted on a wooden frame, creating an open space. completely.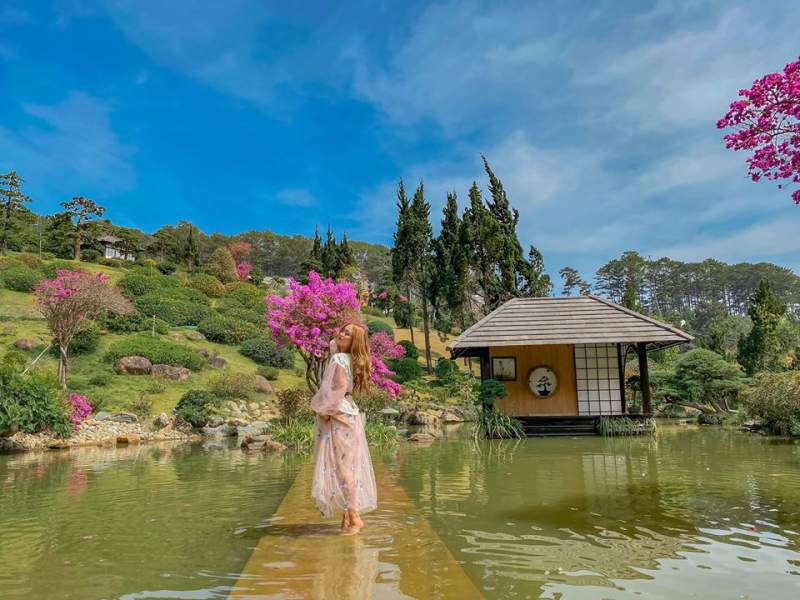 Wonderful virtual living corner. Photo: Que Garden
Standing in the middle of this bungalow, you will be able to enjoy the view of Dalat mountain valley surrounded by fog, pine trees that are cheering in the wind, grasses bathing in the sunshine, …
3. Besides "floating house in the middle of the water," what does Que Garden play?
The largest coniferous bonsai garden in Vietnam
Because the owner of Que Garden Dalat is an extremely passionate person, interested in conifer bonsai. Therefore, bonsai pots here are always very meticulously cared for, with full sizes and different shapes. Coming here, in addition to enjoying the cool glasses of water, checking in the extremely romantic scenery, this is also an interesting opportunity for you to learn more about how to grow conifers as ornamental.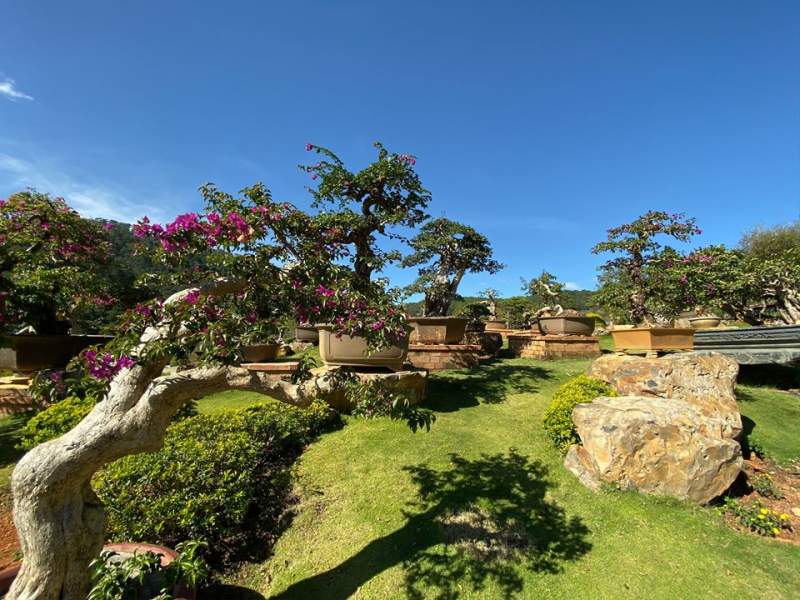 The largest coniferous bonsai garden in Vietnam. Photo: Que Garden
With an area of 20,000 square meters, the current Que Garden holds up to 100 different kinds of strange and extremely beautiful carbon trees.
Koi aquarium is standard
The Koi pond in Que Garden is designed in accordance with Japanese standards, the water depth is just enough for the fish to grow and help you easily watch the fish move. The lake is also regularly looked after and regularly inspected by Que Garde staff, so the lake's water surface is always very clear, ensuring the growth of the fish.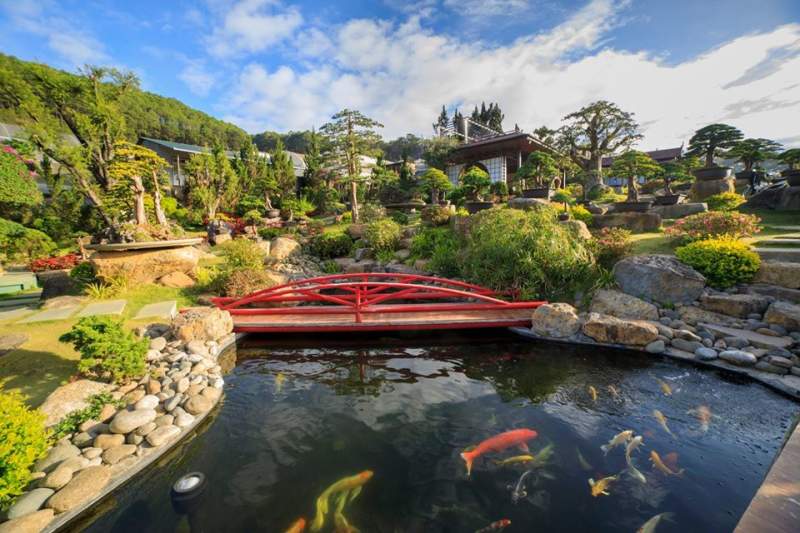 Koi aquarium is standard. Photo: Que Garden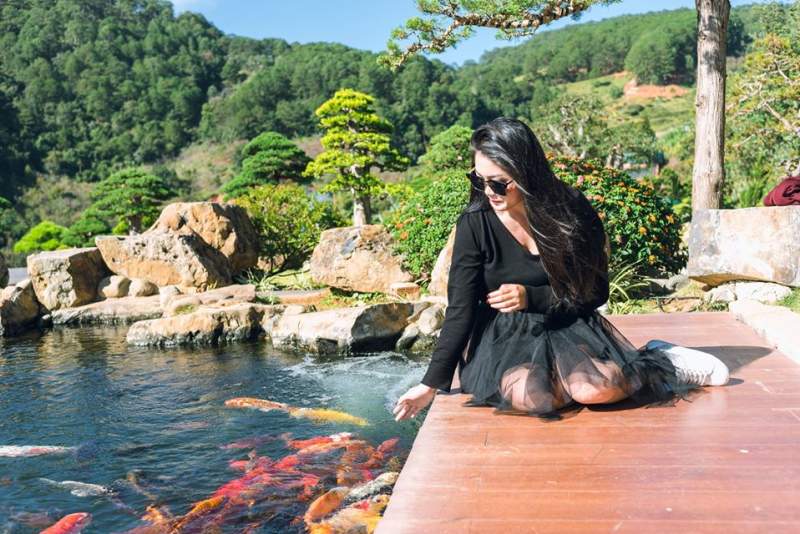 Thousands of Koi fish belong to many different breeds. Photo: Que Garden
In addition, the Koi here are also carefully selected from many different varieties of Koi fish.
Japanese house
Another highlight of Que Garden is the Japanese house built right in the middle of the garden. After walking around and checking in every corner of Que Garden, you can visit this house to enjoy a cool glass of water.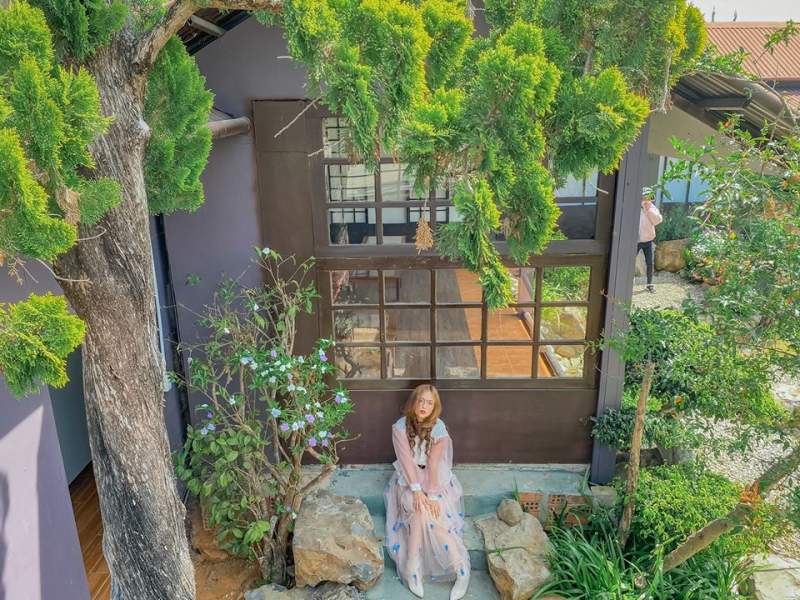 Japanese house. Photo: Que Garden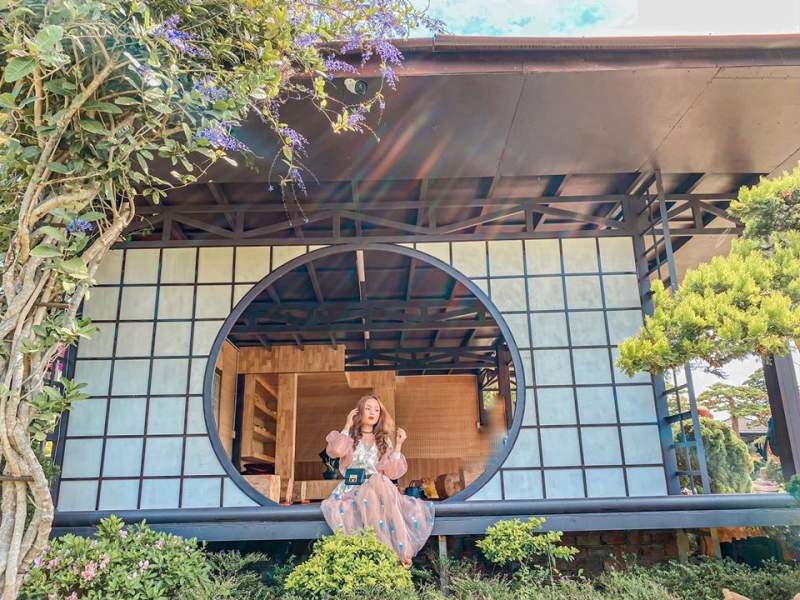 Japanese design. Photo: Que Garden
From the exterior design to the interior of this house, it has the appearance of traditional Japanese houses. Inside, the wooden table is designed in a simple and rustic manner, you will sit and enjoy a drink in the Japanese style.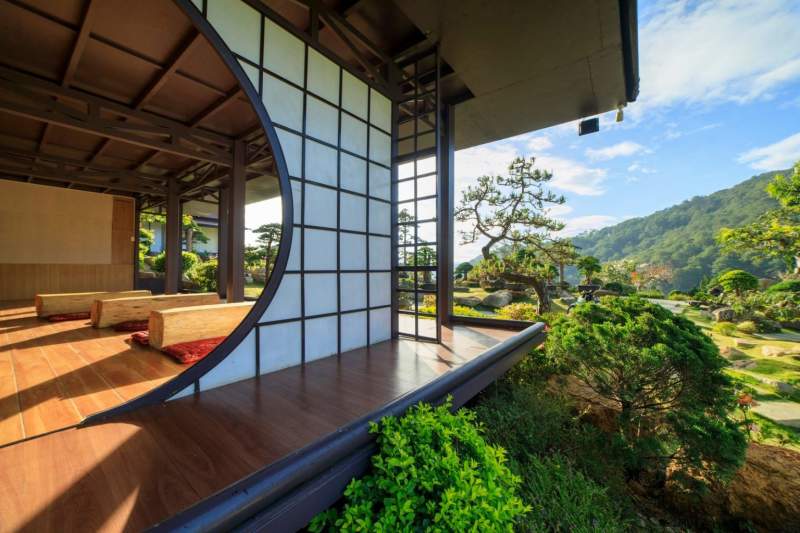 Coming here, you will feel like you are lost in Phu Tang. Photo: Que Garden
Vibrant flower garden
In addition to bonsai gardens, aquariums or Japanese houses, Que Garden also has a garden filled with flowers from chrysanthemum, dahlia, lavender, creating a very romantic and romantic scene. And yet, among the flower gardens, Que Garden skillfully arranged an additional white staircase. Standing from above, you will easily catch the beautiful colors like the green of the conifers in the distance, the pink of confetti and the calm blue water of the lake.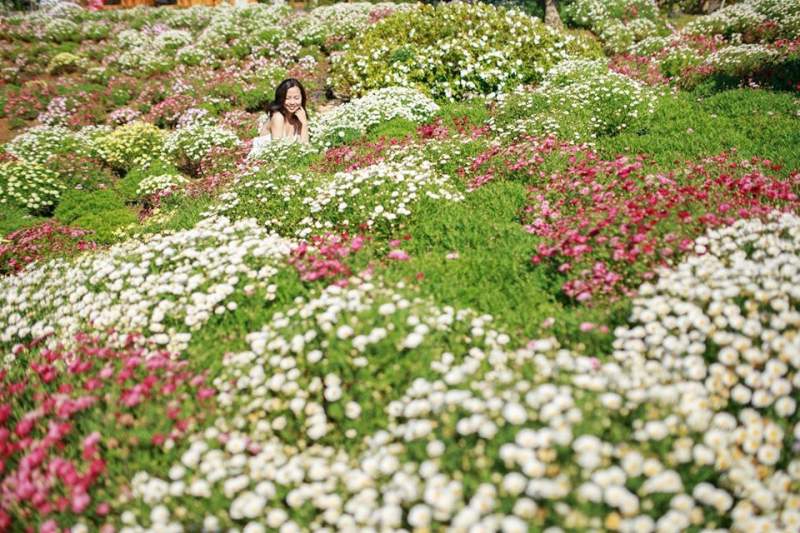 The garden is full of colors. Photo: Que Garden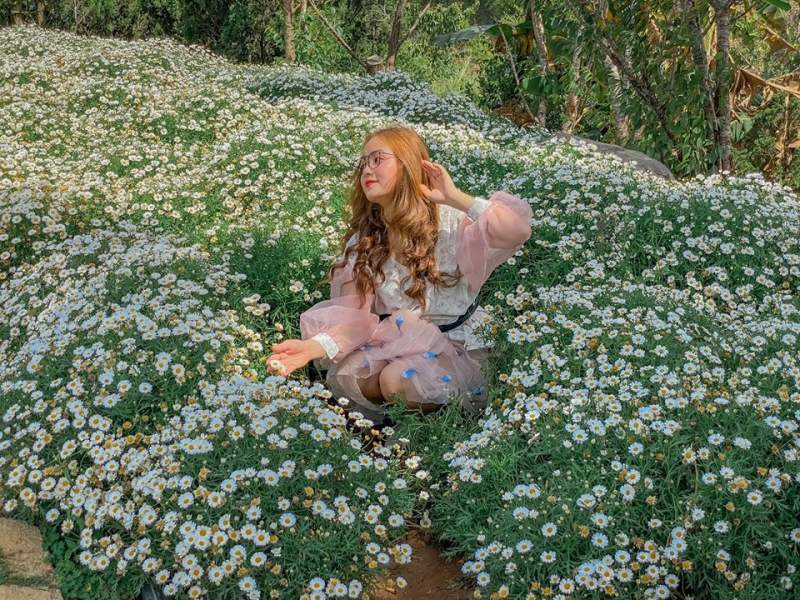 Chrysanthemum garden white mi. Photo: Que Garden
With the "floating house on the water" and the countless virtual living corners mentioned above is enough to motivate you to immediately launch a trip to Que Garden Dalat? Do not forget to buy a good camera to collect a beautiful album!
Travel Dalat: Fun places, experiences from AZ
Dalat travel experience self-sufficient 2020 most economical