Coming to Da Nang without experiencing the hottest entertainment centers, maybe your trip is still not complete. Let's take a look at some of the most popular Danang bars in this peaceful city!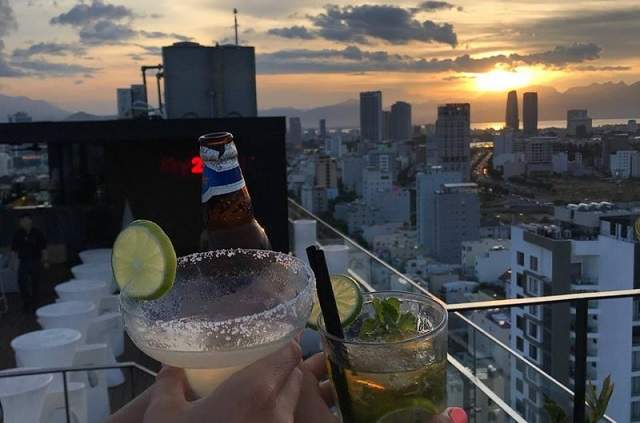 The famous bar Da Thanh
The famous bar in Da Thanh
Sky 21 Bar Da Nang
Floor 21, Belle Maison Parosand Danang Hotel, 216 Vo Nguyen Giap, Son Tra District, Da Nang
Opening hours: 17:00 – 00:00
Sky 21 Bar Da Nang
Dubbed as one of the most beautiful views of Da Thanh, Sky 21 attracts visitors by a spectacular view that overlooks the entire city and the sea of Danang, watching the sunset and The moon rising here is the climax. What do you think of a luxurious address, open space and Western nature?
Holding a high quality glass of wine, preparing, shaking up the music with him in a romantic space in this peaceful city is nothing! If you are looking for a place with a beautiful view of the soul of the sea, do not hesitate to look to Sky 21 to enjoy the unique cocktail flavors and admire the beautiful views of the sea and the city at sunset or back. Beautiful night.
The 1920'S Lounge
53 Tran Quoc Toan, Hai Chau District, Da Nang
Opening time: 18:00 – 23:00
The 1920'S Lounge
Those who experience the 1920s in Danang have a great compliment here, which has a great space and is meticulously invested by the owner, along with the utmost satisfaction. Space embraces 1920 as the name implies, a romantic mix of classic, separate from the modern world outside, space of time as deposited with great music playing band libe music.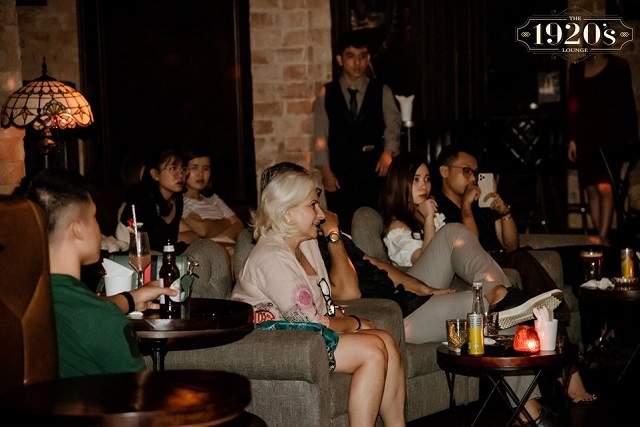 The bar has a classical vibe as its name suggests
Speaking of music, this bar is psychologically exhausted, not as noisy as other places where the volume is adjusted just enough guests can chat gently. When the clock is only complete to the number 9, the time the song is sung at The 1920 brings us closer together, so drifting away the emotions in the melody …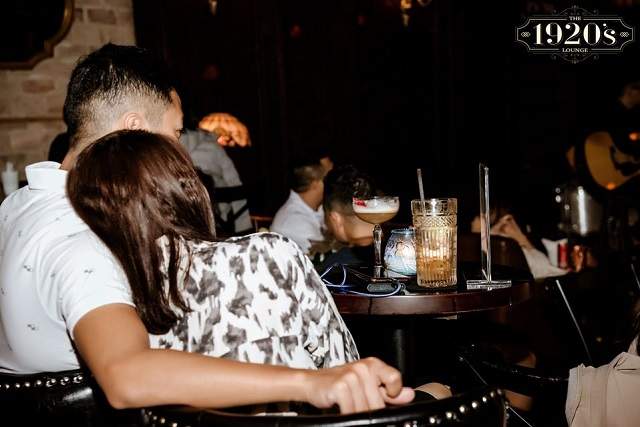 Softly and deeply, The 1920 brought the lovers closer together
Sailor Pub Danang
212 Bach Dang, Phuoc Ninh, Hai Chau and Da Nang
Opening time: 18:00 – 04:00
Sailor Pub is a familiar play address for young people in Da Thanh
Located on a privileged road, Bach Dang, a shimmering address of the most crowded lights in Da Thanh, where when coming to the coastal city, everyone comes to it to enjoy the "nightlife" in the heart of the city. . Because this road is the place where most of the chains of Da Nang Pubs, big and small, crowded together to create a unique feature unique to Danang. Appointing visitors when the clock scores 9 o'clock to enjoy the night with the appearance of beautiful DJs like Na Pea … and do not forget the incentives here are quite attractive on the day of events, holidays, such For example, if you have more than 7 people, you will get 1 shisha and 1 fruit plate. Five female friends will get 1 1000ml Long Island Ice Tea or check in at the hotel. You will receive 1 cool StrongBow bottle immediately.
The menu with light prices and many incentives is a plus point of this place
Pangolin
3rd Floor, 39-41 Nguyen Thai Hoc Hai Chau District, Da Nang City
Opening time: 19:00 – 01:30
Pang Da Nang is an address not to be missed when visiting Da Nang
If you've been to Danang for a vacation or an occasion to happen to stay in Danang overnight, you should visit these bars at least once. You will be full of interesting surprises! Unlike other bars located in the bustling area of sleepless nights, along the busiest streets in Da Thanh, the modest Te Bar hides in a place that is probably a bit hard to find, you can find it near Cong Cafe.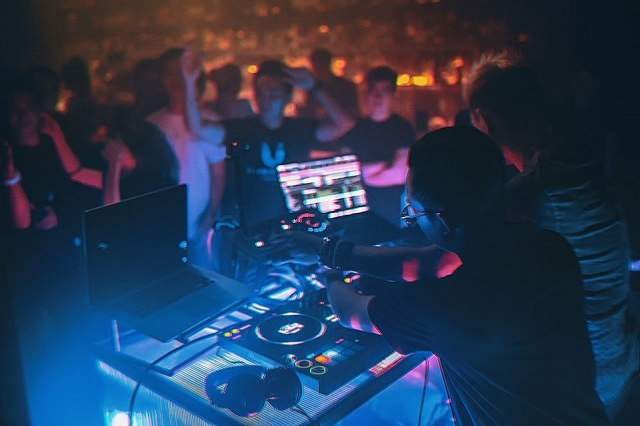 Pangolin brings unique emotions from special cocktails
In addition to the counter chairs, sofas are also another option for you, the menu here is also very rich, affordable. The special temptation that Te bring is the story that is soul-blowing into the cocktails offered to customers because in addition to fruit cocktails, you can enjoy other cocktails with pho or tomato soup. ri brings new feeling. The unique "spice" with special colors became the specialty of Te Bar at any time.
Kirara Bar & Lounge
7 Nguyen Du Thach Thang, Da Nang
Opening time: 19:00 – 3:00
Kirara Bar & Lounge Hai Chau Da Nang
Kirara Bar & Lounge Hai Chau Da Nang is a familiar name of the locals, specializing in serving fast food, cocktails, mocktails, especially serving draft beer and the world's finest wines. Coming to this Danang bar , you will immerse yourself in the melodious music of piano music under the skillful hands of the artists in the morning and evening. The tranquility and European-style space design is inspired by many people who choose to come to meet friends, family and receive business guests.
The Fox club Danang
13-14-15 Do Ba , My An, Ngu Hanh Son, Da Nang
Opening time: starting from 21:00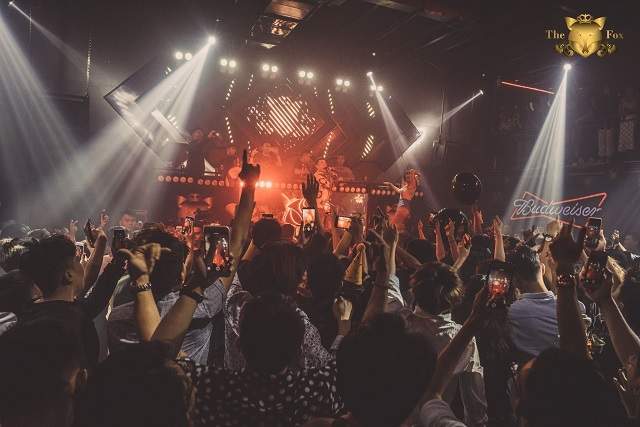 Fox Club Đà Nẵng
One of the most popular Da Nang weekend clubs that visitors cannot miss is The Fox, the difference that this place is visited by many visitors is a true Vinahouse playground for people playing in the area. Son Tra, Ngu Hanh Son. In addition, Fox Club also fascinates customers by regularly having weekly programs and events, with the participation of famous singers and DJs, bringing visitors to experience new emotions. and the special offers here are as attractive as other places such as only VND 499,000 for a combo of beer, fruit and "laughing ball" for customers who arrive before 10:30 pm, get 1 ball for customers to check in. special events under Fox Club's special offers.
Fox Club has many surprises for visitors
Bar experience in Da Nang
If you've had a full week of work or are enjoying your vacation, it's okay to not enjoy a relaxing breeze to love yourself, this will never be a waste. You already know the places you want to experience tonight but are a bit hesitant because this is the first time you go to the bar, maybe a little worried about the money, the pocket experience when going to bars in Da Nang Maybe that will help you!
Some common cases such as alcohol does not go away, you can send it back, need to check carefully how much wine is left, you can see on the standard mailing card. Why do people have to book in advance? Making a table in advance will help you choose a satisfactory seat and avoid pool truss when arriving at peak times when there are no seats. If you have not booked a table in advance or not a weekend, like the table that table. While playing, note when meeting the drunken guests, avoid "collision" to protect yourself and your team! About the bo way for service, reception and security … in Da Nang, you only give service when charging out, security stand near and protect the car, housekeeping staff, the bo is about 50,000 VND . For PR staff about 100,000 VND, DJ with 100,000 VND, with training of 200,000 VND to 500,000 VND.
Hotels nearby the diverse Danang bar on Vntrip
The above is the characteristic of each bar that almost all tourists choose to enjoy during long trips or a business trip to this coastal city. Hopefully, the highlight information about each address as well as sharing experiences for those who are new to Da Nang bar will help you have an additional pocket guide for your trip. .