Surely when you mention Tam Thanh, Tam Ky, Quang Nam, you will think of the colorful mural village famous throughout the country. But not only that, coming to Tam Thanh waters you will discover many new and interesting things. Let's discover VNTRIP.VN now!
Located more than 10 km from Tam Ky and Quang Nam cities, Tam Thanh beach is a part of a sea route extending over 50 km from Tam Hai to Cua Dai. This place is considered one of the famous and pristine beaches in Quang Nam, which is sunny and windy. Despite being put into tourism many years ago but due to the awareness of environmental protection of the people here, the beach still retains the fine white sand, not subsidence. In particular, coming to Tam Thanh beach you will not see the sight of street vendors, rowing tourists. Every early morning or late afternoon, people in the area come to the beach to crowded, this is also the busiest time of the day of this beach.
Not only the sea, Tam Thanh has long been famous for the mural village of Trung Thanh village. This is also the first mural village in Vietnam created by the creation of Korean volunteers.
The small fishing village is dressed in new clothes and the poetic natural space on the beach, everything seems to blend together to create a unique landscape picture, colorful. Completed in 2016, until now the paintings have gradually faded due to the influence of climate and weather but it will soon return with fresh colors under the sponsorship from Korea.
Also in this land, there are many establishments producing traditional fish sauce. With about 20 small manufacturing facilities, in the form of households, fish sauce is produced by traditional methods, without using any additives, preservatives or other flavors. Therefore, the fish sauce here has a very rich, delicious flavor, which is loved by a lot of visitors.
The journey of discovery will become more interesting, when you find yourself renting a homestay by the people here. From here, you can feel the whole scenery of the village, learn more about the traditional process of making fish sauce, taste fresh seafood dishes. In particular, you can apply for camping on the beach, or ask for a fishing boat to experience the feeling of being a fisherman, floating on the sea. Although the trip is not long, it will surely be an interesting experience that you will never forget.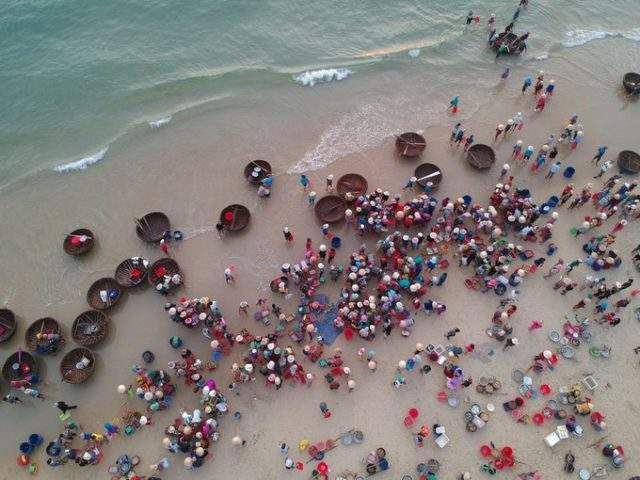 From here, you can continue the journey by moving to Tam Tien ferry to visit Tam Hai island. The island-created Tam Hai island commune has bestowed a very poetic position, with 3 sides facing the sea, the other side with Truong Giang River. Not only that, coming to this peaceful oasis, you will not be surprised by the lush green fields of soaring coconut forests.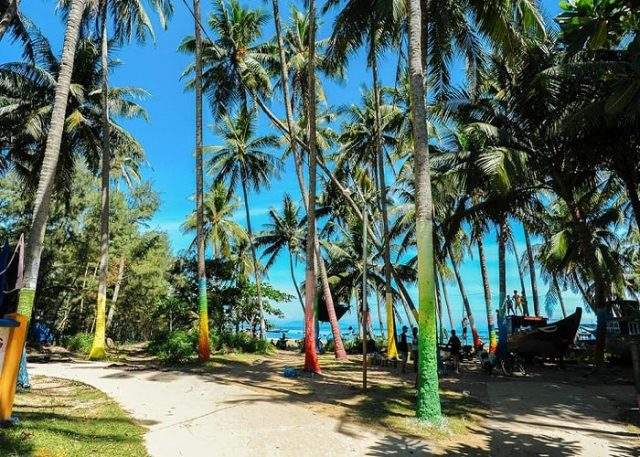 Coming to Tam Hai, you should rent a motorbike to travel to discover all the beautiful scenery on the island, or visit the Tam Hai mural village with colorful, extremely eye-catching paintings. One thing that you should not ignore when coming to Tam Hai is to find the Ban Than rocky cliff, which is known as Ly Son of Quang Nam province. Because when you come here, you will feel like you are standing in front of the small island of Ly Son.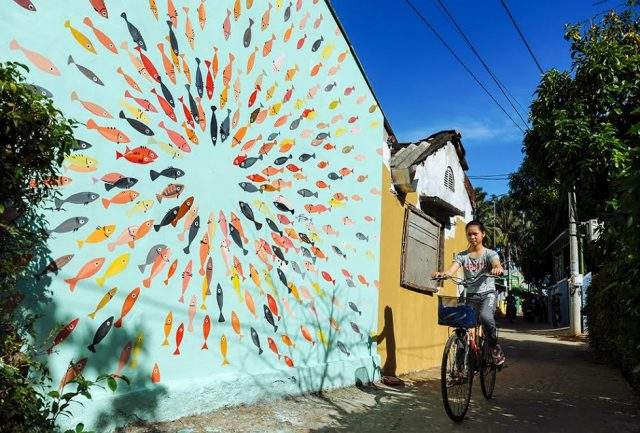 This area also has many beautiful beaches, untouched untouched. You can set up camp on the beach of Hon Pineapple and Hon Mang to have more interesting experiences. Owning a rare wild beauty, Ban Than rocky rapids and Hon Dua and Hon Mang have been recognized as a provincial-level scenic clusters.
And yet, coming to Tam Thanh you can visit the mother monument Thu located about 5 km away. This monument was built based on the prototype of Vietnamese heroic mother Nguyen Thi Thu, who had 9 sons, 1 son-in-law and 2 grandchildren who sacrificed in the war against the French and the Americans.
After hours of going out, sightseeing, sightseeing, you can return to Tam Thanh to swim, then taste the fresh seafood dishes, at extremely affordable prices. In many attractive dishes, you should not miss the opportunity to enjoy grilled flying fish, which is considered a specialty of Quang people. Grilled flying fish is quite simple, fish marinated with spices, chili, lemongrass and grilled with gold in charcoal. To add a delicious flavor, you should eat green vegetables dipped with chili salt, a couple of bottles of beer, sit on the beach and sip it all.
Indeed, the journey to explore Tam Thanh waters still contains many interesting things that are waiting for you to discover. This trip will help you find yourself a sense of lightness, tranquility, where you can shake off the worries and sorrows of daily life.
According to Viet Chelsea / Vnexpress