Con Phung is currently a destination not to be missed when traveling to Ben Tre. As an islet on the poetic Tien River, anyone who sets foot on Con Phung land has an incredibly peaceful, comfortable and interesting feeling. Because when down the roof of the boat on the rivers, a whole region of the Southwestern region appeared in front of beautiful eyes, both familiar and unique to incredible. A trip to Con Phung brings you interesting experiences.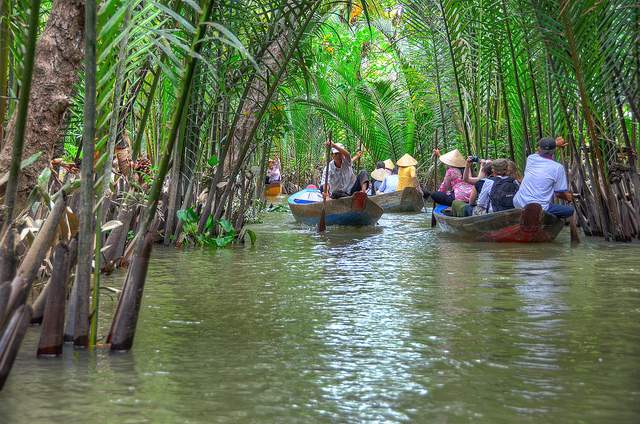 Boats typical of western tourism, Con Phung Ben Tre (Photo: Collectibles)
Con Phung is located in Tan Trach, Chau Thanh, Ben Tre, is one of the famous sacred lands located on Tien river: Long, Lan, Quy, Phung. With an area of over 30,000m2 with many attractive activities and services, Con Phung welcomes thousands of tourists every year to explore and experience this place.
The best time to travel to Con Phung
Being blessed with warm weather all year round, Con Phung welcomes tourists at any time of the year. Especially on the summer days of June, July and August, when the green leaves are green and the fruits are full of fruits, tourists coming to Con Phung will enjoy the extremely delicious fruits and rich: Mangosteen, durian, rambutan, …
Come to Con Phung in the summer to enjoy the rich fruits (Photo: Collectibles )
How to move to Con Phung
How to move to Ben Tre
Coach
To move from Saigon to Ben Tre will take about 1.5 to 2 hours. There are many reputable coaches for you to choose for your trip. Some suggestions about car manufacturers that you can refer to are as follows:
– Hong Phuong garage : 08.39613794 – 0913 965242 – 075 3857785
– Thao Chau garage : Running on the route Saigon – Ben Tre, there are cars of 15 seats and 29 seats.
In Saigon: Pick up and drop off at 182 Su Van Hanh, Ward 9, District 5 (near Tran Phu Street) and ticket box 16 Western bus station. Phone 08.3835.1917 – 38339954, mobile 0903.337.600.

At Ben Tre: 122A Nguyen Thi Dinh-Phu Tan – Ben Tre City. Phone (075) 3.837.837 – 382.2802 – 381.5565.
– Thinh Phat bus: Running Sai Gon – Ben Tre route , 15-seat car, shuttle to take place (with surcharge)
In Saigon: the bus departs at 25A Su Van Hanh, Ward 9, District 5 (opposite to Hoa Binh Park – the corner of Hung Vuong – Su Van Hanh crossroads). Cars run from 5am to 6:30 pm, every hour there is a car running. Contact reservations 08.3830.3042 – 0913.965.050.

In Ben Tre: the car departs at 82A KP2 P.Phu Khuong QL60 TX

Ben Tre

(near Nguyen Dinh Chieu high school). Departure time 3h30-4h30-5h-6h-7h-8h-9h-10h-11h-12h-12h45-13h30-14h30-15h30-16h30-17h30. Phone (075) 356.1561 – 382.9317 – 382.4862
Passenger bus to Con Phung Ben Tre tourist resort (Photo: Collectibles)
Private vehicles
For travelers who want to experience the feeling of traveling to a new land, they can choose personal vehicles such as motorcycles and cars to move. For private vehicles, you will have the opportunity to be proactive, easy to conquer and explore places here and the cost will be much cheaper than taking a passenger car.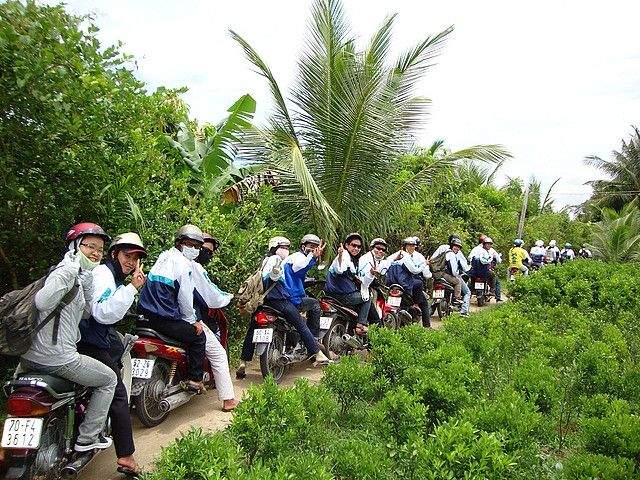 Traveling Ben Tre by motorbike is also an interesting option (Photo: Collectibles)
Currently there are three directions from Saigon to Ben Tre: one from Phu Lam roundabout, two from Nguyen Van Linh avenue, and three from Trung Luong highway.
Fun activities in Con Phung
1. Visiting the Dao Dua relics
This is a place that attracts a lot of tourists when they come to Con Phung because it contains both a unique cultural beauty and beliefs of this land. Over 50 years of construction, the monument retains its original beauty.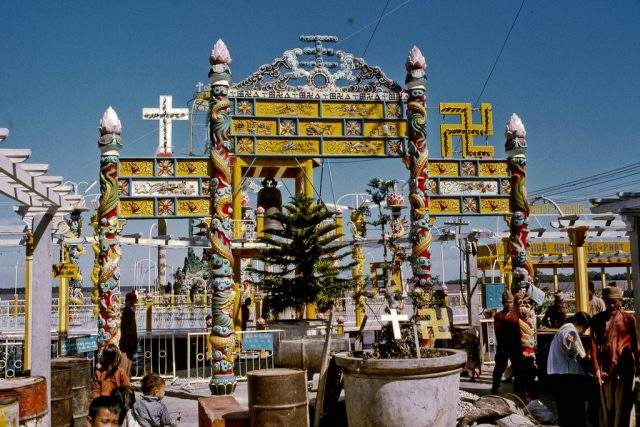 Con Phung Dua Coconut Monument in Ben Tre (Photo: Collectibles)
The relic has a very large area, about 1,500m2, making visitors to this place will experience in an extremely cool, spacious and relaxing space.
Dragon pillars are carved
A special feature of the architecture in this area is the 9 tall pillars carved with 9 majestic dragons. The dragons symbolizing power and majesty are painted yellow striking on the cool blue background creating delicate, beautiful and solemn architectural blocks.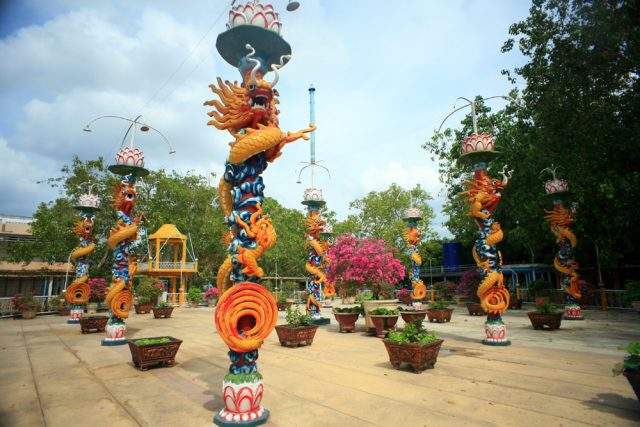 Beautiful pillars of dragon-shaped figures (Photo: Collectibles)
The Nine Commentaries Tower
It is a place you have to visit when visiting the Dao Dua relics because this is where Mr. Dua sits and teaches the teachings and propagates the religion. The architecture of the tower that makes people see once is impressed because it is grafted by fragments of ceramic vessels carved with delicate dragon phoenix. All create a tower with vivid colors, a little closer look extremely sharp, bold traditional.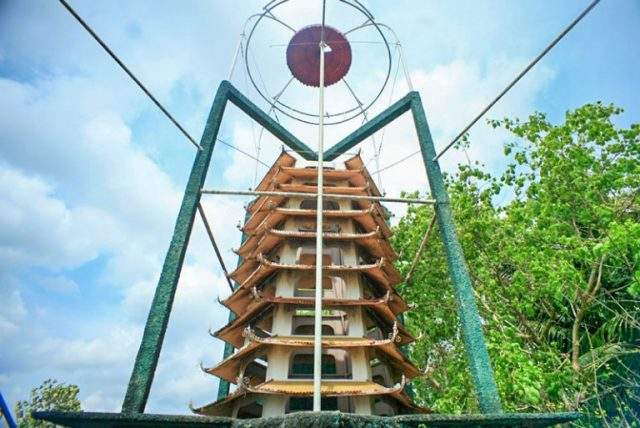 Tourist location Con Phung birth tourism (Photo Collection)
Behind Cuu Trung Dai there are two large concrete columns, this is where the old Dao Dua sat and practiced daily every night, facing the vast sea. With unique architecture associated with fascinating historical events, surely Dao Dua relic will be a place you cannot miss for your trip .
2. Visiting bee farms
Families here also keep a traditional job that is beekeeping for honey. It is not difficult for you to ask a resident in Con Phung about visiting a beekeeping family. Bees here mainly take honey from the longan and the honey here is sweet to the heart. You can also experience this interesting job yourself, but pay attention to follow the instructions of the beekeepers!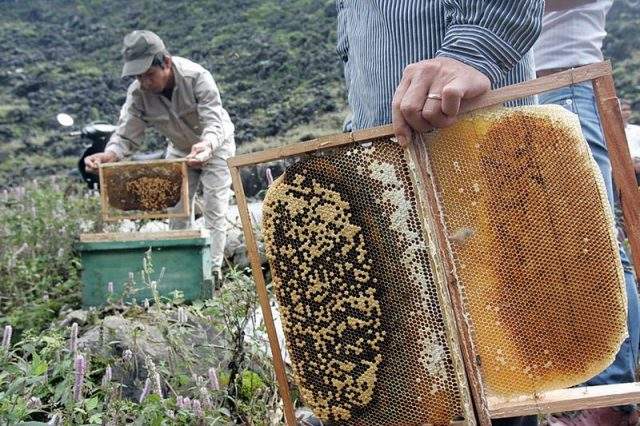 You can experience the beekeeping activity very interesting (Image: Collectibles)
3. Crocodile fishing
A super new and interesting activity for tourists coming to the western part of the river is to fish by themselves. Dozens of crocodiles lie under the lake, waiting for talented fishermen to conquer it. This is a very special service when traveling to Con Phung, especially the young and talented young man who is more interested in this exciting activity than ever!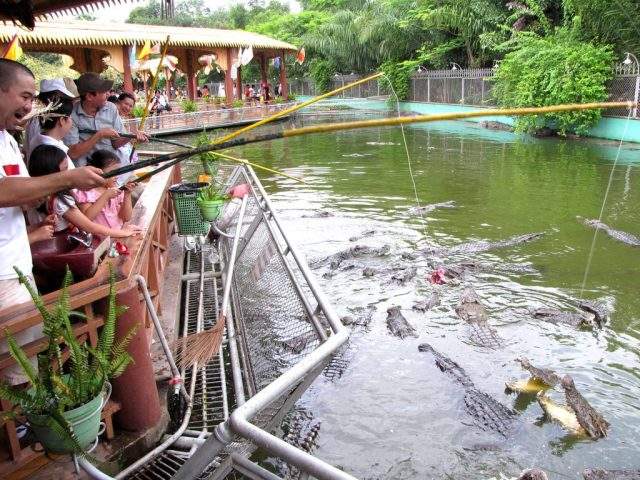 Address of Con Phung Crocodile Fishing resort (Image: Collectibles)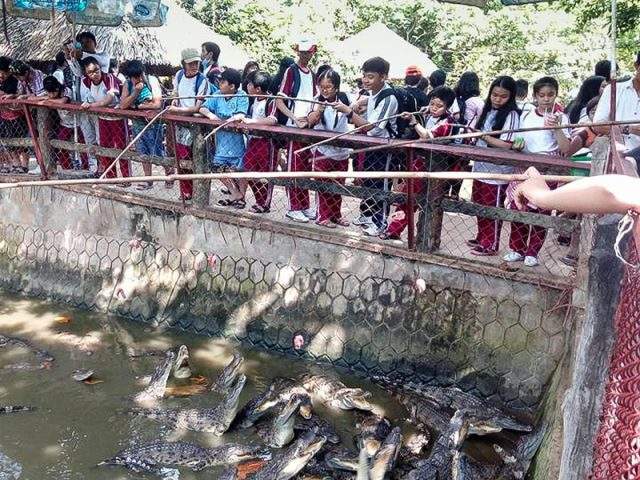 Crocodile fishing in Con Phung (Photo: Collectibles)
4. Ride horse to explore Con Phung
If you try all the fun activities in Con Phung then you can spend time visiting Con Phung by horse cart like the old nobles. Sitting on a horse cart passing by the green coconut tree-lined path, the rows of shady shrubs along the road, listening to the call of nature, creatures to find their hearts more serene, to feel clearly the very peaceful beauty of the western regions of the river.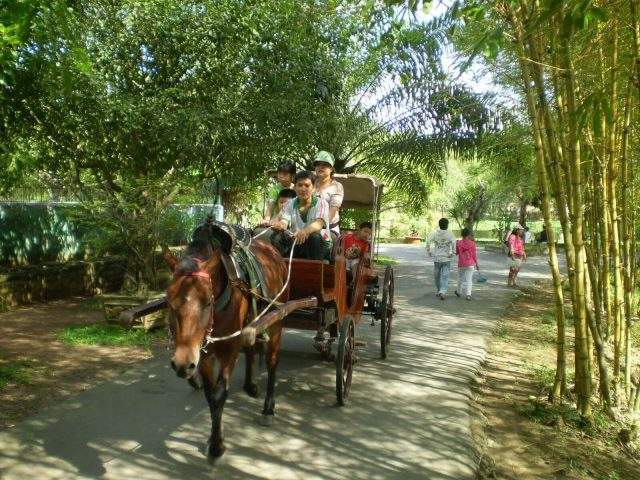 Tourist area in Ben Tre by horse carriage (Photo: Collectibles)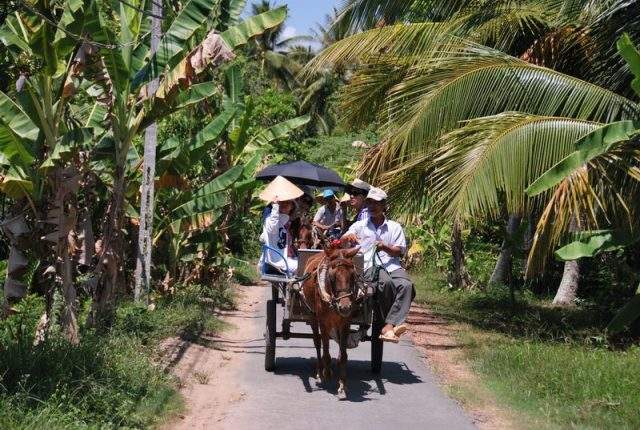 Traveling to Con Phung by horse carriage (Photo: Collectibles)
5. Visit the coconut candy factory
With a land of coconut trees cool the way, the coconut products are a feature of the specialty in this land. Visitors to Con Phung will witness the whole process of making these delicious and delicious coconut candies in the Southwest region: From preparation, cooking, cutting, packaging So from the hearts and love of the people here. And surely anyone who comes to these coconut candy factories also brings me some sweet gift bags from this Con Phung land!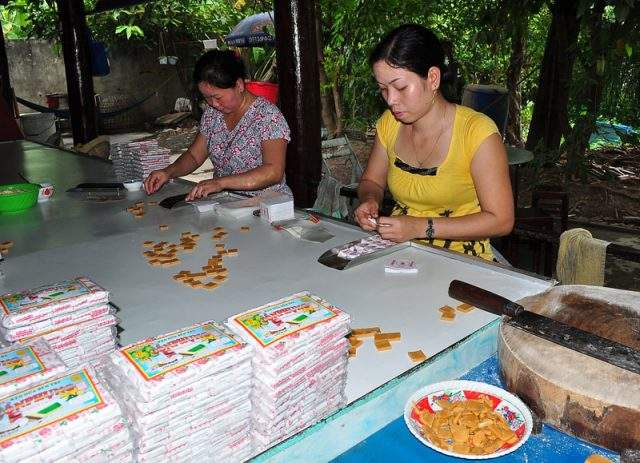 A stage in coconut candy production (Photo: Collectibles)
Specialties not to be missed in Con Phung
1. Sticky rice with Con Phung
An exciting dish at first sight! What strange and round like a yellow ball full of charm and attraction. Just look and want to try it right away! Con Phung's fried sticky rice is made from fragrant sticky rice. Glutinous rice is cooked, finely ground into flour and then dough that is soaked with sugar and cooking oil. Then put the sticky rice into the pan, use two pieces of sticky rice to create a nice bulge.
When enjoying, people often choose chicken or spring rolls as an accompanying dish, if there is a bit more beer to sip along, what is more wonderful!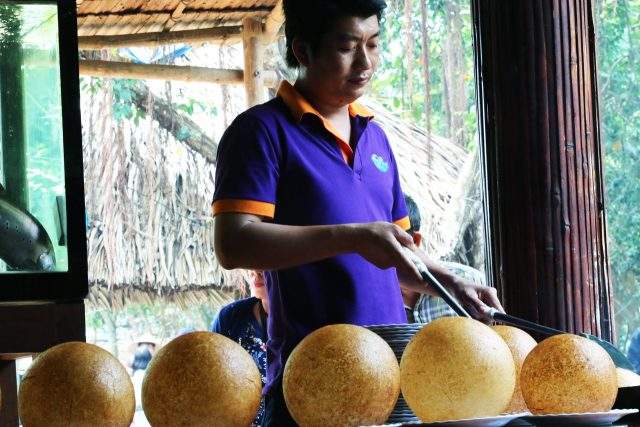 Fried sticky rice specialties Con Phung (Photo: Collectibles)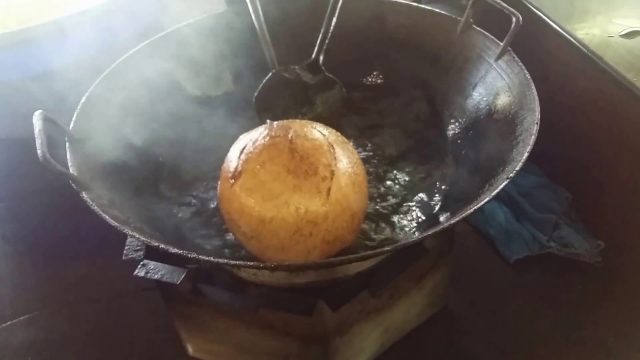 Fried sticky rice is fried in an attractive fat pan (Photo: Collectibles)
2. Boiled shrimp with coconut water
A simple dish, easy to do that has an unforgettable fragrance. The shrimp are bright red, juicy, soft and chewy. A special feature that makes the unforgettable charm for this dish is that shrimp boiled with coconut water should be absorbed all the aroma, fleshy, sweetness of the western coconut. Eating and remaining sweet tongue really captivating how!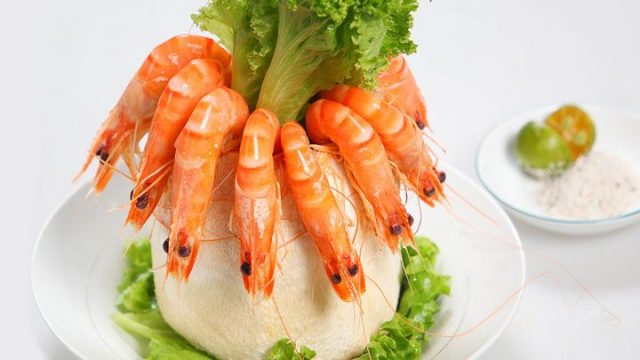 Steamed shrimp with coconut water (Photo: Collectibles)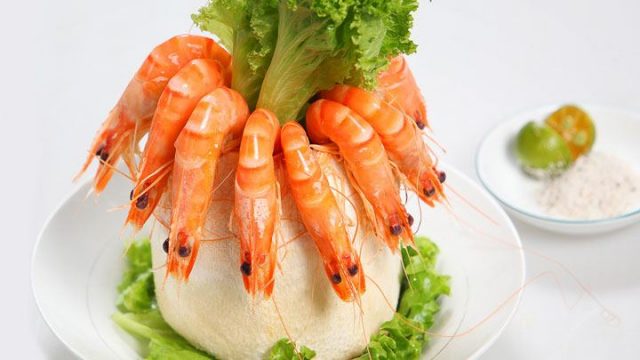 Steamed shrimp with coconut water (Photo: Collectibles)
3. Fried-eared fish
One of the seafood that tourists love when traveling in Con Phung is the giant catfish. The delicious fresh sea fish, fried in a golden pan of pineapple grease to the nose will fascinate so many fastidious tourists!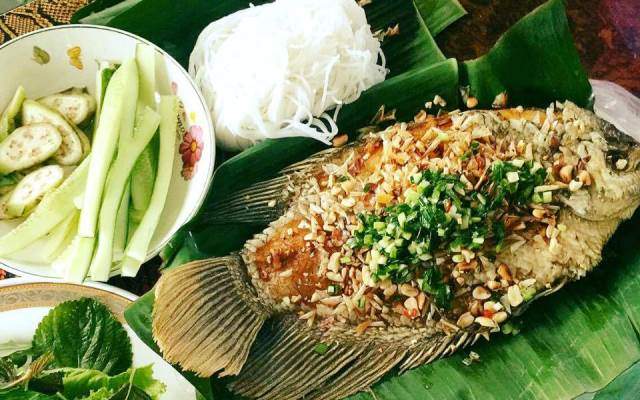 Fried gourami fish (Image: Collectibles)
Above is VietNampeace's western experience of Con Phung river. Wish you have a really fun trip and please share us your experiences!