Booking of Sapa Hotel – When coming to Sapa for the first time, surely many of you will choose Cat Cat village, Stone church, Silver waterfall Cloud bridge or legendary Fansipan peak, .. are the first destinations in Sapa travel.
But if you want to hold you back to this place again, again, only the simple rustic villages bearing the cultural identity of the people here can have that attraction. And among those villages is Ta Van village – a beautiful and peaceful land of Sapa cloud town.
How to come to Ta Van Sapa?
Ta Van is located in Ta Van commune, Sapa district, Lao Cai province, about 8km to 12km from Sapa town center, depending on the route you choose. With this far distance, you have to travel by motorbike or car. However, to be able to feel and see all the scenery of this land you should go by motorbike will be more reasonable.
On the way to Ta Van village, you will pass Lao Chai – a place with extremely beautiful mountains and forests and famous Sapa ancient rock beach there. After leaving the two busiest streets of Sapa, Cau May and Muong Hoa streets, you just have to follow the Muong Hoa stream to reach Ta Van.
Ticket price to Ta Van Sapa
Almost all Sapa tourist attractions have lost entry tickets including Ta Van. The ticket to Ta Van Sapa in 2018 is 75,000 VND / adult.
However, the gate is not very strict, on bad weather or at midday there is usually no ticket checker, so you can visit for free, or many taxis who go to the village are also not ticketed!
Ta Van village homestay
Coming to Ta Van, maybe one day is not enough, you have to stay here for a few days and slowly immerse yourself in the life of the people here to feel all the interesting things that Ta Van brings to you. friend. There are also many simple and rustic homestays mixed with the cottages of the people here.
Room rates per night here only range from 50,000 VND to 100,000 VND / person depending on the room type and the different homestay. You should choose the homestay in Ta Van Giay where there are more than 100 roofs of the Giay people. From here you can watch the Muong Hoa stream, and the life of the people here is as intact as hundreds of years ago.
What is Ta Van Sapa interesting?
If you like bustling, noisy places like town, then Ta Van is probably not for you. Ta Van has only rice paddies, which are nowhere to be found at the beginning of the end, the rustic cottages, the tiny roads that were covered by shrubs, etc. into one, this place suddenly has a strange attraction to those who love moving.
Ta Van is home to the Mong and Dao Do and Giay ethnic groups. Instead of other tourist destinations, the locals will be in harmony with tourism business activities, tourists. However, Ta Van is different, except for the business households who rent a homestay, the life of the school is still normal, they still make friends with the farming, and for them, tourists are like a visitor. come and go again.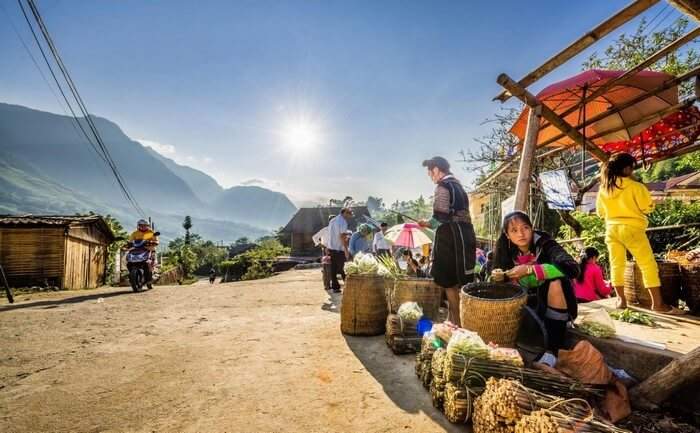 If you have the opportunity to stay here for a long time, you will gradually absorb and love the fresh air, the gentle rhythm of the people here. The life of the Ta Van ethnic people is very simple, there are mysterious cultural identities that you may not have heard about.
The experience that you cannot ignore when coming to Ta Van is:
Wandering on narrow dirt roads adjacent to ripe rice terraces lined with aromatic aromatic layers. See ethnic children covered in mud and mud playing and riding buffalo to the fields.
Come to Ta Van Giay village – the oldest village in Ta Van, located within Hoang Lien National Park. Here you will really be immersed in nature, listen to the sound of the murmuring stream, the sound of wild birds flying in the distance, the sound of leaves rustling in the wind, … And more than exploring the traditional cultural features of Giay ethnic people.
Experience the life in the thatched cottages of the Ta Van people. Houses nestled on a hillside ridge seem fragile but have existed for nearly hundred years. Try drinking with a few cups of wine, chatting with them to better understand the daily life of those lovely people.
After the hard working days in the busy city streets, reward yourself for trips to lands like Ta Van village. To immerse yourself in the tranquil and peaceful space of mountains, forests, trees and flowers