Not only is Hoi An an outstandingly preserved old town but also a lot of new places to visit, Cam Nam Island is one of the places not to be missed when coming to Hoi An . Cam Nam is a small island located next to the ancient town of Hoi An, surrounded by water from the tributaries of the lower Thu Bon. Is a beautiful island, surrounded by green spaces of rows of bamboo, areca, coconut, ….
This attraction is just 200m from Hoi An street with a 200m-long concrete bridge connecting the main traffic between Cam Nam ward and the city, creating favorable conditions for economic and cultural exchanges … Especially here There are many Hoi An hotels for tourists to rest and there are many restaurants selling Hoi An specialties: Quang Noodle, Cao Lau, corn tea, dam cake, dirt cake … popular prices, riverside shops are quite cool .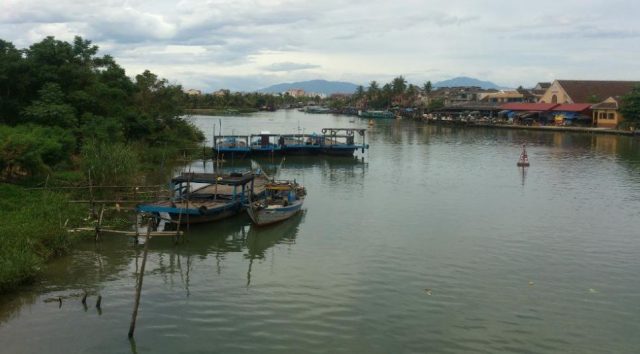 Previously the village was called Cam Pho village. Tourists can visit Cam Nam village to explore the typical cultural features of the local people, about the bohemian houses. This is a place where residents make a living, they grow rice, crops and catch aquatic products such as mussels, fish, brackish water shrimp, cassava, potatoes, corn alluvial fields, etc. to cover daily life.
Coming to Cam Nam island of Hoi An , visitors will experience a trip to a peaceful village with thatched roofs, scented aroma. In addition, visitors can visit the new corn cooking areas of the people, and also eat delicious, sweet corn tea with its own sweet taste of young corn milk., A specialty dish of the ancient town of Hoi An , you can buy as gifts for family and friends to enjoy.
Besides, Cam Nam village is known for its specialties that can not be tasted like mussel mixed, fried oysters scooped with rice paper, rice paper with dipping sauce, wedges, Cam Nam corn tea …
Coming to Hoi An , you can not miss the unique cuisine, famous as the rice paper at the picture shops along the Hoai River, or to one of the best sauteed shops on the banks of the river to enjoy the food. elaborately processed, and with the characteristic sweetness of mussels prepared by people themselves.
Next, you can rent bicycles to stroll around here, visit all the wild, idyllic landscapes of a peaceful, beautiful countryside only in Hoi An. If you have the opportunity to come to Hoi An, you should try to visit Cam Nam Island to explore the peaceful land, about the cultural traditions and the very unique cuisine of the people here.