To talk about the most famous tourist destinations in Vietnam, Da Nang is always the first mentioned name. Many people not only come to Da Nang once to fill the "check list of Vietnam tourist attractions that should come once in their life" but also to Danang more than that because this is really a city worth living and worth experiencing. This summer, if you intend to Da Nang 3 days 2 nights from Saigon, the experience below is the luggage you need to prepare for your trip.
Going to Da Nang 3 days 2 nights should prepare what?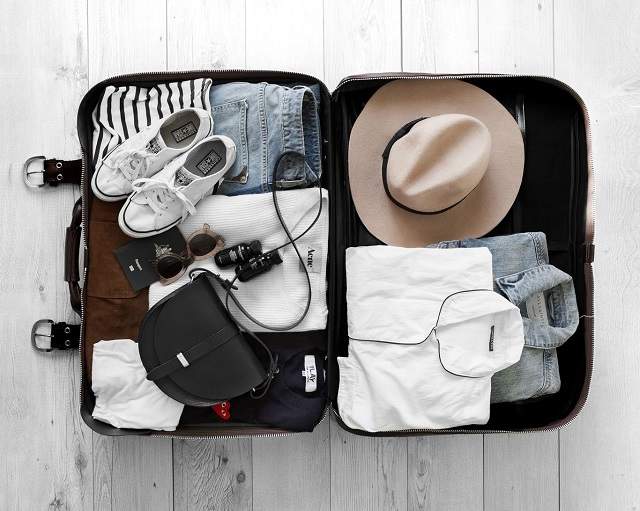 Fully equipped equipment to help you have a perfect trip
+ Booking air tickets / bus tickets / train tickets
Starting from Saigon to Da Nang, you can choose to travel by bus, train, and plane, even you can travel from Da Nang to Saigon. However, with a trip schedule of only 3 days 2 nights, the best way is that you should travel by plane to save time. Sai Gon – Da Nang flights are exploited by airlines so it is not difficult for you to book tickets and choose the appropriate flight time. However, if you want to travel cost savings, you should book early or take advantage of the promotions to be able to "hunt" cheap airline tickets.
+ Prepare money and necessary personal documents
Cash, ATM cards and other necessary personal documents such as citizenship card, driver's license, etc. will be essential when you travel. For cash you also do not need to prepare too much because Da Nang is a developed city, so at restaurants, entertainment places, … you can pay via card easily.
+ Clothes and personal effects
With a trip, the clothes and necessary personal items are indispensable. In particular, the weather in Da Nang during the tourist season is usually quite hot. This will be quite easy for you in Saigon because just take away summer clothes. If you are still wondering about how to coordinate summer travel this year, there is nothing new, do not forget to refer to the article on Vntrip.
Personal items to bring with a certain beach trip is not to forget sunscreen. Do not forget to bring cosmetics, toiletries to perfect skin during the trip.
+ Da Nang tourist map
In order not to waste time on the travel planning, a map of Da Nang tourist destination will be really needed. You can choose either an online map or a paper map. However, paper tourist maps are often not as intuitive as using online travel maps.
Quick look at Da Nang tourist map online here.
Suggested itinerary Saigon – Da Nang 3 days 2 nights
Day 1: Saigon – Danang Airport – Son Tra – Marble Mountains – Hoi An
With a short schedule, you should choose to fly early to have more time to explore Danang.
In the morning, after arriving at Danang International Airport, you take a taxi to the hotel to store your luggage and take a short rest then start your 3-day-2-night Da Nang travel schedule.
The first destination is Son Tra peninsula, about 10km northeast of Danang city center. This is one of the famous destinations that you should not miss in Danang. Here, you can visit Linh Ung Pagoda, take photos to check in, admire the highest Buddha Quan Am Bodhisattva Statue in Vietnam.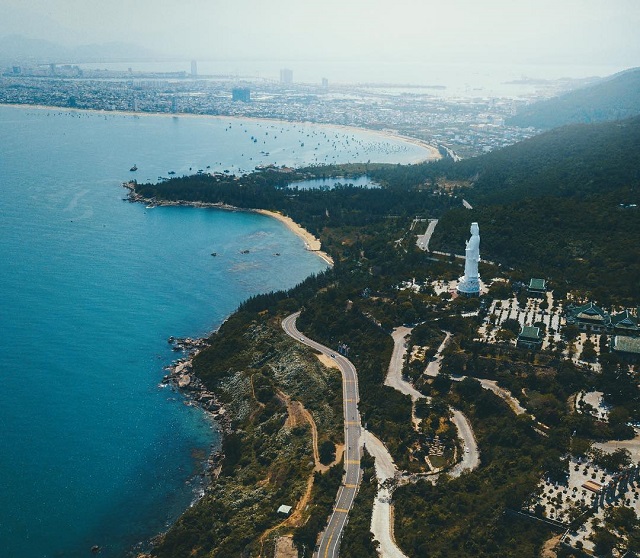 Son Tra Peninsula in Danang
The next destination is Ngu Hanh Son. About 8km from the center of Danang city towards Hoi An. This is a beauty spot with 5 limestone mountains rising on a sandy beach. You can visit the temples and caves here.
Marble Mountains
Leaving the Marble Mountains, you continue to move to Hoi An. Despite the short schedule, you can fully take advantage of visiting the beautiful old town. Hoi An Ancient Town is most beautiful in the evening when the lights are lit. At this time, you can take photos freely, take a boat ride on the Hoai River and enjoy famous Hoi An specialties such as high floor, pancakes, chicken rice,….
Hoi An
About 21h00 will go from Hoi An to Da Nang, you can visit the Dragon Bridge, walking the sea. Then return to the hotel to rest, ready for the 2nd day in Da Nang.
Day 2: Ba Na Hills – Han River Cruise
Set an alarm to catch the sunrise in Da Nang. If you choose a coastal hotel or have a beautiful view, the experience of catching the sunrise in Danang will be much better. Then have breakfast at the hotel and prepare to depart for Ba Na Hills.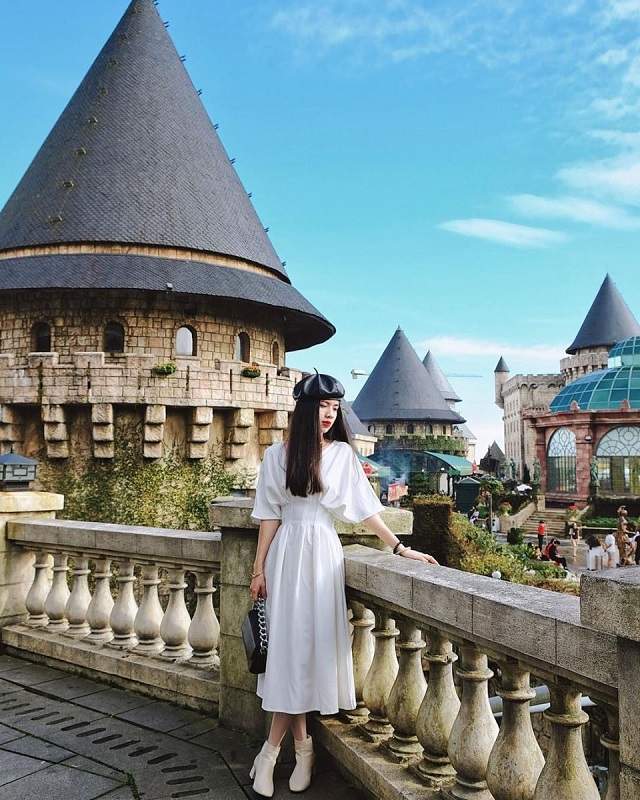 Ba Na Hills
Ba Na Hills is like a "miniature Europe in the heart of Danang" so there is no reason for you to miss this extremely attractive destination. Because it is a large structure, you have to spend a lot of time to explore this place, usually about 1 day to be able to explore it all. The beautiful places in Ba Na Hills that you should check in are Golden Bridge, Fantasy Park, Le Jardin d'Amour Flower Garden, French village, Debay Wine Cellar, Wax Museum, ….
After spending nearly a day exploring Ba Na Hills, the evening is a good time for you to take a Han River cruise and see Danang city at night extremely beautiful. If you come to Danang on the weekends, you will have the opportunity to admire the Dragon Bridge and spit fire and water.
Day 3: My Khe Beach – Love Bridge – Han Market
This is the last day you are in Da Nang, so you should not choose places too far away because it can make you tired when flying to Saigon.
In the morning, you can catch the sunrise and swim in My Khe beach. This is one of the sea cards Forbes magazine named one of the most beautiful beaches on the planet. The sea has a length of 900m, wide coastline, clean, smooth sand, clear sea water so it is ideal for swimming. You should take advantage of bathing early before the sun rises, causing a burning sensation and prone to sunburn.
My Khe Beach in Danang
After swimming, come back to the hotel to wash and have breakfast. And move to the nearby Love Bridge to check in.
Finally, visit the famous markets in Danang to buy gifts for friends and relatives. You can visit the Korean market or the Con market. These are the markets reviewed by indigenous people for many delicious and cheap items.
So ended the schedule to explore Da Nang 3 days 2 nights, return to the hotel to get your clothes and prepare to go to the airport to Saigon.
Experience choosing "delicious and cheap" accommodation in Da Nang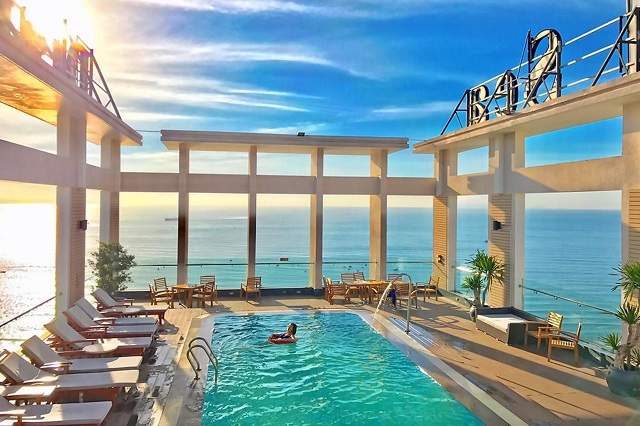 To book a nice hotel in Da Nang with cheap prices, you should book early or use travel combos
According to your travel experience Saigon – Da Nang 3 days 2 nights, you should only rent a hotel in Danang. Because the tourist destinations in Da Nang are usually not too far from each other, the main road is not clogged, so it is extremely easy to move to the locations. Booking a 2-day hotel often gets more deals than staying in one place a day. In addition, you do not have to carry luggage from one place to another quite time consuming.
When booking hotels in Da Nang, you should choose hotels in Hai Chau district or Son Tra district will be closer to the tourist destinations. If you prefer to catch the sunrise or go for a walk in the evening, the Danang hotels near My Khe beach are the best choice.
To choose a beautiful, cheap hotel you should book early, especially avoid hotel reservations during the holidays because the room price is now much higher. In addition, you can learn how to hunt cheap travel combos including air tickets and hotel rooms to save money for your trip.
Some Danang hotels "delicious and cheap" for your reference such as: Star Hotel Danang, Misa Hotel, Top Hotel, Bin Star Hotel, …
The delicious dishes in Danang must try
Quang noodles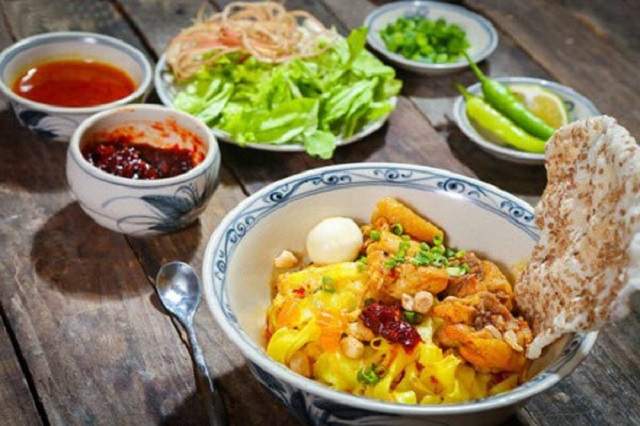 Quang Ninh Noodles
One of the famous dishes in Danang that you definitely have to try is Quang noodles. Large noodles dyed yellow when eaten will feel chewy. Noodles served with other ingredients such as pork, pork pie, chicken, shrimp and bone broth. When eating, you will eat with vegetables to increase the attractiveness of the dish.
Vermicelli wedge sauce
Vermicelli wedge fish sauce in Da Nang
Danang fish sauce noodle soup is completely different from the Western style bun mam. When it comes to Danang noodle soup, it is a noodle dish mixed with pork, silk rolls, peanuts, raw vegetables. The most important flavor in Danang fish sauce is the side dish sauce, which makes a difference with the noodles of other places.
Bread soup
Da Nang soup cake
The popular dish that many tourists love when coming to Da Nang is the banh canh. The long, tough noodles are processed with a variety of ingredients such as fish cake, crab soup, quail egg soup … for you to enjoy.
Pancakes, burned down Da Nang
Pancakes, burned down Da Nang
Banh Xeo, Danang rolls are a snack not to be missed. Compared to pancakes, spring rolls in other places, the pancakes, spring rolls in Da Nang have its own unique aroma. The pancakes and spring rolls are enjoyed with raw vegetables, green bananas, star fruit and sweet and sour sauce.
Pork rolls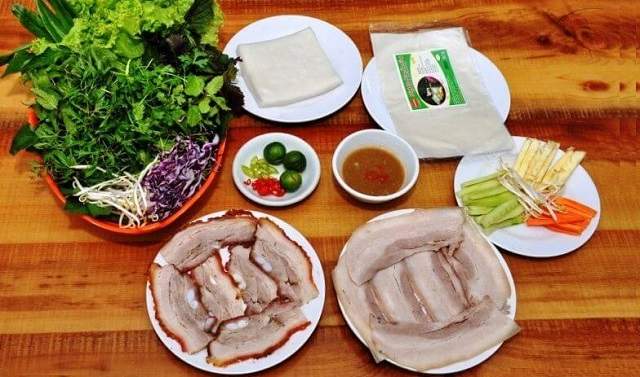 Da Nang pork roll rice paper
Not only Danang but also pork roll rice paper appear in many places. However, the taste differs from place to place, especially in the dipping cup. Da Nang pork roll rice paper has sliced meat, when eating, you will feel the greasyness of a little fat meat. The sauce fits your mouth, suitable for many people.
Above are all experiences of traveling Saigon – Da Nang 3 days 2 nights for your reference. Wish you have a good trip with your friends and loved ones.