Not far from Ho Chi Minh City, Vung Tau with many attractive beaches is an ideal destination for short-term travel. One of the most beautiful and new beaches that are being hunted by many young people is Suoi O beach. Let's explore this pristine Suoi Oh beach with VietNampeace!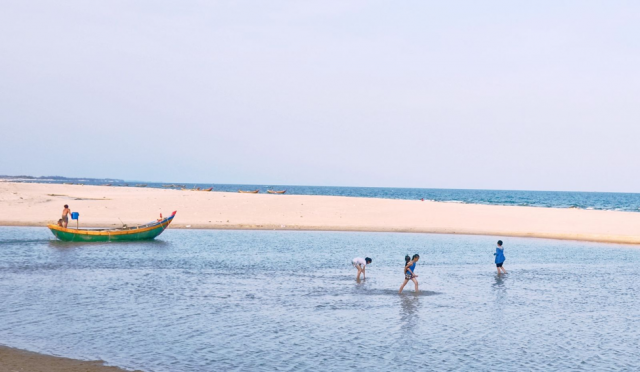 Suoi O Beach – a beautiful tourist destination in Vung Tau (Photo: Collectibles)
Explore Suoi O Beach Vung Tau
Located in Binh Chau commune, Xuyen Moc district, Ba Ria – Vung Tau province and located quite close to Binh Chau hot spring, Suoi O beach is also known as Song Lo beach. This is one of the beaches with both fresh water streams and salt water extremely rare in Vietnam.
To come here, the soft sandy path between a green poplar forest will make you want to remove shoes and walk slowly on bare feet on the smooth sand. Walking straight through the immense forests, Suoi O appears to be a vast, immense and extremely clean beach. The estuary and the sea here are separated by a soft white sand.
You will admire the wonderful beauty of the clear blue water with the stretch of white sand stretching in harmony with the blue of the clear blue sky. Take a walk along the beach and enjoy the peaceful scenery, very simple and immerse yourself in the natural scenery here to enjoy the most relaxing relaxing moments. What is more interesting than enjoying the fresh air and feeling a fresh space, where only the blue sea, white sand, sunshine and leaving the anxiety of everyday life behind . 
Because it has not been exploited much, the sea here remains so pure and pristine that on the vast sea surface, only a few scattered boats and small fishing boats of the people parked far from the shore. several groups of friends come and play by the beach. Suoi Oh Beach is peaceful and has few big waves so you can freely play with friends on the vast beach.
After playing tiredly on the beach, do not forget to buy seafood from the boats of the people, both fresh and cheap! After that, have people prepare or grilled seafood on the beach to enjoy the delicious and delicious sea bream dishes.
If coming to Vung Tau, do not miss the experience of discovering the pristine, fresh Suoi O beach to enjoy an extremely short short vacation with many wonderful experiences!