Referring to Quang Nam, we cannot ignore an extremely mysterious destination that is Tien An bat cave. Let's see what interesting things nature has special offers for this place!
Only 35 km from Tam Ky city ( Quang Nam ), covered with the luxuriantness of wild plants, comes to Tien An bat cave in hamlet 3, Tien An commune, Tien Phuoc district, Quang Nam – where If the Jurassic Park is forgotten by the village, you will be surprised and admired by the mysterious and mysterious beauty and discover the secrets that nature brought to this place millions of years ago.

Road to Tien An bat cave

If you start from Da Nang, just stab the National Highway 1A (AH1) and run about 80 km to Tam Ky. From Tam Ky, up to Tien Tien, about 20km to Tuong Dai junction (also known as Cam Thu junction), Tien Tho commune, this is where beer and monuments mark the Coc Coc struggle of the local people. Continue to make a left turn for about 15 km to reach hamlet 3, Tien An commune, Tien Phuoc district.
Going to Ong Cai pit, through the small dam, where the Cor community is living, it is easy to ask for directions to Hang Doi. Let's meet someone who asked the way offline. Using Maps does not allow you to reach Bat Cave but remember to use your mouth. You continue on the small concrete road will see an iron bridge on the right and keep going straight to see a beautiful blue dam. Keep running straight forever, coming here is hard to find if you meet people, ask immediately.
Experience points at Tien An bat cave

Previously, the people had to send a car and climb Eo Bo slope and walk for a few hours, now thanks to planting and exploiting acacia so there is a dirt road running straight to this place. Although the entrance road is a bit crooked, the mountains and hills are steep, but in return, the scenery of the young green, the cool murmuring stream with the chirping birds will make you even more excited.
The first impression when coming to Bat Cave is probably the large boulders spread along the way. The complex consists of 2 limestone caves formed millions of years ago: the upper cave and the lower cave, in fact, the upper cave is located at the bottom of the mountain because of the openness, also known as Thien Cave, while the lower cave is a hundred-deep cave. The meter above has 2 small entrances with many poor nooks and crannies, also called Nang Tien Cave.
With Nang Tien cave, you remember to bring a flashlight because the location of the cave is located at the foot of the mountain so it is very dark. Because the cave is very dark and humid, it is an ideal shelter for bats, so the name Bat Cave came from that. When you visit, if you do not pay attention, you will be very startled when you hear a loud echo from the ravine, which is the sound of bats hiding somewhere in the cave. Occasionally a few bats fly past, you will also hear the crack of the source or catch a few rays through the rocks creating a mysterious feeling like straying into a dreamlike paradise. .
You will spend a lot of time for Thien Dong cave because there are many blocks of rocks, cliffs, exposed rock ranges, in addition to mosses, vines spread everywhere where each such point will always arouse the imagination. your. This cave is a shallow stream with many pebbles and lofty rocks stretching with countless strange and magical figures.
When you go deep into the cave, there also appear to feel lost in the wilderness with many different shapes created by the kneading hands of nature. Many of the rocks here have strange shapes, such as giants, demon faces, shells, … On both sides of the cave walls, the underground water is still dripping in small holes through the wet soil beneath the feet. You have a cool feeling. When you touch the protruding vein, all over the cliff, you will feel the traces of an ancient stream that used to flow here millions of years of erosion.

Go to the bottom of the pool, move about 50 meters deep through the big rocks, the low cave has appeared looming right in front of you. Bat Cave is actually two adjacent caves, divided by the location that locals call the high cave and the low cave. The low cave collapsed, the wall was over 10m high, gradually expanding when going inside with the widest section of more than 20m. Standing here looking up, you will see sunlight streaming through the fence of vines intertwined on the roof illuminated to the bottom of the cave to form each extremely shimmering and fanciful bright area.
Go back to the lower cave to the left, and you will see the mouth of the cave as high as a small cavity located on a large jagged rock platform, which must be firmly attached to climb. High cave is located deep in the mountain, almost year-round without sunlight. The cave is nearly a hundred meters long with many dark corners deep in the rocky mountains, this is an ideal shelter for bats.
"Ten years ago, you guys could not enter the cave like now, bats were squeezed on the rocks, they were screaming, and the floor of bat droppings was so thick and stinking, so they could not stand it for a long time. ha "- he recalls.
However, many elderly people living near Bat Cave said that during the anti-American war, there were periods when people and soldiers used this cave to avoid bombs. It was also communicated that every bomb that fell on Bat Cave would be deaf and not explode.
The cave is high, there are many sections up to 2m high, adults can straighten comfortably but sometimes suddenly tightened like a bee's back, have to sit down to bend back. In the cave, the stone is cool and quiet, full of mystery, easy to fascinate any pedestrian who likes to feel adventurous.
The rays of the sun slanting through the interlaced rocky crevices of the vines on the side tossing bright patches like dancing with birds, frogs, insects … forming the rhythms of the mountains.
This place gives us the feeling of being lost in the era of the ancient dinosaur world. Escape from that palace you will meet many bizarre shapes like thunder lizards or giant crocodiles are turning their heads. Images of moored boats, rows of faces looking at one side or strange patterns on rough rocks. If cleared, then above you will see the giraffe reaching tens of meters or other animals.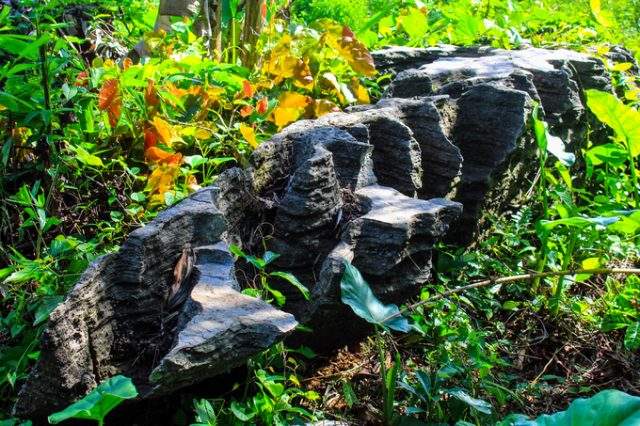 Although the road is not difficult and the scenery is very charming, so far, Bat Cave has been almost forgotten. Mr. Phan Hong Phat – Chairman of Tien An Commune People's Committee said: "We are building a project to turn Hang Doi into an eco-tourism area in combination with other historical sites in the district. However, the budget capital is very limited, mainly for forestry development, so the construction of access roads to the cave is very difficult ".
Things to know when coming to Tien An bat cave
First: If you bring a machete or a knife to the forest, wrap it carefully when needed to bring it out, because the people here are a little hard to say and use the law less. But the best here is no need to bring that. You only need to bring one small body guard.




•

Second: do not wear red. (Spiritual issues, stories have happened – I heard a local boy tell me)




•

Third: Do not squeal or disruptive like that is not good.




•

Fourth: It is advisable to carry headlights with that head for 2 hands to be easier to move in dark, tight, damp places like in a cave. If not prepared, a good portable flashlight is also helpful for you then.




•

Thursday: If you stay overnight, pay attention to humid places like this, especially the bat cave will have vicious snakes, more carefully you should ask a local to lead you to be safe and discoverable. All the beauty of this place!




•

Friday: The difficult to move very dehydrated and remember to bring enough water with you, maybe a few snacks to rest along the way to enjoy the journey ahead.




•

Saturday: Equipped with all the necessary tools and equipment when returning to pristine places like here.

Remember: It's better than nothing




•

Eighth: You need to have good health and a supple feet when exploring Bat Cave because there will be times when going up and down the slope is quite hard.



If you are a fan of adventure travel, discovering mysterious and fanciful lands, you cannot miss Tien An Cave. Come with your friends here to experience and feel the whole scenery of this place!