Referring to Phu Yen tourism, everyone immediately thinks of the majestic and majestic Da Dia Ganh disc image that few people know about a beautiful lamp of Nanh. Because of that, Phu Yen Lamp still retains the wild and simple beauty of the beginning.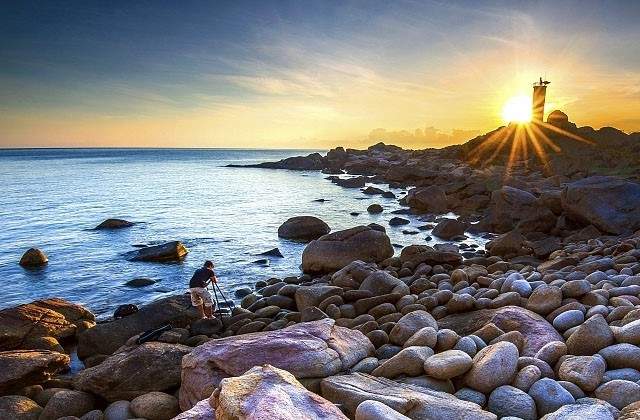 Ganh Lamp at an early dawn (Image: Collection)
The original name of this place was Black Stone Reef, but since the lighthouses were built, fishermen used to call it Ganh Den. Spread along the coast about 1km, Ganh Den is made of pale pink rocks stacked up randomly, viewed from afar is like a beautiful picture that nature paints. The smooth rocks, with all shapes and sizes, are interspersed together to form many small rock niches and rocky beaches waiting for the waves of white foam. Because it is one of the places not yet widely known, it still retains the wild and wild character of nature.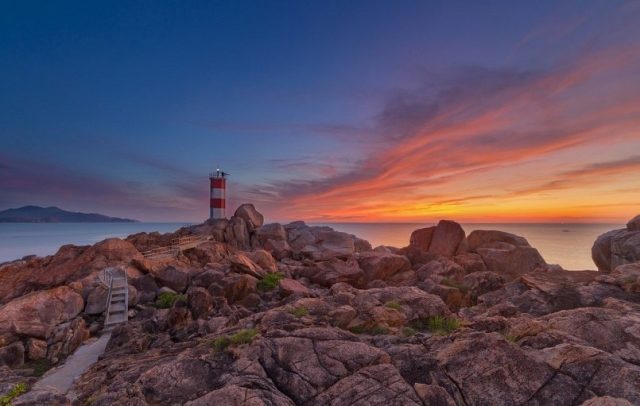 Phu Yen Ganh Den is wild and simple in the sunset (Image: Collection)
Prominent on the rustic pristine reef is the image of a lampshade lighthouse with two colors of white – red towering against the sky. Ganh Den lighthouse helps navigation activities in and out of boats in Phu Yen waters, specifically the section of Xuan Dai Bay and Vung Tau.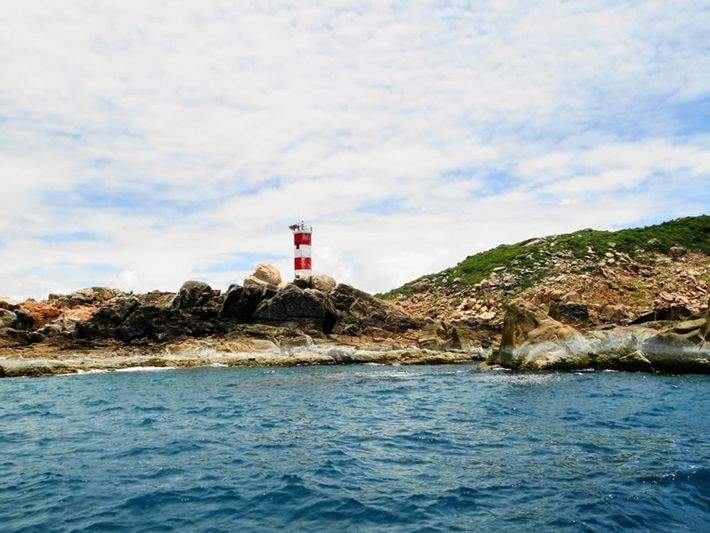 Ganh Den – Phu Yen Lighthouse (Image: Collection)
The lighthouse has a height of 10m, is 22m above sea level and has a range of lights within 17 nautical miles. Although there is no outstanding architecture, nor a time stamp, the lighthouse in Phu Yen Lamp is one of 79 Vietnamese lighthouses leaving the most impression in the hearts of visitors. With wild beauty but lyrical, standing from here, watching the vast and poetic scenery of Phu Yen is nothing. Besides, in the area at the foot of the lighthouse there are many large spaces suitable for groups of friends to organize a picnic or camping. Especially, with the terrain of many rudimentary rocks, this promises to be a great fishing place for you.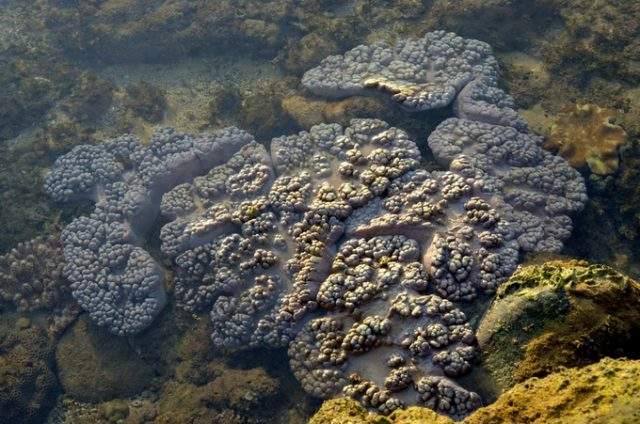 The majestic cliffs at Lamp Reef (Photo: Collection)
Making the charm of Ganh Lamp is not only a peaceful, wild scenery in the immense blue sea, sky high, majestic vertical cliffs but also the beauty of working people: those Fishing boats carrying fishermen out to sea one day to go to the sea with many shrimp and fish.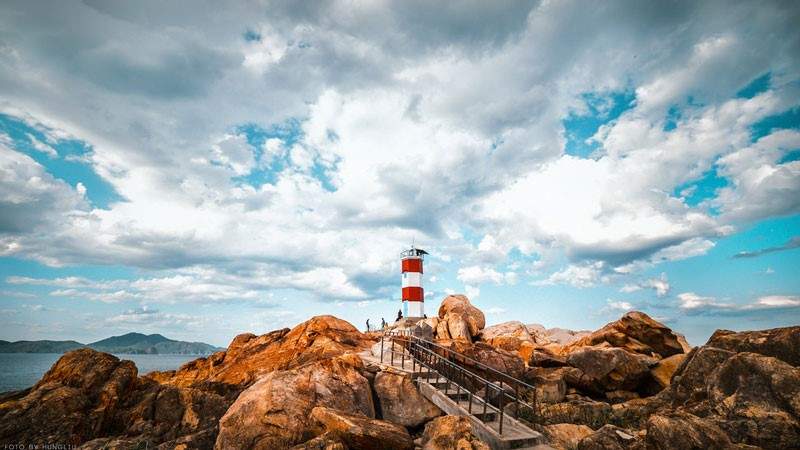 The beauty attracts tourists in the place of lamps (Photo: Collection)
After visiting all the beautiful scenery in Den Ganh, you should visit Da Dia Ganh just about 15 minutes walk away to enjoy this national landscape. The scene of giant blocks stacked on top of each other, racing to the open sea promises to be a space to create unique images for you.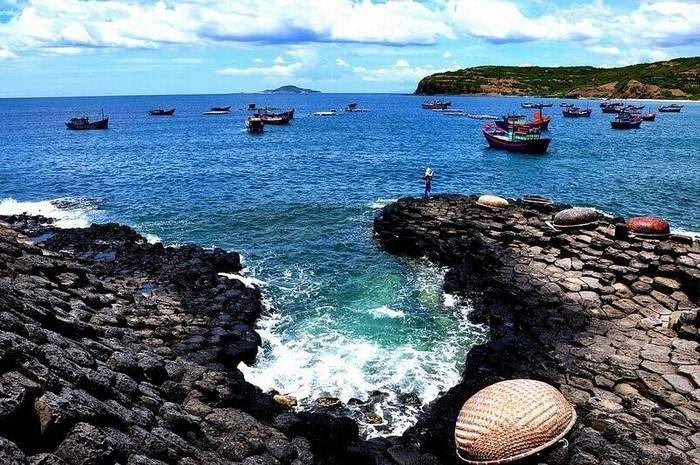 Ganh Da Dia – Phu Yen (Image: Collection)
Mang Lang Church, which holds the oldest national language teaching book in Vietnam, is one of the famous tourist destinations in Phu Yen that you should not miss. Located near the Chi Thanh fork, here you will enjoy the classic Gothic style from over 1,000 years ago with meticulous and elaborate decorative motifs.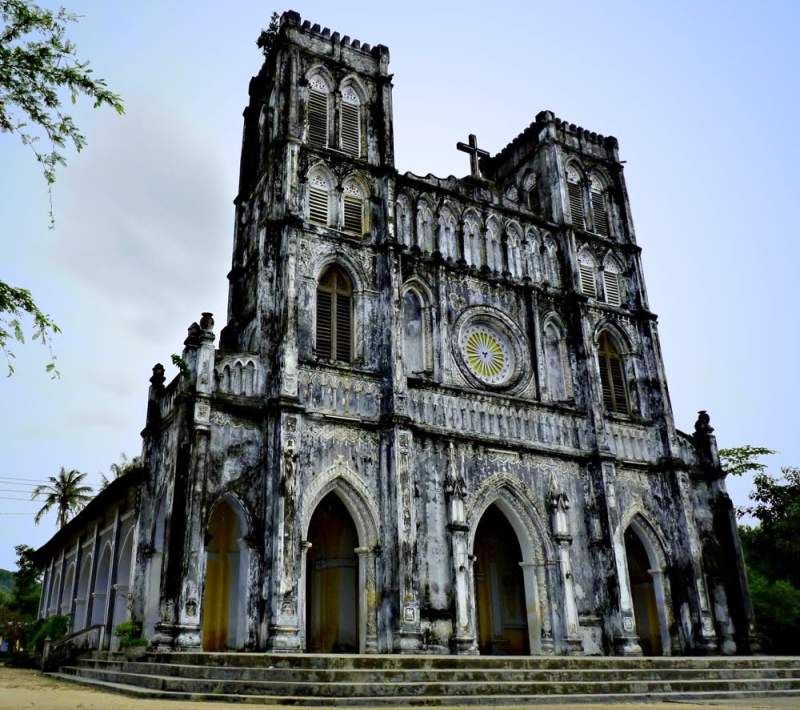 Mang Lang Church – Phu Yen (Photo: Collection)
Ganh Den Phu Yen is a relatively new tourist destination compared to the image of the giant stack of pottery in Da Dia disc reef or the unique ancient heritage at Màng Lăng church. However, with the unspoiled wild beauty, this place is increasingly becoming a tourist attraction to Phu Yen. Come to Ganh Lamp on a beautiful day to enjoy the scenery here and have lots of beautiful memories! If you are worried that this place is far away from the residential area so there are few motels, you can find out information and make a reservation before traveling.