Ho May is the most "worthwhile" tourism complex in Vung Tau. From entertainment to spiritual tourism is all there and that's what makes this place so popular. Only the name Ho May is enough to make many visitors curious this place. Let's come and discover a Ho May – a new paradise in Vung Tau
Overview of Ho May – "Ba Na" of Vung Tau
Tourism complex is located at: 1A Tran Phu, Ward 1, Vung Tau.

Click here for directions
Ho May has an area of up to 50 hectares, located on Big Mountain right next to the sea with an altitude of 210 m above sea level so the air is very cool and pleasant.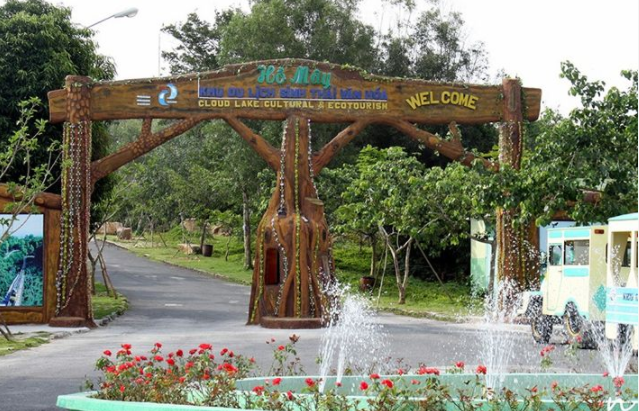 Ho May tourist area is composed of three areas:
Eco-tourism: Caribbean pine forest, Japanese cherry garden, orchid garden, Uncle Ho flower garden, lagerstroemia forest, animal garden…
Spiritual tourism: Buddhist temple area, Maitreya Buddha statue, La Han Duong, 33 Zen masters and 3 wishes of waterfall, …

Vu play entertainment includes modern games: thrilling game area, children's play area, water park, …
To reach Ho May, you do not have to ride a motorbike or car but by cable car. The 500m-long cable car is an opportunity for you to see Vung Tau city in a very different perspective. The whole city of Vung Tau shrinks right at your feet, an extremely desirable feeling.
The most amusement park
You are wondering "What does Ho May tourist have to play?". Don't be in a hurry because you might be overwhelmed by the number of games here: from children's games to thrilling games, indoors and outdoors.
Thrilling games here have all kinds: pirate boats, zipline, octopus, ferris wheel, ….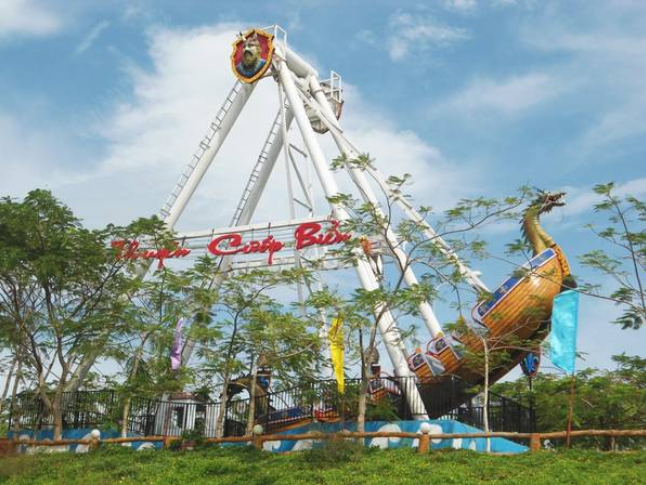 Especially, there is the first mountain water park in Vietnam
Yes, but the water park is in the mountains, only in Vung Tau. With a 60m-long curve slide, a straight line up to 30m long flows from a height of 10m into the pool. Does the above information make you have to "book" right away to Ho May?
The outdoor game area includes: sports car racing area, artificial climbing area, horse riding club … And for those who prefer indoor activities, there is also a 5D cinema ready to serve. 
There is also an activity that attracts many young people to participate in it is folk games: cockfighting, curious, kite cards … The fairytale spaces are also reproduced here: Tam Cam, stories uncle Cuội sat in the banyan tree, …
What is in the ecotourism area of Ho May?
Ho May was originally in Vung Tau – a place with a tropical climate, so the flora and fauna were extremely rich, furthermore, with an altitude of 210m above sea level, this was an additional condition to make the flora and fauna more "flourishes"". There is a Japanese cherry garden and orchid garden. Uncle Ho's flower garden, Lagerstroemia forest and animal garden have merit, deer, …
Right here is a mountain called "Tien mountain". Once again just by hearing the name, you can imagine the scene like that already, there is really no word that can describe all the beauty here. Standing on Mount Tien and dropping your soul in the clouds of the sky is really nothing more wonderful.
Spiritual tourist area of Ho May
In addition to possessing extremely beautiful scenery, there are also many religious and spiritual constructions. Typically, a statue of Buddha Amitabha 30m high, right next to the main hall of Ho May. The Ho May temple hall worships Tam The Buddha and Ngoc Xa Loi.
Ho May also has other religious architectural works such as La Han street, mysterious Beech cave, statue of Mary, temple of national hero, … Here still retain the old Fort by the French built on the side of Lon Mountain since 1940 and has been ranked as a historical and cultural relic by Ba Ria – Vung Tau province.
Rested
Ho May has everything you need from amusement parks to luxury resorts including restaurants, spas, cafes, gyms, … Ho May Resort, Cable car hotels are places worth visiting. rest when coming to Ho May.