Hoi An does not have a "huge" area but it is still enough to hold on to the followers of the fascination with its excellent works, beautiful and beautiful corners and artistry. So, besides the famous landmarks and landmarks such as Old Quarter, Hoi An also owns countless check-in locations for you. Let Vntrip show it!
1. Thanh Ha pottery village
Thanh Ha Pottery Village is about 3km from the ancient town of Hoi An, located right on the Thu Bon River, with a history of up to 500 years of establishment and development. In the past, Thanh Ha's ceramic products were mainly used for living, such as jars, jars, jars, etc. decorate…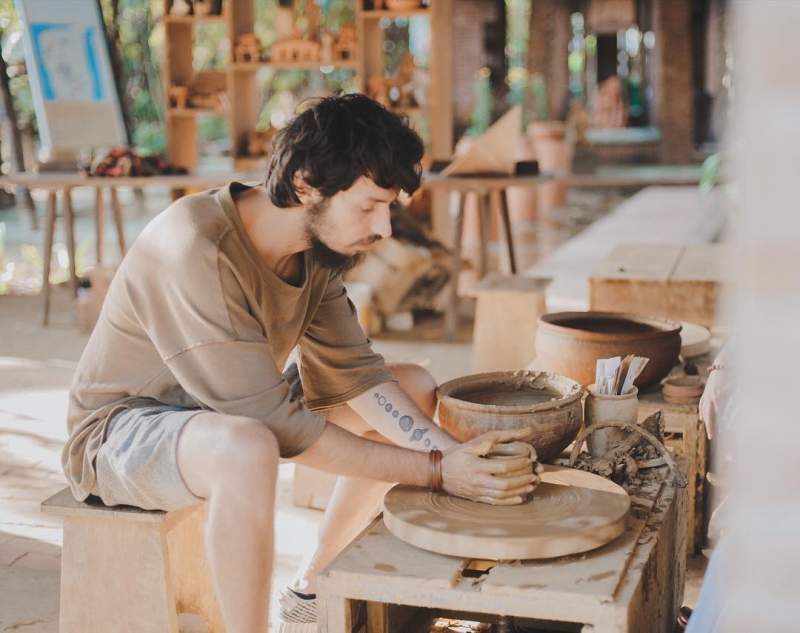 Experience making pottery in Thanh Ha village. Photo: vietnammoi
In Thanh Ha, there are two different areas, one is a place for displaying ceramic products for you to visit and take pictures, called Thanh Ha Terracotta Park, an area where you can experience pottery making techniques. Two separate areas, so you have to buy two different tickets.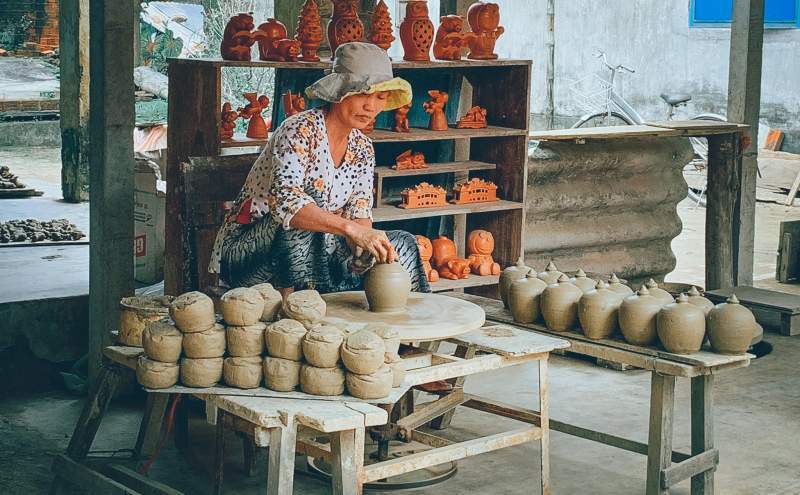 Pottery craftsman. Photo: Collectibles
Terracotta Park is the largest ceramic park in Vietnam always. From the outside, you will see a miniature world with wonders and symbols of each country made from unique pottery. The park consists of two buildings, the left one is used to display history, ancient artifacts for the purpose of preserving and preserving the tradition, the right building is the venue for Thanh Ha pottery products and pottery villages. other.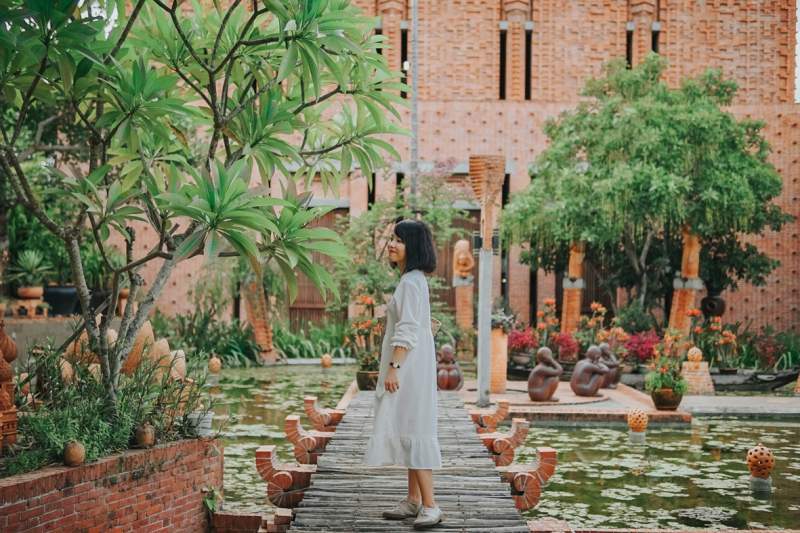 Thanh Ha Pottery Village. Image: Hoang Linh Ha
As for pottery, you will witness and participate in the process of creating beautiful pottery products. Through many stages, the blocks are formed by hand on a turntable. Then, bring your product to the sun or let the wood stove dry quickly. Finally, these items are put into the furnace to prepare the finished product.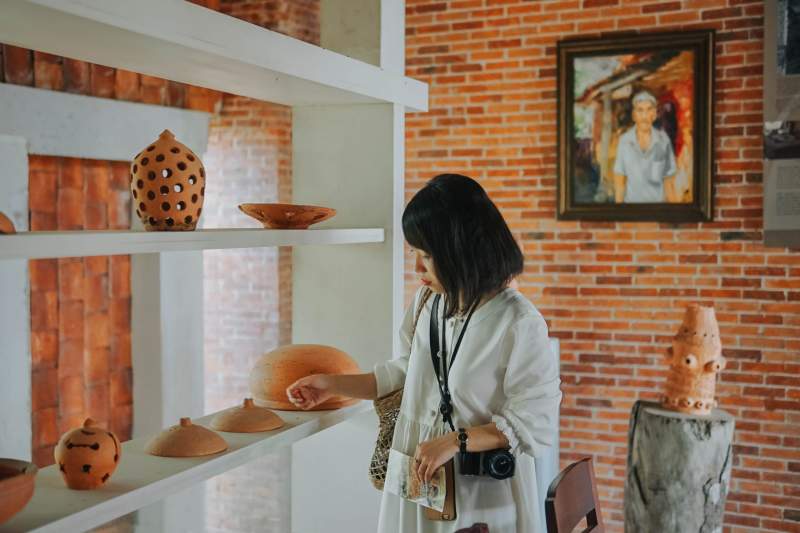 Products display area. Image: Hoang Linh Ha
See more: Thanh Ha pottery village is a quiet beauty in Hoi An Quang Nam
2. Duy Vinh old brick kiln
Since the same period, just an old brick kiln abandoned dozens of years, suddenly became an ideal check-in point, attracting hundreds of young people to take pictures every day.
See directions on Google Maps
To get here, you can search Duy Vinh old brick kiln on google map. But if you go to the last point according to google map, you will see two old brick kilns, located in the middle of the desert, these two brick kilns do not have a nice view so there is no picture taken. So let Vntrip guide the way a bit more.
Old brick kiln Duy Vinh. Image: Hoang Linh Ha
From Hoi An ancient town, there are two different roads, with the same distance. You should choose to follow the direction of Cau Lau bridge, when about 2km from the old Brick Kiln point on google map, you will see a brick kiln located on the right, in the middle of the immense field, this is the brick kiln to find. . At first you see the brick kiln, thinking that you have to walk a long distance into the field to reach it, but if you pay close attention, you will see a small street on the side, running along this road, you have can come right behind the brick kiln.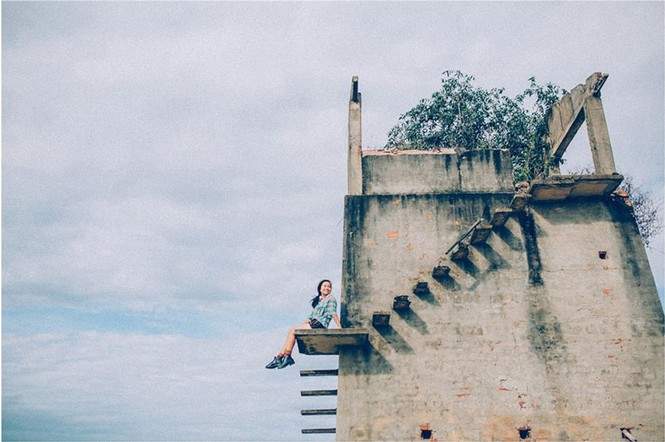 Check in is still attracting young people. Figure; Hoang Diep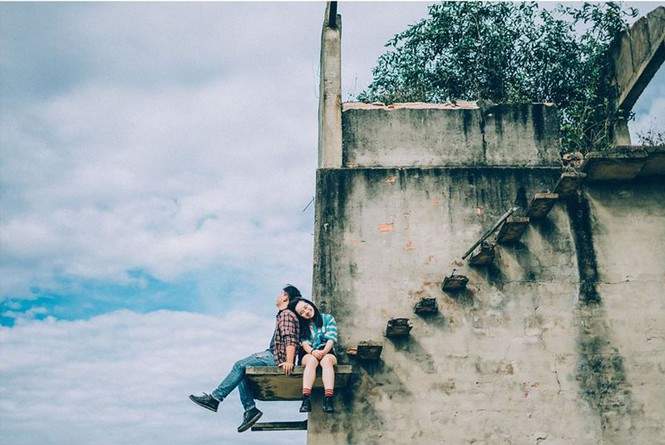 Wonderful virtual living corner. Photo: Hoang Diep
When looking at brick kilns on pictures, or looking from afar, you might think these stairs are quite low, but they are actually very high and dangerous. Besides, nowadays because the stairs are too old, the local people have smashed the stairs at the bottom to limit climbing.
3. The Home Roastery Coffee
Among the countless old style cafes with the main yellow color in the heart of Hoi An ancient town, The Home Roastery Coffee emerges as a different highlight.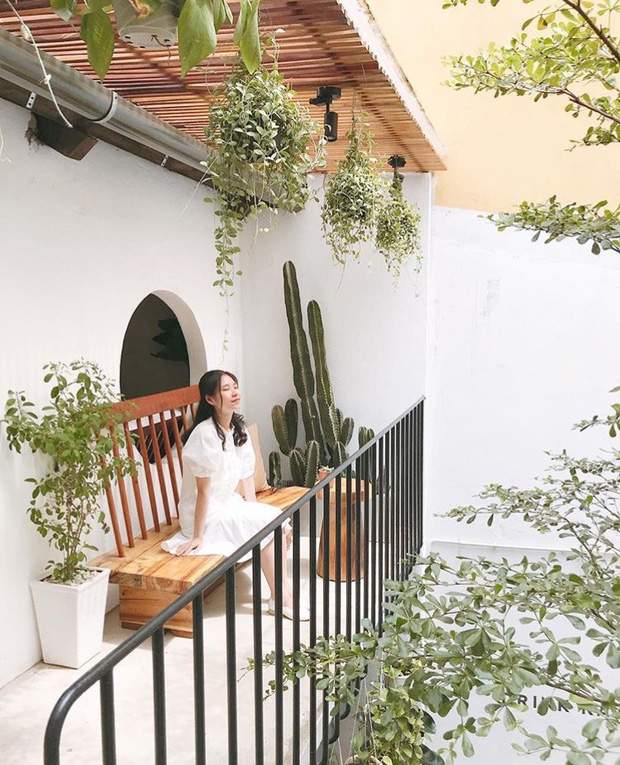 Lovely photo shoot of The Home Roastery. Photo: @heorangto
The shop has just changed owner and changed its name too, before that the shop was called Xoong Garden Juices & Fruits, which was one of the famous floating shops in Hoi An before. But don't worry, although the name changes, the design style inside remains the same, only the outside has changed a bit.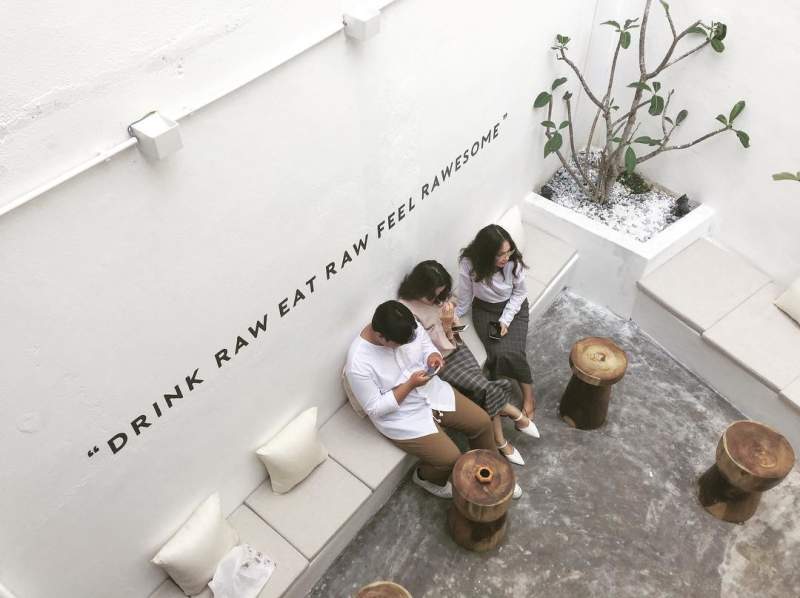 Space downstairs. Photo: Collectibles
At first glance, the restaurant looks like an old house with ancient design style, gold like other shops in the old town, but inside, the pure white sky appears, elegant, delicate and So cute. However, amid modern features, The Home Roastery still uses the materials of wooden, rattan, trees … familiar to Vietnamese people. The drinks here are also quite good, the price is not too high compared to the general premises.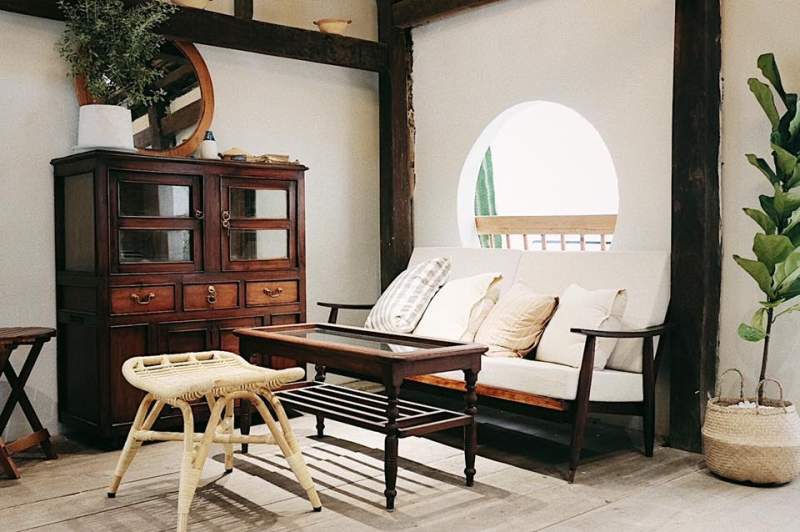 The Home Roastery still uses simple materials. Photo: Collectibles
4. Tam Quan Ba Mu Pagoda
One of the most mentioned destinations in Hoi An that has been famous is Tam Quan Ba Mu Pagoda. This is a portal item in the complex of cultural and religious architectural works of Cam Ha Cung and Hai Binh Cung, associated with the dream of a peaceful, happy, happy life, and reunited descendants of Hoi residents. An.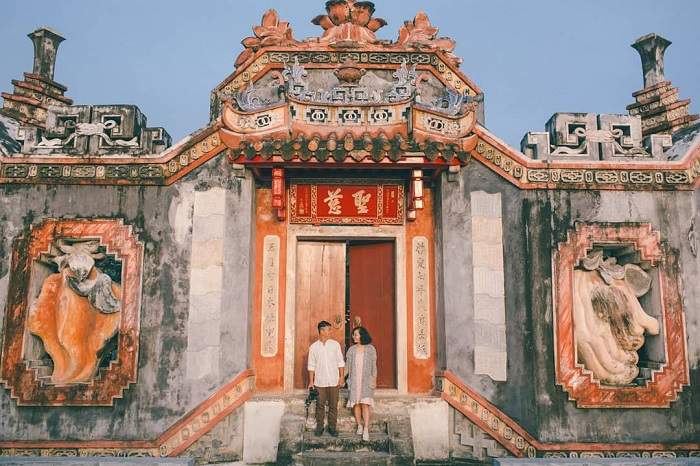 Three pagodas of Ba Mu Pagoda. Photo: Hoang Diep
This gate has been present in Hoi An for a long time, but has been restored to its original condition with extremely eye-catching colors and textures while retaining the ancient features, so obviously becomes a check-in point of any Anyone visiting the old town. Open space, with a lake in front, trees, surrounding grass is also a plus point for this monument. Because it is located right on Hai Ba Trung Street, in the old town so it is easy to find. However, if you want to get the best photos, a frame alone, you have to go before 8 am.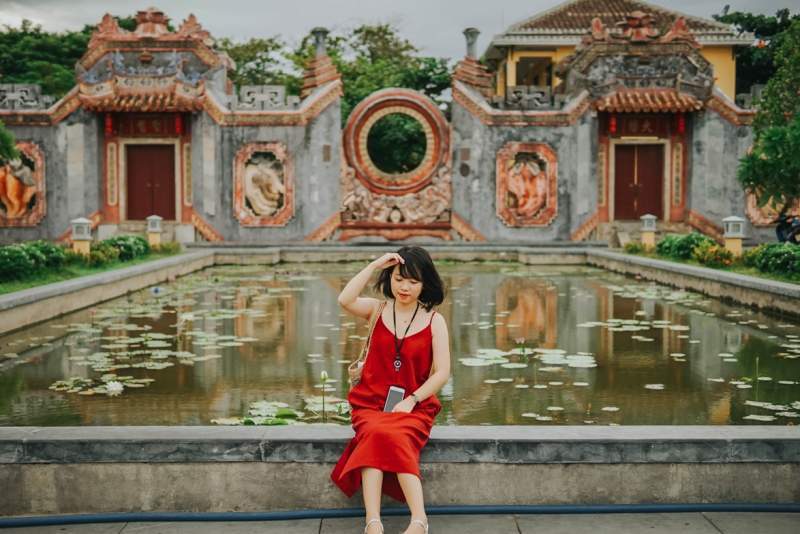 Lake in front of Tam Quan Ba Mu Pagoda gate. Image: Hoang Linh Ha
5. Le Nghia basketball court
Have you seen the movie "The girl from yesterday"? The scene when Thu Thiem imagines the scene of the Viet An canopy was filmed at this Chinese-style basketball court.
Le Nghia basketball court. Image: Hoang Linh Ha
There is also the main yellow color like other places in the old town, but the highlight of the football field is the white wall with Chinese letters written in black ink and black roof tiles on super quality pictures.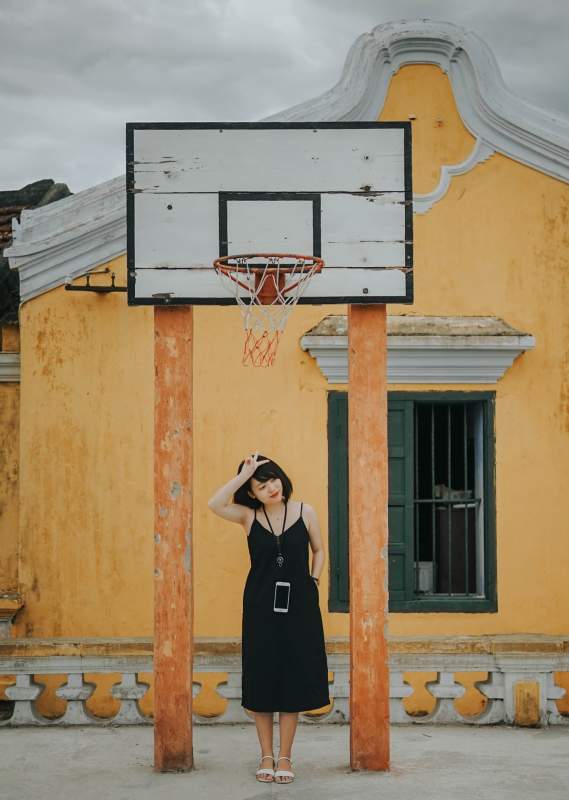 Image: Hoang Linh Ha
In addition, the yellow walls with green windows, spacious yard or brilliant paper trellises on the steps, … are also pretty pretty corners.
Are you mentally prepared to discover a real "new" Hoi An? Do not forget to bring a good camera to take sparkling photos at the new check in here and share with Vntrip!