It is not natural that Danang is also known as the city of Danang worth living . Because Da Nang always hides interesting things to attract tourists from near and far. Then every time they set foot in nostalgia did not want to leave. Love all human life here, love the idyllic interspersed in the modern definition between beautiful natural scenery. Then it must be said that the city worth living in is Danang, not anywhere else.
Why call Da Nang a city worth living in?
Many places are still in the top worth living cities but when mentioning the title of worth living city, people remember the first name is Da Nang. So Why is Danang known as the most livable city of Vietnam while other places still have their own strengths and are among the top cities worth living in? So what is so special in Danang ? Let's explore together to find the answer for ourselves now!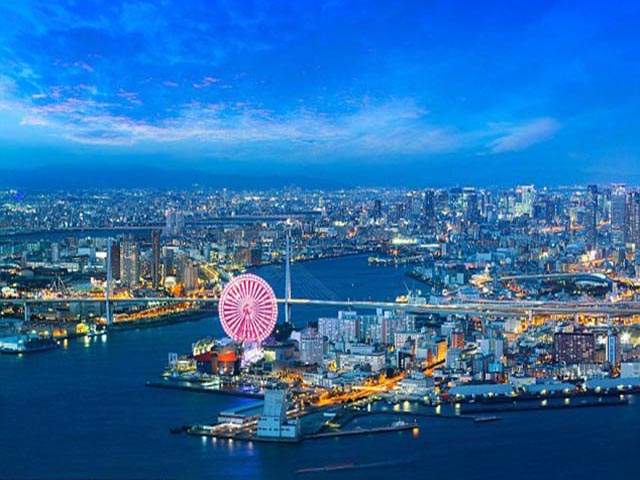 Da Nang is called as the most livable city in Vietnam – Internet photo
What is the city worth living?
A city worth living for is a term widely used today that is a criterion for many provinces and cities that are striving to achieve. In simple terms, a city worth living in is a city where it is well managed to have uniform development in all aspects of the economy – politics – culture – society.
That said, but the implementation is not simple, it is necessary to have the policy of leading departments and agencies to coordinate with people to raise awareness towards civilization. A worth-living city is a place where people have a stable and developing life, and those who come near and far must be satisfied and have a good feeling about the "beauty" of the city.
Danang tops the list of cities worth living in
Along with no less inferior names like Da Lat, Nha Trang, Tp. Ho Chi Minh City, each place has its own outstanding strengths and attractions, Da Nang is ranked in the top 10 most livable cities in Vietnam . Because Danang converges the factors that attract both domestic and foreign tourists to discover and feel, there is a common thing that most tourists are keen to choose this place as a residence, forever do not want to return. They were conquered by the charming beauty of Da Nang, the atmosphere of relaxation is not too hustle and bustle, but no less modern. Especially famous landmarks and unique cuisines of the Central.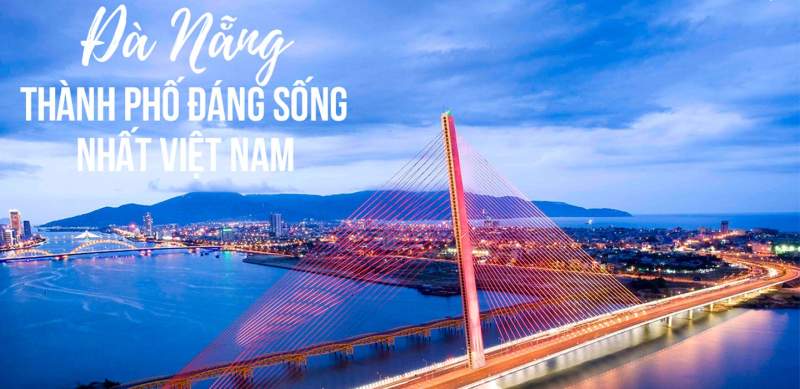 Referring to the city worth living in is referred to Da Nang – Internet photos
How is Danang worth living?
1. Beautiful and charming wild scenery
The first mention of Danang is the mention of the pristine beauty, nature's charm is always the pride of the people of Danang as well as a tourist destination that attracts both domestic and international tourists.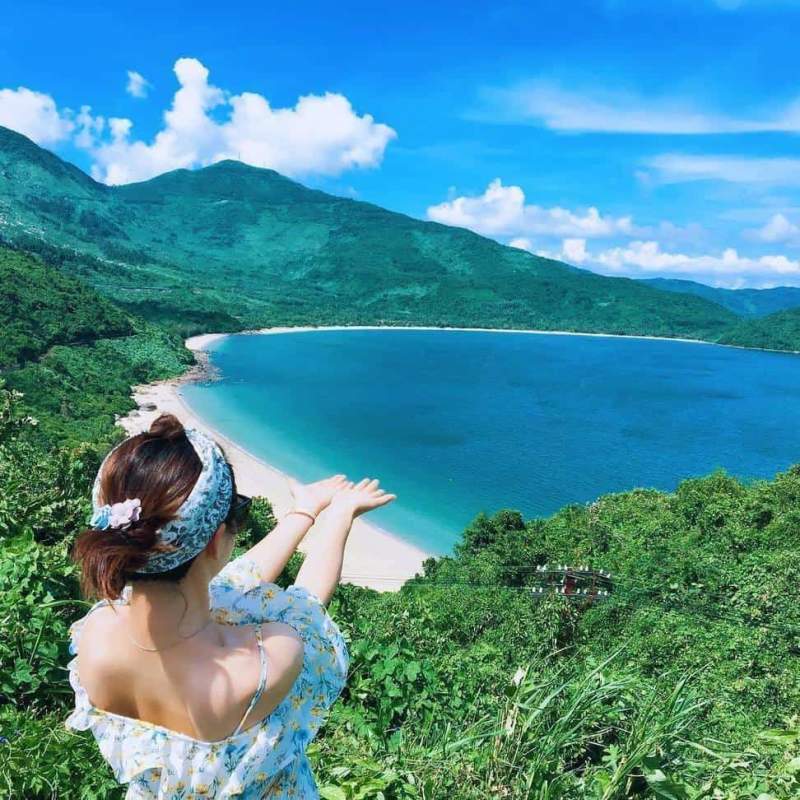 Da Nang possesses charming, wild beauty – Photo ST
Coming to Da Nang, you will come to the island paradise with cool blue water, soft white sand in the sunshine. Just seeing it has the feeling of wanting to "rush" right into the sea to enjoy being addicted. Next is Son Tra Peninsula, the primeval old forest is the "green lung" in the heart of the city with fresh nature, majestic mountains and forests, home to a rich flora and fauna system.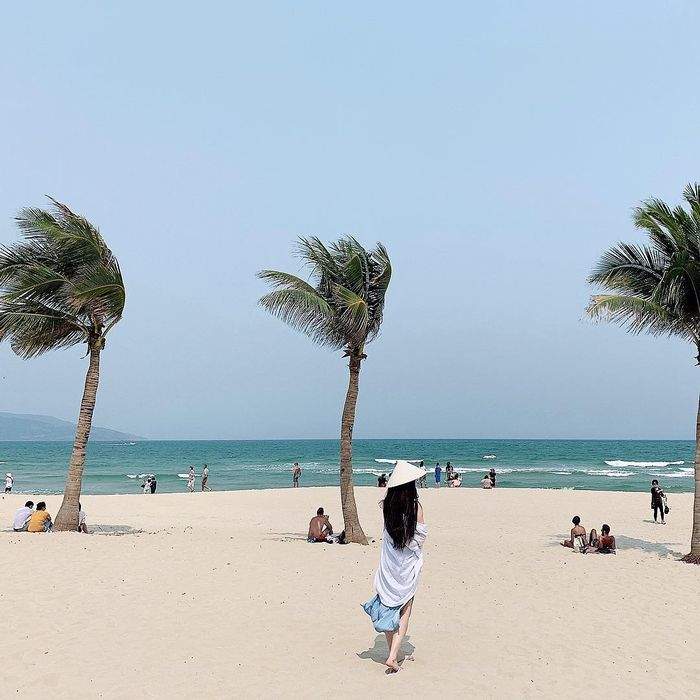 Da Nang island paradise attracts tourists – Photo ST
The cool streams crept in big gray-covered rocky beaches, Than Tai hot mineral springs with natural springs containing many minerals, Bai Nam Nam O charming scenery covered with green moss every summer … so many beautiful landscapes that Mother Nature bestowed on Danang that cannot be told. Because each place, each land comes with its own beauty, but all have one thing in common is to make people fall in love.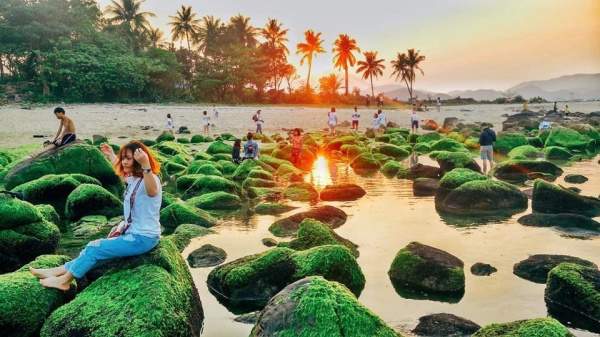 Infatuated with the beauty of Nam O Reef – Photo ST
2. Da Nang and the "best"
Not only is Mother Nature's favor for charming scenery, Da Nang always knows how to refresh itself, creating "hot" to attract visitors by the most impressive architectural works, always on the list. Looking for the ideal destination.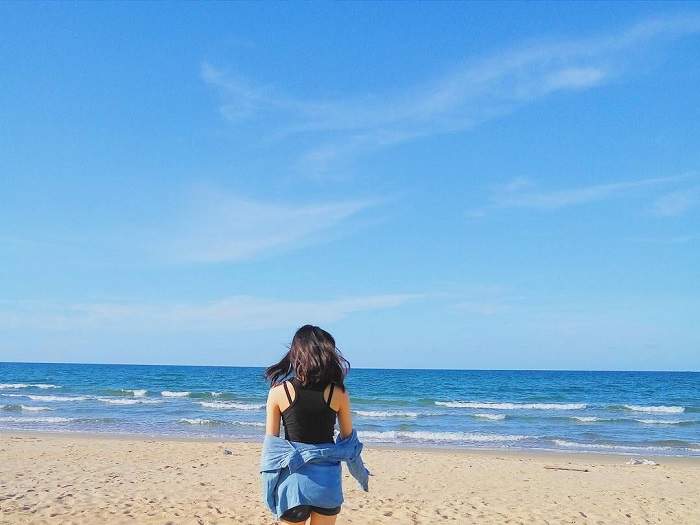 My Khe beach with the most attractive beauty on the planet – Photo ST
Introducing Danang can not fail to mention the pride of the people of Da Nang is My Khe Beach. My Khe Beach was voted one of the six sexiest beaches on the planet by Forbes, one of the most attractive beaches on the planet thanks to its excellent beauty, smooth water, blue water and high safety. Next is the Ba Na cable car which has achieved 4 world records with the longest total cable length, the largest difference, the longest, the heaviest cable.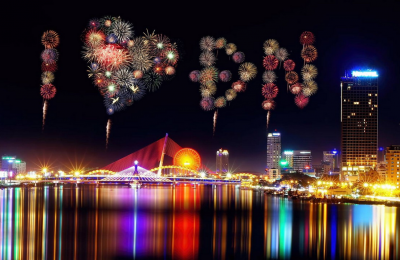 Impressed with the spectacular fireworks display – Photo ST
The annual Danang International Firework Festival is also a rendezvous point that makes the Danang atmosphere become vibrant thanks to the impressive fireworks display full of impressive sky romantic night with the participation of many the team in the world.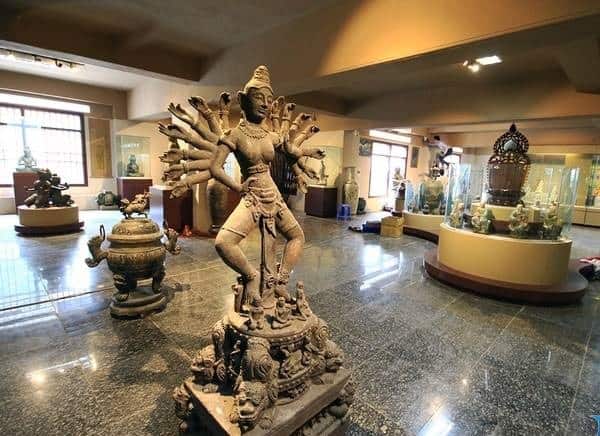 Artifacts at the Champa Museum of Danang Sculpture – Photo ST
Da Nang Museum of Cham Sculpture is the largest exhibition of artifacts in Vietnam with valuable artifacts of the ancient Champa kingdom. Another place that attracts young people to check-in to discover the "best" in Danang is the Sun Wheel, which is the record of the top 10 highest revolutions in the world, from above, visitors will have the opportunity to see. Da Nang with the most beautiful view is that the night becomes more and more fanciful.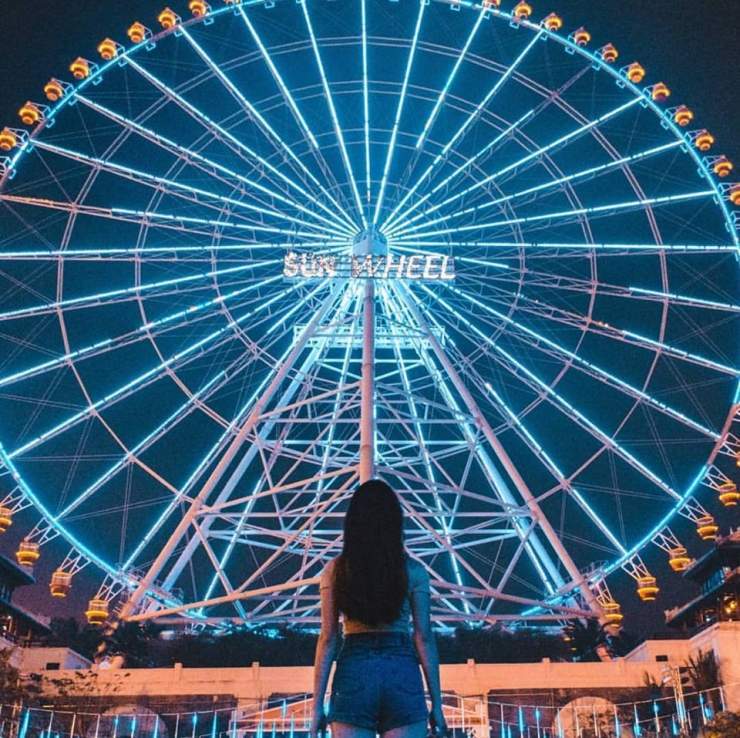 Sun Wheel Ferries where you can see Danang from high – Photo ST
3. Danang city of the bridges
What is Da Nang called ? Perhaps everyone has their own way of calling it a city worth living in, a beautiful coastal city, also known as a city of bridges. The Dragon Bridge with an impressive length of 666m has been honored internationally with the EEA Technical Excellence Award, with the image of a powerful Dragon filled with spirits reaching out to the great sea, bursting with fire and water as a venue. Familiar fun every evening.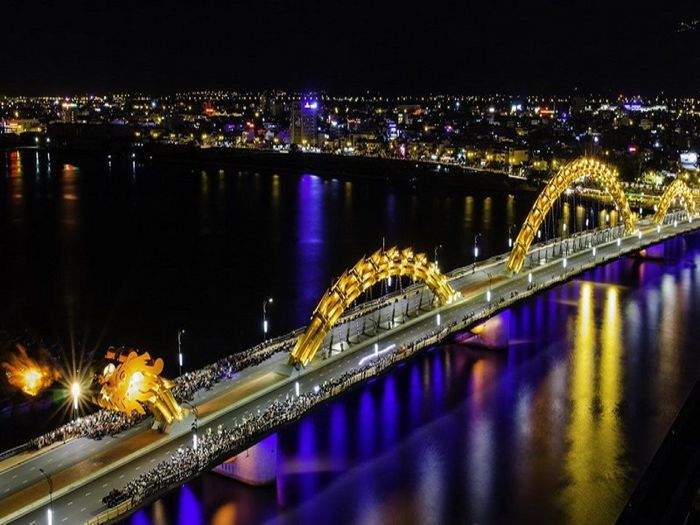 Dragon Bridge symbolizes Danang – Photo ST
Han River Bridge with a unique design, also known as a memorable bridge, can be rotated up to 90 degrees around the axis, a place of historical significance and pride of the people of Danang. attract tourists to admire the moment of the swing.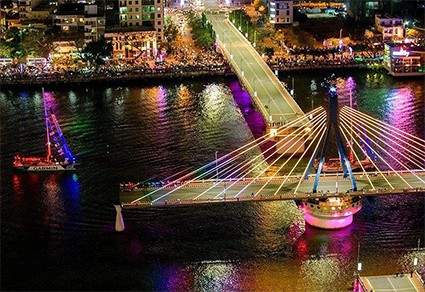 Han River Swing Bridge – Photo ST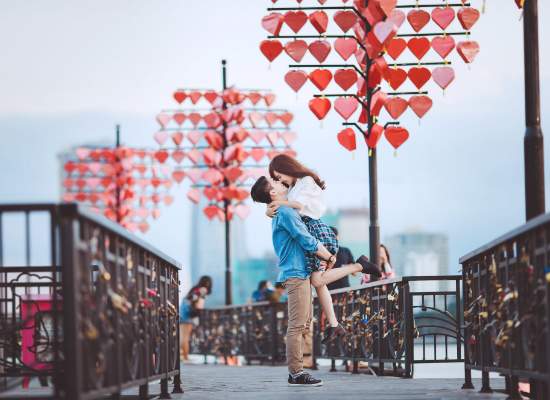 Love bridge ideal dating location – Photo ST
Thuan Phuoc Bridge is the longest bridge in Vietnam, from the bridge can admire the beauty of Son Tra peninsula, this is also a bridge with an important position and significance in Da Nang's economic trade. Referring to the famous bridges that can not be ignored Love Bridge with heart-shaped lanterns lit every evening, the image of the carp carp symbolizing prosperity and strong rise.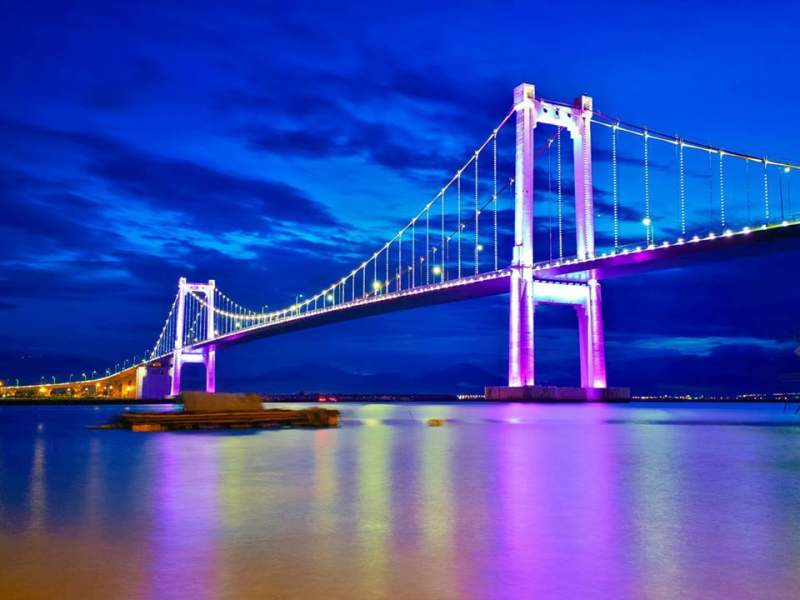 Thuan Bridge, the longest bridge in Vietnam – Photo ST
Most recently, people remembered Da Nang with the image of the Golden Bridge with giant hands as if supporting a soft silk ribbon, a new symbol, a prominent check-in place when coming to Ba Na Hills. on the scene.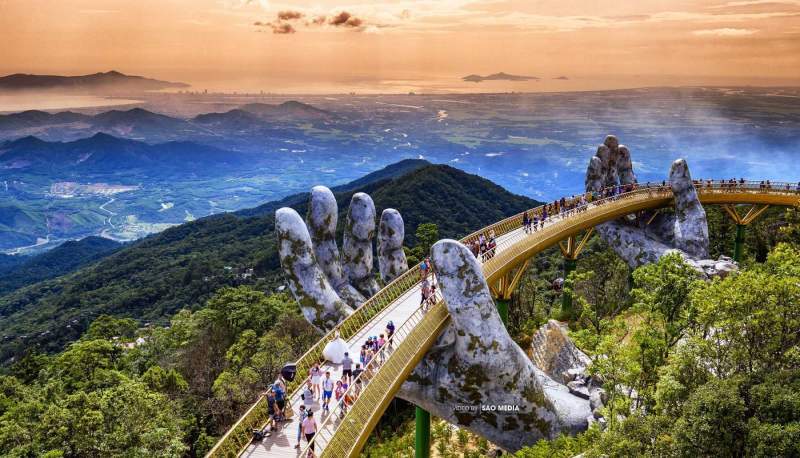 Golden Bridge on the top of Ba Na Hills – Photo ST
4. Ideal climate
If the North has cold spells, the South has hot flashes, Da Nang belongs to the Central region, located in the tropical monsoon region with an extremely ideal climate, mild year-round. The average temperature in Da Nang always maintains at a stable level of about 25 – 27 degrees Celsius. The temperature in months of the year does not have a high difference. Because there are no erratic changes in the weather, it does not affect the health of the people here.
A mild climate in Da Nang is suitable for exploring – Photo ST
The most ideal travel time in Da Nang is from April to August, when the weather is beautiful, fresh, with little rain and storms, which is very suitable for sightseeing. Around October – December Da Nang enters the rainy season, but the time does not last too long, if coming to Danang at this time visitors should also consider ahead.
5. The environment is less polluted
Along with the increasing urbanization rate, outstanding development of life is accompanied by a devastating environment and heavy pollution. But in Da Nang proved the opposite. No matter how the city develops, the buildings are constantly appearing, the factories are very concentrated but the environment here is still less polluted, maintaining the position of the most beautiful clean city in our country.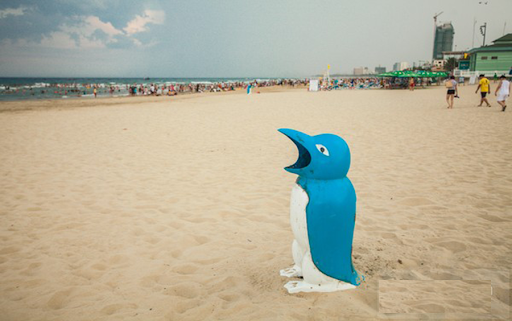 Penguins ask for rubbish – A propaganda to raise public awareness – Photo ST
Da Nang beach always retains its pristine beauty, whether it is crowded weekends or major festivals taking place here, the beach is always clean partly thanks to the awareness of the whole community. the slogan "Danang Sea says no to waste". Images of penguins appearing a lot along the beach are both beautiful and remnant garbage storage to remind people to place their rubbish in the right place. The programs and movements launched regularly to raise people's responsibility and awareness, clear management and regulations also contributed to the success of the most livable city in Vietnam.
6. Located on the tourist axis Central extremely attractive
Da Nang is a major economic center in the Central region, possessing a prime location, with many beautiful scenery and the middle of the attractive tourist axis of the sunny and windy Central. 30 km from Da Nang, Hoi An is a destination not to be missed with the beauty of calm and relaxation. Where there are old architectural houses hiding the beauty of time and the poetic Hoai River. My Son Sanctuary in ancient Champa architecture has experienced many ups and downs.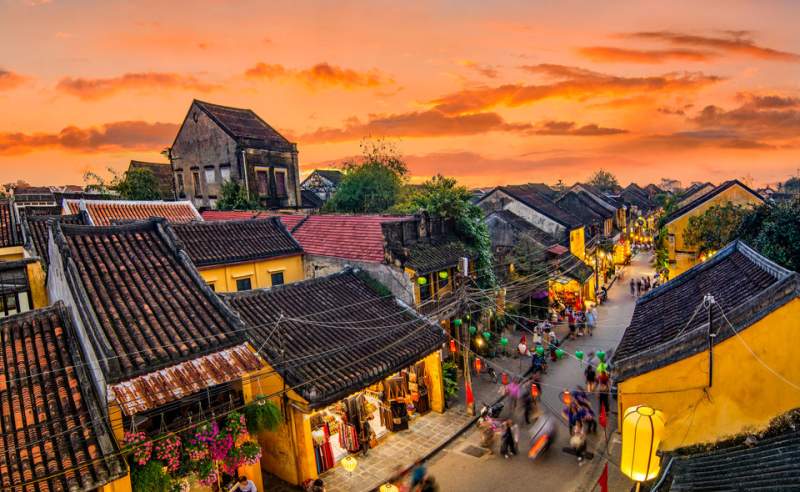 Very easy to move to Hoi An Ancient Town to explore – Photo ST
From Da Nang to Hue also takes only about 2 hours, the dreamland of Hue makes visitors near and far with the ancient tinged beauty, a little more away from Hue can admire the beauty of Phong Nha cave. mysterious thing. For those who love nature, enjoy the fresh wind, the road in Hai Van Pass is a great place to conquer.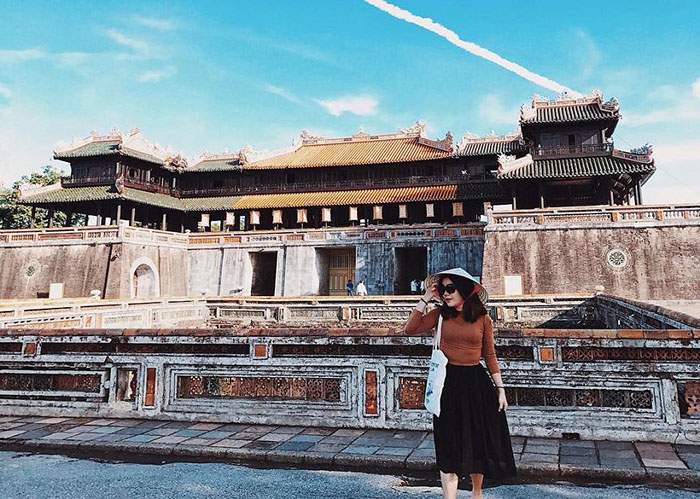 Discover romantic Hue – Photo ST
7. The entertainment area deserves
Combined with the natural scenery, Da Nang's famous beauty spot is also a place where "playing and forgetting the way back" by the most modern amusement parks. World-class Asia Park with hundreds of exciting games, amazing Sun Wheel spin.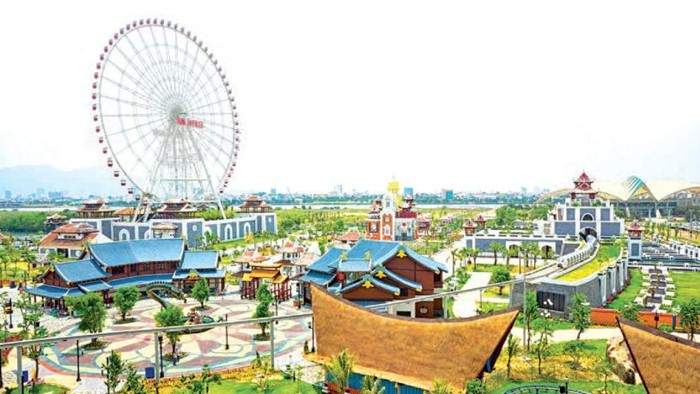 Asia Park very hot amusement park in Da Nang – Photo ST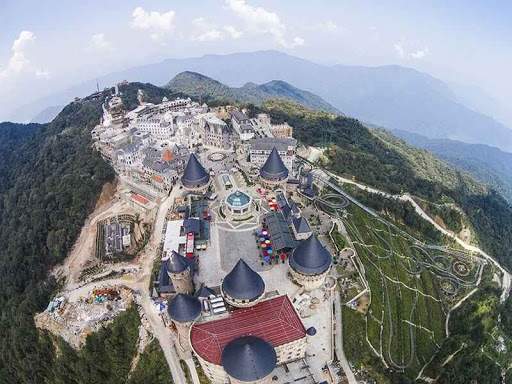 Ba Na Hill attractive check-in location – Photo ST
Bana Hill beautiful landscape on earth is home to the most architectural works, European-style castles, Golden Bridge supported by giant hands, Fantasy Park where conquering thrilling games .
Helio Center amusement park enjoys the entertainment space – Photo ST
Helio Center is famous for fascinating nightlife, including a play area for little children. Children's Palace of Culture is not only a place to play with spacious space, this is also a virtual place "extremely good idea" for young people who love to check-in.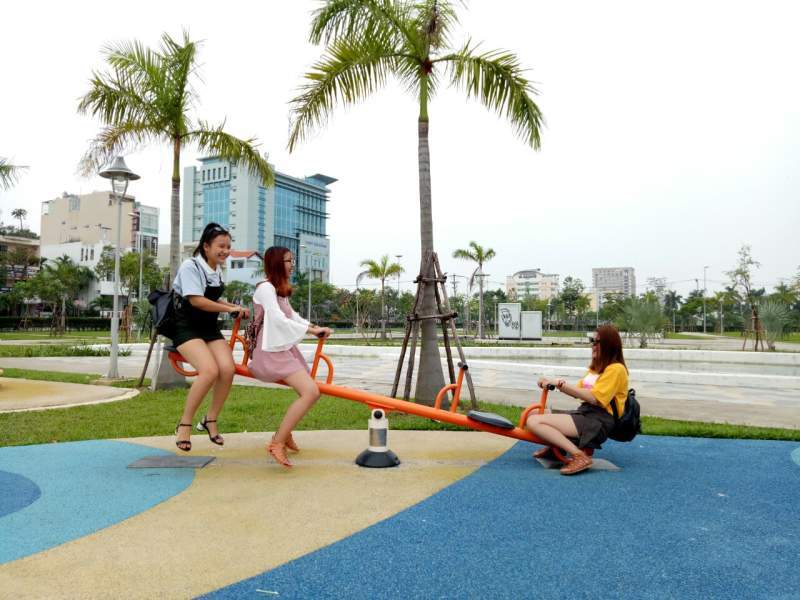 Children's cultural supply hot venue for virtual living teams – Photo FB Anh Thi
8. Social security is focused
At first glance, the architecture of the Danang Cancer Hospital is hardly thought of as a non-profit reception and treatment for people because it is a high-class, modern and clean place. more like a luxury hotel than a free hospital.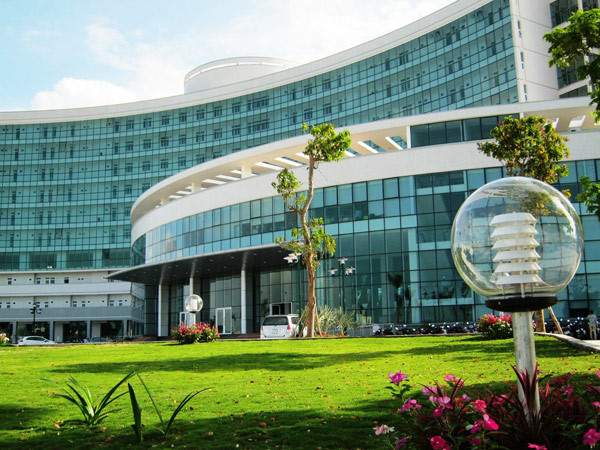 Architecture outside Danang Cancer Hospital – Photo ST
Not only enjoy free services to help low-income people, the infrastructure here is very full including accommodation, hospital cafeteria, to green park. The same free rice donation programs are held regularly. This is like a symbol of love and humanitarian heart of Danang city.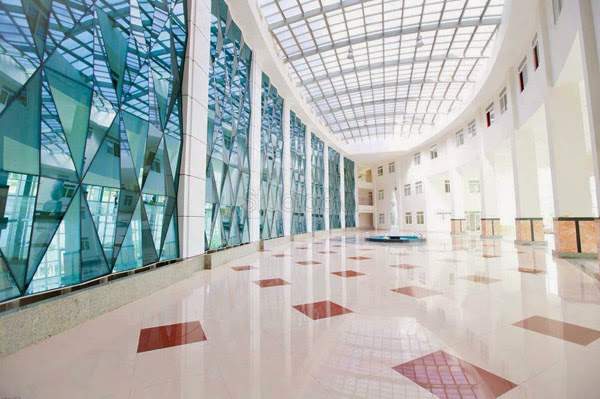 Clean and luxurious hospital campus – Photo ST
Public toilets with the "home-like" criterion are a campaign to build a friendly city. Understanding the inconvenience and uncomfortable feeling when you have to set foot in the public toilets with unsatisfied quality, the public sanitation facilities of 5-star standard for free service is a point that makes Danang create sympathy and strong impression to visitors and people from a small job but exudes the attentive care of a civilized city.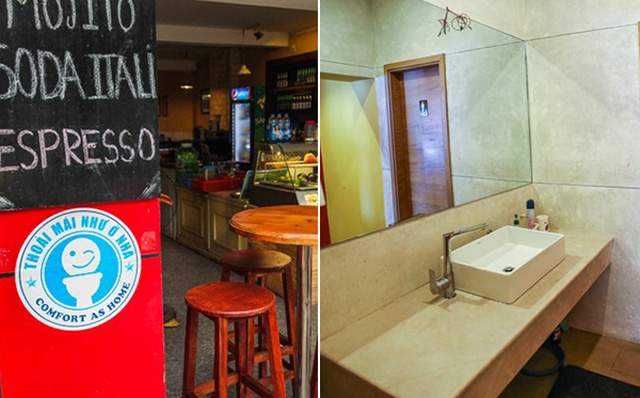 Public toilet with the slogan "Comfortable at home" – Photo ST
9. Free Wifi covers the whole city
Coming to Da Nang, you do not need to say the words "What is the Wifi Pass here?" or rushing to sign up for 4G to check-in consumes a lot of battery power and also costs. Because Da Nang provides free Wifi service covering the central areas from July 10, 2014 so that residents and tourists can fully experience and enjoy the very popular service currently available. Now for work and for fun. This is a huge plus for a special free service like this that few can do.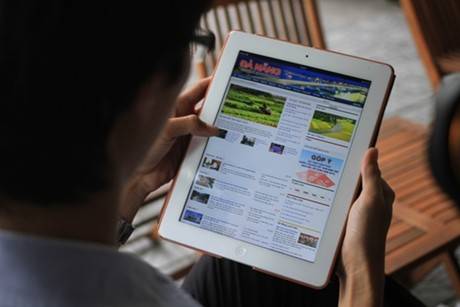 Free Wifi throughout the city center – Photo ST
10. Reasonable living standard
Along with modern infrastructure and life, the standard of living in big cities is often quite expensive, even having to "tighten the belt" to cover. But in Da Nang, although enjoying the modern luxury life, it is "easier" because the costs are at reasonable prices and low inflation rates. Therefore, not only high-income people, but also middle and low-income households can enjoy a quite comfortable life.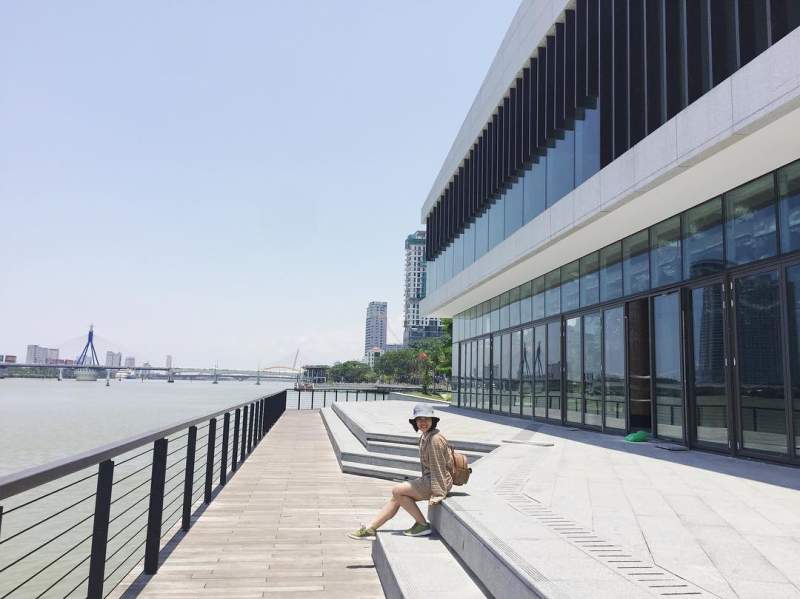 Danang has a reasonable living standard – Photo ST
11. Fascinated with unique cuisine
Not only overwhelmed with beautiful natural scenery, coming to Da Nang worth living city you will be extremely fascinated with the unique cuisine of Xu Da because a culinary paradise is waiting for you to enjoy.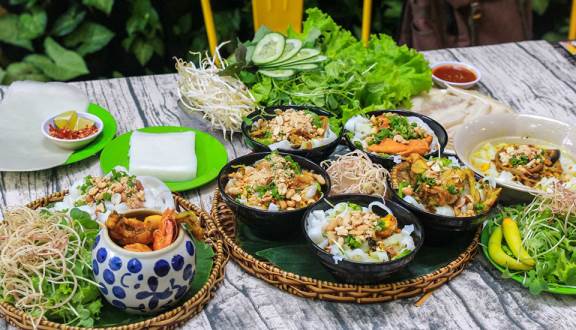 A miniature culinary paradise in Danang – Photo ST
Da Nang is famous for dishes with bold flavors, unique processing but exudes a sense of simplicity. Not to mention noodles are nowhere else in the match. Mussel rice, duck cake, nam cake, crispy pancake eaten with raw vegetables … Tourists coming to Da Nang not only enjoy the rustic dishes associated with life here, but definitely have to enjoy the sea. Extremely delicious fresh produce from the sea caught during the day.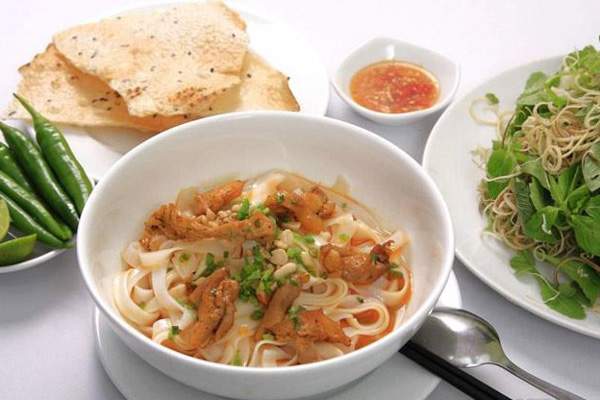 Noodle dish famous dish in Da Nang – Photo ST
The most famous food market that travelers need to "memorize" when they want to eat delicious food in Da Nang with "super cheap" price is Con Market located on Ong Ich Khiem Street. Just "a hungry belly", you can freely enjoy a variety of dishes from snails, duckweed, char siu noodles, and brown rice … Until refreshing desserts such as smoothies, teas , cool buttercream …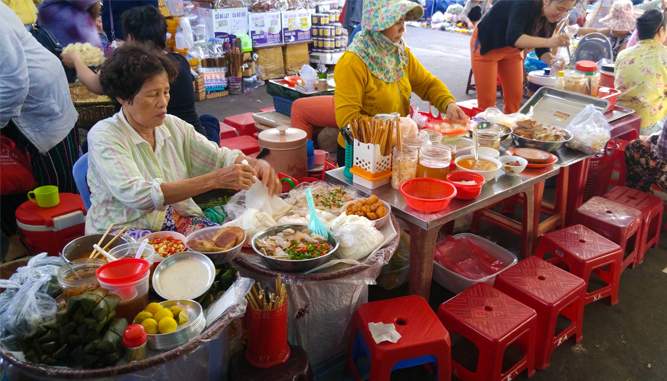 Unique cuisine at Da Nang Con market – Photo ST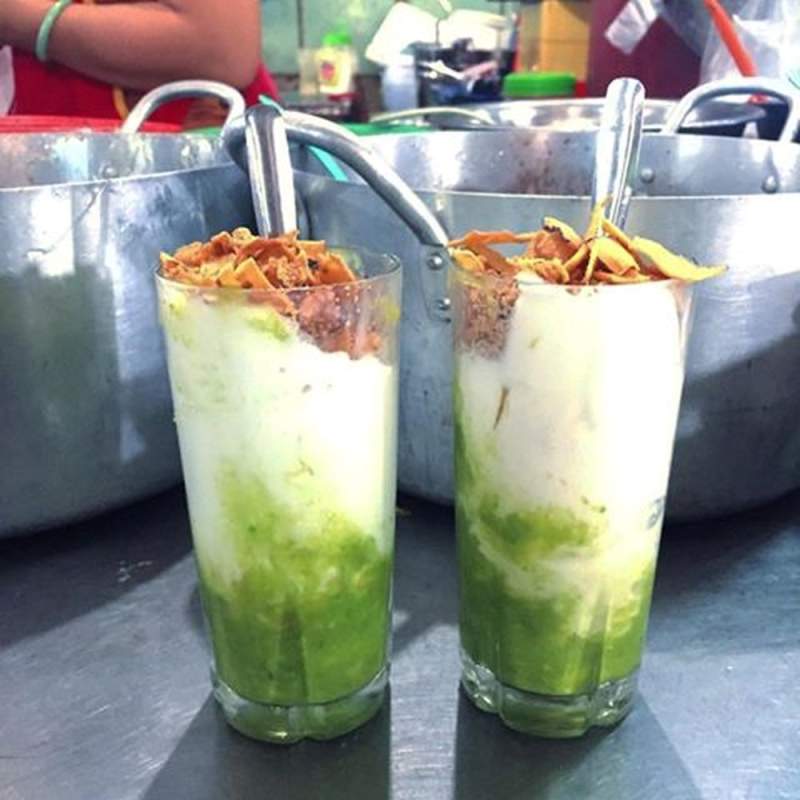 Come to Con market to enjoy butter cream – Picture ST
12. Friendly people
The impression of near and far tourists does not stop at the beautiful scenery of Danang but also by the friendly people here. No matter how much the city of Da Nang is developed, possessing modern architectural works, but strangely, the personality of Danang people is only one, unchanged, hard-working people suffering, radiant facial expressions, friendly smile, exuding honesty, gentleness but frankness. Especially the unmistakable voice, at first heard once or twice, many people could not understand what they were saying, but when they heard a lot, they found it extremely interesting and attracted to the voice of Da.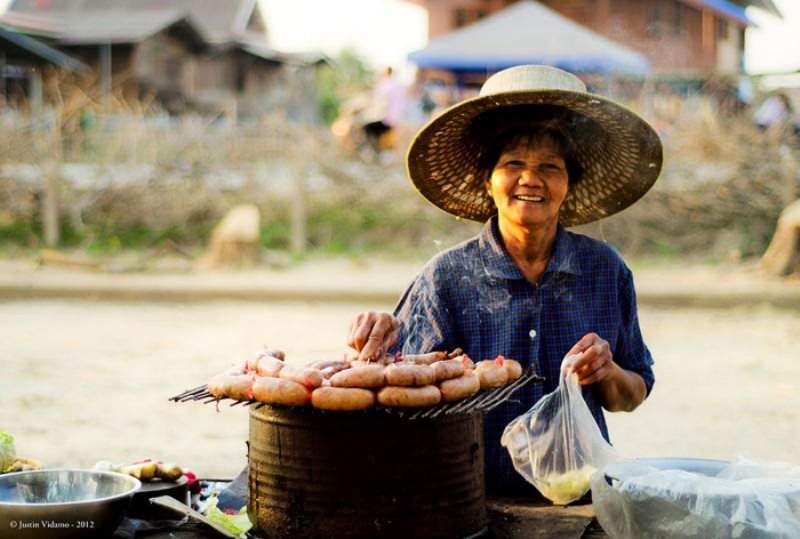 Friendly and enthusiastic Danang people – Photo ST
13. Say no to "Guillotine" tourists
Danang's people are friendly not only by sight but also by civilized and enthusiastic behavior. Looking for restaurants, markets you will not need to worry about the situation "screaming" to tourists. Like the locals, visitors also enjoy delicious food, attentive service at reasonable prices, listed. The situation of "tight guillotine" in Da Nang if detected is dealt with very strictly so it also limits this situation to remain friendly and make visitors feel secure when traveling in Da Nang.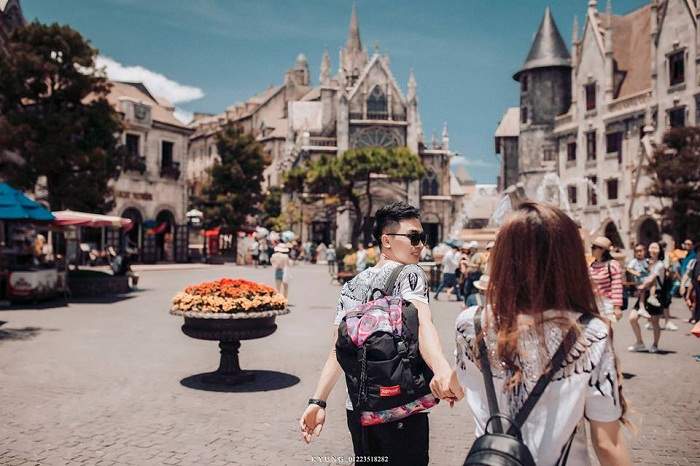 Tourists feel secure when traveling to Danang – Say no to "shout prices" – Photo ST
Each person has a unique feeling, but Da Nang city worth living is an affirmation, is the tourism brand is also the most impressive point when it comes to Danang. How to feel the most worth living in Danang? Percentage of hearing not with the eyes see, hundred see not with one experience. Please prepare yourself a travel plan to beautiful Danang to find your own answer right away. But one thing you will surely be conquered and fascinated all that belongs to Danang only!