Son Tra Tinh Vien (Da Nang) has more than 100 species out of nearly 300 bamboo species in Vietnam. The road to Son Tra Tinh Vien is the famous coastal route of Da Nang Hoang Sa – Vo Nguyen Giap – Truong Sa.
Son Tra Tinh Vien, also known as "Danang Bamboo Conservation Area" , is located deep in the valley of Son Tra Nature Reserve, in sub-area 64, in the territory of Tho Quang and Son Tra wards (Da Nang) . considered the first scene of the world.
This is a bamboo garden, extremely quiet and green architecture all year round, murmuring streams, chirping birds, whispering wind, merging into a beautiful picture, poetic and lively.
Bring the whole life of the virtuous teacher
Son Tra Tinh Vien is one of three bamboo and bamboo conservation areas in Vietnam, next to the bamboo garden at the Forestry Science Institute (Phu Tho) and the bamboo village of Phu An (Binh Duong), created by the monk Dai Duc Thich The Tuong is full of enthusiasm. The predestined opportunity came in September 2005 when a Buddhist admired the dedication of a Buddhist monk who offered a hectare of rocky land in a valley of Son Tra peninsula to help him grow bamboo and bamboo as a wish. At that time, the wild mountains and forests, immense reeds, he created a small place to practice and live. He gradually pored up the clearing of forests, made roads, dug up hundreds of square meters of water, planted lotus and watered bamboo and bamboo, creating an ecological environment. The labor teacher worked hard day after day, then over a year later created the "Vietnamese Bamboo Preserve" as today.
In addition, he still gives his full power, devoted himself to searching, researching, and propagating bamboo and bamboo. From bamboo in Hoa Long, black bamboo in Bac Kan, bamboo, Lang Nga bamboo, military structure in Da Lat to Yen Tu mountain bamboo in the Red Book are brought here to propagate and grow green. Son Tra Tinh Vien has more than 100 species out of nearly 300 bamboo species in Vietnam. Over the past decade, the monk has turned a desolate mountainous region into Son Tra Tinh Vien, which has high values in culture, ecology, and tourism.
Mr. Tuong once shared that his wish was the image of bamboo associated with the village, the Vietnamese countryside in general, and his native Vy Da (Hue) always present in his childhood memory, has also become symbols of Vietnamese culture, which need to be preserved, so that the next generations will come to know the plants symbolizing the mettle of the Vietnamese people. That is the motivation for him to continue developing Son Tra Tinh Vien.
Calm down at Son Tra Tinh Vien
Not everywhere one can see all kinds of bamboos grown into a green, peaceful and pure maze, which makes anyone admire to have a massage. Each type of bamboo is clearly introduced with its name, origin and origin such as Buong in Thanh Hoa, Lo O in Quang Nam, O Lo Cat Tien in Lam Dong, Tre Tap Giao … Around the bamboo garden there are many hammocks and chairs The stone is arranged so that visitors can rest, contemplate and immerse themselves in the dreamy scenery.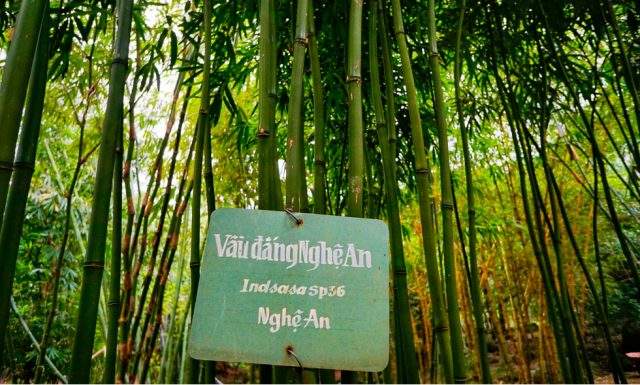 Mr. Tuong also shared that bamboo is most popular in the Northwest, there are many different types of shapes, colors, leaves, stems and roots, only experts can distinguish. . However, bamboos are very resilient, so they do not need to be meticulously cared for like other trees, just need good soil and climate. The primeval forest of Son Tra peninsula converges both these important factors, harmonizing the two climatic regions, so it is extremely suitable for bamboos from other regions to grow and develop.
Contact information
Address Son Tra Tinh Vien : Sub-Area 64, Le Van Luong Street, Tho Quang Ward, Son Tra District, Da Nang City

Opening hours: 6:30 – 18:00 (All days of the week)

Phone: 0236 3821 203
Some other images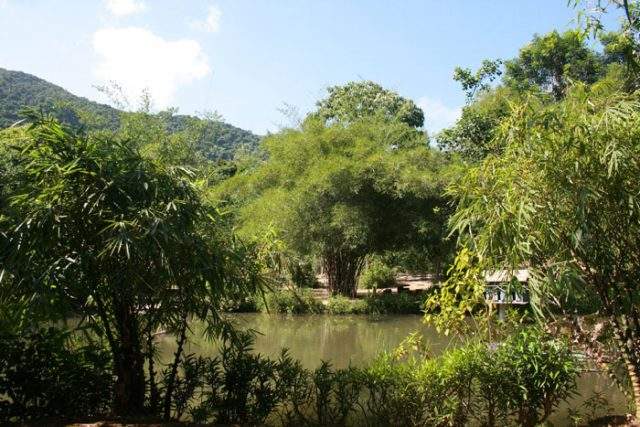 Don't miss Son Tra Tinh Vien on the way to Danang !