Linh An Pagoda – the second Truc Lam Zen Monastery of Da Lat, this is also one of the famous temples that attracts domestic and foreign tourists to visit when coming to Dalat, because of its unique architecture and natural scenery. beautiful course with the majestic Elephant Falls.
About Linh An Pagoda
Located less than 30 km from the center of Dalat city, this temple is also referred to as Linh An Tu , which is like the second Truc Lam Zen Monastery in Dalat. This work was built in 1993, on a high hill, the front facing the Elephant Falls, where a large stream of water rushing all year round. Partly because it is located in a quite high position, partly because it is located next to a large waterfall, so the atmosphere here is very fresh and cool, giving visitors who come here to visit feel relaxed, full of love. interesting.
This temple was built on an area of up to 4 hectares, the vacant lands are covered with many kinds of forest trees such as: mausoleum, sop, wind, si, … Create a large green space, a giant ink painting with a highlight in it is the Hidden Spirit Temple.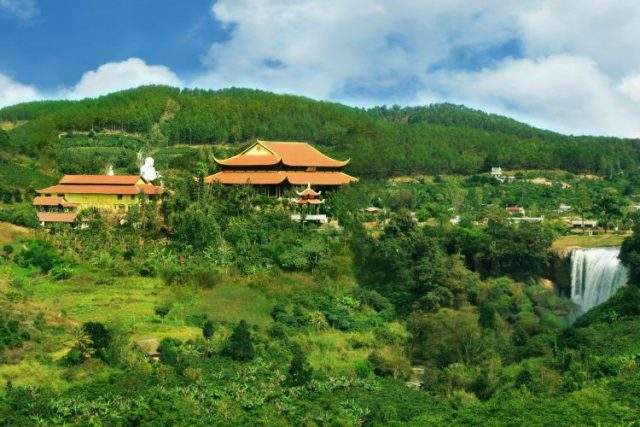 Where is Linh An Tu Pagoda?
Address:

TT. Nam Ban, Lam Ha and Lam Dong

Phone:

0263 3852 713

Get directions to this place
Located in Nam Ban town, Lam Ha district, Lam Dong province, not far from the center of Da Lat city (about 30km), less than 200 km from Buon Ma Thuot, about 200 km from Phan Thiet, about 300 km from Saigon. . The temple was built next to an equally famous landscape that is Elephant Falls.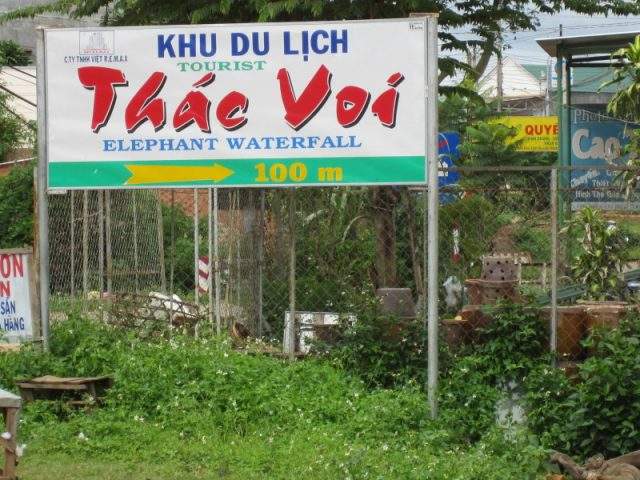 The way to Linh An pagoda is not too difficult, if you stay at a hotel in Dalat, you can move along Hoang Van Thu Street, heading to Cam Ly waterfall. This journey, you will have to overcome many steep bends, next to the soaring, green pine hills giving you a feeling of excitement. When you come to Ta Nung commune (the village of the Ta Nung people), cross the vast coffee and tea gardens, then come to Nam Ban town, you will reach this sacred temple. Alternatively, from Saigon you can follow Highway 27 to get to this place.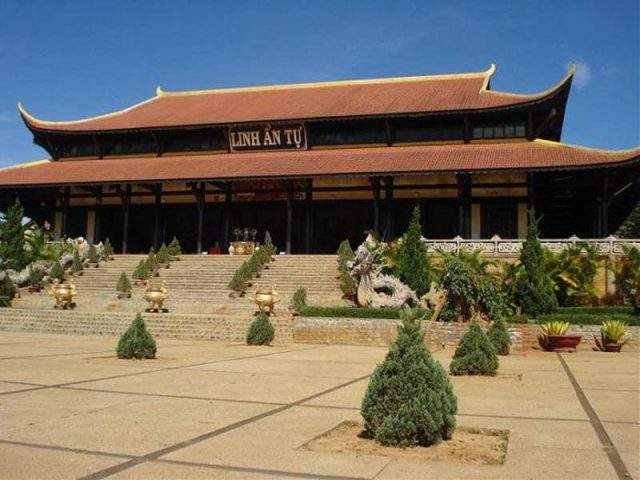 Discover the unique features at the temple
Built on a hill, located far from the city center, but its architecture is not inferior to modern temples, still expressing the unique, majestic, amidst the mountainous nature.
Coming here, you will not be surprised at the unique beauty of the temple mixed with the beauty of the mountain shield here. It is known that Linh An pagoda in Da Lat was built in 1993 by an abbot named Thich Tam Vi to serve the needs of religious culture for the people of Hanoi who came to Lam Ha – Lam Dong to build an economic zone. New sacrifice.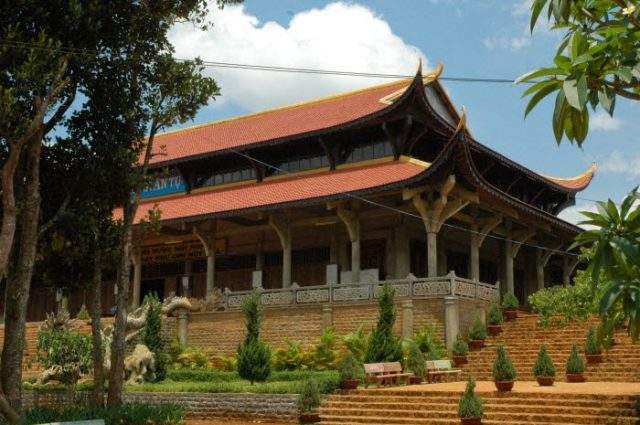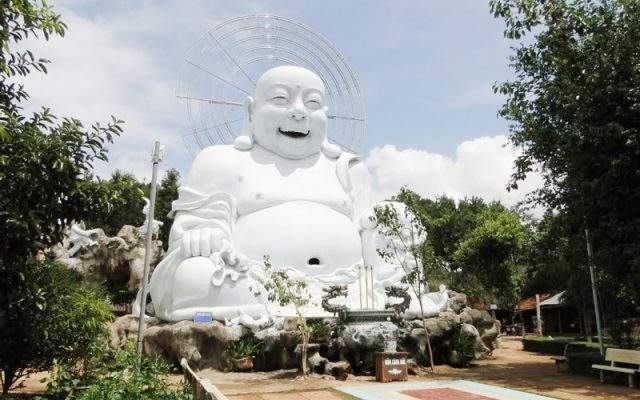 The most outstanding architectural work of Linh An pagoda probably includes the main hall. This project was started construction in 1999, with an area of up to 1,400 m2, the roof is covered with red tile. When you enter the courtyard of the temple, you will see a statue of Guan Yin made in 1994, followed by the section leading to the main hall built into steps, flanked by a pair of large flanking dragons covered with poker. Very delicate bamboo shoots, 20 meters long. These unique works make Linh An pagoda more prominent in the tourist map of Da Lat.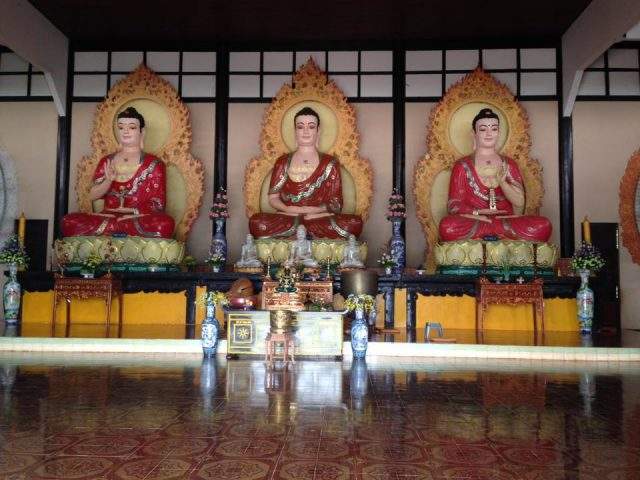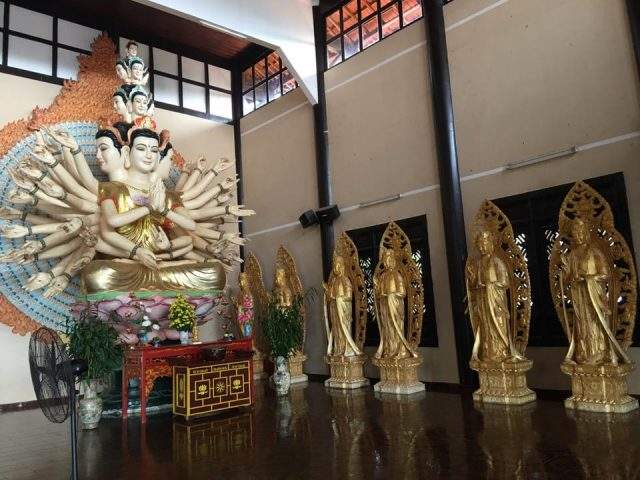 Equally striking is the Maitreya statue, which is 12.5 meters high, 6.5 meters wide and 9 meters wide. Towards the forest near the waterfall, there is a Tinh That of Khai Khai also built the same year as the temple. In addition, the temple also owns many precious Buddha statues, crafted extremely sophisticated.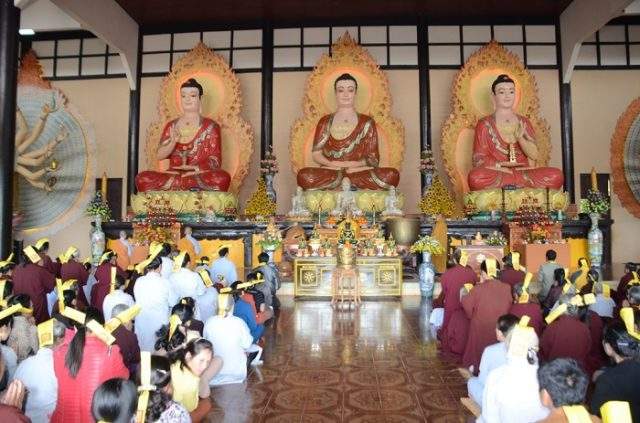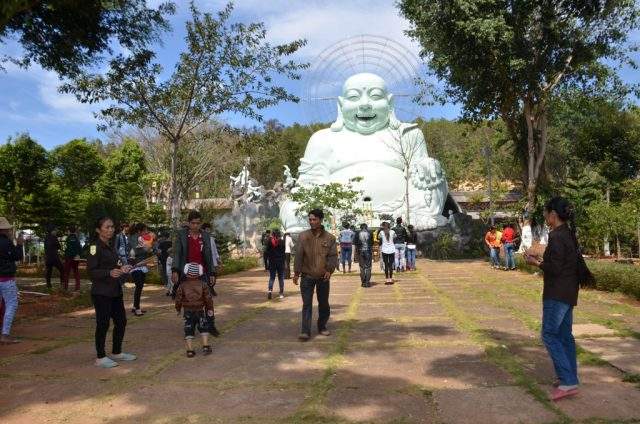 Linh An Pagoda is not only a cultural and religious destination for locals and surrounding areas, but now the pagoda has been considered as a famous tourist destination, attracting tourists coming to Dalat. Coming to the temple, you will have moments of sedimentation and tranquility at the door of Buddha. Not only that, but also to enjoy the fresh, cool atmosphere, and the extremely beautiful scenery of the surrounding nature. Certainly, this trip will bring you many extremely memorable memories.