Are you a person who wants to experience and explore new lands? Nhat Lam Thuy Trang Tra will be an interesting suggestion that you should try when visiting Da Nang. Although it is a name that few people know, it has a wild and wild beauty that only people who want to find strange places to visit.
Introduction of Nhat Lam Thuy Trang Tra
In a noisy modern Da Nang, there is also a peaceful and homely place, Nhat Lam Thuy Trang Tra is located on the Son Tra Peninsula – the precious island of Danang City. This is a place to help tourists as well as locals enjoy nature excursions.
This is an area of increasing concentration and tending and protection of natural forests, this place is different from other eco-resorts or resorts on Son Tra Peninsula in Da Nang . Because it still retains the wild and peaceful features, it is chosen by many tourists to explore new horizons and experience the peaceful life that only here. A Ây certainly a destination not to be missed during your travel list this summer.
Where is Nhat Lam Thuy Trang Tra Da Nang?
This place is about 10km from Da Nang, in the heart of Son Tra Peninsula. The road to Nhat Lam Thuy Trang Tra is quite complicated for first-time visitors. You follow the path to Linh Ung Pagoda , then continue straight ahead. To get up to the top of the board, meet a fork if you turn left and go to the top of the board and turn right then you can enter.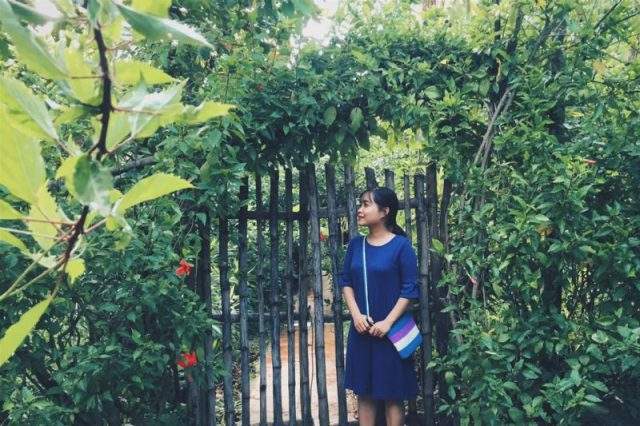 On the way you can see the whole city, and the green vegetation along the road. Besides, you can stop with your friends and family to take souvenir photos with trees and the blue sea in the distance.
On that path you also have the opportunity to visit the famous Truong Mai eco-tourism area. This way will make it difficult and challenging for those who are just going for the first time to travel, you have to follow the steep slope of about 2-3 kilometers to reach Nhat Lam Thuy Trang Tra.
Discover the wild beauty
Nhat Lam Thuy Trang Tra has many surprises waiting for you to discover. This is a new tourist destination in Danang that is not known on the tourist map, so the whole natural landscape here still retains the pristine and intact features of the mountains.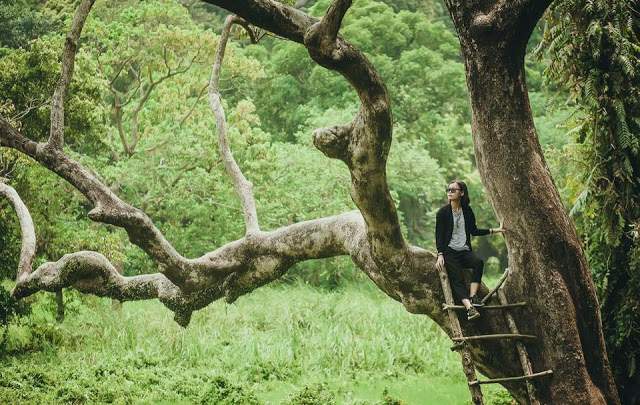 The romantic Nai Spring & Banyan Tree in the middle of the forest
Overcoming the forest road near 1km, in front of your eyes will be Suoi Nai and perennial banyan trees. What is interesting here is that the thousands-year-old giant banyan tree is over 20m high, massive and with giant branches towering in the sunshine between the jungle. You will be overwhelmed, do not believe your eyes when you see the roots of the tree are interlaced, there are many branch roots deep into the ground, the leaves of the luxuriant shady trees cover a wide space that only in Nhat Lam Thuy Trang Tea.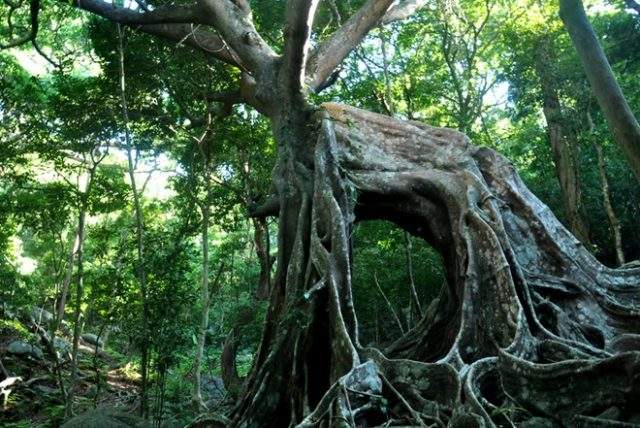 In the flooding season, Suoi Nai appears rocks that are covered with green moss, creating a wild beauty here, the nature mixed with the beauty of the stream, creating an irresistible beauty for visitors.
Enjoy the "fairy" place
There are also many small huts beside Suoi Nai and the resort of Nhat Lam Thuy Trang Tra, visitors can sit to enjoy the quiet space of the mountains or enjoy the fishing and relaxing together. how to pick a forest fruit or simply try the unique local specialties made by the people here. All the simple, everyday things also create an atmosphere for everyone on the trip.
Sometimes just feeling the afternoon sunlight on the veranda on the river or each leaf of leaves has made a peaceful space, making me feel good. In addition, because of the tranquility of the mountains, you can even hear even soft noises. The rustic, not too gaudy resort space has turned a little-known place into a place that attracts many people to come and visit and enjoy the fresh air with the family.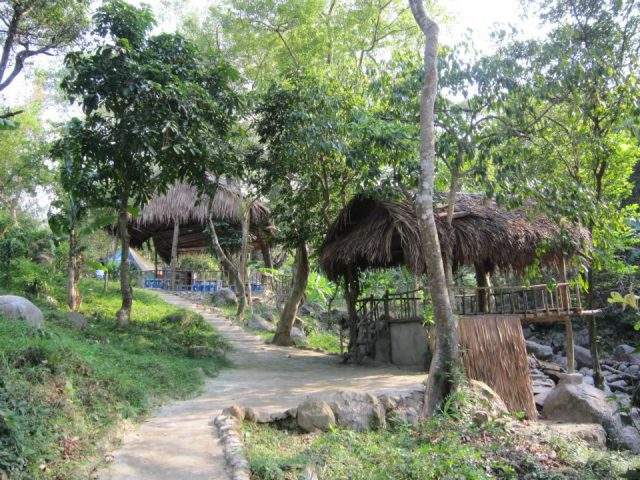 Enjoy unique "specialties"
For families who want to stay here overnight or simply looking for a place to stay to fully enjoy the fun and unique cuisine of forest vegetables, enjoy garden grilled chicken, grilled pork … here are considered as the specialty dishes of this place.
Forest vegetables are considered a rustic dish, that you should indulge when you set foot in the culinary experience. Forest vegetables are grown here by the people here with a variety of vegetables such as greens, psyllium, grapefruit, ginseng, lettuce, and swollen vegetables, etc. , for the cleanliness and deliciousness you won't find in the city. To enjoy the most fully, you should try boiled vegetables to eat with fish sauce, a special kind of fish sauce of the people will surely impress you with the delicious and strange rustic flavor of Nhat Lam Thuy Trang Tra.
Come to Nhat Lam Thuy Trang Tra then you should try coconut wine, if not, it is a flaw in the whole trip at Truong Mai tourist area. This is considered a typical dish at this resort, coconut wine is fermented, elaborately and nicely processed from natural ingredients until there is enough pungency of wine smell and feels the aroma. delicious coconut water blended together.
With the cool aroma typical of coconut flavor, drinkers will feel a slight sweetness, sound but very warm, this specialty is known as a rustic gift for visitors, you can enjoy and buy it. As gifts for relatives and friends when not able to think of a different gift.
Although this tourist destination in Da Nang is quite new but coming to Nhat Lam Thuy Trang Tra, visitors are sure to have a great trip, extremely meaningful and forget about worries in life. Try once to experience coming here to explore a new land, be immersed in nature, give yourself a true holiday. Hopefully this article will help you to have an enjoyable trip with many interesting experiences.