Nhu Tien Beach is one of the tourist destinations created by a combination of fun, sports, sightseeing, relaxation, health care of Nha Trang, always loved by many tourists, especially Especially for companies, organizations, young people who love group activities, this is an ideal venue.
About Nhu Tien beach
Em Tien – is one of the few beaches on the mainland that possesses a rare beauty in Nha Trang . This site is located right on the road connecting Cam Ranh airport and Cam Ranh city. Only 10 km from the city center, hidden behind undulating rocky mountains reaching the sea. Surrounded by high mountains, the sea here is quite quiet. Although this beach was put into operation in tourism a dozen years ago, the wild features, interesting and especially the quiet space is still preserved. Perhaps this is the attraction to visitors to find this place to enjoy their wonderful holiday.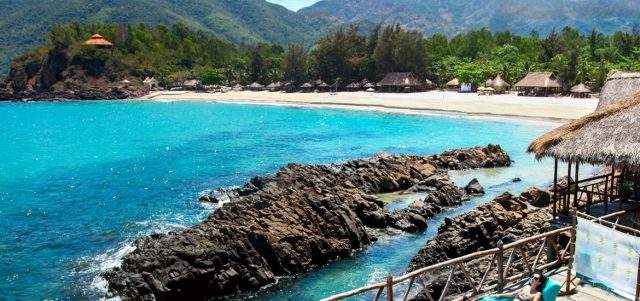 Em Tien Beach Nha Trang has been renovated and put into operation since 2007, with the desire to give visitors an attractive resort destination when coming to Nha Trang city. Planned construction on an area of nearly 25 hectares. With its vast bureaucracy, this venue can accommodate many groups of guests at the same time without having to worry about noisy issues. Coming to this beach, you will immediately feel the joyful, refreshing and energetic atmosphere.
Interesting experiences
Visiting this place, you will not be surprised at the true beauty "blue sea, white sand, sunshine" of the Tien Tien Beach. With clear blue water that can look to the bottom, fine white sand stretches out to sea, above   is dunes with soaring coconut trees swaying in the wind as everything blends together to create a very beautiful natural picture.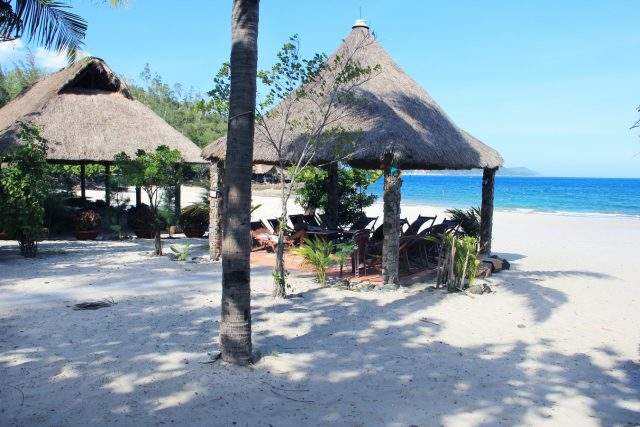 This beach is truly a relaxing and ideal place for you to vacation. Coming here, you will be completely immersed in the cool blue water to temporarily forget the sultry feeling of summer day. Or take a stroll to enjoy the quiet space under the fresh air of the sea here. In addition, if you are a sports lover, activities such as windsurfing, paragliding, canoeing … are also integrated here so you can freely experience them.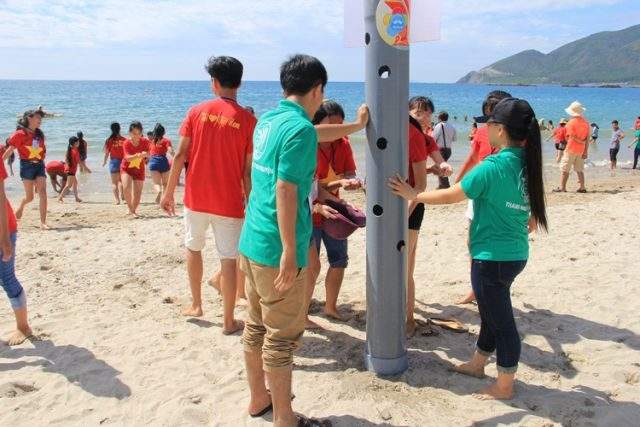 Starting the new day at Nhua Tien Nha Trang beach , you will enjoy the playful, vibrant music performed by the Filipino band next to the beautiful dancers performing graceful belly dance. It will be a positive energy for you to start the day. After hours of walking, visiting the scenery, at noon, you can join the buffet held right on the beach with a lot of delicious dishes, especially fresh and attractive seafood dishes. Indeed, this is an interesting experience when you can both enjoy delicious food and watch the beautiful sea scenery in the soft, melodious music.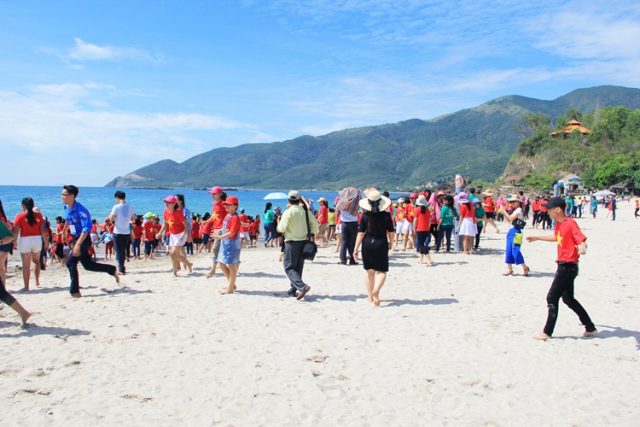 Not only possessing beautiful scenery, along with delicious meals, this is also an opportunity for you to experience extremely attractive beach sports such as windsurfing, water motoring, jetski, banana rowing, though Glide, cano, … If you are a lover of quiet space, want to find yourself a safe escape, fishing will be an interesting choice for you. In the afternoon, when the sun is no longer bright, you can go to the beach or play beach volleyball. This is one of the interesting activities for you to exercise, as well as make friends with people.
Resort at Nhu Tien beach
It is quite interesting that this beach is located right in the Diamond Bay Resort & Spa – one of the leading resorts of Nha Trang. So in addition to opening the door to welcome tourists to visit the fun, the beaches of Vu Tien is also a place for guests of this resort. Therefore, for those who are looking for a tourist destination with high quality services, this is the ideal choice.
Designed with a luxurious and sophisticated space, a harmonious combination of modernity and traditional Vietnamese characteristics, modern amenities are also fully integrated. For you relaxing moments, comfortable. The bungalows are made entirely of wood with a unique space, uniquely designed, located under the shade of shady trees, overlooking the sea.
Nhu Tien Beach possesses the amazing natural beauty often found only on the beaches on the island, along with the convenient transportation of the beach on the mainland, with these favorable factors that have made this place gradually become Tourist attraction attracts tourists. If you have the opportunity to visit Nha Trang, you should not miss the opportunity to visit this interesting resort.