In the past two years, the sudden appearance of Than Tai hot mineral spring park makes tourists restless when visiting Da Nang tourism city. Besides the green beaches, the islets, or the view of the great mountains and forests, the hot mineral springs are an undeniable new attraction here.
Where is Mount Tai Tai?
Address:

QL14G, Hoa Phu, Hoa Vang, Da Nang

Phone:

089 818 17 77

Get directions to Than Tai mountain
It can be said that Da Nang is a place blessed by nature with many mountains and rivers. Danang has a sea, rivers, and majestic pristine mountains. Than Tai Mountain is surrounded by Mount Thanh Long and Bach Ho Mountain, located in the Ba Na Nui Chua Nature Reserve, in Phu Tuc village, Hoa Phu commune, Hoa Vang district, Da Nang city. In this mountain, thousands of meters deep underground is the fault, deformation of the lava layers due to the strong movement of the earth's crust. The intense change in the ground causes a high pressure temperature to erupt hot springs of mineral water through the rocks, creating the precious hot springs of nature.
Taking advantage of the precious resources of nature, Than Tai mountain has been exploited into a monumental ecotourism area. Hot Springs Park (Hot Springs Park) is a tourist destination in Da Nang that attracts tourists for summer cooling, as well as a place to enjoy good resorts for health.
Located to the west of Danang city about 30 km, the hot spring mineral park of the God of Fortune is not hard to find for travelers. Coming here, you can take a tour, or you can make a self-sufficient trip because the way to get here is quite easy. Young people often design for themselves short trips to come here to relax with friends. Just run along Highway 14B, heading up to the mountainous district of Dong Giang after coming to Tuy Loan junction, you will arrive. Because it is quite close to Ba Na Hills, visitors will often combine itinerary to come here.
Tickets to the mountain entrance Spirit
Tickets to the entrance of the God Mountain are applied for guests nationwide with an adult price of 300,000 VND / person, children from 1m – 1.3m is 150,000 VND / person, and free tickets for children under 1 meter.
"Sauna" bathing in the hot springs of Than Tai mountain
Natural hot spring is the most special and unique feature that Than Tai mountain resort owns. This type is an advantage for this resort, since previously Da Nang had only invested in sea, islet, mountain or eco-tourism tourism. Hot springs can be said to be the main reason for any visitor to this place.
Hot spring park Than Tai will let visitors enjoy and experience hot spring bath style Japanese bath (Onsen bath). It is known that this is an extremely beneficial activity for your health. Hot spa bath is the best solution to regulate and excrete the body, detoxify the body, beautify your skin. For women, Than Tai hot spring is always the first choice. Understanding the needs of women, the God of Fortune discounts frequently on holidays, New Year, especially on holidays for women like March 8 or October 20. No need for expensive cosmetics, no chemical treatments for sensitive skin, hot spring is the most affordable and most effective choice.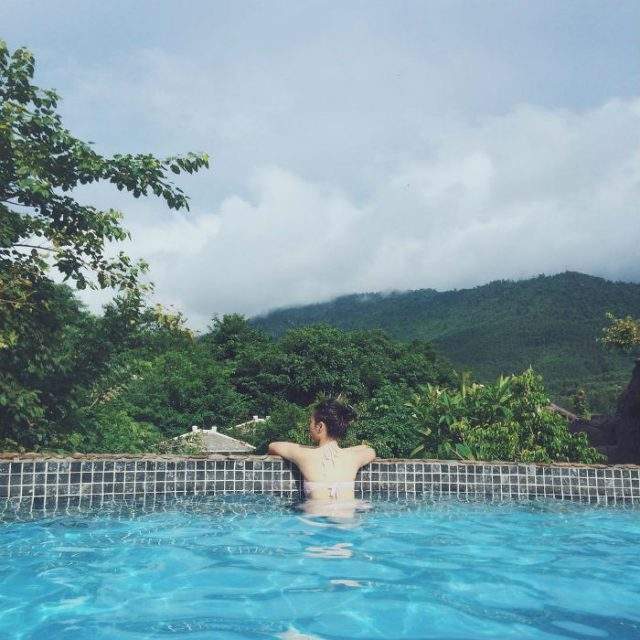 Hot mineral water is the combined effect of three physical therapies, namely: hydrotherapy, heat therapy and mineral therapy. What is more wonderful than to come here, immerse yourself in the hot mineral water, listen to the chirping birds of the tropical forest, sniff the smell of the old forest, adventure and soul in a beautiful scenery in harmony with nature . The stressful stress of everyday life will vanish in a moment, leaving a tranquil silence for the soul.
Than Tai hot spring park is supported by Japanese engineers and experts, so it can be said that this is one of the hot springs with the most modern and unique architecture in Vietnam. Close to nature, the open-air baths here are designed with natural stones, combined with the service of enjoying tea, wine, coffee, cakes in hot mineral springs.
In addition to enjoying hot mineral springs, the park also has cold water baths with underwater games that appeal to young people. Just seeing the tube slide, the underwater slide … you are excited!
The experience of going to Mount Tai is that you should prepare yourself more than 3 clothes, so you can enjoy the comfort as well as check-in as you like with the scenery here. One day coming to Than Tai mountain tourist area, you can walk on the tree-lined roads of the tropical ecological forest to breathe fresh air and immerse yourself in nature.
Than Tai mountain address has gradually become a familiar address for visitors when visiting the tourist city. Experience Than Tai Mountain hot spring park, a new and memorable experience for visitors here. If you visit Da Thanh, do not miss the opportunity to come to this wonderful nature.