Coming to each new land, besides visiting the beautiful natural landscapes, enjoying local specialties is also an interesting activity not to be missed. Follow VietNampeace to discover the top attractive Phu Yen delicacies that you should not miss when traveling to this beautiful city!
Chives soup
Chives soup is a specialty of Cau River delicacy in Phu Yen that you definitely have to try. The ingredients for making chives soup are quite simple, including meat, fish cake, quail eggs, soup bread and especially lots of chives. A good bowl of soup cake must have clear broth, high opaque color, golden color and covered with a dense layer of green chives. So maybe this dish will be contraindicated for those who cannot eat chives, because without chives, it is like losing half the soul of the dish and not at all special.
The dish is extremely attractive but contraindicated with the non-chives, it is a pity. Photo: @thon_foodie
Another thing that makes the brand of Phu Yen chives soup is the broth. There are quite a lot of beaches here, so the Phu Yen street chefs have taken advantage of this to make their home specialties that anyone who travels far away can not forget. The soup used here is not from bone broth but from small fish. Therefore, the broth has a bar, a sweet taste, less greasy, so it is not sick. Some restaurants also grind fish meat to make meat ball instead of the common meat patties. Fried fish is fried golden nursery, outside crispy, soft and not friable. The noodles are made from slightly opaque rice flour, which is soft and often cut short, not leaving the long fibers like other types of bread. Perhaps so, the people in Phu Yen eat soup with a spoon, not very often with chopsticks.
Soup bowl is served hot with the characteristic pungent smell of chives, the attractive aroma of fish is extremely attractive. People will eat a little spicy chili, a little sour acidity of lemon and eat right when it is still hot. Enjoying the whole ocean in a spoon of soup makes us feel that life is suddenly beautiful. This is one of the delicious breakfast dishes in Phu Yen that you cannot ignore.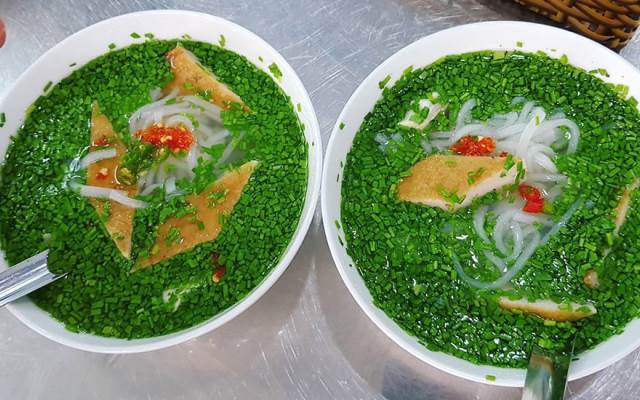 Looking at it already hungry, right? Photo Collection
You can enjoy food at some of the following addresses in Phu Yen
59 Dien Bien Phu – Tuy Hoa City – Phu Yen
48B Nguyen Trai Street, Ward 4, TP. Tuy Hoa – Phu Yen
Song Cau chives grilled fish soup: Le Loi street corner at the foot of Cau River – Tuy Hoa City – Phu Yen
Corner of Tran Hung Dao street (on the side of Tuy Hoa market)
Noodles jellyfish
For those in the city or highland mountainous provinces, you should definitely try this special dish of Tuy Hoa Phu Yen, because this is a specialty only in the seas. Many people often worry that it will cause itching, but you can be assured that the people here have chosen and prepared it carefully. Jellyfish is often used to cook here is a kind of white jellyfish legs, long shape, crispy crunchy food very well. When the jellyfish has just been picked up, it will be scrubbed clean to remove the mucus, then soak guava leaf water, alum or soaked rice water for a few hours to se them then rinse with clean water to be eaten immediately. .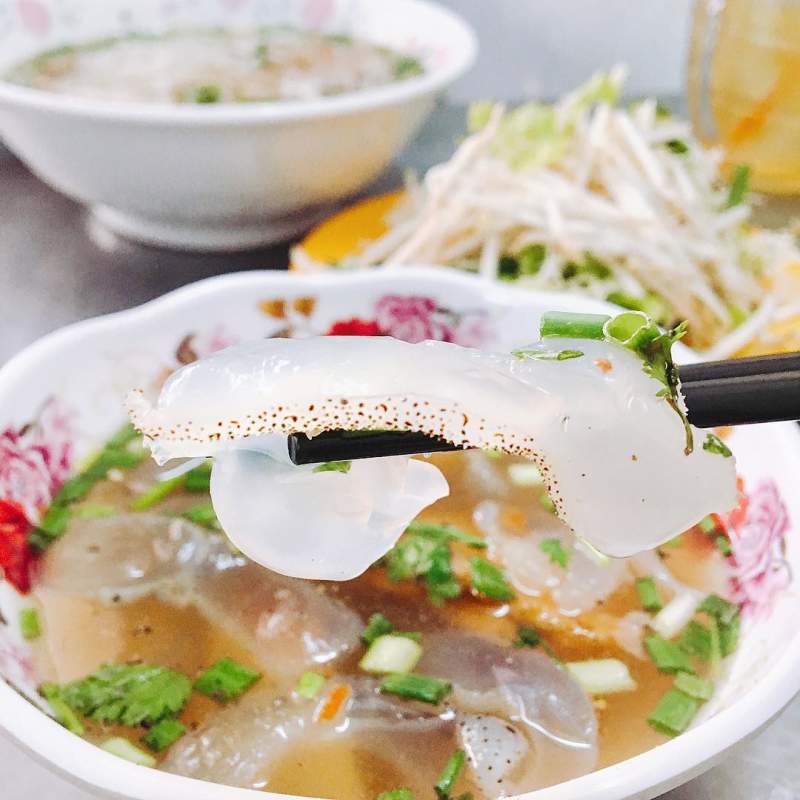 Jellyfish are thinly cut in white, eating a strange crispy crispy mouth. Photo Collection
Jellyfish noodle soup is made from bone jelly then cooked with fresh shrimp and tomatoes to add flavor. The topping part of jellyfish noodles also has fish ball made from mackerel, finely grilled barracuda, then cooked. When the customer calls, the owner takes the noodles and jellyfish to eat in the bowl, chan into the tablespoon of hot broth with all the ingredients, then sprinkle with cilantro, onion and a little peanuts and bring it to the guests. This dish is often served with raw vegetables.
Enjoy a hot bowl of noodles with chewy noodles, a crunchy white jellyfish, a little peanuts from peanuts and a mild sour taste from the impressive broth. Don't forget to add a little chilli because most of the Central people eat spicy food, so they need to add a little spicy to call Phu Yen standard. Besides jellyfish noodles, jellyfish salad is also an equally attractive dish that you should enjoy.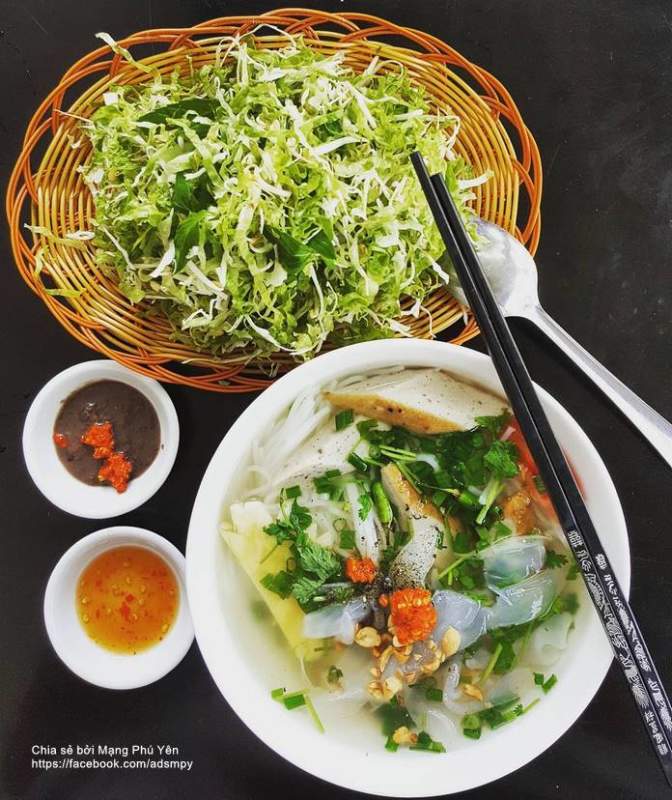 Jellyfish noodles are often served with finely chopped raw vegetables. Photo: Phu Yen Network
Some delicious restaurants in Phu Yen sell jellyfish noodles that you should refer to
Phu earth fish noodles: 169 Le Thanh Ton – Tuy Hoa City
Hoang Linh Vermicelli: 166 Hung Vuong – Tuy Hoa City
Tuna eye
Just hearing the name is very interesting and wants to come to Phu Yen to enjoy right. Always in the top of the delicious dishes in Phu Yen, you must try, the tuna eyes not only impress by the name but also awaken the stomach of real lovers because of the extremely delicious taste. In addition, this is a very nutritious dish including high content of DHA and Omega 3, which is good for eyes and brain, so it attracts a lot of tourists to come here to enjoy.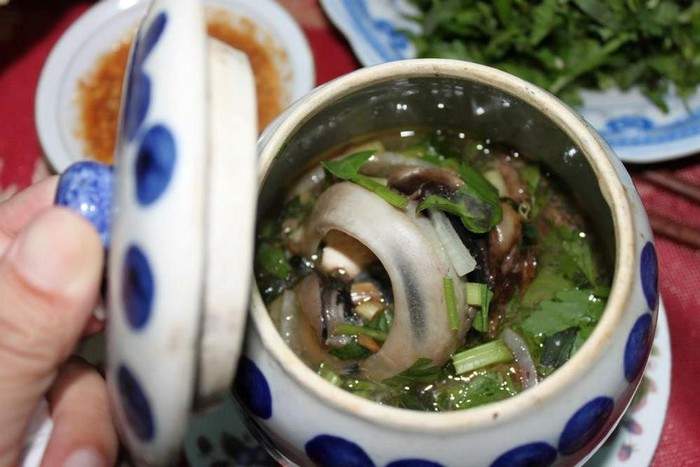 It looks a bit scary but make sure to eat it will love you immediately. Photo Collection
Tuna eyes after being caught will be cleaned to eliminate the fishy smell, then marinated in spices and put into a small bowl of stew with Chinese herbs. Just so simmering and adding garlic and chili to spice to increase the deliciousness of the dish. When bringing out ordinary people to enclose under a small alcohol stove to keep the warmth for the dish, it will be more attractive and less bored.
It may seem a little scary at first glance, but when you eat the fatty greasy taste of the ankle and the aroma of Chinese herbs is extremely impressive that you can not stop. Adding a little herbs to reduce the fat of the ankle is the secret that many people impart. However, because of the fat of the ankle, it is often eaten quickly, each person can only eat one bowl is just delicious, so this is considered a playboy in Tuy Hoa only. The price of this unique dish is also quite friendly, only from 40,000 VND – 100,000 VND / piece only.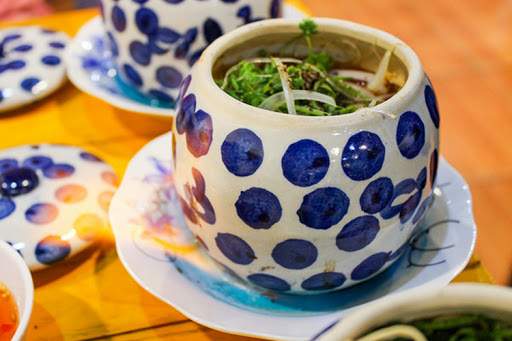 Under the bowl often put a small plate of alcohol to keep the dish hot and delicious. Photo Collection
You can enjoy specialties that are unique to Phu Yen at the following addresses
Ba Tam Restaurant at 289 Le Duan – Tuy Hoa City
Quan Son Cau Go shop in Bach Dang embankment
Oyster porridge
Oyster porridge is a delicious dish of Phu Yen that has the unique flavor of this land that can not be found anywhere. The most famous oyster porridge is in O Loan Dam with succulent oysters. The oysters after cleaning, stir fry with onion fat, add seasoning, sautéed gold, and then pour it on a separate plate. Rice to cook porridge is usually red rice, a little more sticky cooked until the rice hatches, and has a smooth match. Ladle a bowl of hot porridge, add a few tablespoons of stir-fried oysters, sprinkle some cilantro with a bit of pepper or gung extremely attractive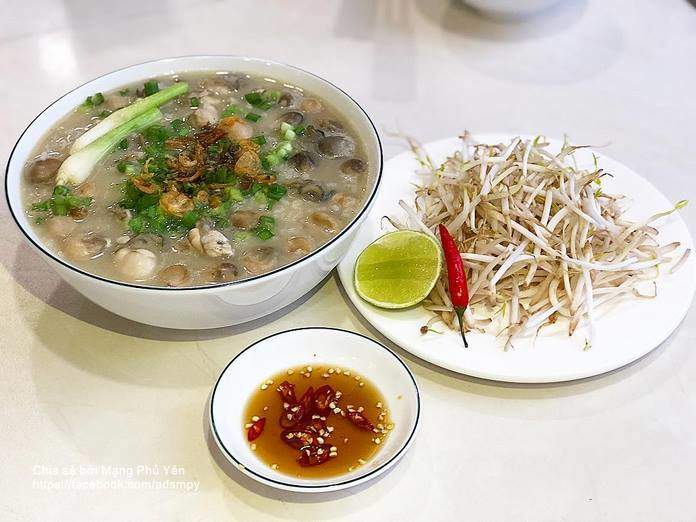 Oyster porridge to eat the same price and add a little spicy fish sauce is the best tune. Photo: Phu Yen Network
People often tell each other that Phu Yen oyster porridge should eat when cool to taste good. At this time you can just feel the rich sweetness of porridge and oysters, the spicy taste of pepper makes it impossible to stop eating. Some restaurants also cracked an additional egg as soon as the porridge was scooped out hot to increase the nutrition and deliciousness of the dish.
You can enjoy specialties at some addresses after visiting Phu Yen
Oyster porridge Le Loi, 363 Le Loi, Tp. Tuy Hoa, Phu Yen
373 Nguyen Hue, Tp. Tuy Hoa, Phu Yen
Around the area of O Loan lagoon
Cha Dng
It sounds strange to hear the name, but it's similar to how to make ram cha in the north, but instead of the main ingredient being pork, this dish is made from the Thunder. This is a species that is abundant in the Central waters, has a long shape like a salamander or a termite, but it is often difficult to catch because they can sprinkle into the sand very quickly, only the people of the sea Experienced can catch.
Thunderstorms after catching will be skinned, removed intestine, boned and then pureed. The thunderstorm method is also quite elaborate because if it is not cleaned, the meat is eaten and it is easy to fishy and has a fragrant odor. Bring the mashed thunderstorm meat mixed with cat mushrooms, chopped botanical herbs, add chicken eggs and a little seasoning, mix and use the rice paper to make a crispy fried. Spring rolls are also served with raw vegetables, pickled cucumbers and dipping sauce and spicy sauce like other kinds of spring rolls. Eating crispy spring rolls outside, hot and fragrant inside combined with fresh and cool crispy cucumber vegetables is extremely attractive. Fragrant thunderstorms, not soft in mouth, quite strange mouth. This is truly a specialty dish in Phu Yen that you definitely have to try.
You can enjoy unique and attractive dishes at Phu Yen at some addresses such as
Grilled spring rolls – Cha Dong, 92 Nguyen Cong Tru, Ward 3, Tp. Tuy Hoa, Phu Yen
Nem Cay Thunderstorm Restaurant: 209 Ba Trieu, Ward 7, TP. Tuy Hoa
To say what is the best dish in Phu Yen is difficult to evaluate because each dish has its own unique flavor, not to mention nobody has the same taste, who likes to eat this dish, and people love it. other. So you come to Phu Yen immediately to enjoy the quintessence of culinary richness and richness here. Do not forget to book at VietNampeace to receive many incentives and save money so you can discover more interesting food destinations no less!