Traveling to Da Nang Hoi An is an attractive choice for many young people. Because these two locations possess a lot of beautiful scenes, interesting amusement parks or interesting things that everyone wants to visit once. But to have an interesting and economical trip, you should prepare yourself the necessary luggage before you leave. And here are a few interesting suggestions for you in the trip to Da Nang – Hoi An.
The ideal travel time
Da Nang – Hoi An are provinces and cities located in the central strip of our country, with mild weather throughout the year. Therefore, you can visit these two cities at any time of the year. But usually in the dry season, around January to July will be better suited for your travels. This time little rain, beautiful sunshine, mild. The weather is very suitable for sightseeing or swimming.
Some time later, this area enters the rainy season, sudden thunderstorms will interrupt your visit, the last months of the year the weather will be cold, the atmosphere is more bleak. However, according to the Da Nang Hoi An tourism experience of many travelers, before starting the tour, the weather is an issue you should update regularly to be more active in your journey.
Way to move

Arrive in Da Nang – Hoi An by plane
This is also part of the preparation work that you should calculate in advance. After choosing your travel date, you need to book your flight early about 1 month in advance for a more preferential price. Currently, low-cost airlines like Vietjet Air or JetStar often have many discount promotions for tickets so you can buy the tickets at extremely cheap prices. Sometimes, you only pay 700,000 for a round-trip ticket, too cheap is not it. But normally, the round trip ticket price of 1 million / person is already very good. With air tickets, you just need to book as soon as the price will be cheaper, so to save travel costs, time and still ensure safety, you should go by plane and remember to book early.
Transportation in the city
In the travel itinerary Da Nang Hoi An, usually you can travel by two means that are motorbikes or cars. When you come to Da Nang, you will see many car rental shops, the price ranges from 100,000 VND – 150,000 VND / car / day. You just need to leave your identification card and pay in advance the amount corresponding to the number of days you rent, and you will have a motorbike to go anywhere. In addition, if you want to explore in a softer way, you can fully rent a taxi or rent a car tour they are always ready to take you anywhere. But this form of transportation has a high cost, often suitable for family or group travel.
Suggestions for a place to visit Da Nang Hoi An 4 days 3 nights
Day 1: Go straight to Danang
In the morning, flying to Da Nang will take you more than 1 hour. From here you can take a taxi to the hotel. Or if you rent an airport shuttle from before, there will be a car waiting at the airport.
Arriving at the hotel, check in and store your belongings, then start your journey to visit Son Tra peninsula , where the majestic and serene Linh Ung Pagoda , and the most striking is the 67-meter-high Quan The Am Buddha, This is also the tallest Buddha statue in Vietnam. If you have time, you can enlist to visit the top of Ban Co, where you can admire the panoramic view of the very romantic city.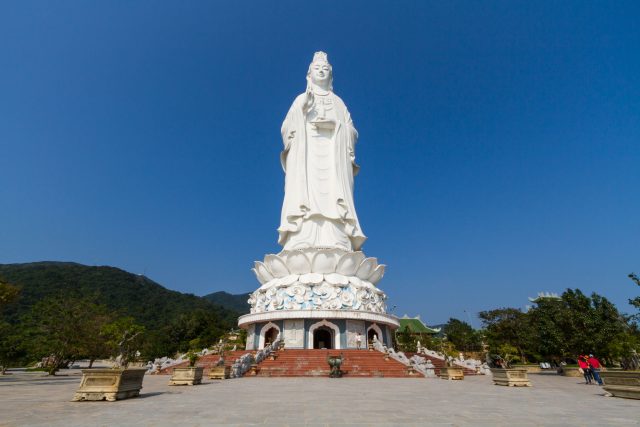 In the afternoon, when the sun has calmed down, you can continue your journey by visiting and playing at My Khe beach, a beach famous for its charming beauty, once visited by many foreign news sites. is the most beautiful beach on the planet. Certainly, here you will have relaxing and comfortable moments to immerse yourself in the cool blue water of the sea here.
Day 2: You can choose one of the following locations
Have fun at Asia Park – Asia Park
This park is built with many interesting games, from light-hearted fun to thrilling games that make you "screaming". There are many unique games here that have just appeared for the first time in Vietnam, so you can freely explore them. In Da Nang Hoi An tourist map , this park is always an indispensable destination for every tourist. Here is divided into three play areas including: Sun Wheel area, which owns many unique constructions such as Dragon Boat, City Gate, Buddha Statue or Clock Tower … Go to the indoor amusement park where you can Enjoy with a lot of exciting games. Finally, the Sun Wheel, where you can experience the feeling of sitting in the cabin to admire the beauty of Da Nang from an altitude of 115 meters.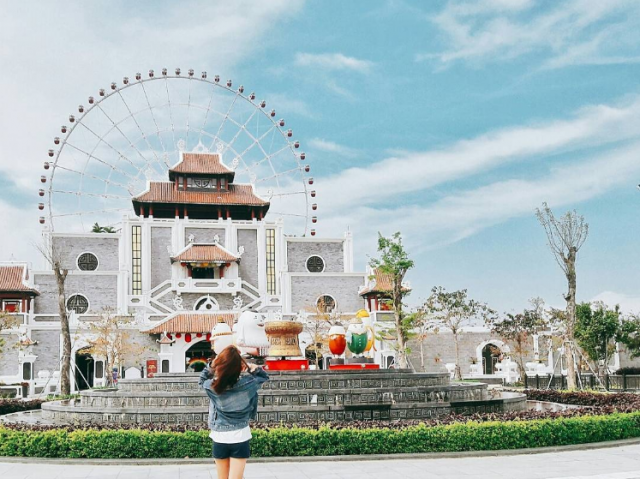 Surely this tourist destination is no stranger to those who love traveling, and this is also a place that many people desire to visit when they have the opportunity to visit Danang. As soon as you take the cable car to Ba Na Hills, you will admire a lot of natural beauty here, with a cool climate.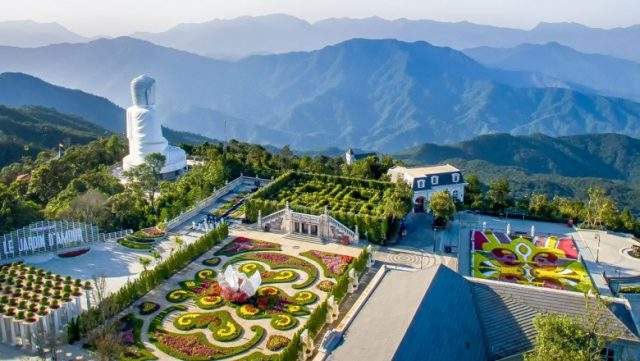 Coming here, you will admire many beautiful places, along with unique works such as: d'Amour Flower Garden, Debay Wine Cellar, French Village with classic architecture are recreated very honestly, enjoy relaxing and entertaining moments at Fantasy Park, or visiting the tranquil beauty of the pagoda scene at Linh Ung Pagoda. Along with there are countless interesting discovery games that you should not ignore such as Tube Sleds, Mountain Trains …
Hoa Phu Thanh tourist area
Hoa Phu Thanh is an eco-tourism area that is loved by many tourists because of its fresh, green natural space, and many interesting recreational and resort activities. Prominent among them is the waterfall and Zipline game, these are quite large-scale investment games, attracting a lot of tourists who love to explore and adventure. Besides, this resort also has a playground for children, and a very unique and interesting fish massage service.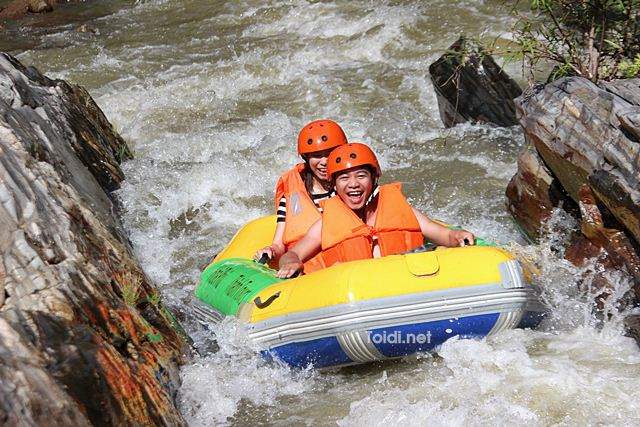 In the evening, back to the city you can go to the Han River to see the Dragon Bridge – the famous bridge of Da Nang city in the shape of a dragon reaching out to the sea, or to the Love Bridge where there is a romantic scene is loved by many young people, then the statue of Carp transforming into a dragon – a unique image, imprinted with folklore is reproduced here.
Day 3: Visit Marble Mountains – Hoi An Ancient Town
On day 3, the tourist destinations in Da Nang Hoi An are a lot more diverse. In the morning, you will visit Non Nuoc beach, Marble Mountains and Hoa Hai stone carving village. These three locations are located close to each other, so it only takes one trip to visit many of the beautiful scenery here.
Continue the journey, you will come to Hoi An Ancient Town, which owns a lot of unique buildings and ancient architecture, which has been honored as a World Cultural Heritage. Coming here, is an opportunity for you to admire the unique works such as Guangdong Assembly Hall, Fujian Assembly Hall, Japanese Covered Bridge, Phung Hung Old House, Old House of Tan Ky …
In the evening, you can admire the shimmering beauty, the fading of the lantern town, or the posted flowers that people and tourists drop into the river creating an extremely poetic and romantic scene.
Day 4: Going to Da Nang Con market
On the last day, you can go to the big markets in the city like Con Market to buy many famous Da Nang seafood , dried food or souvenirs as gifts for your relatives and friends. Not only that, Con market also has its own food court with a lot of delicious dishes at quite cheap prices that you can freely enjoy without having to worry about the price. After shopping and enjoying the delicious delicacies here, it is time for you to return to the hotel to prepare luggage and hit the road back home, ending your Da Nang Hoi An tour.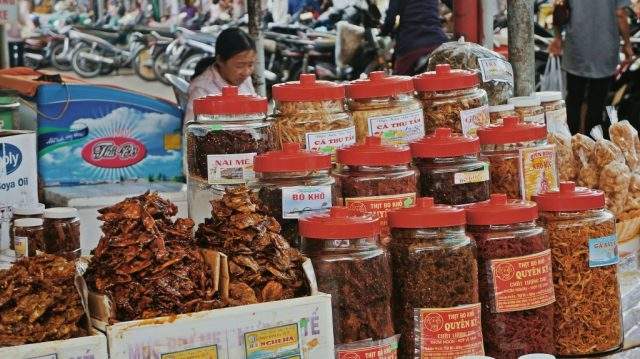 Places to eat in Da Nang – Hoi An
Places to eat in Da Nang – Hoi An
In Danang
There are many good eateries but do not miss:
– Tea rubs Mrs. Cham pomegranate seeds at 187 Hai Thanh, Thanh Khe, Da Nang.
– Spring rolls – banh xeo – bun kap Loan Loan, Nguyen Cong Tru
– Quang Noodle No. 1 Hai Phong
– Ba Lan fish ball vermicelli No. 94 Nguyen Thi Minh Khai
– Tran pork roll rice paper at Le Duan
– Co Hue beef rolls in Ton Duc Thang street
– If you want to go shopping, go to Con market instead of Han market
In Hoi An
– Enjoy the high floor at Thanh Cao Lau on Thai Phien street
– Famous Phuong bread on Phan Chau Trinh street
– Chicken Xi rice on Tran Hung Dao street
– Sip a delicious cup of coffee at Reaching Out 131 Tran Phu
Above are just a few to share about places to visit, have fun, eat … that you can refer to for your trip to Da Nang Hoi An . Hopefully, with the above information will be somewhat helpful for you, from which to create an attractive, interesting trip.