Quang Tri, the heroic land of our nation, is the place to preserve vestiges of a time of fire and war. Today, this land is gradually rising up, modern and catching up with the development pace of the country. If you want to go to a place to learn about the history and sacrifices of the previous generation to protect the independence of the country, Quang Tri is the land for you. Let's explore this heroic land with VietNampeace!
Quang Tri tourism handbook need to know
The right time
You can travel to Quang Tri at any time of the year but should avoid the following two periods:
May, June: hot weather due to the dry wind
July, November: rainy season is inconvenient for sightseeing, going to the beach
Move
Plane: There is no airport in Quang Tri, but you can book a flight to Quang Binh or Hue and then from one of these two places continue to take the car to Quang Tri.
Bus : From Hanoi bus stations, you can catch the bus to Quang Tri easily, fares range from 250,000 – 300,000 VND depending on each vehicle and each different time.
Train : You can buy tickets to Quang Tri at all stations, the cheapest train ticket from Hanoi to Quang Tri is more than 300,000 VND for hard seat seats and the most expensive is about 700,000 VND for soft air-conditioned tickets. Travel time from Hanoi to Saigon is about 12 hours if you travel by train.
Places to visit
Quang Tri Citadel
Address: Ward 2, Quảng Trị town
Quang Tri Citadel was built in 1809, under the reign of King Gia Long. At first, the city was filled with earth, then rebuilt with bricks. When the French colonists invaded our country, they built a prison here to hold our patriotic political prisoners. This is also the place where fierce wars of the people took place. Therefore, it can be said that the ancient city has great historical value to our people.
Quang Tri Citadel (Photo: Collection)
Vinh Moc Tunnels
Address: Vĩnh Thạch town, Vĩnh Linh district
Built in 1965, after 2 years, Vinh Moc tunnel is completed with a length of about 2000m. The Bay Moc tunnel system consists of 3 floors, each of which is used for a different purpose such as living, storing weapons and avoiding bombs. So far, the architecture of the fortress has not been devastated but has kept most of its original architecture intact.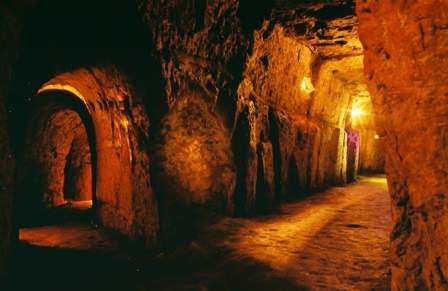 Vinh Moc Tunnels historic site (Photo: Collection)
Cua Tung Beach
Place: Vinh Quang Commune, Quang Tri Province
As a beautiful beach with white sand and clear blue water, Cua Tung beach attracts a lot of tourists to visit in the summer. It also owns eight red-tinged Badan headlands, rushing together to the sea, forming a spectacular tortoiseshell comb. Here, besides Quang Tri tourism site, it is also a place to lead tourists to a series of historic sites such as the 17th parallel, Truong Son martyrs cemetery, Vinh Moc Tunnels …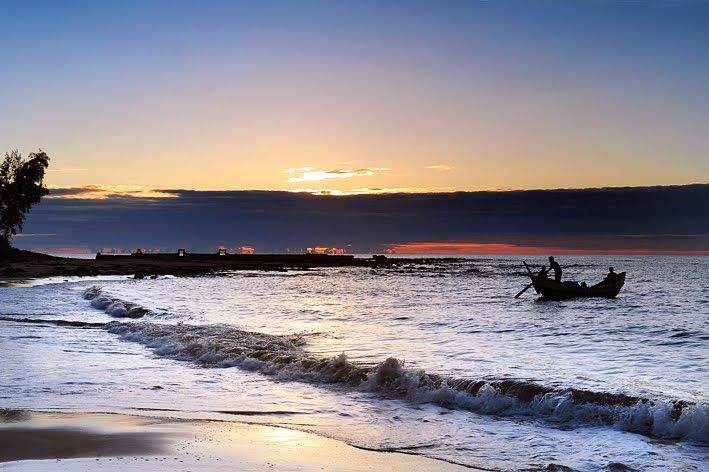 Cua Tung Beach is not inferior to other famous beaches (Image: Collection)
Truong Son martyrs cemetery
Address: Ben Tat hill, Vinh Truong commune, Gio Linh district, Quang Tri province (about 38km northwest of Dong Ha town).
This is the largest national martyrs cemetery, gathering the graves of volunteer youths, soldiers, fire workers …, who built and fought to protect the legendary Ho Chi Minh trail during the time. the resistance war against the US to save the country.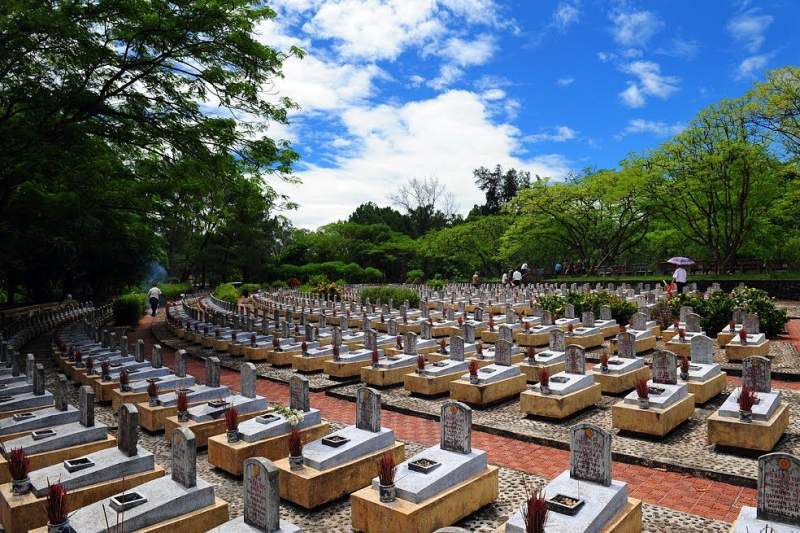 Truong Son martyrs cemetery (Image: Collection)
Truong Son martyrs cemetery is divided into 5 different areas. The center is located on a high hill with a monument of white stone soaring majesty, hollow and three-sided, showing the immense loss of the country. Four martyrs' graves are arranged by province and city spread over five different hills. Alternating the tombs are the forests, the path to the tombs is paved, brick or cemented and each area has a memorial house with the architecture of the countryside.
Con Co Island
Address: About 30km from Vinh Linh beach
Con Co Island has a relatively round shape, its height is from 5 to 30 meters above sea level, and in the middle of the island is a hilltop. Normal transportation will not be able to reach the island when wind is at level 6 or higher. In addition to its historical value, this island has a lot of potential for tourism because of its beautiful pristine scenery with clear blue water, even this island is known as "Jade Island in the East Sea".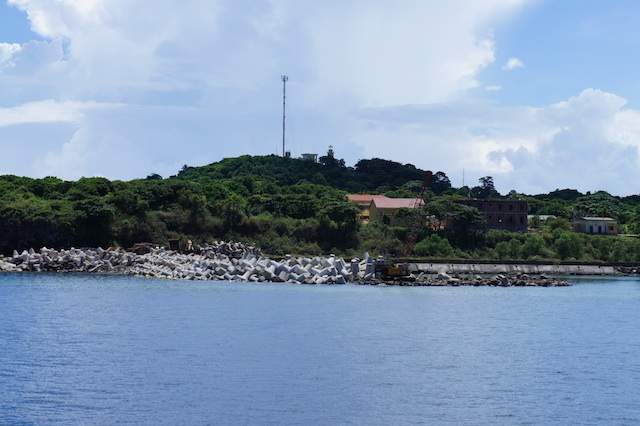 Con Co Island (Image: Collection)
Dakrong landscape
This scenic area has a beautiful Dakrong river hidden in it with legends full of epic and humanities, with a charming Dakrong Bridge among thousands of clouds, rivers, mountains and mountains in the West of Quang Tri. In addition, it also owns a valuable natural mineral water mine and is an important intersection of Ho Chi Minh route and Highway 9, the road through Asia through the Lao Bao – Den Sa Van international border gate.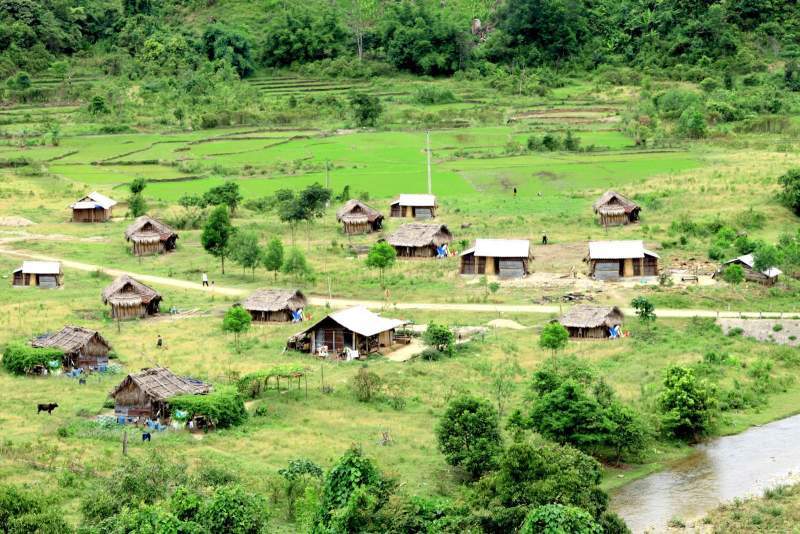 Idyllic mountainous landscape (Image: Collection)
Khe Sanh base, Ta Con airport
Address: Tan Hop commune, Huong Hoa district (from Dong Ha city, follow National Highway 9 to Huong Hoa district, then ask for directions to Tan Hop commune)
These are extremely famous places and are no strangers to every Vietnamese because it is mentioned in the history lessons from a young age. Coming here, you will hear about 170 days and nights of fierce fighting between us and the US, about the obsession "Dien Bien Phu at Khe Sanh" of the enemy. Coming to Khe Sanh base, you will feel some of the pain of war and the sacrifice of the previous generation so that we can have a peaceful life like today.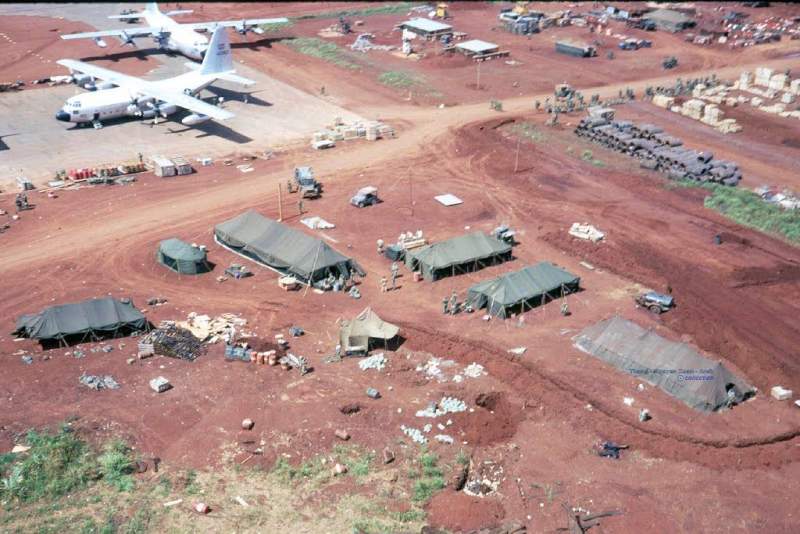 Khe Sanh base, Ta Con airport (Image: Collection)
Lao Bao border gate
Address: Lao Bảo town, Hướng Hóa district, Quảng Trị province
Lao Bao is a very busy border between Vietnam and Laos. From here, you only need a few minutes to complete the procedure to travel to the beautiful Savannakhet province of Laos. It is very interesting and extremely convenient that you absolutely can bring your motorbike from Vietnam to Laos here to easily travel and explore places.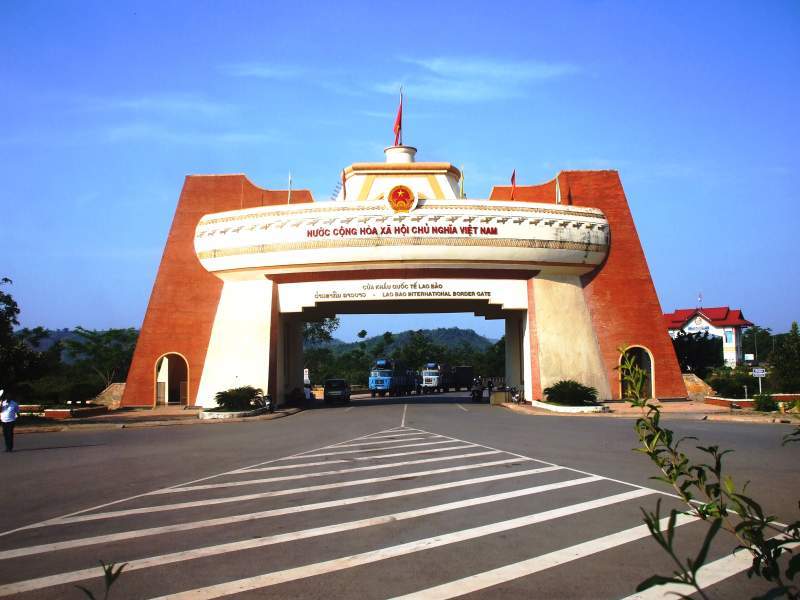 Lao Bao border gate (Photo: Collection)
Cuisine
Buffalo buffalo meat
Buffalo meat has a sweet taste and has a very useful curative effect, it can be said that buffalo meat possesses more nutritional value than beef. The leaves are a kind of prickly leaves that grow wild in Quang Tri mountainous area, this kind of leaf has a typical aromatic, spicy flavor. Buffalo meat dish becomes a special favorite of Quang Tri people because when you eat, you will feel the sweetness of buffalo meat mixed with the spicy and aroma of the leaves to create an unforgettable characteristic flavor for with diners.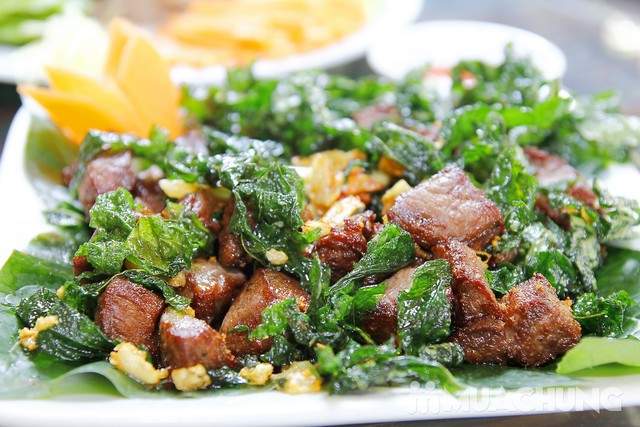 Buffalo buffalo meat (Photo: Collection)
Quang Tri Filtered Cake
The crust is made from tapioca, the filling is made from many different ingredients such as pork, chicken, shrimp, green beans but delicious and most suitable is still fresh shrimp and minced pork, spiced, fried cooked. The filter cake in Quang Tri is made very small with the meaning that when displaying the dish on the tray of rice, the small cake will create a little feeling and therefore people will eat it all, not let it be redundant. This characterizes the frugal living quality of people here.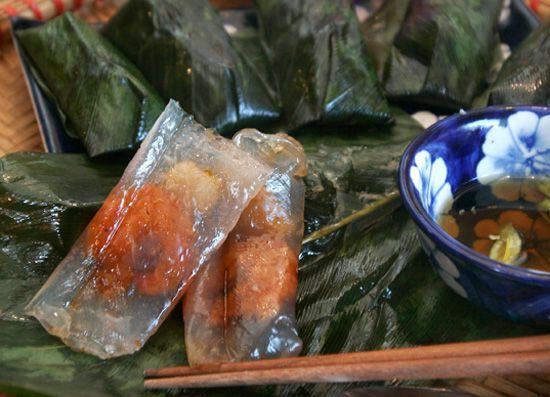 Quang Tri Filtered Cake (Photo: Collection)
Canh haunted the village of Am
Soup is a specialty of the hometown of Hai Lang (Quang Tri) which is cooked from two main foods: snakehead fish (betel fish) and Song vegetables. Want to cook delicious soup, the snakehead fish must be copper snakehead fish, if the eggs are even more wonderful than the vegetables, the river must just pick from the tree down and wash it so that it has not wilted before being rounded.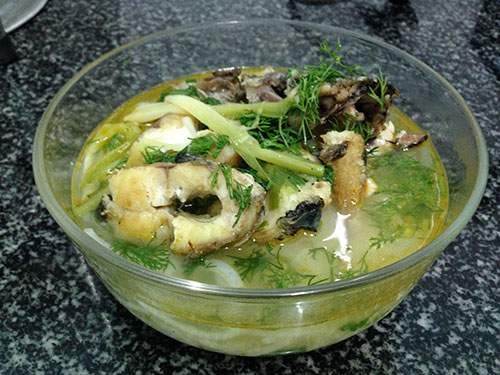 Am haunted the village of Am (Image: Collection)
When enjoying the sour river vegetable broth with acrid taste and this dish is used by Quang Tri people in daily meals, death anniversaries and New Year.
Fanciful cake
Quang Tri favorite cakes are made from rice flour, with room for adding mushrooms and seafood, however, the most popular is simply with shrimp or meat with bean sprouts. The delicious cakes here must be served with vegetables such as watercress, young broccoli, sliced figs, etc. . The food is simple, simple but still makes diners remember the taste forever.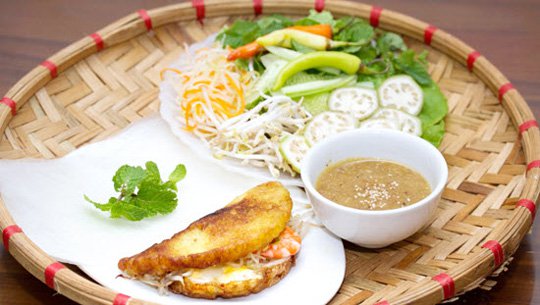 A delicious cake in the countryside (Image: Collection)
Mai Xa mussel noodle
Bun Hen Mai Xa is a specialty of Mai Xa village, Quang Tri. Although called mussels vermicelli but actually it is made from great-grandchildren, a species of the mussel family but smaller and darker. The way to make this dish is not too complicated, you just need to strain it with onions, spices until they hunt and then pour water. When the soup boils, remove the noodles and add the broth with some herbs, a little ginger and a bit of spicy chili on top, there is already a bowl of low-fat mussel vermicelli and it is very delicious as Quang Tri.
Delicious mussel noodles (Photo: Collection)
Porridge flap bed
Called porridge but in fact it is not porridge. This dish is made from rice flour and snakehead fish. A pinch of strands, some fragrant snakehead fish, add some cilantro, fresh chili and pour the broth into, so porridge is ready for you to enjoy. You will be very difficult to forget because of the hot, hot face, tongue burns of this heaven, chili, regardless of summer or winter, slurping a bowl of hot bed porridge will bring you extremely excited feeling.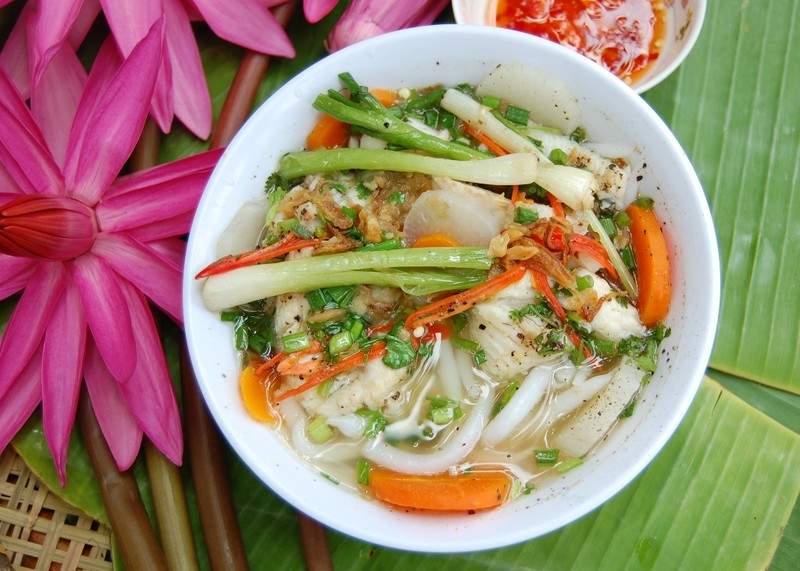 Bed porridge porridge (Image: Collection)
Lemongrass heart porridge
Lemongrass porridge or also known as the heart drop is a very famous dish in the land of wind and sunshine Quang Tri long. This soup is made from beating pig's blood or duck's blood, then pouring into a pot of lemongrass water, seasoning spices and adding roasted rice with yellow and green beans to cook until cooked, after adding, add crush Pork or duck heart, wait for the water to boil again.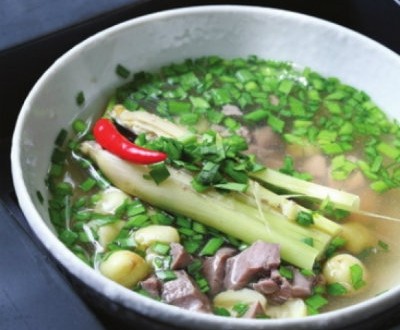 Lemongrass porridge (Image: Collection)
Corn stew
One must choose round, shiny, shiny, bright yellow sticky corn grains to make this dish. Those carefully selected corn grains will be treated very clean and soaked overnight, the person who made the corn awakens very early to take out, put into the pot and simmer gently with dry wood. Wait until the corn has just cooked, then for the prepared spices like boiled green beans, sugar, salt, pepper, add a little sesame (sesame) mix well together. The stew is delicious, pliable and makes us feel a part of the lifestyle of Quang Tri people.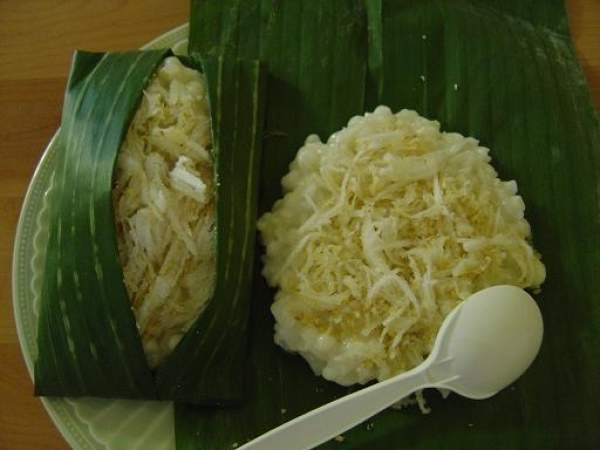 Corn stew (Image: Collection)
Hemp leaves little cakes
Little thorny leaves cake is made from hemp leaves, green beans, banana leaves. The cake has less thorny leaves when eating, it has a flexible feeling, the tongue has a fleshy taste and the sweetness of sugar, the light aroma of green beans sprinkled with banana oil. This is usually used first to worship ancestors, then used at weddings and finally as a gift to take away. This dish tastes like the central countryside, simple as the people here.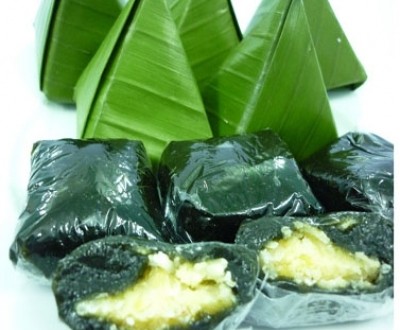 Cake with little thorns leaves (Image: Collection)
Phuong Lang wet cake
Whenever people mention the name of Phuong Lang in Quang Tri, people always think of the famous wet cake associated with the village's name.
Wet cakes are made from rice water, specifically, after being washed, soaked in water for one night, then ground into flour, then rinsed with boiling steam. The cake must be coated neither too thick nor too thin. Once finished, the cake will be stacked and served with meat, some raw vegetables and dipping sauce. The bread will taste better when it is hot, because it is softer now.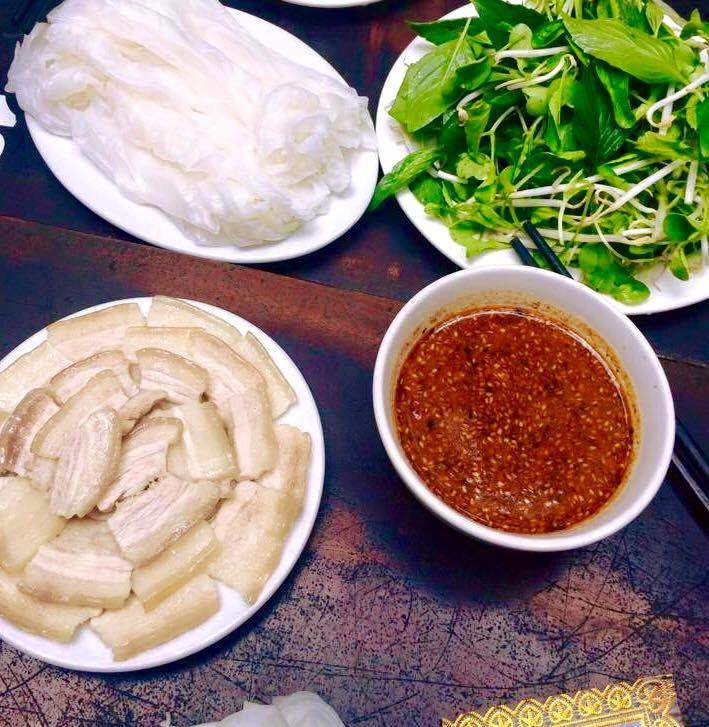 Wet bread served with raw pork and vegetables (Image: Collection)
Accommodation in Quang Tri
Sai Gon Dong Ha Hotel
Address: Số 1 Bùi Thị Xuân, ward 2, Đông Hà City
Standard: 4 stars
Sai Gon Dong Ha Hotel stands out among the hotels in Dong Ha for its luxury, convenience and modernity. This will be an ideal destination for tourists and also a convention, wedding, conference and professional center in Dong Ha.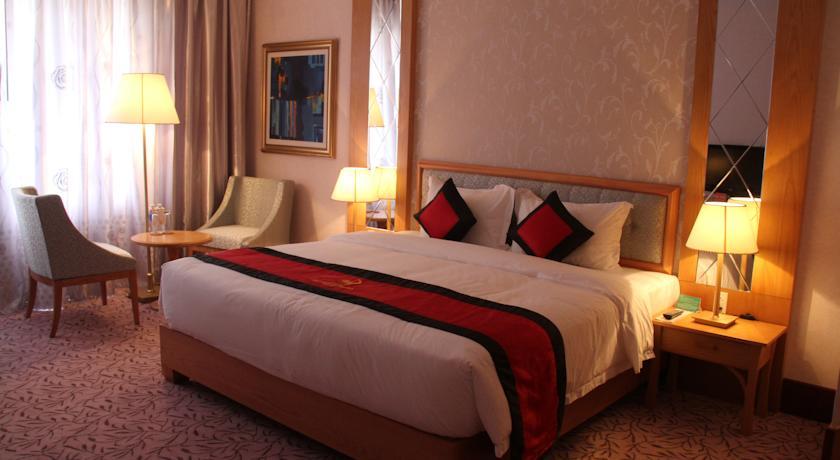 Accommodation at Sai Gon Dong Ha Hotel (Image: Collection)
The hotel is equipped with free wifi, 3 restaurants, a spa with relaxing treatments, beauty, 2 bars, a lounge to help you get the most comfortable vacation time.
Bao Cuong Hotel
Address: Số 3 Lý Thường Kiệt, Thị Trấn Lao Bảo, Hướng Hóa District
Located in the Makdahan Thailand supermarket chain, Bao Cuong hotel possesses high quality service with rooms equipped with TV, free WiFi and mini bars … From this hotel, visitors can move to Lao Bao Trade Center for shopping, or for those who intend to visit Laos, from here to Lao Bao border gate is also extremely close and convenient.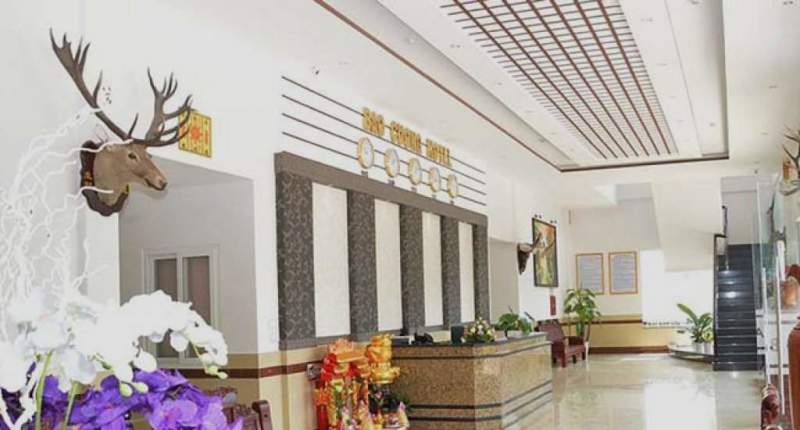 The hotel is clean and airy (Image: Collection)
Golden Quang Tri Hotel
Address: 295-297 Le Duan, Dong Ha City
Standard: 3 stars
Located right in the heart of Dong Ha city, Golden Quang Tri Hotel offers you the most comfortable rooms with utensils to meet the needs of the full living. In addition, the hotel also has a full restaurant serving Quang Tri specialties, a bar, massage service rooms, spa, sauna … From this hotel, you can visit the locations, the famous historical sites of Quang Tri easily.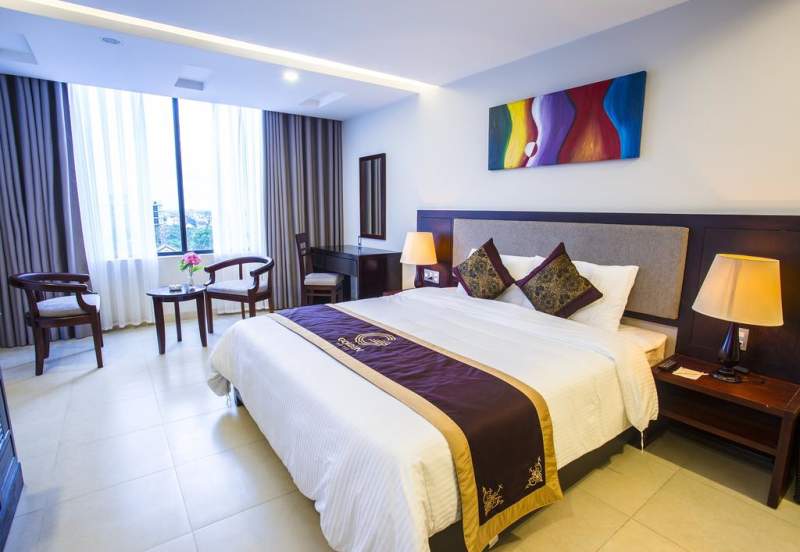 The bedroom is quite comfortable and luxurious (Image: Collection)
Above is VietNampeace's Quang Tri travel guide to introduce to you. Have a nice trip to the heroic land!