If you stop in Sapa, do not just pose and forget to explore the rich cuisine of this beautiful fog town. Let VietNampeace lead you to 5 delicious Sapa specialties that every visitor coming here must definitely try.
The delicious Sapa specialties are famous
1.The rainbow trout
Surely those who have not been to Sapa have thought that only in countries with a mild climate can catch fresh salmon. However, you will have to change your mind immediately because right in Sapa, salmon is the first "sought" food by diners from all directions.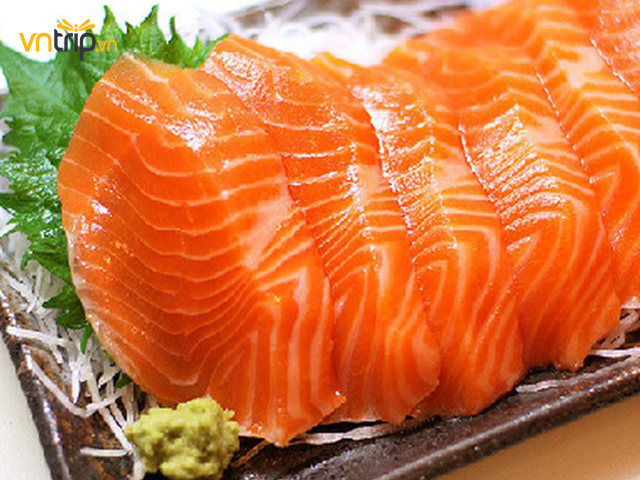 Sapa rainbow trout (Photo: Collectibles)
The main types of salmon farmed in Sapa are rainbow trout, aromatic fish, firm and sweet meat, hunting meat and no fat. This eye-catching colored fish is processed into many different dishes such as salmon salad with green pepper sauce, salmon salad, grilled salmon, … but the most attractive is Salmon Hotpot.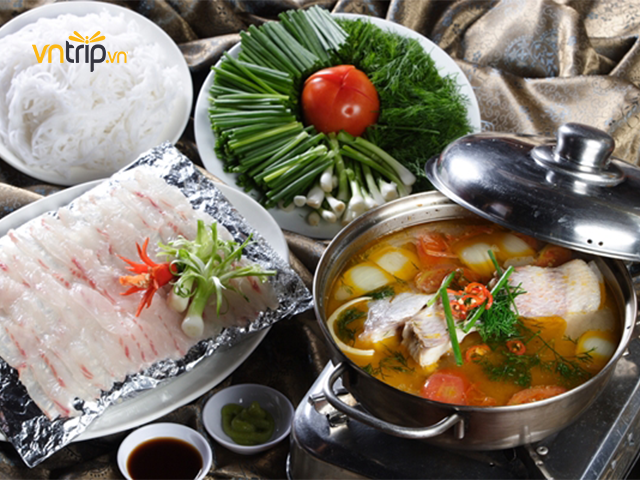 Salmon hotpot (Photo: collectibles)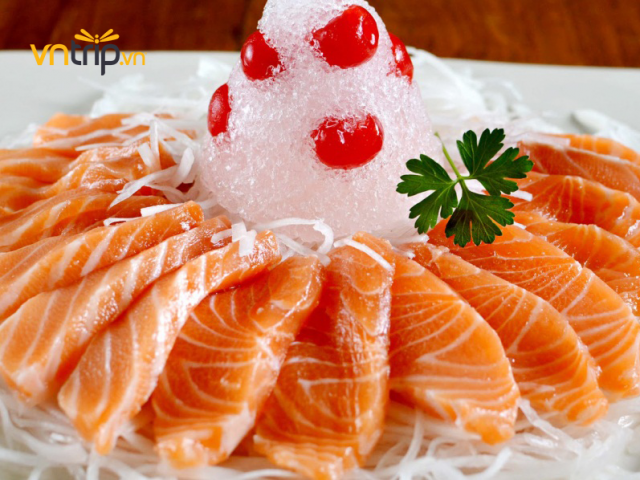 Salmon salad (Photo: collectibles)
You can enjoy delicious dishes from Sa Pa salmon here:
Hong Long Restaurant (69 Xuan Vien, Sapa town, Lao Cai province)

Sa Pa Cuisine House (Victoria Lane, Xuan Vien, Sapa town, Lao Cai province)

Quynh Anh Restaurant (05 Fanxipan Street, Sapa Town, Lao Cai Province)

Rose Restaurant (48, Le Van Tam Street, Sapa Town, Lao Cai Province)
2. Try
People often visit each other with the phrase "Come to Sapa without trying Thang, you cannot come back". This rather strange name is a specialty of H'mong people in the Northern provinces.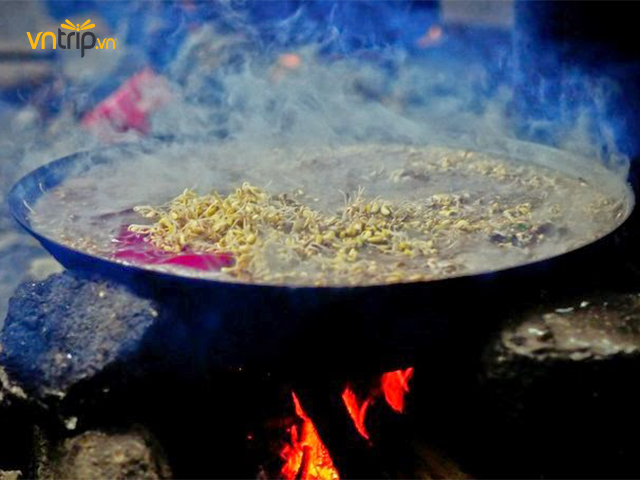 Ethnic cuisine (Photo: Collectibles)
Coming to the fair or love market in Sa Pa, visitors often come across the huge pan with hot air, which is the winning pan. Thang Co ethnic minority language means a pot of buffalo meat, beef and horse offal, stewed bones and spices, served with vegetables dipped in mustard greens, kohlrabi kohlrabi and hotpot . So what is different from plowing the pigs in the plain? The difference in this unique dish is the bitter taste of the horse heart, which the ethnic people intentionally leave behind.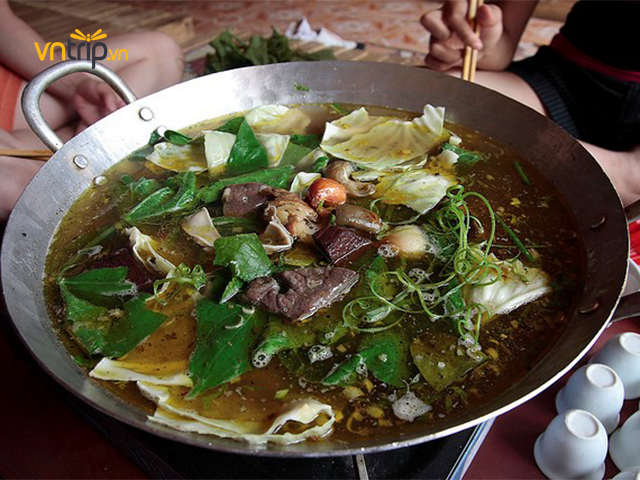 Warm in the cold weather with the bowl of victory (Image: Collectibles)
In Sa Pa town, there are also many shops and restaurants that try to give you convenience to enjoy:
A Quynh Sa Pa victory (No. 15 Thạch Sơn, Sapa town, Lào Cai province)

The late Ngoc Cu victory (Luong Khanh Thien, Duyen Hai ward, Lao Cai city)

Winning the Hoa Dong Tien restaurant (No. 29 Cau May, Sa Pa, Lao Cai)
Most restaurants "change" this dish into many different versions to suit the taste of customers, but still based on the recipe and ingredients. To be able to experience the traditional taste of the ethnic people, you can visit the Bac Ha fair market every Sunday meeting from early morning to 2 pm.
3. Barbecue
Perhaps because the climate is chilly all year round so here anything … can also be brought out to eat. From chicken eggs, duck eggs, chicken feet, boneless chicken wings, cartilage meat, pork and cauliflower rolls to potatoes, corn, and rice.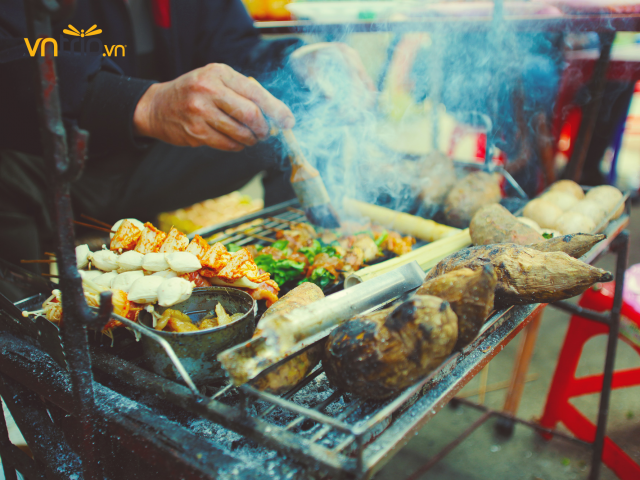 (Photo: Collectibles)
Visitors often choose the night is a great time to enjoy the barbecue. In the cold weather of Sa Pa night, the friends gathered by the charcoal kiln, separated by the road, enjoying the hot skewers that had just come out of the oven.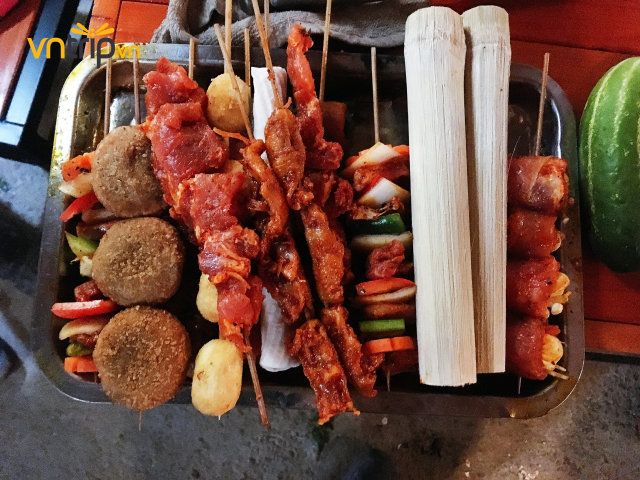 Tourists are spoiled for choice grilled skewers (Photo: Nguyen Nhu Quynh)
You can enjoy grilled skewers here:
Baked Range, Coc May Street, Sa Pa Town, Lao Cai Province

Junction area near Sa Pa Lake

Sapa Market
4. verdant green
From the highway to the eye on the mountainside and down the valley, visitors can easily see the vast, vast vegetable gardens. Sa Pa has a cool climate all year round which is a great condition for the typical temperate vegetables to develop.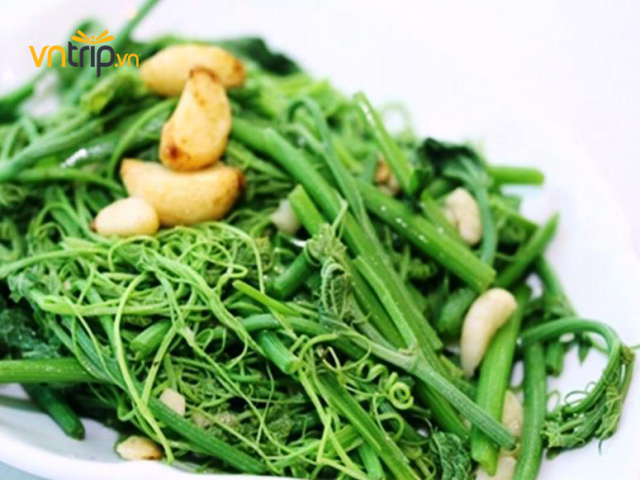 Sauteed chayote with garlic (Photo: Collectibles)
Vegetables grown in Sa Pa taste delicious, sweet, soft and bring comfort to customers. Popular vegetables include mustard greens, chayote vegetables, bamboo shoots, cauliflower, lettuce, sour vegetables, coriander, shiitake mushrooms, etc.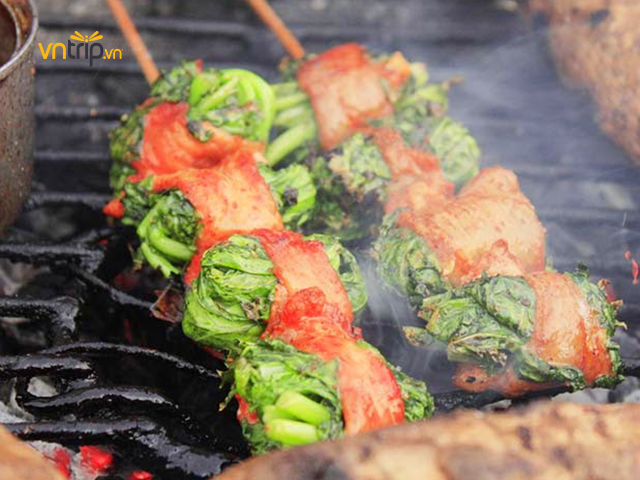 Roasted cat cabbage rolls (Image: Collectibles)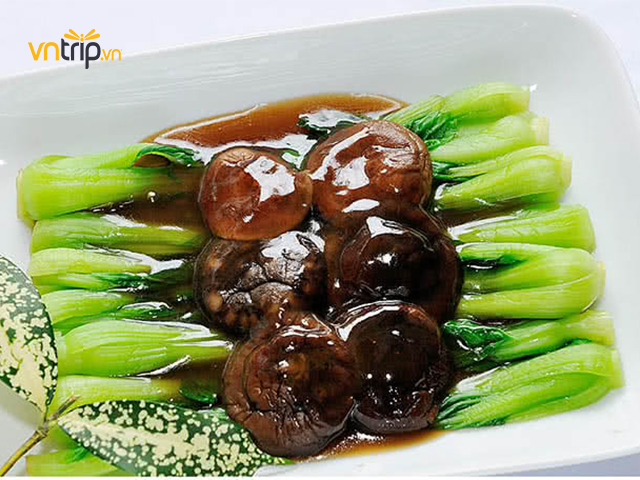 Stir-fried Chinese mustard (Photo: Collectibles)
The vegetable dishes always make visitors feel excited and considered as one of the Sapa specialties that must be enjoyed such as boiled chayote with sesame salt, fried coriander with garlic, chicken hotpot with vegetables …
5. Buffalo meat guards the kitchen
One of the special specialties of Sa Pa is the buffalo meat guarding the kitchen. Kitchen buffalo meat is a unique dish of the Northwest, especially in the culinary culture of the Black Thai.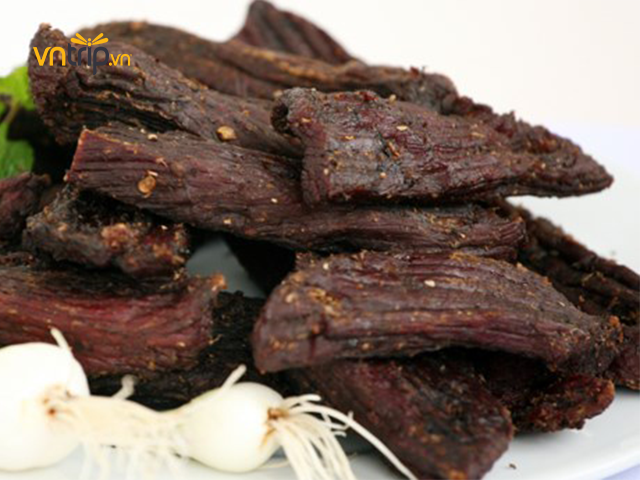 The meat bar is dark brown outside … (Photo: Collectibles)
The dark brown meat bar, while the outside is dry, the inside is naturally soft sweet red and retains the characteristic flavor of the buffalo meat. Each time the meat becomes more and more charming, the pungent, aromatic flavor of spices resonates with the smell of braised smoke, making the rustic cuisine even more special.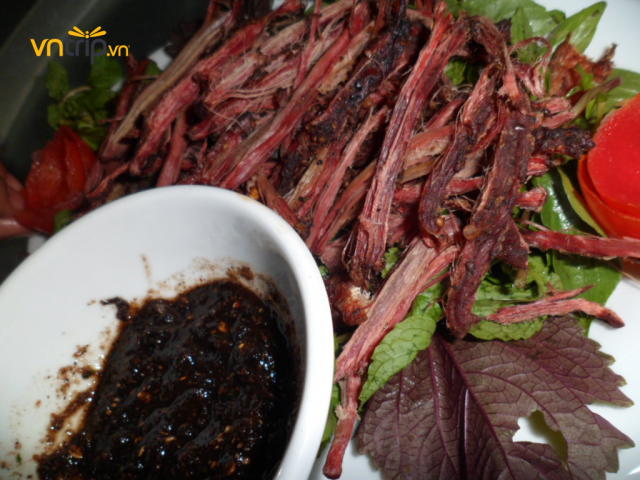 … The inside is naturally red (Image: Collectibles)
When enjoying, you should lightly pat the buffalo meat to become softer and then tear it like grilled squid, dotted with a bit of spicy chili sauce to increase the flavor.
Some addresses serving buffalo kitchen kitchen attract tourists:
Youth Restaurant (No. 5 Fansipan, Sapa town, Lao Cai city)

Hoang Minh Sapa Restaurant (No. 9 Xuan Vien, Sapa town, Lao Cai city)

Red Dao Restaurant (4B Thac Bac, Lao Cai City)

cat Cat village
Indeed, the beautiful scenery, the fresh air and the lack of good food is really flawed for the foggy town. Sa Pa deserves a 10 for a destination that spoils both tourists and tourists. If you're traveling to Sapa, don't forget to book a Sapa hotel through VietNampeace to receive special offers.