Da Nang is a city worth living for because of its economic development, lifestyle, ideological culture and beautiful natural scenery mixed with modern life. But no matter where it is, it is inevitable for the busy life. After a series of exhausting and stressful working days, the weekend is really a valuable time for us to relax, spend time with our family, during the week we only know how to go crazy about work. that missed.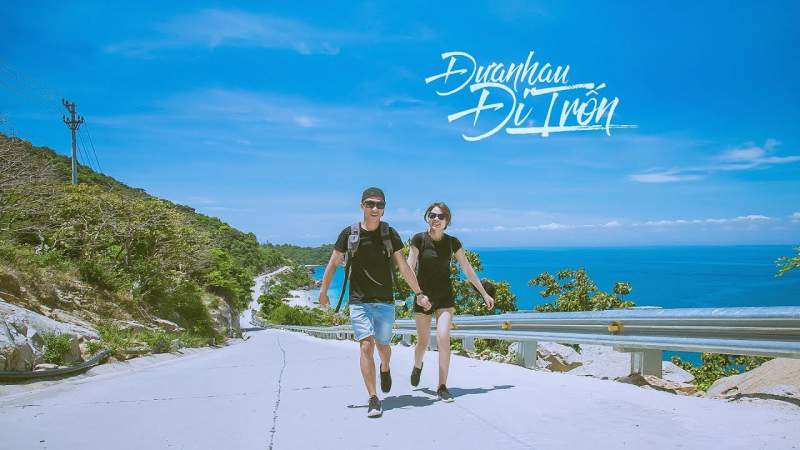 Weekend in Danang, where to go to play and have fun?
Saturday blood flows to the heart, in fact only on Friday, you crave somewhere to change the wind, find new sources of energy but can't go too far because of time constraints. If you are always wandering about thinking whether or not to go, then check out the suggestions of places to go out on weekends in Da Nang very interesting and then have to decide for yourself, get on the raft with your loved one right away. Relieve stress.
Weekend travel places in Danang are extremely reasonable
1. Bach Ma Village
Address: Khe Su Hamlet, Loc Tri Commune, Phu Loc District, Thua Thien Hue Province.
This is a new place emerging recently, but the hotness is not inferior to famous places long ago. Must say to "move" the passionate check in new locations to post continuous sharing.
White Horse Village – "Wonderland" for the weekend camping weekend
At first glance, the photos shared on social networks, if not the names of many people still think this is some scene in the movie or in the distant Europe. But not! The paradise of "relax" for these fun picnics is only about 50 km from Da Nang city, very suitable for those who like to immerse themselves in fresh air, can completely drive or go by the way. Convenient public transportation without spending too much time.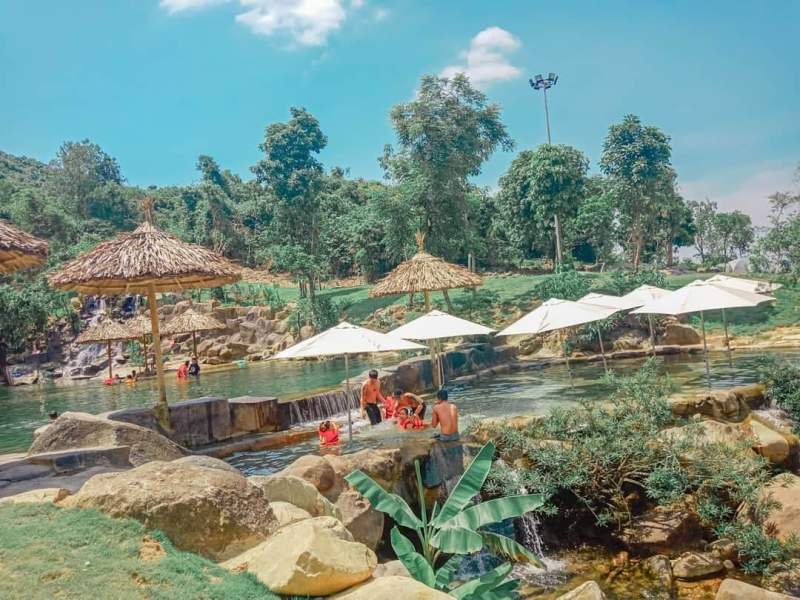 Immerse yourself in the cool water dispel the heat of summer ideal place here!
Coming to Bach Ma Village, you will be immediately conquered by nature so beautiful. With a perfect location lying "in the middle" of the valley surrounded by majestic Bach Ma forest so this place is still amidst the pristine freshness.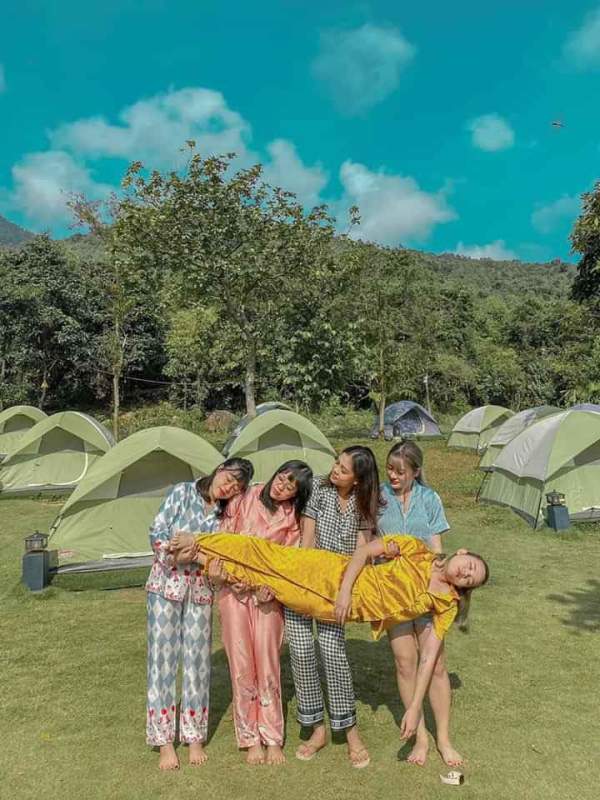 "Wander" with the sisters and aunties and the time of "juggling" playing and throwing at Bach Ma Village
The clear stream crept through the ravines, through the green forest cover and poured into Bach Ma bathing area with so much essence and freshness of the cool and pure natural water. You will enjoy the feeling of natural spring bathing, playing waterfall sliding, dry lake bathing … With a system of high-class restaurants and bars, overnight camping grounds … Suitable for both the whole family and the kid. also completely assured fun to delight.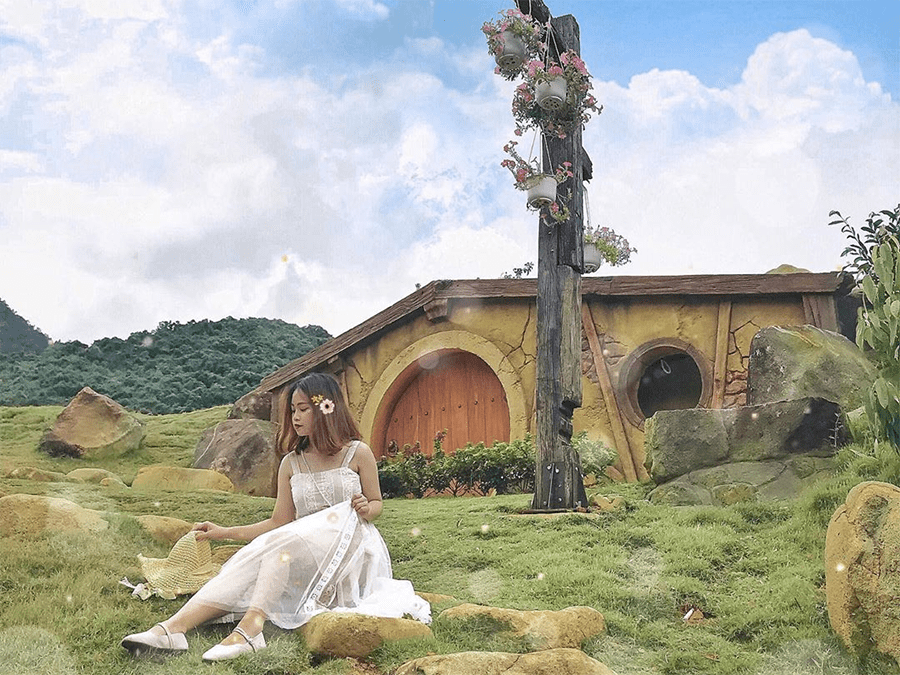 Not like swamp just like "deep" in Bach Ma also meet
You also do not need to prepare too much when coming to Bach Ma Village. Just prepare the spirit of fun and throttle and beautiful "shit" to check in the virtual scene in Bach Ma Village only. Walking around the streams watching the big rocks, in the distance is the fresh green chat with friends, feel the rare beauty of tranquility.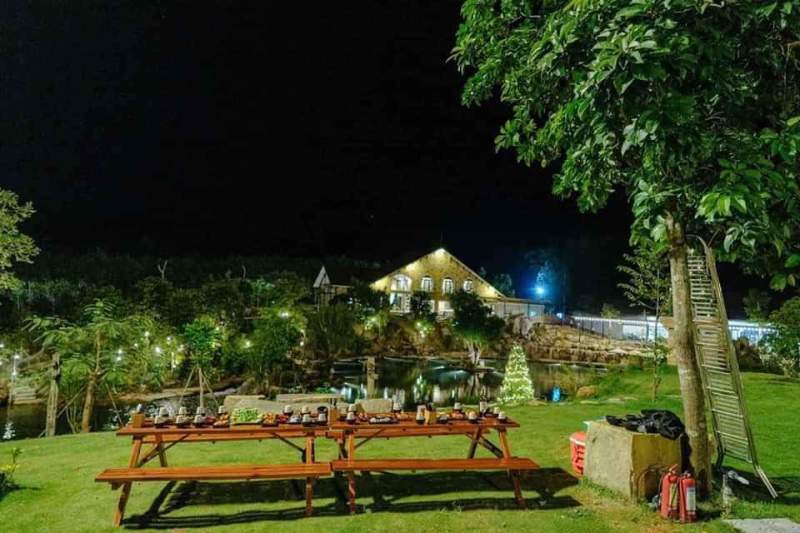 Having a picnic, enjoying a barbecue at a place like this is nothing
Camping and enjoying a night barbecue with the flickering fire to light the night in the middle of the mountains is also a great experience. The weather in the evening brought a cold, extremely cool feeling like the usual heat. Sipping some drinks, enjoying delicious food, talking all night or singing songs of young people holding hands and spinning among the blazing fire is probably a journey that many people expect.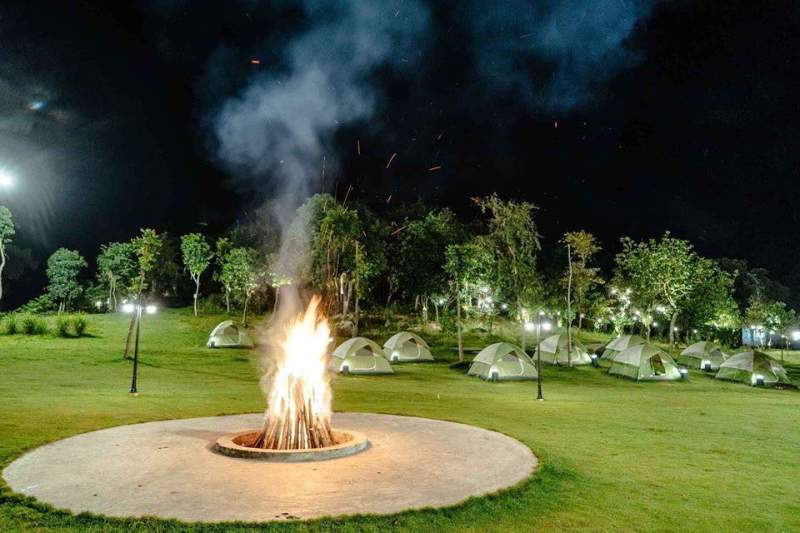 Burning campfire an "repertoire" not to be missed, where the exchange unites camaraderie
2. Baldness Stream Jack
The sun gradually entered the hottest days, besides swimming in the sea, bathing in the stream was a relaxing way that many people came to. There is no scorching sun on the face like in the sea, bathing in the stream brings a sense of freshness and tranquility, a bit of refreshing coolness amidst the pristine natural scenery, the sound of powerful falls and the sound of birds chirping merrily.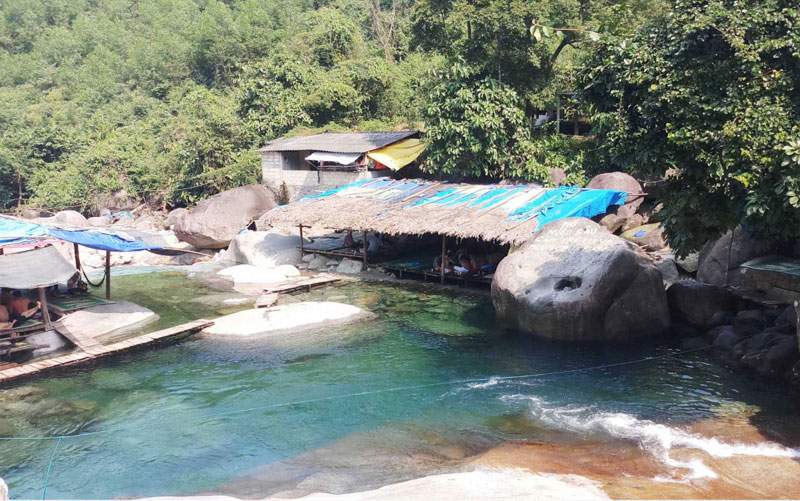 Bald Jack Spring Lang Co an ecotourism site suitable for the weekend wind change
Bald Spring is a place that meets everyone's expectations for a weekend outing not too far from Danang . Bald Jack Spring is a striking poetic feature amidst the vast scenery of the mountains. With huge slabs of stone stretching, the vast clear water is spoiled for bath and fun.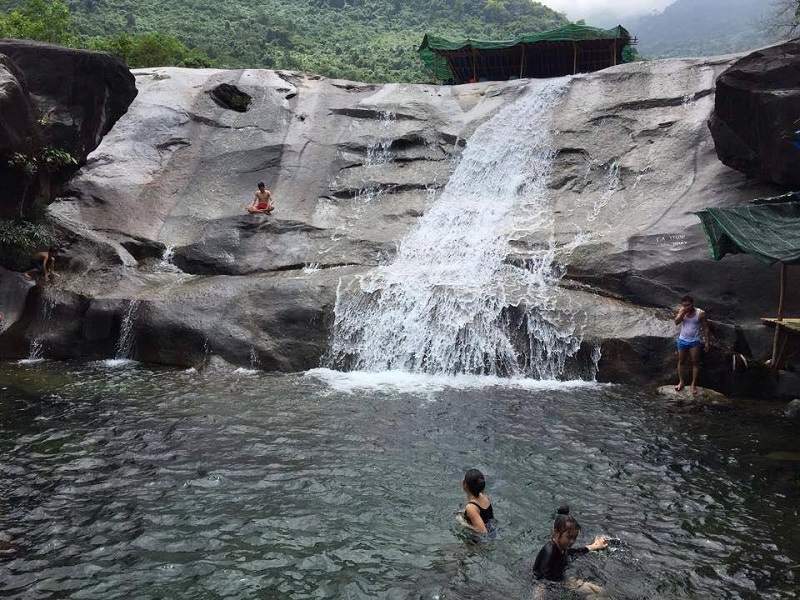 The stream is cool, the air is extremely cool, giving life to the summer
The cots close together on the big rocks and the bamboo bridges across the rock, beneath which the gentle flow of water creates even more accent for the balmy stream. Hut is a resting place after moments of fun, both a beautiful view and a panoramic view of the natural ecology.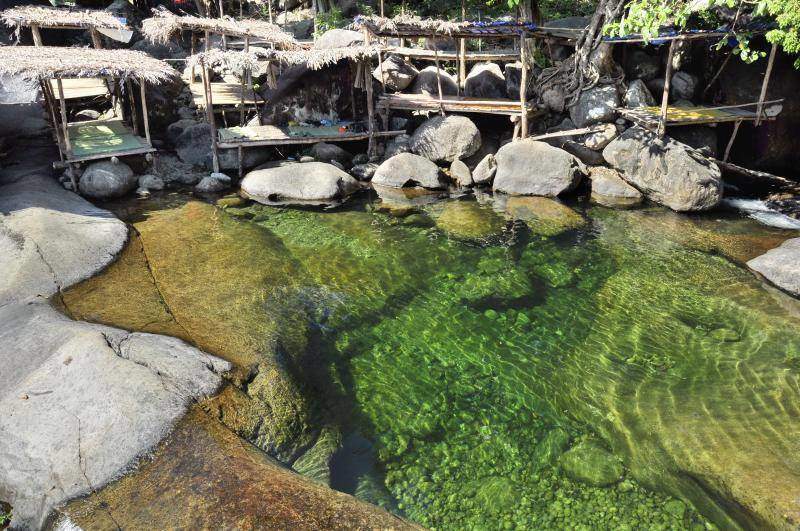 Leaf huts on huge fancy stones, resting on the spot, no need to go far
There is no need to prepare food to bring because there is a system of restaurants serving tourists, enjoying delicious dishes right at the hut with extremely reasonable prices and attentive service from the restaurant. Certainly when you go to Bald Jack Spring, you will have refreshing moments to accumulate energy to continue with the daily series.
3. Mount Than Tai
Bathing in hot springs, soaking in natural mud bring many health benefits and enjoying the relaxed atmosphere is a kind of "pampering" for everyone. Nui Than Tai, an extremely attractive weekend entertainment place in Da Nang, is one of those places that meet that demand.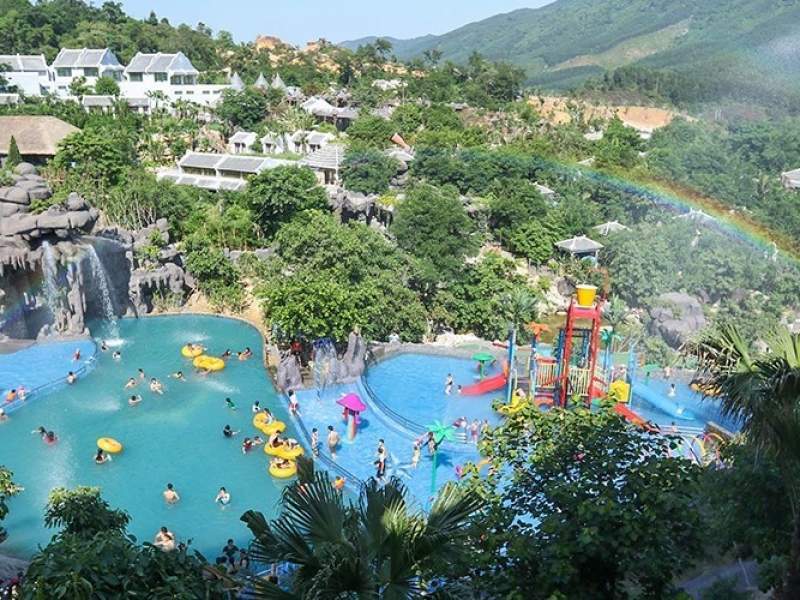 For the weekend, visit the Than Tai mountain tourist area and have fun all day long
It would not be appropriate to be hot in the hot spring with hot steam. But that's you do not know all about that Than Tai mountain resort. Located in Ba Na Nui Chua Nature Reserve, in Hoa Phu commune, Hoa Vang district, Da Nang city, with the climate characterized by four seasons in a day, the air is cool by the primeval forest. thousand cover.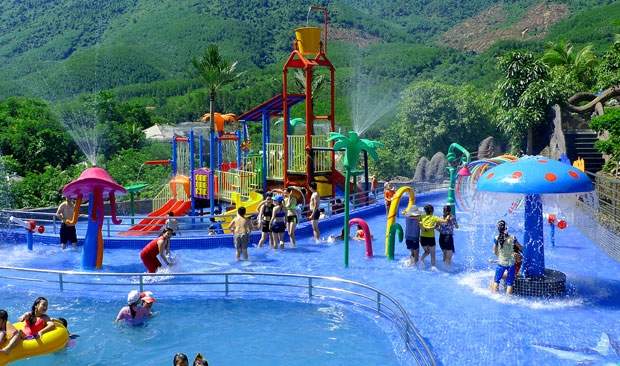 The whole family reveled in water games together at Than Tai Mountain Resort
This place is extremely favored by nature, because coming to Mount God of Fortune you will enjoy the refreshing cool upstream stream to the special relaxing hot mineral water.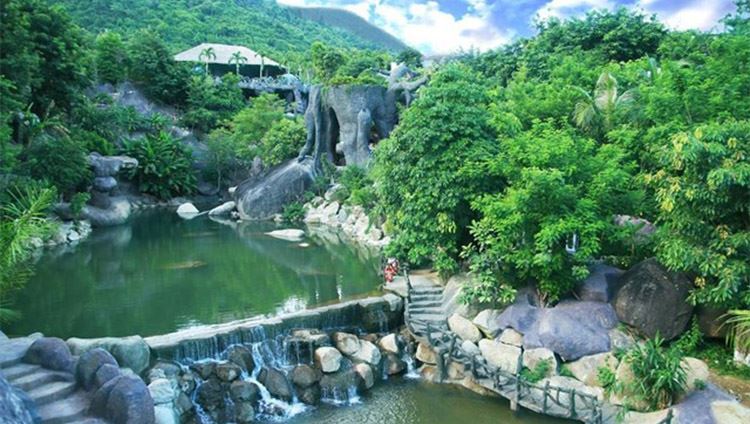 Hot spring bath at Than Tai Mountain is a relaxing way to be both effective and good for the body
Besides, there are professional services for tourists such as bathing "ONSEN" according to Japanese standards, bathing mud milk, tea … Entertainment area for children, high-class restaurant area with rich menu to please visitors. All contribute to create an irresistible attraction for the list of weekend entertainment places in Da Nang worth noting.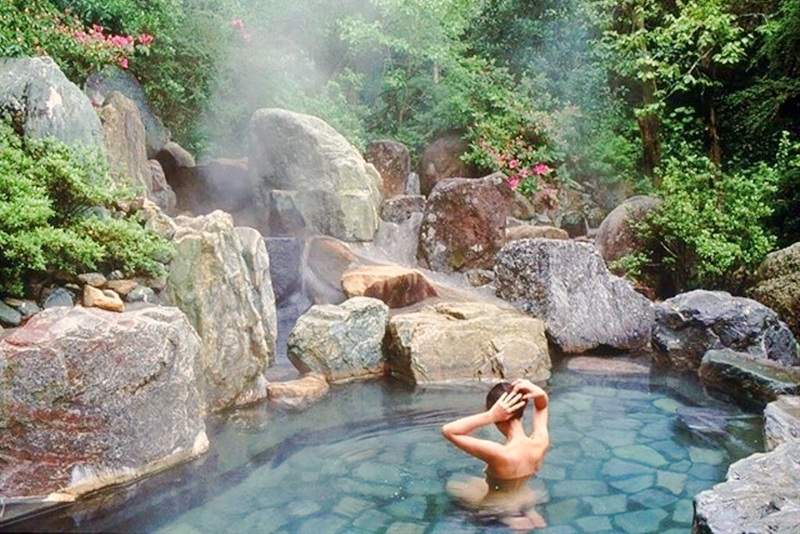 Go to Mount Tai to bathe ONSEN to discover the unique culture of Japan
4. Bay Mau coconut forest
It's not the land of Ben Tre that is the origin of coconut, it's not the West that is the river, even in Da Nang we can also enjoy the feeling of a day where the river in Bay Mau coconut forest, feeling the atmosphere of the region. West "run" back to the Central for you to enjoy it.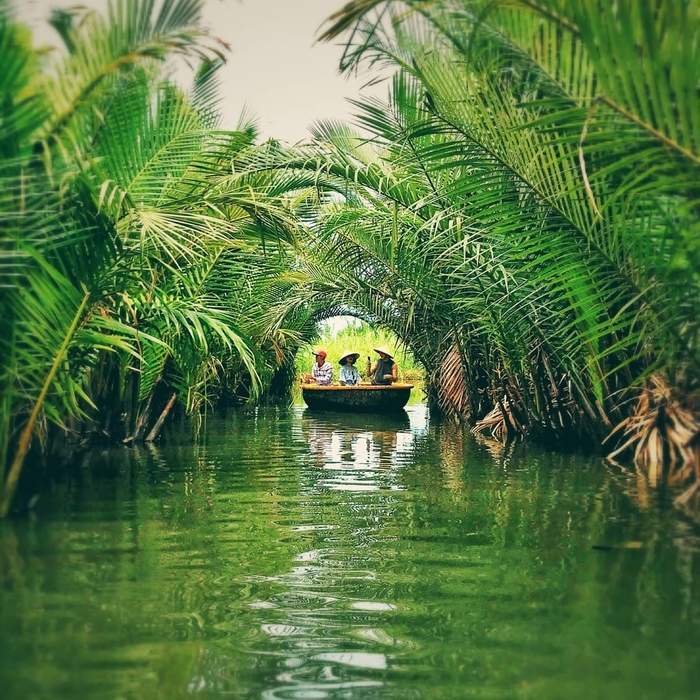 Explore the Western River in the heart of Hoi An
The interesting thing in Bay Mau coconut forest is that hundreds of hectares of green coconut grow, visitors will experience the feeling of sitting on a basket boat, floating in the water, rowing along the river to watch the trees. coconuts with leaves rising above the water like giant combs.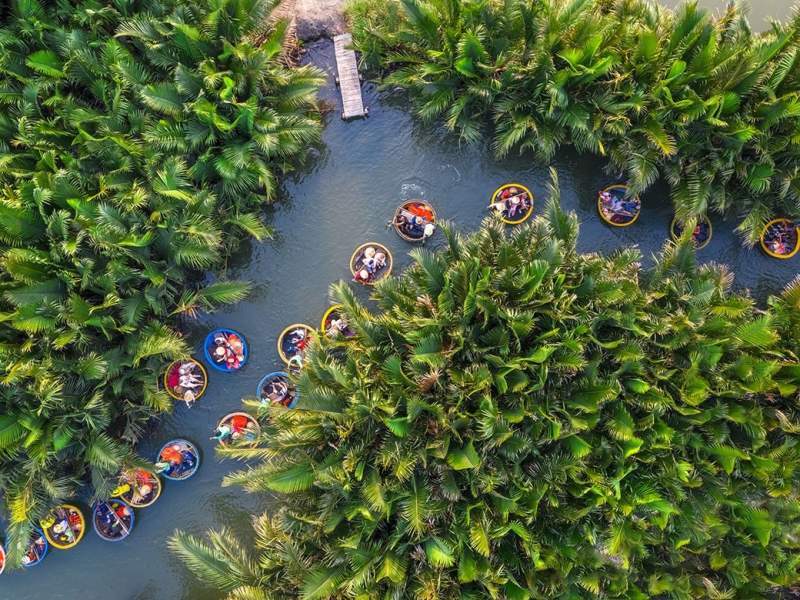 The scenery of the countryside, peaceful and calm, is strangely relaxing
Not only that, the drilled dances, the beautiful basket dance with the skillful rowing skill to make the basket boat turn as you like while whirling around on the water splashed with waves of white foam also makes Many people are excited.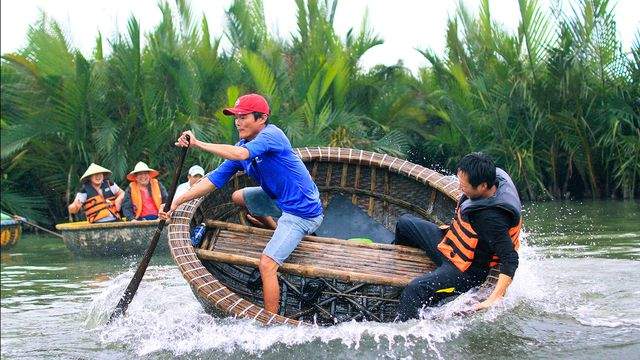 Tourists are excited to watch the virtuosity basket dance at Bay Mau coconut forest
Participate in fishing activities, toss fishing test your patience and luck to see how much you will harvest on this trip, or go on a pretentious, bathing pond, cycling … activities you should try when coming to Bay Mau coconut forest.
Some interesting experiences when coming to Bay Mau coconut forest on weekends
5. Asia Park
Asia Park is a weekend destination in Danang not to be missed. True to its name, come to Asia Park you will be able to take a tour of Asia to see the typical architecture and cultural features of the countries with the "miniature" version right here in Da Nang.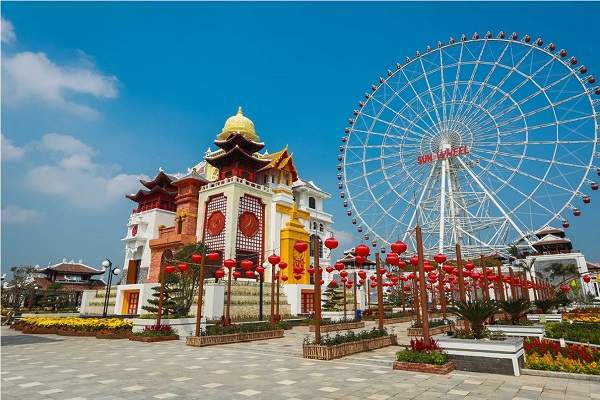 Asia Park is a world-class amusement park, suitable for stress-free weekends
Asia Park is a paradise of amusement games, a world of laughter. Conquering the game itself gently to the thrills bring moments of lightheadedness and then startle again, "screaming" passionately.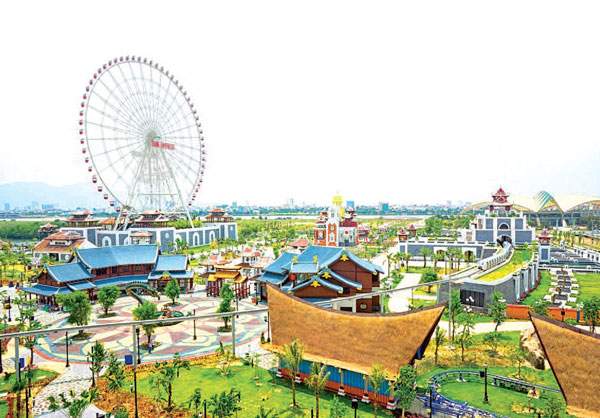 Going to 10 countries in Asia in a day only Asia Park can do!
Have you conquered all the games in Asia Park? Take the kids to visit Dino Island Dinosaur Park, visit the tree house on a very beautiful place to take pictures, the whole family challenges to ride on super-speed cars with the inclination to get off the track … Take a stroll around the unique buildings, surrounded by the fresh air of thousands of green trees.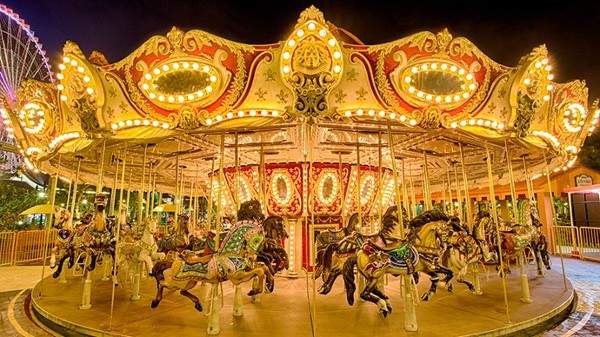 Sparkling horse merry-go-round as if returning to childhood memories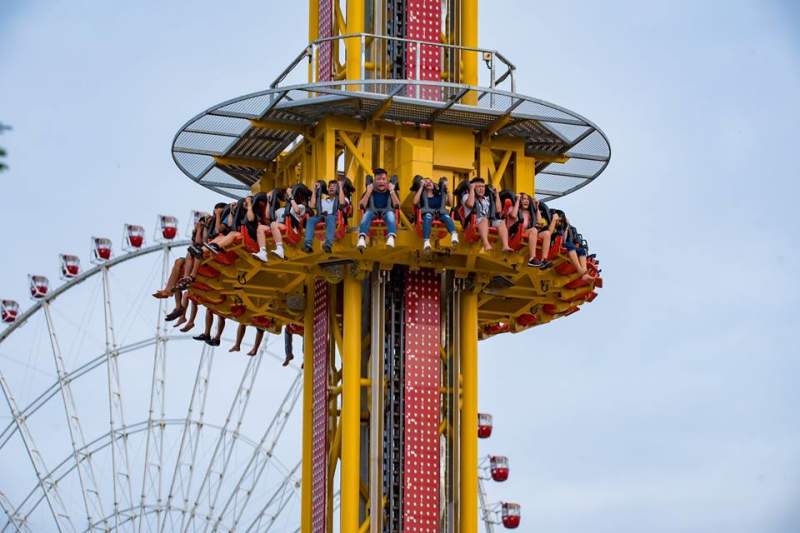 Challenge your "toughness" when participating in thrilling games
Referring to Asia Park, people immediately think of the Sun Wheel with an impressive height of 115m equivalent to the 25-storey building. Sitting on the wheel of the Sun Wheel, slowly turning to the top, looking down over a vast sky, feeling like you're free to fly about to touch the blue sky, conquering the impressive height, There was no time to remember sorrow, only to feel refreshed and gradually invade the entire cell.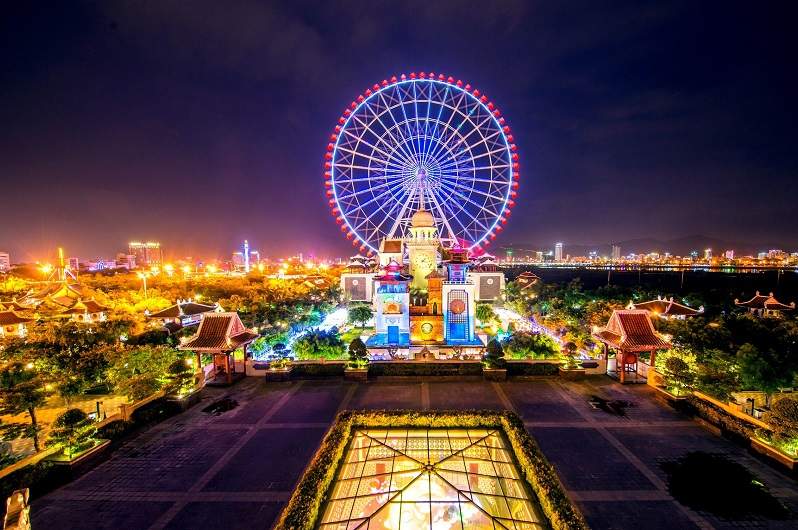 Sun Wheel spins with a record height of Asia park's symbol .
This summer, Asia Park will return to a whole new look, with unprecedented top-notch games, food court with countless outstanding delicious dishes, large-scale night market, vibrant bar … Promising to be a very interesting nightlife place for those who set foot in Da Thanh want to "rock" on the weekend.
6. Nhat Lam Thuy Trang Tra
Leaving urban places, going to the forest "in hiding" seems to be a funny saying of many people when life is too tired to endure. Although saying that, but "staying" for too long is not necessarily able to withstand compared with modern life everyday. But if you want to try and experience a "hidden" feeling for a day, this weekend, come to Nhat Lam Thuy Trang Tra to experience and feel it.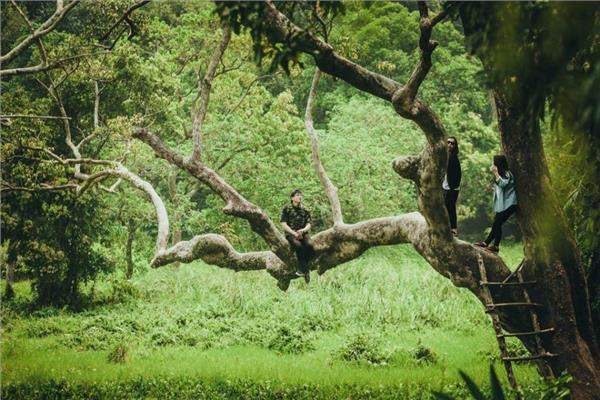 Nhat Lam Thuy Trang Tra has a meaningful name but also a beautiful scenery
Nhat Lam Thuy Trang Tra is a seemingly strange name that is not mentioned in the tourist map of Da Nang, so this place will bring an experience of unspoiled wild nature extremely for you to feel a The most authentic way to hide in the mountains.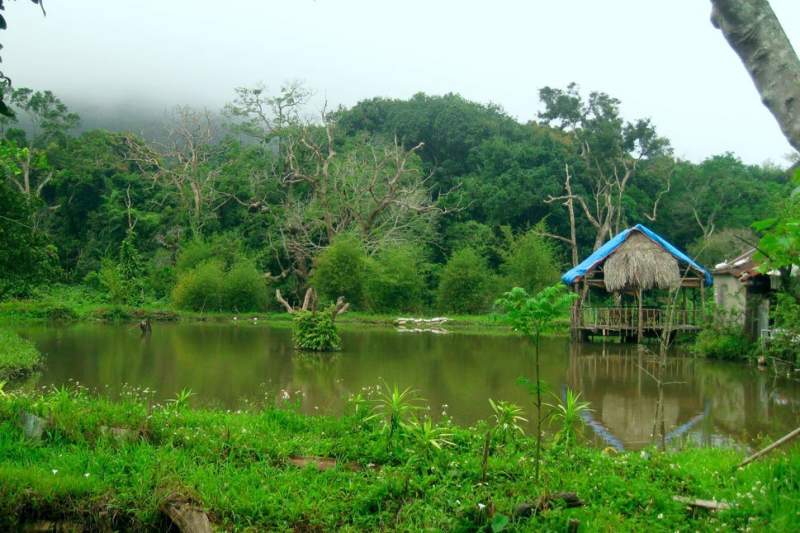 Strangely peaceful in Da Nang, create a team to discover right away!
Son Tra peninsula, near the top of the chessboard, so on the way visitors can enjoy the refreshing natural flavor extremely relaxed. In the depths of the forest, stopping at Nhat Lam Thuy Trang Tra, we will admire the rare natural scenery. It is also famous for the bewildered banyan tree with an impressive life expectancy of up to 1000 years, so the shape resembles a deer so it is called in the sense of being utterly close to the bewildered banyan tree.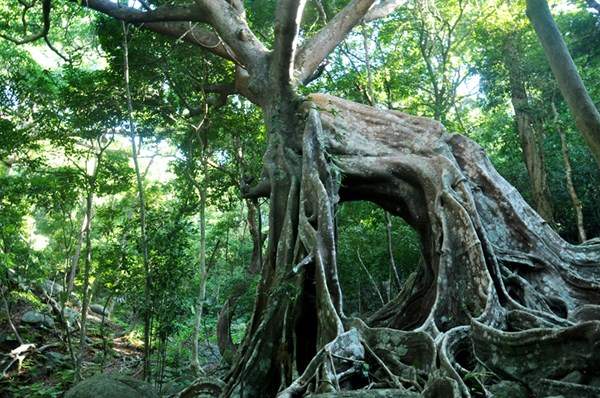 True to the name of a thousand-year-old banyan tree shaped like a large deer
Enjoy the most romantic beauty when you come to the deer stream, sitting in the leaf hut, despite every refreshing wind blowing, watching nature with charming scenery, listening to the charming sounds of the mountains, dropping bait Waiting for the fish to eat the bait. Just thinking about it also feels like getting lost in a fairy-tale place where a fairy's hiding place is attained.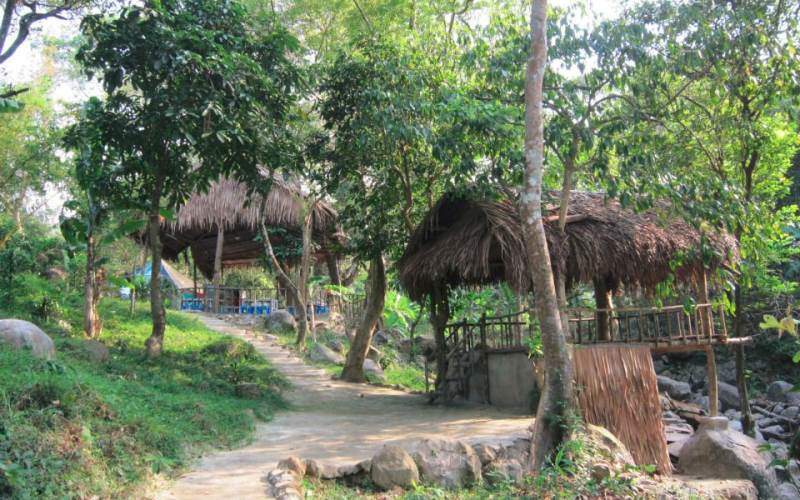 Resting area, sightseeing at Nhat Lam Thuy Trang Tra
Enjoy unique cuisine, dishes from chicken garden sure meat, special forest vegetables such as vegetables, vegetables … that normally rarely have the opportunity to taste, and do not forget to try coconut wine very nicely. with esoteric recipe only available at Nhat Lam Thuy Trang Tra.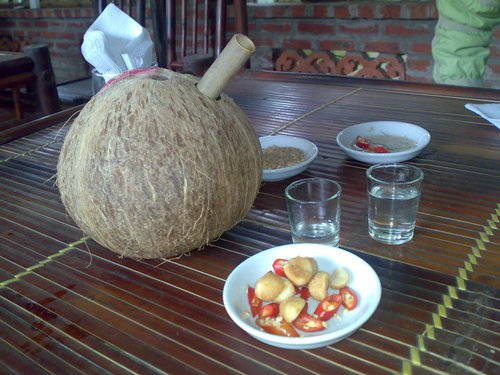 Coconut wine has a strange taste, a strong concentration of aromatic nose must try it once
When the afternoon light was left, the scene gradually "cowered" closed in the night. Sunset falls in the mountains and forests beauty features bring quiet, extremely quiet. Watching the sunset at Nhat Lam Thuy Trang Tra brings a new and unprecedented feeling. Meet family and friends, tell interesting experiences here, eat delicious food, laugh happily.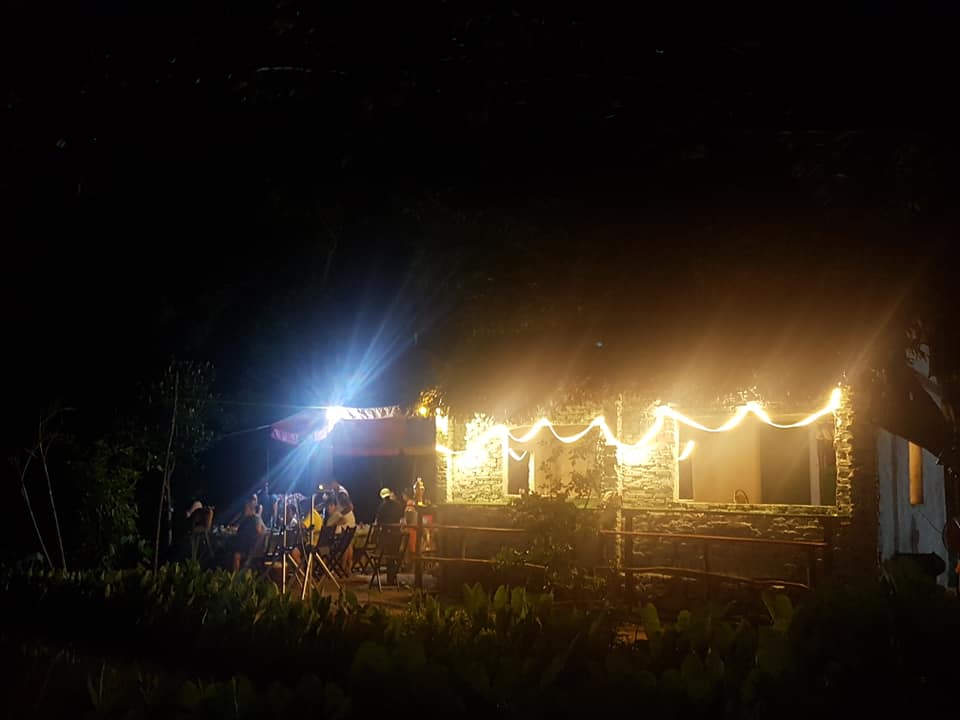 At night at Nhat Lam Thuy Trang Tra with friends with the same passion
If you want to experience the night feeling in the mountains, do not rush back, camping at Nhat Lam Thuy Trang Tra you will be conquered a new level of emotions too. The sound of insects hiding at night, the sound of wind rustling, the cool air mingling among the beautiful nature in the mountains and forests away from the lavish scenery of the week.
7. Cu Lao Cham
Places to go on weekends in Da Nang to stay overnight must mention the Cu Lao Cham. With outstanding advantages are clean beach, quiet wild scenery, especially the cool, cool climate is suitable for stress relieving relaxation.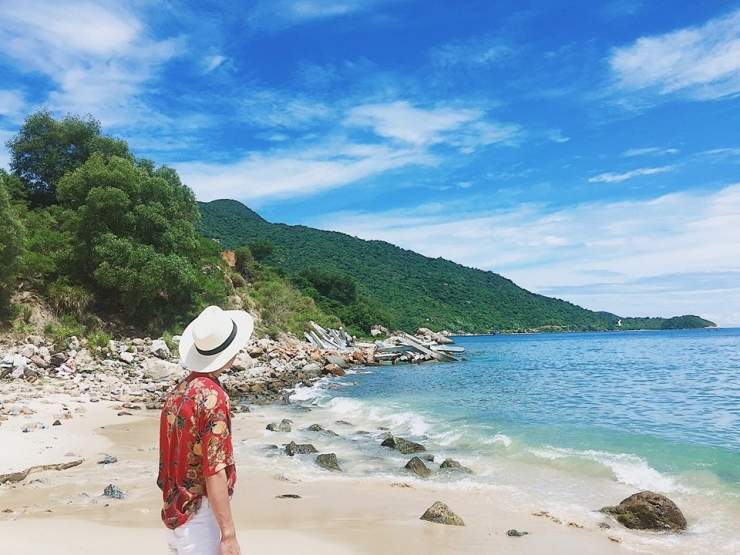 Cu Lao Cham has a pristine sea beauty with clear blue water
Bathing in sea games is of course the most popular activity when coming here because everyone wants to take advantage of the time to enjoy the blue water, which UNESSCO voted as a biosphere reserve. gender in 2009.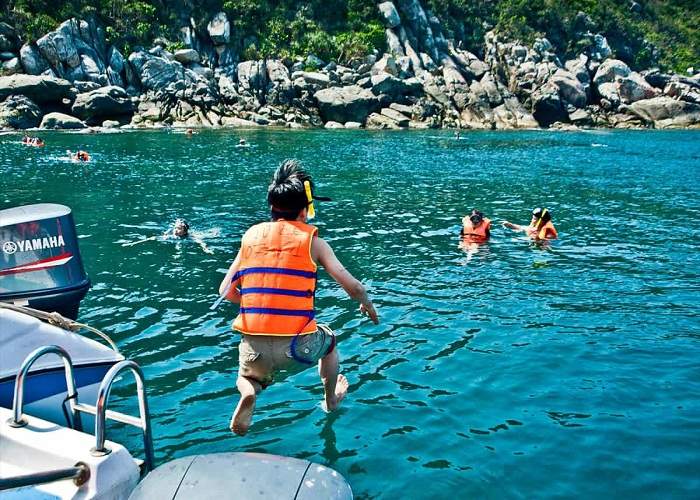 One … two … Dad, let's jump in and take a cool shower on summer day!
Besides snorkeling to see the coral on the sea floor with an oxygen mask, you can take a closer look at the coral reefs with fancy shapes and colors, visit famous places like ancient Cham well dating back up to 200 years. , the water source never runs out.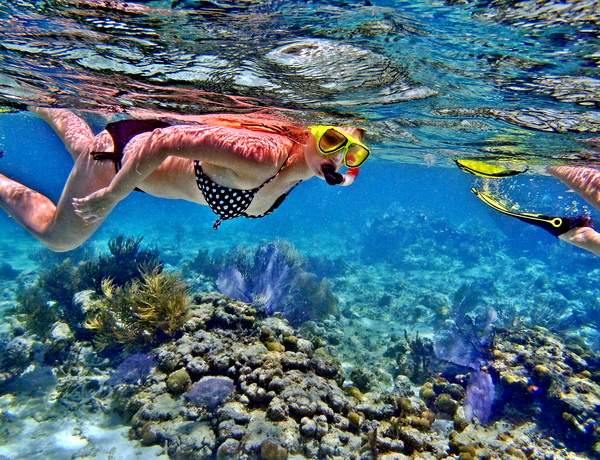 Dive into the vast ocean to see coral and interesting marine life
Visit the Cu Lao Cham marine museum to learn about the traditional customs, festivals, formation history, and marine life … of the island of Cu Lao Cham. Visiting Hai Tang Pagoda, built in 1958, bearing ancient architecture, many people came to pray for health and a good road to sail.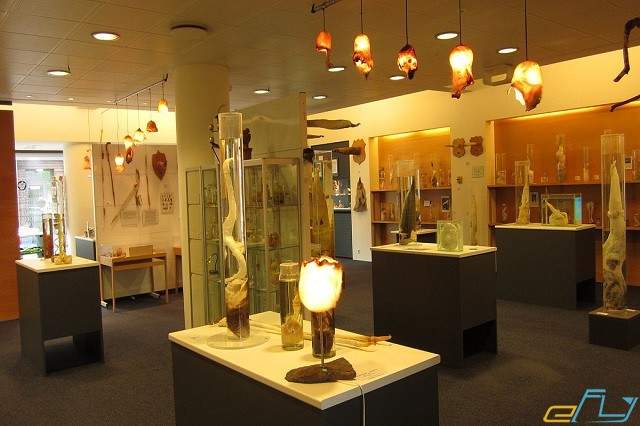 Cu Lao Cham Marine Museum provides an overview of the history and people here
Not only bring the feeling of harmony in nature, to Cu Lao Cham, visitors can also enjoy delicious dishes from a variety of seafood such as her breast snails, sea urchins, abalone, sea crabs … with extremely soft prices. Walking around Tan Hiep market to buy souvenirs, this is also a market specializing in seafood and specialties such as squid and sun are very famous as delicious dishes to bring as gifts for relatives or to enjoy. in the family's regular meals.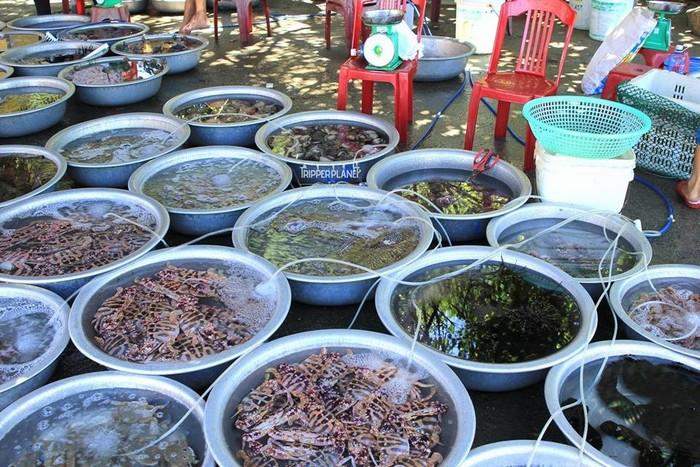 A whole seafood paradise in Cu Lao Cham is waiting for you to enjoy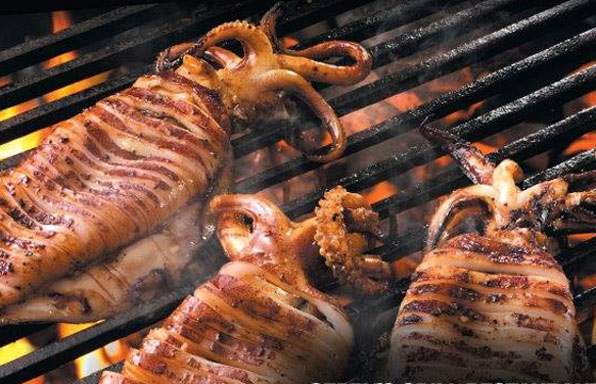 Squid a sunny, famous specialties in Cu Lao Cham
If you have free Saturday and Sunday, you should schedule to explore Cu Lao Cham 2 days 1 night so you can enjoy the whole atmosphere and explore every corner of this place, relax and try to take photos. The image captures great moments will bring a sense of great excitement.
Stay overnight at the homestay or experience the feeling of renting an overnight camping tent on Ong beach, Huong beach, Bai beach, taking nature as a home, listening to the rushing waves hitting the shore and feeling The chill from the sea breeze blowing to the end is a way to fully enjoy the short holiday and explore the night at the sea.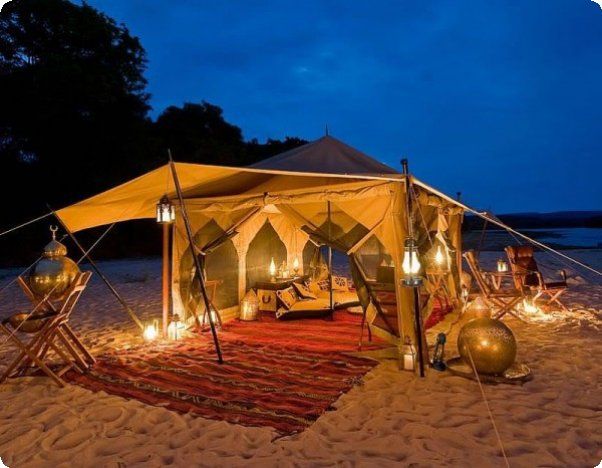 Have you ever tried a night on a romantic beach full of romance?
Bringing with you sadness, pressure in exchange for joy and comfort is what you will get when deciding to spend the weekend with your family or close friends. With the outstanding weekend attractions in Da Nang , Vntrip has carefully selected and introduced its own outstanding features.