Vung Tau has long been famous for its beautiful stretches of beaches, but people often only remember Front Beach and Back Beach and forget that Vung Tau has many other beautiful beaches. Let's check out the most beautiful beaches here with VietNampeace.
Beautiful beaches in Vung Tau this summer
Beach front
This is a familiar place in Vung Tau. Front Beach is located between Big Mountain and Small Mountain and is a calm cove.
This beach is an anchor for many fishing boats, so the water is not as clear as other places, but this is a place to watch the sunrise or sunset extremely beautiful. Especially at night, this is a place where many fun activities and entertainment for tourists in Vung Tau.
Address and way:
Ha Long, Ward 1, Vung Tau City, Ba Ria – Vung Tau
Back Beach
It is located in the southern part of Vung Tau, has a coastline that stretches for nearly 10 km and is commonly known as Thuong Van.
Back Beach is favored by nature when the water is clear, the waves are not too big, the beach is flat, the temperature is stable all year round, the difference is not too high, so this is the most attractive place in Vung Tau Ship. This place was also voted as one of the most beautiful beaches in Vietnam.
Directions and beach address:
Thuy Van, Ward 2, Vung Tau, Ba Ria – Vung Tau
Bai Dau
This is one of the most favorite beaches in Vung Tau. Different from the noisy, busy atmosphere of Front Beach or Back Beach, Bai Dau brings a strange peaceful appearance.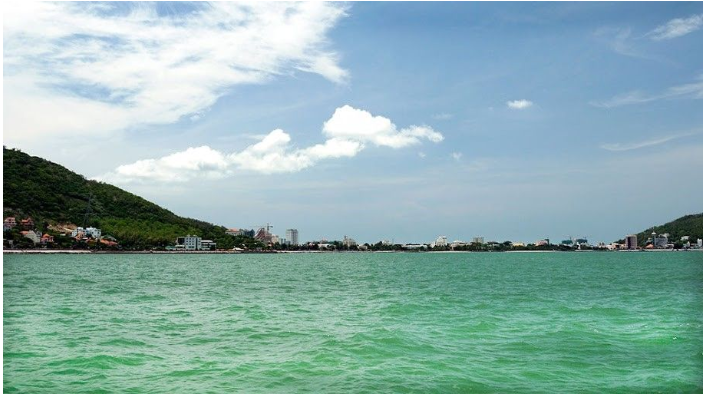 Coming to this place, you are released into the nature, feel the cool breeze from the sea, the clear blue water here dispel all tiredness and anxiety in your heart.
Address: Bai Dau, Vung Tau City, Ba Ria – Vung Tau
The way to Bai Dau
Phuoc Hai Beach
Phuoc Hai Beach is located at the foot of Minh Dam Mountain, Phuoc Hai Town, Dat Do District, Vung Tau Province famous for its pristine beauty.
Here with clear blue sea waves whispering, white sand stretches along beautiful rocky beaches create a poetic scene. People living here by fishing should go to the beach early in the morning or late to be able to partly understand their life.
Address: Dat Do District, Ba Ria – Vung Tau Province
Vong Nguyet Beach
This is a beach located at the foot of Little Mountain. You can see the whole scene here when standing at the foot of the statue of Christ stretching his arms on the top of the mountain. Because this place is not known by many people, it should keep its original beauty.
Ho Tram
Yet another pristine beach. Ho Tram beach stretches over 10 km. Tourists come here can immerse themselves in the blue sea, relax on the long sandy beach with soul and clouds. When you come here you can freely organize camping, outdoor parties, barbecue, …
Oh Stream Sea
Address in Binh Chau, Xuyen Moc, 120 km from Saigon. This is a familiar destination for many young people in Saigon on weekends to have fun
Especially, Suoi O beach is very special when there are both fresh and salt water springs. Freshwater and seawater are separated by fine white sand. Here, the fine white sand road stretching on the blue ocean will make you want to feel only fine white sand with your bare feet.