Let's find out all about travel experiences in Thung Nham Ninh Binh with VietNampeace.com right away!
Not only known as a romantic mountain community with tropical forests, caves, surrounding water, Thung Nham Ninh Binh is also famous for being the home of many birds such as storks, cauldron, le le, starling, teal … and two kinds of precious birds, flamingos and phoenixes, are listed in the red book. With many landscapes, resorts, amusement parks, restaurants … Thung Nham is a tourist destination that any visitor to Ninh Binh cannot miss.
Traveling to Thung Nham when is the right time?
Every year, Thung Nham Ninh Binh attracts tourists, but if you want to watch birds, autumn is the best time because the weather is getting cold, the birds will feed near it. like coming home sooner. You can spend 1-2 days to explore Thung Nham, but to enjoy all the beauty here, you should go 2 days.
What needs to be prepared before coming to Thung Nham?
To have a fun trip, you should prepare carefully and carefully the following:
Bring drinks as well as snacks to replenish energy as needed.
Anti-bugs spray.
Bring a hat or umbrella to avoid changing weather.
Dress neatly, wear sneakers or flats for easy transportation.
Prepare map of Thung Nham Eco-garden tourist area to have an appropriate and active path in the discovery process.
How to come to Thung Nham Ninh Binh?
From Hanoi, you can travel by motorbike or bus to Thung Nham which is very convenient.
If you take a passenger car you can catch the car to Ninh Binh in the direction of the highway, when you come to Ninh Binh city bus station you can take a motorbike taxi or taxi to Thung Nham.
For those who prefer backpacking, they can take a motorbike along National Highway 1A, go to Ninh Binh city for another 4km along June 30 and then turn to Vom bridge to Thung Nham.
Guide to Thung Nham bird garden
Address: Hai Nham hamlet, Ninh Hải commune, Hoa Lu district, Ninh Bình
Entrance fee:
+ Adult ticket: VND 100,000
+ Children ticket: 50,000 VND, children under 0.8m free
+ Boat ticket to bird garden: VND 20,000
+ Ticket Tickets: VND 20,000
To get to Thung Nham Ninh Binh you can choose to buy a ticket to go straight to Thung Nham, the boat driver will take you through the ravines to enter the Buddha cave. Or you can also drive to Thung Nham by road if you do not want to go by boat.
In Thung Nham tourist area, there is full infrastructure as well as cheap food service with delicacies in Ninh Binh such as Thung Nham shrimp sauce, goat meat, burnt rice … All food is provided. Because the resort so you can be assured of the quality of food as well as the price.
Places to visit in Thung Nham Ninh Binh
1. Bai Gioi cave: Because the cave is located high on the cliff, so to climb you need to climb more than 400 stone steps. The cave is about 5000m2 with 3 floors of cave, inside are mysterious shimmering stalactites like "Earth, hell and heaven". It is said that in the past, it was the place where the altar prayed to pray for favorable rain and wind, good crops.
2. Hang But: is the largest site in Thung Nham with the cave length of 500m. In the cave, there is a picture of Mr. Buddha sitting next to the river with the meaning of giving good things to visitors. There is no lighting system in the cave, so visitors will experience the feeling of shining a flashlight to admire the stalactites.
3. Bird garden: is the residence of more than 50,000 children with 40 species of birds such as cauldron, stork, heron, teal, sting fire … and valuable birds like flamingos or phoenixes. Visitors here will be delighted with the sky screen of the birds.
4. Banyan tree : Banyan tree has existed in Thung Nham forest for thousands of years and moved around the ancient temple 3 times.
5. A thousand-year-old mangrove tree: associated with a story about King Dinh Tien Hoang. Not only that, the tree also grows on a big rock and is considered the oldest and most beautiful tree of Vietnam.
6. Ba Co Cave: According to the legend when the ancient king Dinh Tien Hoang was poisoned, the medical doctors could not cure it. There were three girls in Hoa Lu dreaming to see the detoxifying water coming to Thung Nham to save the king but were captured by the tiger. People remember the merits of her 3 tombs and called Ba Co cave.
7. Mermaid Cave: Longer than 1500m with delicate multi-stalactite stalactite system. It also circulates the story of the petrified mermaid.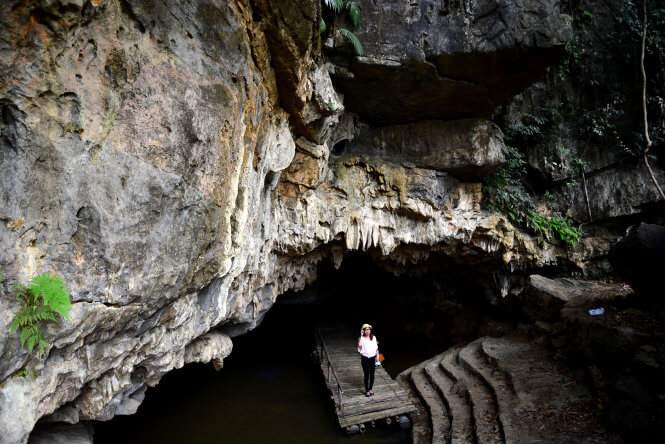 8. Aquarium: is like a magnificent and magnificent underwater palace that visitors can hardly ignore.
9. Valley of love: created by a harmonious combination between plants, flowers, forest orchids, colorful birds singing to create a romantic love song.
10. Fruit orchard : a garden full of trees such as apples, guavas, mangoes, persimmons, lychee … gives visitors a sense of closeness to nature.
With fresh natural air, beautiful scenery, delicious food and new tourist destinations, Thung Nham is an attractive place for tourists as well as families who want to avoid the noise and stress of daily life. Hopefully, with these experiences, Ninh Nham Ninh Binh will help you have a fun trip and many interesting experiences.