The two-grave hill is a tourist destination in Da Lat that has come to poetry. However, few people know the love story of the leisurely and unacceptable hidden behind this famous place. The story over the years still enters the mind, on the pine hill, there are still several graves side by side amidst the wild, wild purple flowers.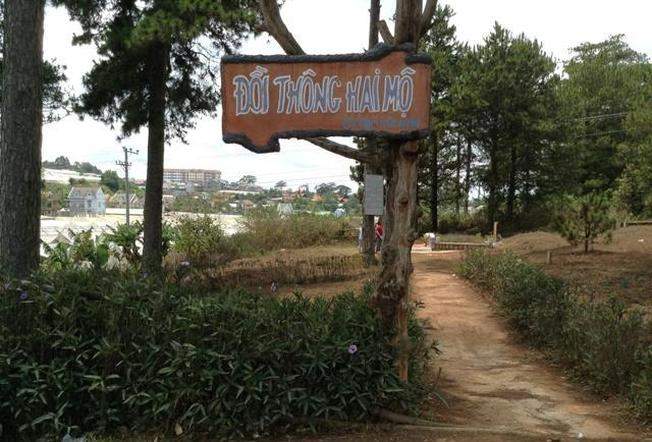 Pine Hill with Two Tombs – famous tourist attraction in Da Lat (Photo collection)
Two-grave pine hill – a tourist destination in Da Lat dreaming
Like Xuan Huong Lake, Lang Biang … "two-hill pine hill" is one of the beautiful places in Dalat that is well known.
From the city center to the North about 6 km, visitors will come across a large lake with poetic, lyrical scenery. Ancient folk called it Than Tho lake. Later the lake was changed to Suong Mai. However, the name Than Tho came back again because the people had long known, silently wrote the name of the sad lake.
It is not wrong to call Than Tho lake. If there is a bustling city outside, when you step here, everything will suddenly fall into nothingness. In the smooth green of the plants and flowers with purple flowers, we can hear the sound of the wind flowing in each pine tree foliage like the sound of someone sobbing and crying. There are many mysterious stories still being told by the people here because this place is quiet, the scenery is beautiful but sorrowful.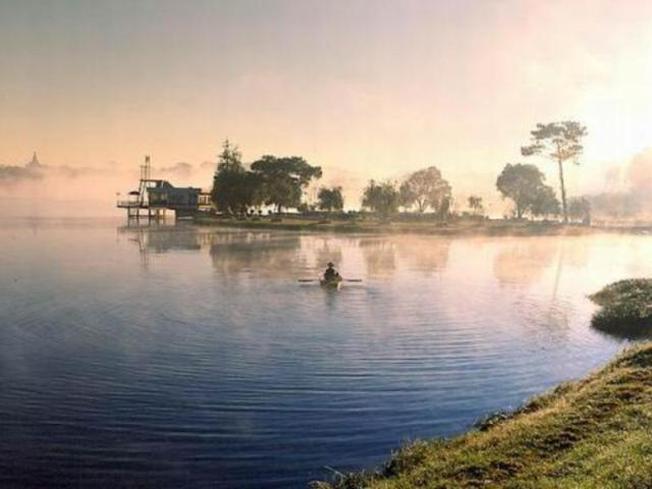 Than Tho Lake is one of the beautiful places in Dalat (Photo collection)
Lake is located in the immense pine forest, near the lake is a pair of small tombs lined up. Around the tomb planted a lot of purple flowers – a color that reminds people of sadness, arousing fidelity and iron of a couple's love.
If you have once visited Da Lat tourist attractions , you should visit this place, light an incense on two tombs on the slope, then find a cool shade to rest. Let your soul into the wind, quietly hear the sound of the pine, watch the lake rolling and hear the water girls here tell a story of childhood love full of unjust adversity.
Two-hill pine hill – a sad love story
Like other attractions in Dalat, "Hill of two tombs" also brings with it a separate story, a true love story.
The story is that in the past, there was a guy named Vu Minh Tam, from Go Cong, Tien Giang who went to study at Da Lat martial arts school. While living here, he met a girl named Le Thi Thao. Their family is not the same, Mr. Tam is the son of an extremely wealthy large landlord and Thao is only a daughter from a poor family. However, the appropriate mind and mind erased all barriers separating the couple, they still come together and love each other with a sincere heart. Listening to the ancients recounting, they often strolled by Than Tho lake, resting and relaxing on the pine hill and here they also exchanged sea vows.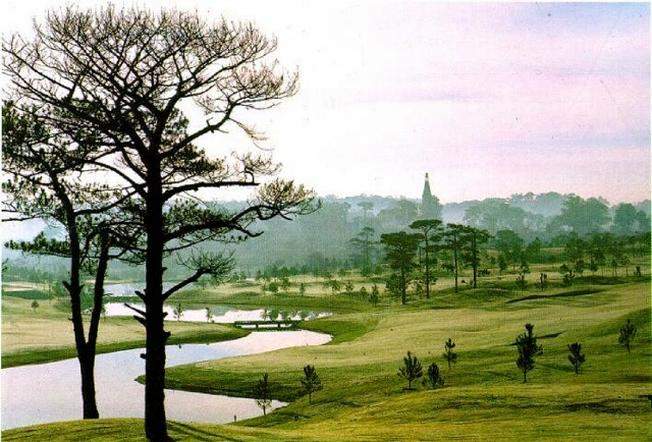 Pine Hill by the lake is a beautiful place in Dalat for dating couples (Photo collection)
But life is not a long dream, short-lived happiness such as gang …
One day, Mr. Tam said goodbye to Thao to come back to his hometown, asking his mother and father to betray betel nut and pick her up to come to the palace. I don't think my family will ever allow me, Thao's family is so poor, how can I compare with my family background. His parents used all means to ban, determined not to pair them.
Mr. Tam was in so much pain, wishing that this life would not marry anyone with Thao. He asked to go to the first army to avoid the urge to marry from his parents, partly to temporarily lessen his memory. He was in a battlefield far away but he still sent letters to Thao. That is the main motivation to help her live every day. But then one day the letter remembered the missing, now replaced by death notice like thunder struck his ears. Thao was in despair, in pain, and in the old ways she found her vows again. And in that pine forest, on that side of Than Tho Lake, Thao was born.
The real life is very tortuous, the death notice is from the wrong person, Mr. Tam is still alive. He returned to Da Lat to find Thao again, but no doubt Thao was gone forever. Mr. Tam hurried back to the old pine hill, lay down and cried beside his lover's grave then also gave birth to keep his promise. The parents were in pain because of loving their children, the people were moved by the rare sincerity, they buried and covered the tomb for Mr. Tam next to Thao so that the two could be reunited.
Later, Tam's parents, due to their age and weakness, could not travel often on incense, so they took him to his grave to take him back to his hometown. So they are apart again. People love the unfortunate couple, rebuild two adjacent graves. Their pitiful story is told by many people, so gradually it has become a famous tourist destination in Dalat.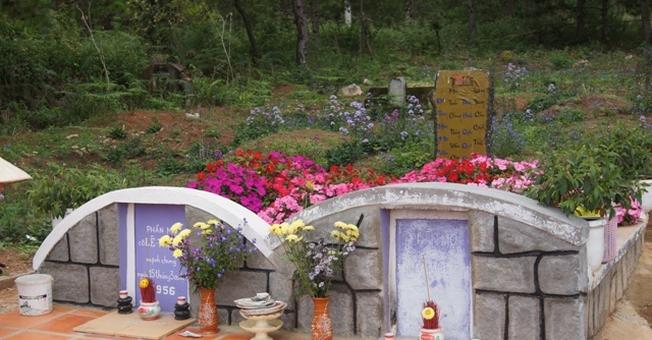 "Hill of pine two tombs" became a famous tourist attraction in Da Lat (Photo collection)
Who came here when returning also a little sadness, quietly left. Day after day, the sky still let go of the sun, pine balls poured down on the wild purple afternoon flowers …