During the trip to Nha Trang , tourists often come to the famous pagodas – places to visit Nha Trang . The city has four beautiful, sacred temples that are frequented by locals and tourists and enjoy vegetarian dishes.
Hai Duc Pagoda
Hai Duc Pagoda is located on Hai Duc Street, Phuong Son Ward, West of Nha Trang City, Khanh Hoa Province. The road to this temple is quite beautiful. Going all the way to the long slope, visitors will come to the left road which is quite flat leading to the pagoda with many trees facing a cliff.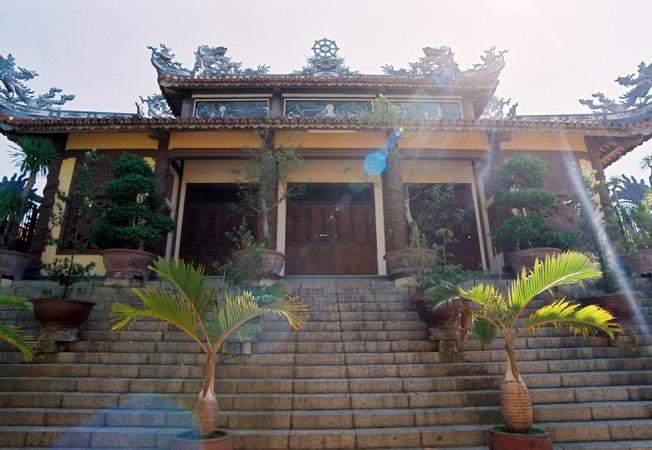 Famous Hai Duc Pagoda (Collected photos)
In addition, a faster path, visitors straight up the high slope will have narrow stone steps. This part of the road has a stone bench in the middle of the slope, so that people going to the temple to rest and take power to continue the road.
This pagoda is the largest Buddhist Institute in the Central with many beautiful scenes . Therefore, this place becomes the most famous temple in Nha Trang city.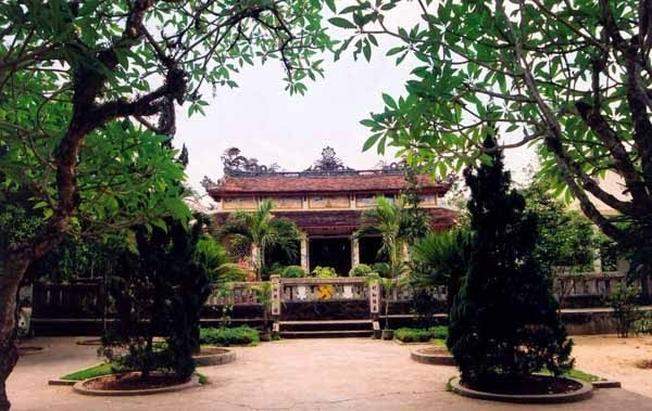 Inside Hai Duc Pagoda (Collected photos)
Coming here, tourists often pray for the good and sightseeing of the temple. In particular, you will be told a strange story about a former father and a lost son.
This story occurred in 1956, an American engineer – Blank M decided to go to Vietnam to find and meet his past-life father. That is the abbot of Hai Duc pagoda – Thich Phuoc Hue. The two have the same face as father and son even though they each have a separate country, different religions, customs and voices.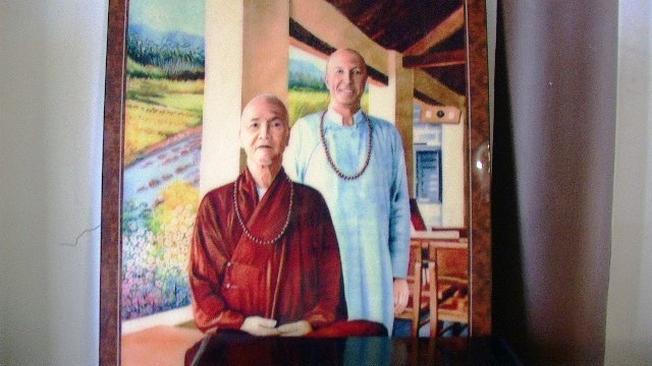 The photo "A former father and a lost son" (Photo collection)
Linh Phong Pagoda
Linh Phong Pagoda is located on Trai Thuy Mountain, surrounded by unique natural landscapes full of solemnity and tranquility.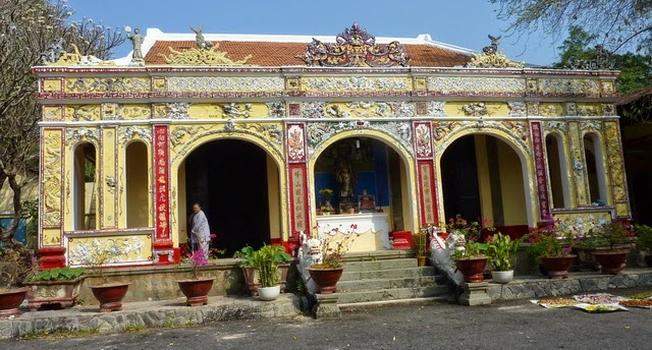 Linh Phong Pagoda (Collected photos)
All year round, Linh Phong Pagoda attracts many tourists from all over the world to visit to admire and admire, greatly contributing to the Buddhist revival, as well as developing tourism in Nha Trang – Khanh Hoa.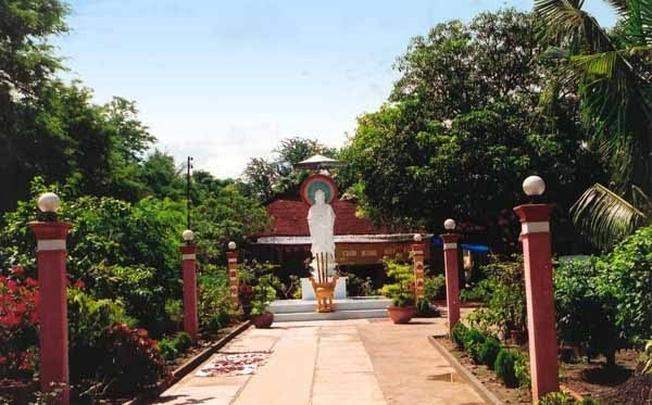 Statue of Guan Yin in front of Linh Phong Pagoda (Photo collection)
This temple, also known as Buu Phong pagoda, has a newly renovated main hall with a width of 24m and a depth of 17m. Roof tiles are designed in a very specific pattern. The unique feature of this tourist destination in Nha Trang is the roof tile section created by the abbot himself and then cast. In addition, the roof of the pagoda has a rotating dragon wheel, very flexible. In front of the porch are large pillars carved with dragons and clouds.
The building structure of this temple is very special. All pillars rafters inside are connected together not by walking but by wooden mortise. Most of the rafters and doors are meticulously carved, elaborately elaborate with very unique patterns, motifs and mascots. This Nha Trang attraction has a unique architecture, which attracts a lot of visitors to admire.
Tu Ton Pagoda
During the journey to visit the temples, visitors should come to Tu Ton Pagoda located on Hon Do Island of about 20,000m2, located in Vinh Tho Ward, Nha Trang City, Khanh Hoa Province. Hon Do Island is only about 300m from the shore, enlightened and built by the Venerable Thich Vien Man in the 1960s.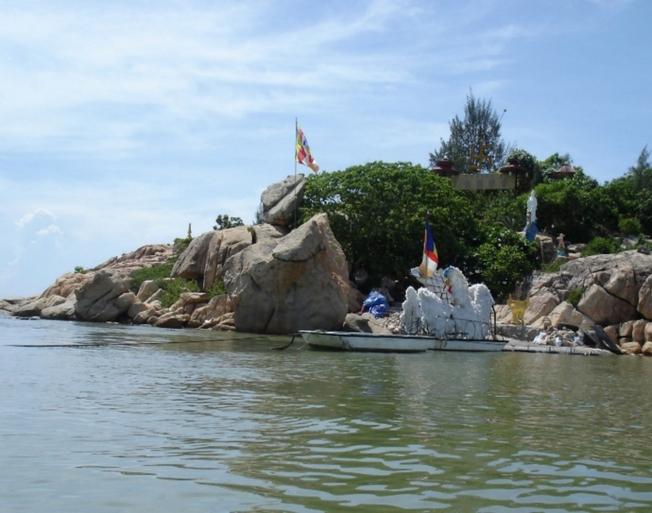 Tu Ton Pagoda on Red Island (Collected photos)
Because Tu Ton Pagoda is a very beautiful natural red rock, local people consider it a special place to visit Nha Trang . At high tide, tourists must travel by motorboat to get to this temple. If at low tide, visitors can wade through easily. After that, you will follow the path to the West to come to the South of the temple.
To build this temple, Venerable Thich Vien Man spent 40 years to reclaim the land, build a monk and build a temple. The Venerable and his monks and nuns and devout Buddhists bought the land and fresh water and brought it to the island to set up a garden, plant ornamental plants, take care of the embellishment, so that today, Tu Ton Pagoda will become a scenic spot in the coastal city of Nha Trang.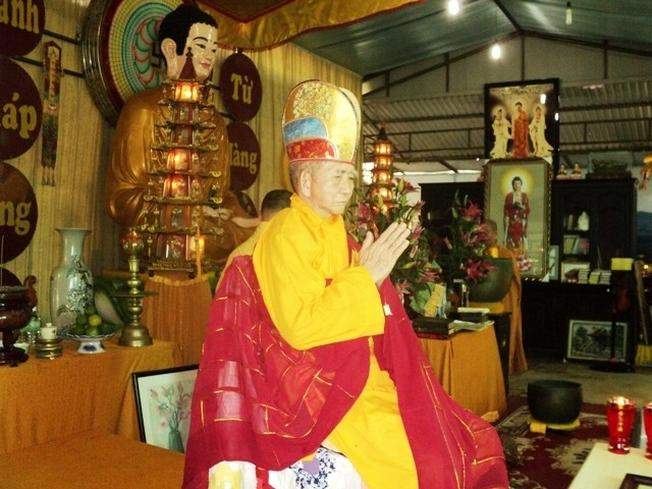 The person who brings sunshine to Tu Ton Pagoda (Photo collection)
You should visit the famous temples in Nha Trang such as Hai Duc Pagoda, Linh Phong or Tu Ton, and listen to the touching and thrilling stories from the local people. Coming to these destinations to visit Nha Trang , tourists not only burn incense to pray for good things but also see the temple and regain peace of mind.