Newly opened but the Dragon Cloud glass bridge located on the top of O Quy Ho pass near Sa Pa attracts a large number of visitors to check-in to admire and experience the creepy feeling on the top. Let's see what's special about this unique glass bridge.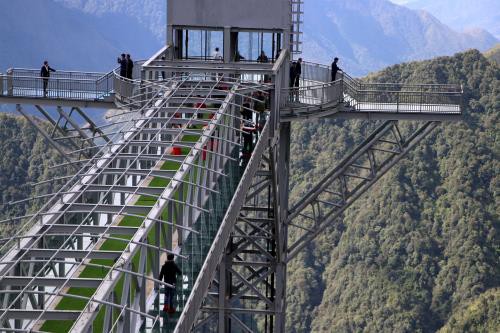 Panoramic view of Dragon Clouds. Photo: Viet Hoang
Where is the Dragon May Bridge?
Rong May glass bridge is considered the highest glass bridge in Vietnam to date. This project is located on the top of O Quy Ho pass in Tam Duong district of Lai Chau province. This place is also known as the Sky Gate at the top of O Quy Ho.
Only 17 Km away from Sapa town, Rong May glass bridge is an adventure tourism complex that has just been put into operation. Only in the first days of opening, the Dragon Cloud Bridge has received a great deal of attention from the media as well as tourists from all over the world, because the location is very close to the hottest tourist center in the North. Sa Pa should promise to be a must-try destination for travelers on their moving tour.
There is nothing special in the Rong May glass bridge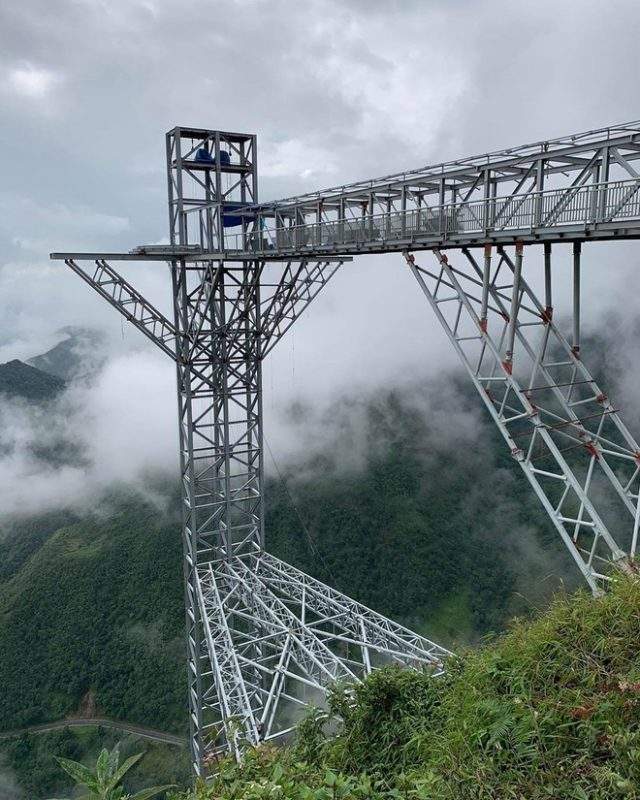 Glass bridge construction works on the cliff side
The work of Rong May glass bridge is built including the access path starting from the mountain bed and then up to the 70m-long lift system, the elevator will take visitors to the location of the 2,200m-high glass bridge. with sea level and spherical surface 60m from cliffs create a feeling of floating in midair. Elevator room can accommodate 30 guests / time with four glass sides for visitors to enjoy sightseeing. The glass bridge is designed with a round surface, with 4-sided corridors, of which 3 glass corridors reach outwards. The entire sphere is made of transparent tempered glass, the glass floor is fitted with 3 layers of thick glass, each layer is joined together by special glue, the total thickness of the glass is more than 7 cm. The project includes the system of glass lifts and glass bridges designed and built according to international standards to ensure safety for visitors in all conditions, so visitors are completely assured when experiencing thrills at here.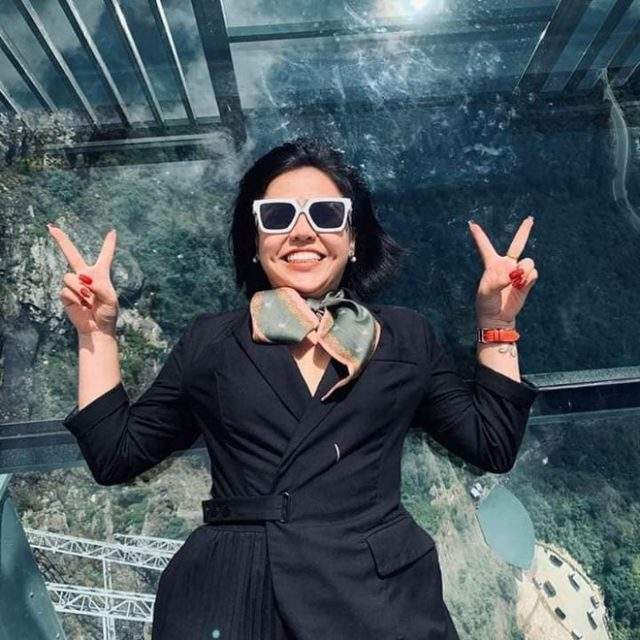 A unique experience on Rong May glass bridge. Photo: Bui Thu Hong
Tickets to Rong May Glass Bridge
The ticket price currently sold to visitors is VND 400,000 per adult and VND 200,000 for children. Many visitors experience the Dragon Cloud Bridge on the opening day, unable to hide the excitement with a bit of suspense when standing on a cliff height, while underneath the glass is transparent glass. into a deep abyss.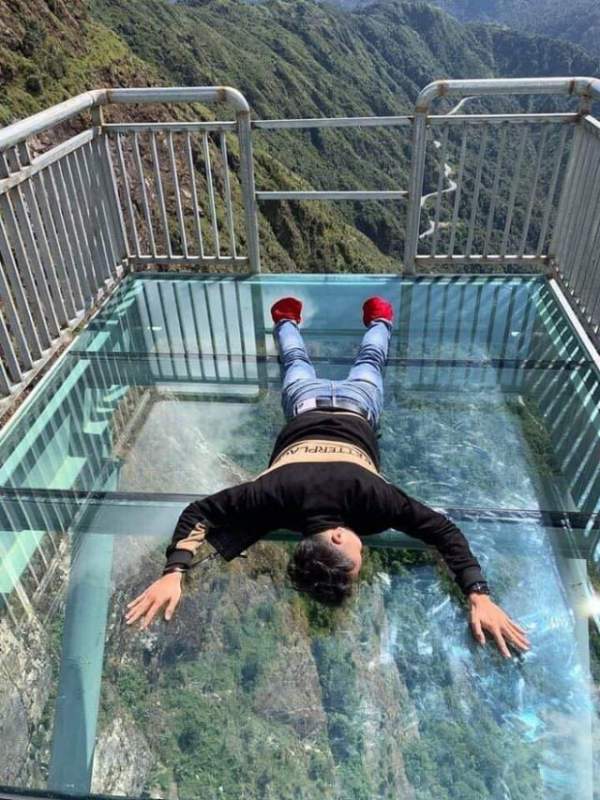 A little nervous when standing on transparent glass. Photo: Bui Thu Hong
Experience once standing on the glass bridge visitors will feel a little "shaky feet" when the space below the deep hun smoking, but next to that is the moment to be eye-catching untouched to enjoy the rare scenery. Available at the place known as the "four great mountain pass" most impressive in Vietnam. Surely this will be a memorable experience for visitors when having the opportunity to come here.
The way to Rong May glass bridge
Rong May glass bridge in Rong May tourist area has an altitude of 2,000m higher than the sea level, about 17km away from Sapa town to Lai Chau. To move here is also quite convenient because the traffic to Rong May is quite complete. Although located in the territory of Lai Chau province, but due to the distance from the center of Sa Pa is quite close, many people still call it "Dragon Cloud Sa Pa Bridge".
There are many convenient routes for visitors to explore the beauty of the Northwest mountains and reach the Rong May resort.
There are 2 favorite routes for motorbike riders:
The first route, from Hanoi, visitors can follow Highway 32 to Phu Tho, Yen Bai and then to Lao Cai, then follow Highway 4D to reach the Rong May resort.

The second route, tourists can take the National Road 6-12 from Hanoi to Hoa Binh to explore the Muong ethnic identity here, followed by Son La to learn about the activities of Thai ethnic minority people. Visit Dien Bien Phu battlefield, from here you can continue the journey to Rong May resort in Lai Chau.
For tourists who choose to travel by car, they can take the Noi Bai – Lao Cai highway then follow the National Highway 4D to reach the tourist area very convenient and fast.
What does Rong May tourist have to play?
Rong May tourist area is a large-scale tourist and entertainment complex, so there are many interesting activities here to attract tourists. The tourist area includes sightseeing activities, adventure tourism, ecotourism, relaxation … with a variety of construction systems such as restaurants, hotels, the elevator system of Rong May glass bridge. recently opened, Bugallow resort, swimming pool … In addition to visiting the bridge, visitors can also participate in many other adventure activities such as Bungee jumping, Zipline skiing, parasailing, climbing … Prices from 500,000 to 1,000. VND 000 / person.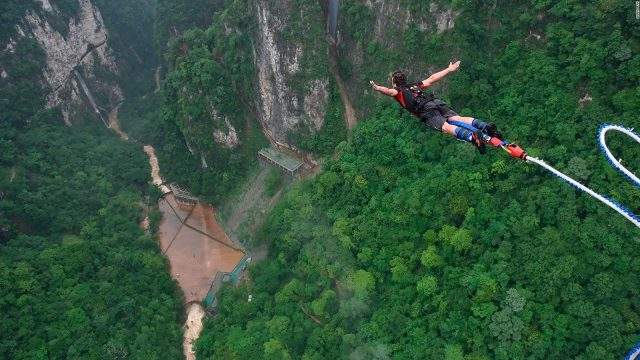 Many interesting adventure tourism activities at Rong May resort
There are so many interesting things to be discovered and experienced at Rong May resort, are you ready to plan a trip now?
Do not forget to book a hotel in advance at VietNampeace.vn for every journey!