Ben Tre, a peaceful countryside with green coconut trees, is one of the ideal places for those who want to feel relaxed and away from urban life to the garden. Let's explore the most famous attractions that have come to Ben Tre and must go for it below!
Con Quy water-based eco-tourism
Address: Tân Thạch and Quới Sơn commune, Châu Thành district, Bến Tre province, Việt Nam.
Located along Tien River and 23km from Ben Tre city center is Con Quy. This is one of the most famous destinations when it comes to Ben Tre because of the charming river space and the sweet folk songs of the Southern region. Coming to Con Quy, you are living in a peaceful space without any signs of urbanization and extremely mild climate.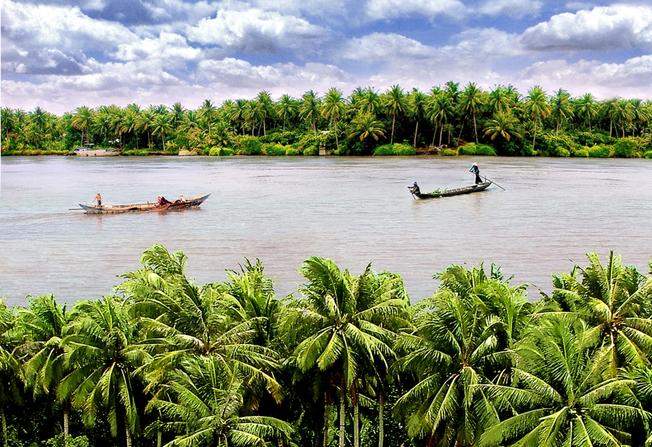 Scenery of Con Quy area (Photo: Collection)
In addition, visitors can also enjoy delicious fruits right at the longan gardens, orange orchards, grapefruit gardens, etc. recognize as an Intangible Cultural Heritage of humanity.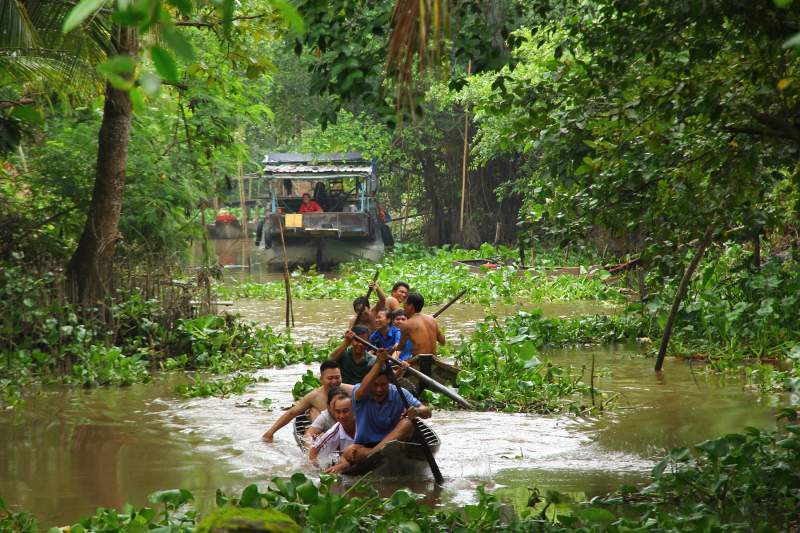 Take a scenic boat ride at this Ben Tre tourist site (Image: Collection)
Sitting on boats floating on the river watching the rich, green and peaceful trees in the West is one of the experiences that maybe everyone wants to try once in their life. Con Quy is undoubtedly one of the most powerful imprints left in your mind after leaving Ben Tre.
Refer to top Hotels in Chau Thanh full facilities suitable for your travel to be able to relax most comfortable.
Con Phung
Voted as a typical tourist area in the Mekong Delta, Con Phung is designed in an open architecture and immersed in nature. Con Phung is like a green oasis floating on the Tien River, but here you will discover the peasant life of the people here.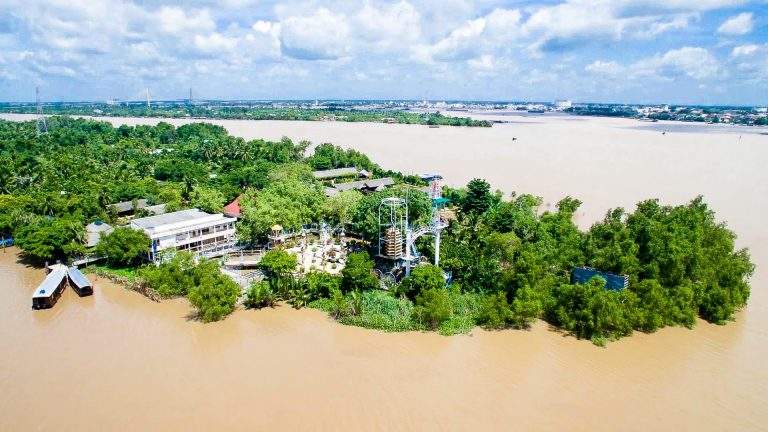 Overview of Con Phung resort (Image: Collection)
In addition, you can also experience the pleasures of fishing, ditching to catch fish, boating, river bathing, horseback riding, visiting the fruit orchards and admiring the idyllic attraction of the Tu Linh land. Besides, Con Phung also owns the area of Dao Dua area of about 1,500 m² which is also a place many tourists visit. Refer to the cheap Chau Thanh district hotels.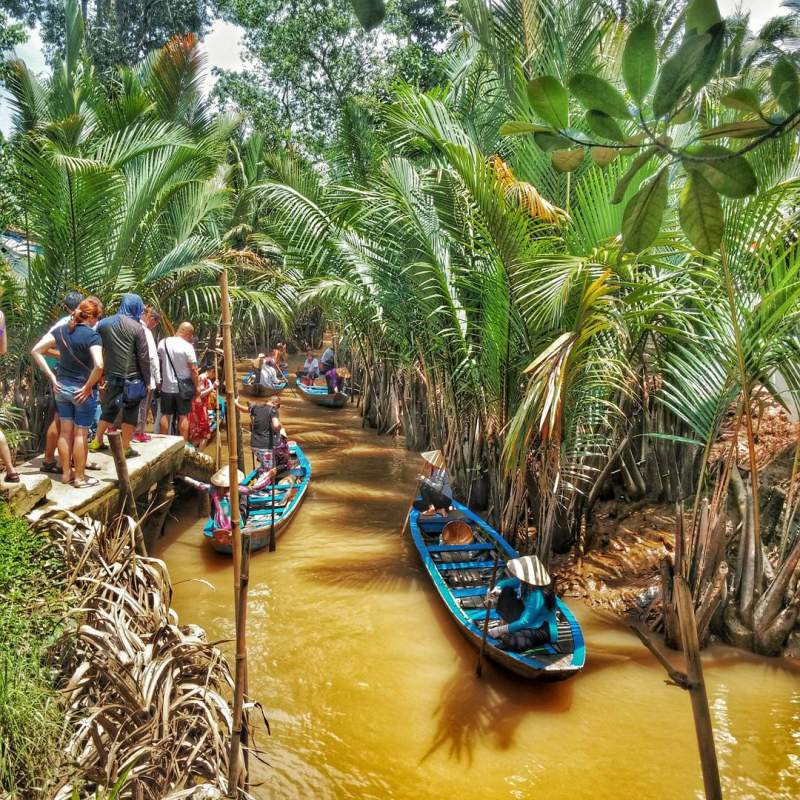 Fun activities at Con Phung Ben Tre (Photo: Collection)
Phu Da islet
Phu Da is outstanding with beautiful natural scenery, fresh nature in the entire system of floating dunes in Ben Tre. It is also nicknamed "rice wine snail" by specialty snail rice with snails both large and sweet. Tourists come here will be selected to enjoy a variety of processed snail rice dishes such as boiled rice snails, fried rice snails with coconut, fried rice snails with lemongrass chili, rice cakes fried snail rice …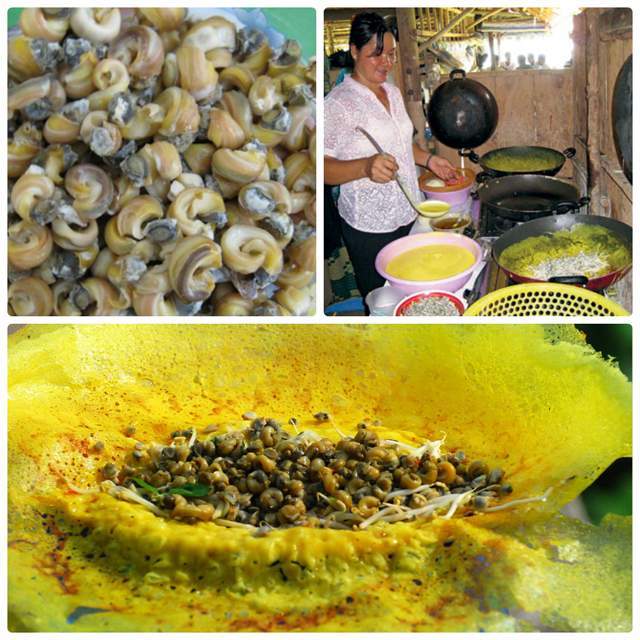 Phu Da snail rice cake is deliciously delicious
Travel history – spirituality
The tomb area of Nguyen Dinh Chieu
Nguyen Dinh Chieu's tomb is located in An Duc commune, Ba Tri district, Ben Tre province. The resting place of the patriotic son was built quite majestic to show the respect that Ben Tre people have for the great poet, patriot and respected physician of our nation.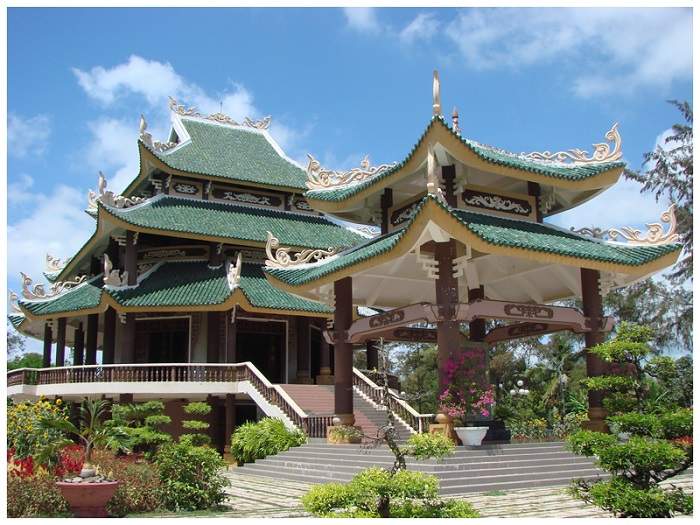 Temple area of Nguyen Dinh Chieu Tomb and Ben Tre
In this place, on July 1 every year will be a traditional festival to commemorate Nguyen Dinh Chieu. People in Ben Tre are more proud when the tomb has been received a special National Heritage Site Ranking this year.
During the festive season, you will be able to participate in many quite fun activities such as Luc Van Tien – Kieu Nguyet Nga costume, a festival of death anniversary, raspberry festival, chess competition, stick pushing, tug of war, sack dancing …
Dong Khoi guerrilla village
The Dong Khoi guerrilla village is located in Dinh Thuy commune, Mo Cay district, Ben Tre province, about 15km from the center of Ben Tre. This village still retains the victories of the first uprising of our people in the Dong Khoi movement in 1960. In the relic area, you will admire the remains in two wars against the French. , America.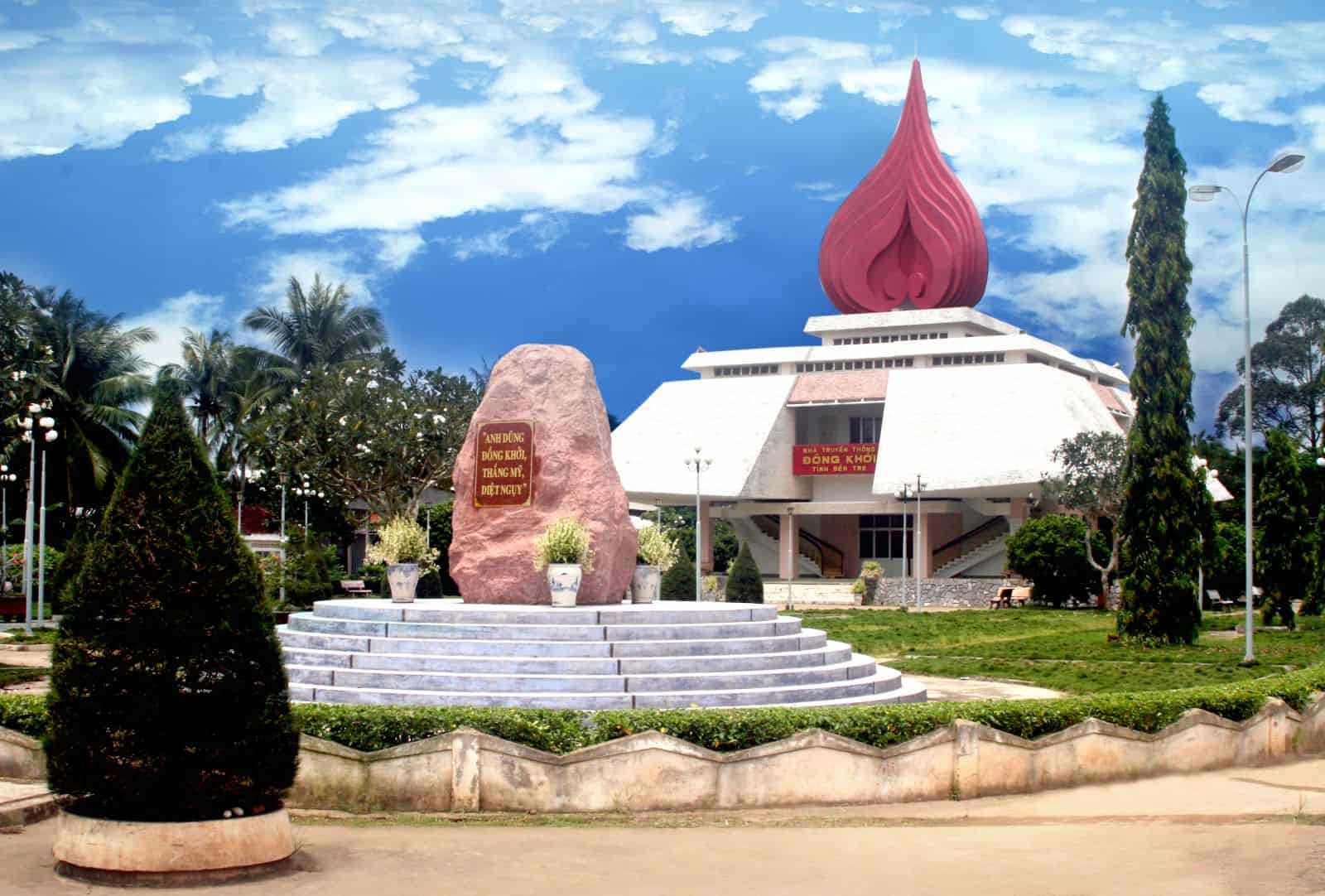 Dong Khoi guerrilla village. Photo: Collection
Go to the guerrilla village in the beginning, one of the first cradles of the southern revolutionary movement. It is close to the hotels in Mo Cay district that are suitable for you to spend a few days here to learn and visit Dong Khoi guerrilla village. You will have the opportunity to better understand the tenacious revolutionary spirit of Ben Tre people in the years of national war.
Tuyen Linh Pagoda
For those who love to explore the history of the country, Tuyen Linh Pagoda will be a suitable place because you will not only learn about Buddhism but also learn more about history. The Buddha Shakyamuni, the Buddha Amitabha, the Medicine Buddha, the Bodhisattva Bodhisattva … The highlight here is that the pagoda also has a Buddha statue of high dharmapala of about 0.7m high.
Tuyen Linh Pagoda is also the place where the father-in-law, President Ho Chi Minh and Mr. Nguyen Sinh Sac, stayed in from 1927-1929 to open teaching classes and medical examination for people here. This is also the place that hid our revolutionary cadres, so they were often bombarded by enemy bombs.
Roman church
Address: Hamlet 6, Commune Hung Nhuong, Giong Trom, Ben Tre
When it comes to Ben Tre, people will mention names like Con Quy, Con Phung, Lach market … that few people mention the Roman church. However, this is also a good place to spend your time exploring.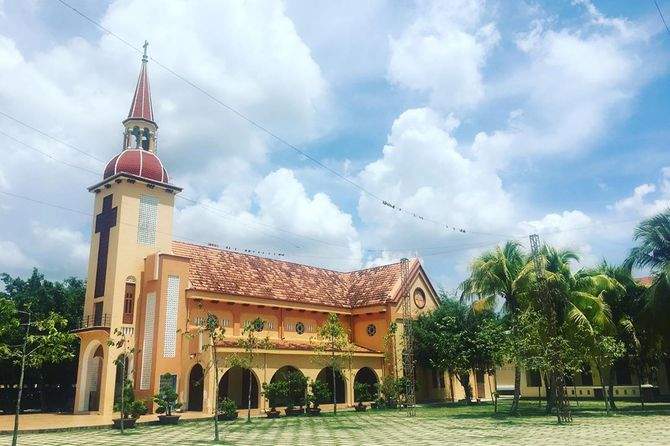 The Roman church has a quite unique architecture.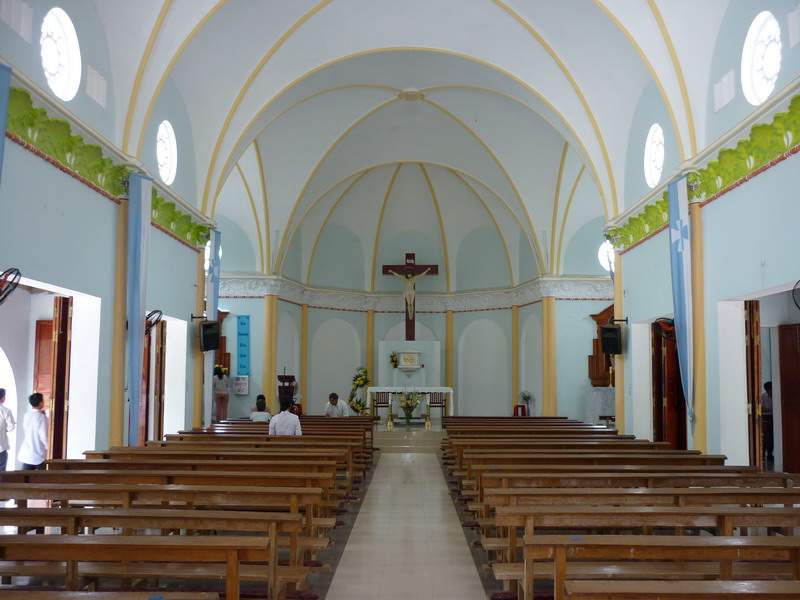 Inside the Roman church
In addition to the church building, another attraction is the road to the landscape here is very beautiful, very rustic and idyllic. The Roman church is also associated with many anecdotes about the appearance of Our Lady, so it becomes sacred, mysterious in the region.
Refer to Giong Trom Hotel for an additional resort location when visiting here!
Van Phuoc Pagoda
Van Phuoc Pagoda is located in a rather rugged geographical position surrounded by mangroves, but the temple with shimmering yellow color always shines like a pearl and still attracts many pilgrims every year. The temple architecture is quite harmonious with the superficial Tam Quan gate, the image of the golden dragon pair on both sides with the 8-hectare campus, the majestic and splendid hall, the Buddha statue and the close living area.
In addition to the beauty of architecture, this place also shines a humanitarian heart when it is the residence of many people with disabilities. If you come to Ben Tre, you should visit the temple both to burn incense and pilgrimage to admire the outstanding architecture and, if possible, to contribute more or less to the disabled to have a better life here!
Cu Lao Minh
Minh isle is one of the three large islets that comprise Ben Tre province (along with Bao and An Hoa islets). Coming here, you will visit two famous historical relics: the old house relics of Huong Liem in Dai Dien commune and Snake family in Dinh Thuy.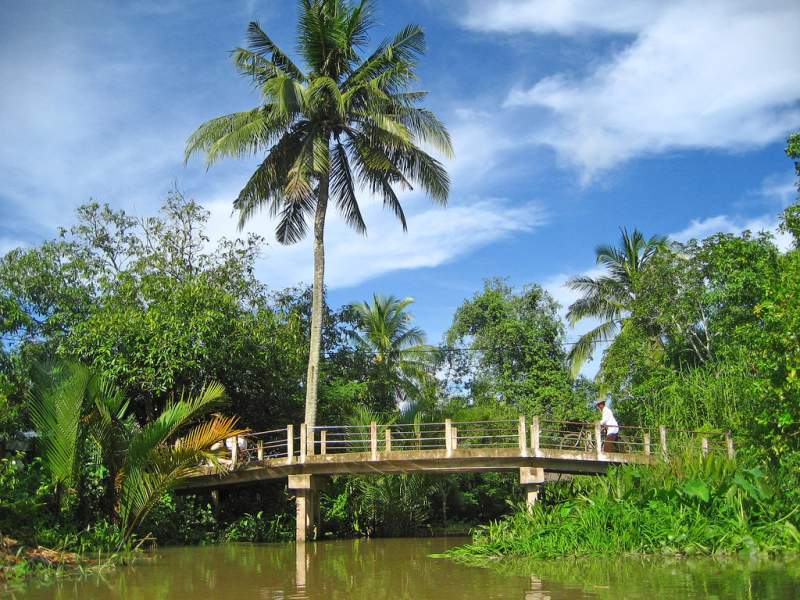 The peaceful countryside scenery of Cu Lao Minh location (Photo: Collection)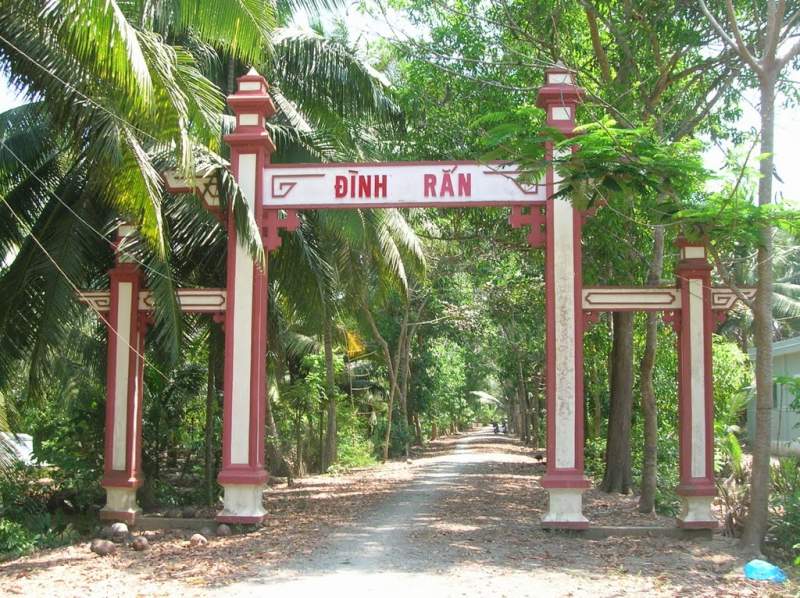 Snake Family – the place that started the Dong Khoi movement and hides many mysterious spiritual stories.
The old house has the appearance of a Western-style architecture, but inside it has the appearance of Hue royal architecture built in the late nineteenth century while the Snake family is home to many mysterious stories. In addition to these two historic sites, you can also come to Thach Phu district, a culinary paradise with many delicious dishes of the sea such as blood cockle, crab, tiger shrimp, clam, shrimp paste …
Garden tourism
Flower market landscape Lach market
Lach Flower Market is a place where many pots of ornamental flowers and bonsai trees are gathered, meticulously shaped and carefully cared for. On the occasion of Tet holiday, this place attracts a lot of tourists from all over the world, both to admire the beauty of the flower village and to choose for themselves the most beautiful and brightest flower pots. displayed indoors in the spring.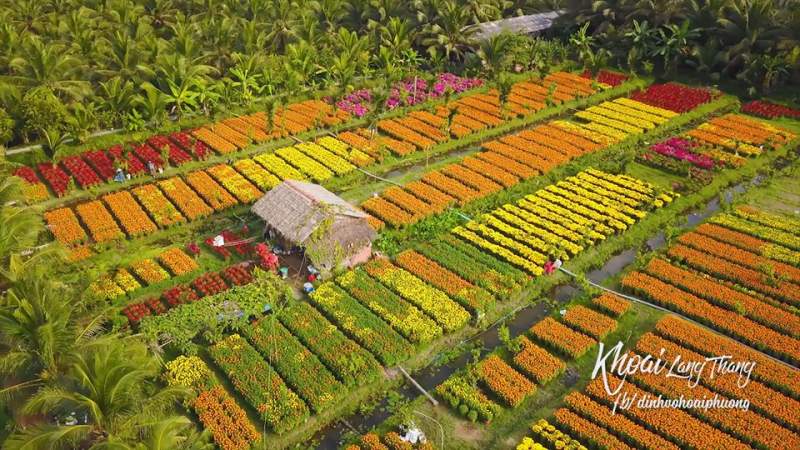 Market flower market spleen brilliantly every spring. Photo: Youtuber Khoai Lang Thang
There are many famous artisans in shaping and bending bonsai. Witness the bonsai pots have been trimmed and carefully shaped, you will be surprised with the skillful craftsmanship of the artists here.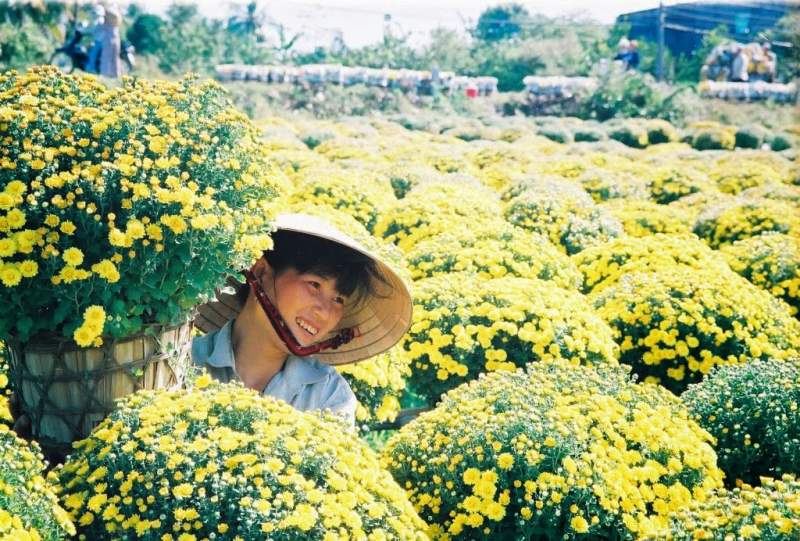 Happiness of the people all year round sticking with ornamental flower pots (Image: Collection)
Cai Mon Fruit Garden
Located in Vinh Thanh commune, Cho Lach district, Ben Tre province.

Hotels near here.
Cai Mon Garden is a breathtaking Southern village with roads covered with green trees laden with sweet fruit. The name Cai Mon has an interesting origin, the word Cai means a large canal, and Mơn is a slang word for Mum, meaning honey in the Khmer language. The reason for such a name because this area from past to present is a land of lots of sweet fruit, attracting a large amount of honey bees.
You will have unforgettable experiences when coming to Cai Mon, you can freely eat fresh fruits in the gardens, the list of fruits grown here will attract your taste immediately such as tangerines, rambutan, oranges, durian, grapefruit, whip … Leaving Cai Mon orchard, the sweetness of the fruits still remains on the tip of the tongue, you will remember forever after leaving Ben Tre for a long time.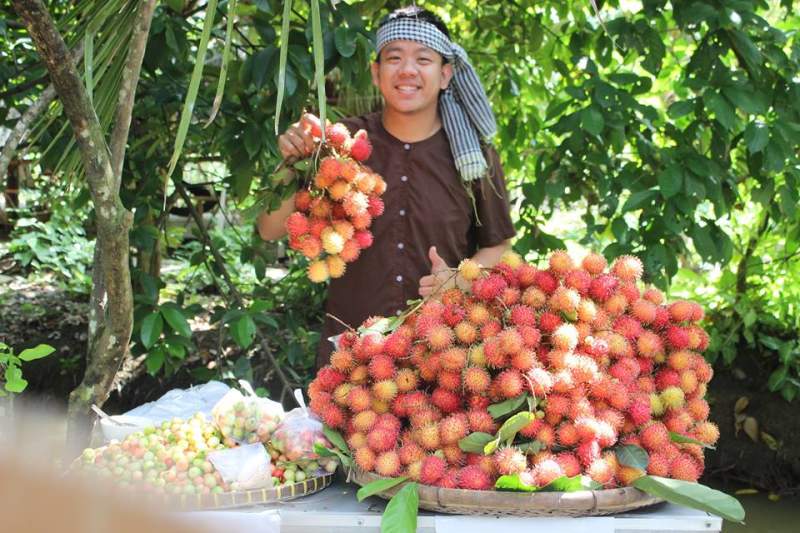 Fresh fruit "all" tourist destinations not to be missed (Image: Collection)
Vam Ho bird sanctuary
Vam Ho bird sanctuary is located in My Hoa and Tan Xuan communes, Ba Tri district, Ben Tre province. Coming here, you will have the opportunity to admire 84 different birds. It is also a land of many kinds of wild trees that grow due to its mangrove nature. At the top is nipa, mangroves, etc., which are ideal hiding places for birds. On the lower floor there are reeds, horned toads, etc., which are habitats in the breeding season of storks and cauldron.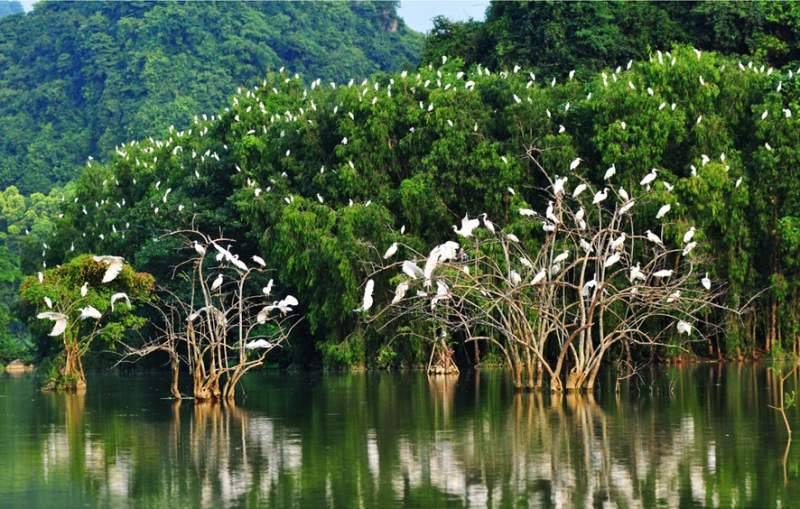 Bird garden with an extremely large number of birds (Image: Collection)
Birds have just flown back to Vam Ho since 1986, but the bird sanctuary has a number of outstanding birds. Coming to Vam Ho, you can not only admire the stork wings, the cauldron wings, you can also see wild birds flying in flocks, listen to the call of the hoes and call the birds, the cries of the babbling, walking in the middle of the trees, leaning back. in a hammock swaying under the forest canopy, breathe the fresh air of the Ba Lai River. You can book hotels right in Ba tri district to fully enjoy the nature here with friends and relatives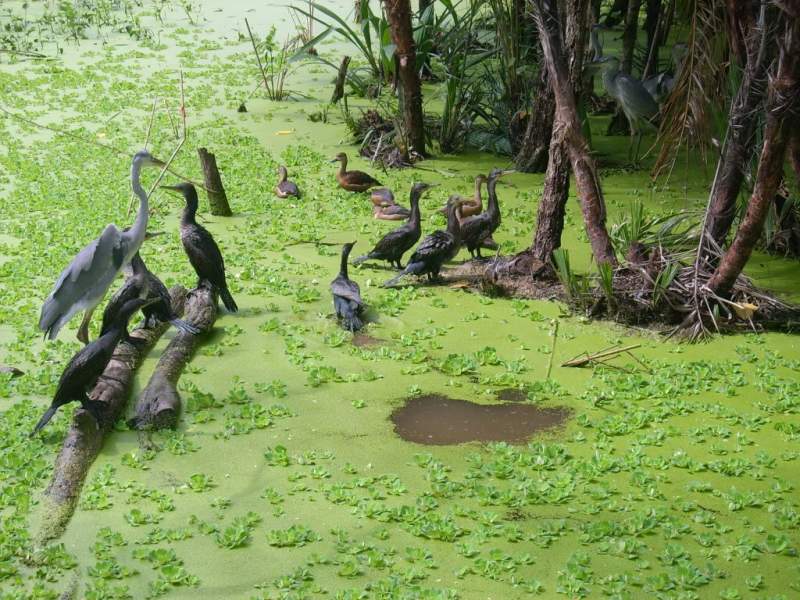 Photos of Vam Ho Bird Sanctuary tourist site (Image: Collection)
Lan Vuong tourist area
Lan Vuong tourist resort is located in Hamlet 2, Phu Nhuan commune, TP. Ben Tre is a familiar fun place for tourists of the cross. The typical hustle and bustle of the West with entertaining games creates an ideal place for families, groups of students, companies to organize weekend entertainment. Come here, just rent a Ba Ba shirt for 30K and you will be free to drop yourself into the Western space.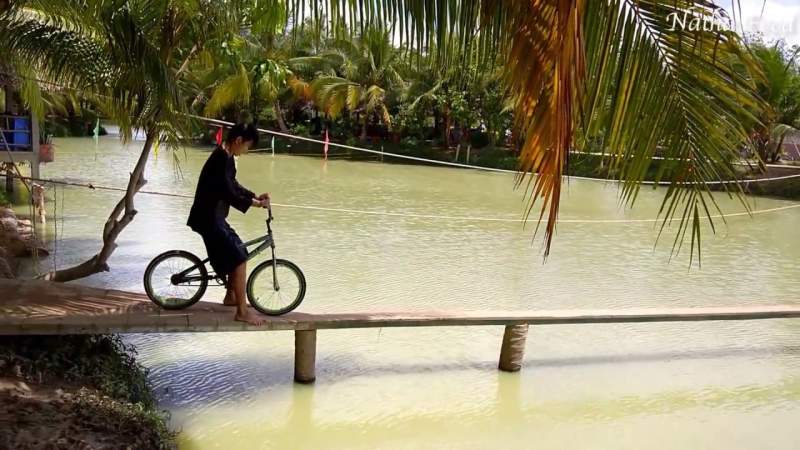 Cycling game at Lan Vuong resort (Image: Collection)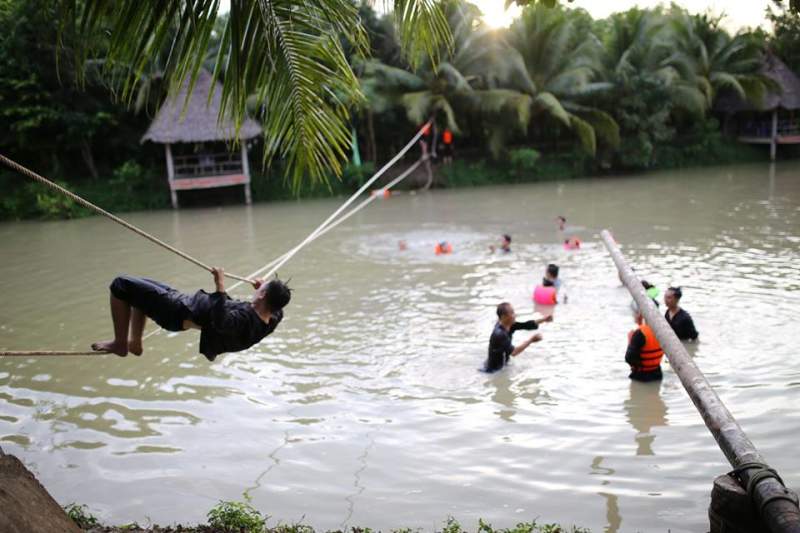 Immerse yourself in the games of the resort (Image: Collection)
Lang Be tourist area
Ben Tre Village Tourist Resort is located at 81B / 6B An Khanh, Chau Thanh, visitors can come to Rach Mieu Bridge about 100m. This is another fun place to visit, you should consider when planning to go to Ben Tre.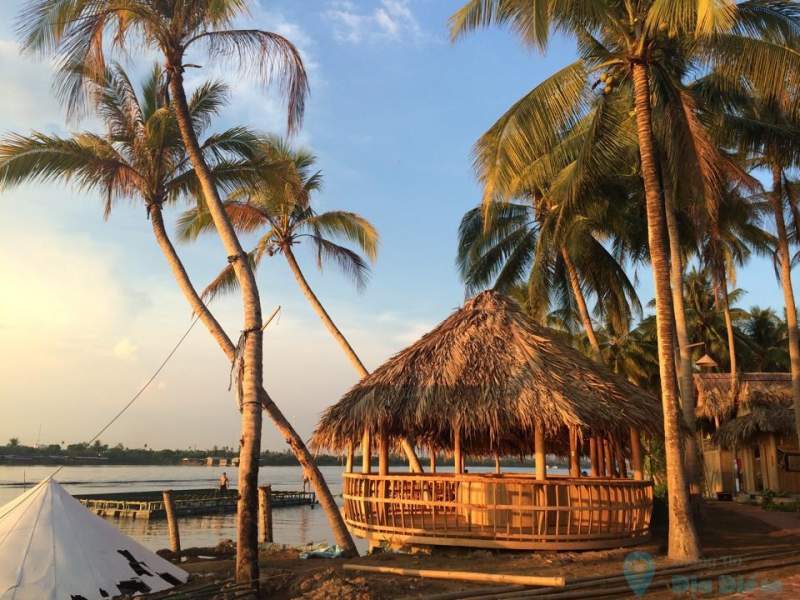 The charming scenery of Cai Be tourist area (Image: Collection)
With the charming scenery of the southwestern river and the rafting of local people, you will experience the most relaxing and simple moments. Coming here, you can participate in interesting games such as swinging coconut train, going to the monkey bridge, cycling balancing over the bridge, going rope across the river, slapping ditches to catch fish, etc.A small note is that you should follow Group to experience the game "has" more offline!
Ba Ngoi garden eco-tourism site
About 46km from Ben Tre city, Ba Ngoi tourist attraction is surrounded by green tree-lined streets, fruit-laden gardens and the poetic Co Chien river. Coming here, visitors will have the opportunity to enjoy fruits right at the fruit gardens such as: durian, mangosteen, rambutan …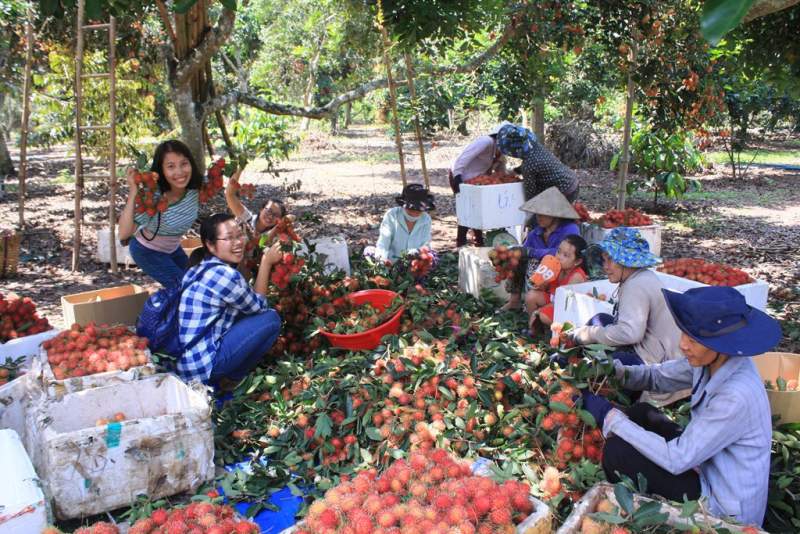 Visitors are allowed to eat shy fruits at the orchard (Image: Collection)
In addition, you also put into the deep sweet folk music and enjoy the Western folk dishes such as garden chicken porridge, rice snail porridge, fragrant mussel cake Tasty tourists, or boiled snail dishes dipping sauce famous lemongrass chili region.
If you are interested in the above destinations of Ben Tre and want to visit this place, please visit the website of VietNampeace to book a hotel right away to win the best deals.
Which bus to Ben Tre from Saigon?
You can choose car brands like Phuong Trang, Minh Tam, Thao Chau, Dong Khoi. Each vehicle has a different departure point from Saigon, so be sure to contact the garage first to avoid confusion.
What to eat in Ben Tre?
Come to Ben Tre, do not forget to enjoy the fresh, fresh garden fruits or the kinds of shrimp, crab, fish, etc. caught on site.
Go to Ben Tre to buy something as a gift
Fruit, coconut candy, My Cage rice paper, Son Doc puff pastry, coconut wine, etc.